Cruella Coloring Pages
Disclosure: Highlights Along the Way is a participant in the Amazon Services LLC Associates Program, an affiliate advertising program designed to provide a means for sites to earn advertising fees by advertising and linking to amazon.com. Thank you to Disney for inviting me to an early screening of Cruella! All opinions are our own. These printables are drawn by me and only inspired by the new Disney film. Enjoy!
The much anticipated Cruella is set to premiere soon! To celebrate we have created a collection of printable Cruella coloring pages. While Cruella is rated PG-13 and may not be made for the littlest viewers; there is no age limit on coloring pages! Feel free to click and print and color at home. We have a collection of coloring sheets featuring Cruella and Artie below.

If you enjoy these free printable coloring sheets inspired by Emma Stone as the creepy Cruella, make sure to check out our printable section featuring Go Dog, Go! Coloring sheets Gabby's Dollhouse Coloring Sheets , We Can Be Heroes Coloring Sheets, Sharkboy and Lavagirl Coloring Sheets, American Girl Doll Coloring Sheets , Olaf Coloring Sheets, Coco Coloring Sheets , Trolls Coloring Sheets , and so many more on our site!
Our daughter's FAVORITE Origin Story book is "Hello, Cruel Heart" which is based on the new live action movie. It is available on Kindle for about $10 and hardback for under $20. It is also an awesome audio book option and available for one credit on Audible. You can see her book review of the new Cruella book, which she suggests for middle and high school aged readers below.
Is Cruella too Scary for Kids?
Cruella is a lot darker than 101 Dalmatians. Our kids are in their teens and nine, and very much enjoyed this movie. Without giving away any spoilers, there are some scary scenes. While Cruella is rated PG-13, I would call it a fairly soft PG-13. We appreciated that there was not any sex or gore; these are the things we try to avoid with our kids. I also do not believe there was one 'bad word' said in the entire movie. There is some violence, but no gore. There is also drinking; sometimes drunkenness; but nothing else. Every child is different; but I think most kids over 7 or 8 would probably really enjoy Cruella.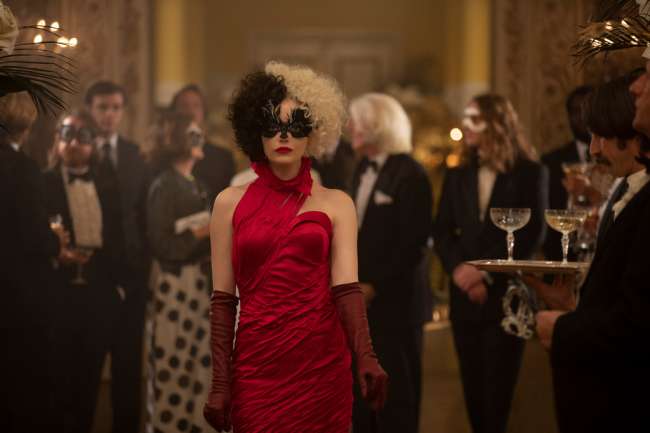 Cruella Costumes for Halloween
Cruella Red Dress that stole the show!
Half Black and White Wig with "Future" mask
Official "Estella" Cruella School girl costume
Cruella Costume with Dalmatian spots
Roger and Anita Couple Costume
Roger and Anita from the classic animated film "101 Dalmatians" is one of my favorite costumes of all time. We got so many compliments and both outfits were completely thrifted. We purchased our tops and bottoms at thrift stores and simply returned after Mickey's Halloween Party. We are big believers in wearing pieces that are 'normal' clothing items, and ideally purchased used. You can have an awesome costume without buying brand new!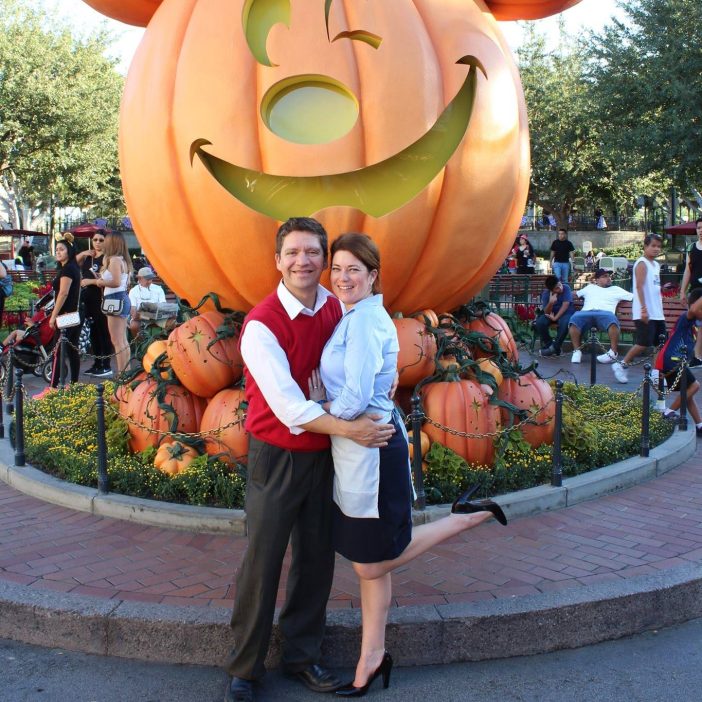 Cruella will hit theaters and Premier Access on Disney+ on May 28th. While watching the Trailer (below) for Cruella I am getting very strong "Devil wears Prada" takes a turn for the worse vibes. I originally thought this origin story of Cruella De Vil may have given us some window into Cruella's story that may humanize her a bit. I loved Maleficent and Wicked for this reason, but from what I gather here; Cruella seems a little darker and I am more scared than ever. That said, I cannot wait to see this edgy version when it hits Disney+ Premier access.
Premier Access provides an opportunity for consumers to watch newly released theatrical films on Disney+ for an additional one-time fee and an active Disney+ subscription. Upcoming Disney+ Premier Access releases include the highly anticipated live-action film Cruella and Marvel Studios' long-awaited Black Widow. Disney+ subscribers can get Premier Access for a one-time fee of $29.99 per movie paid directly on disneyplus.com or on supported platforms. Once Premier Access has been unlocked, subscribers can enjoy a cinematic experience at home through the Disney+ app on a wide range of mobile and connected TV devices, including gaming consoles, streaming media players, and smart TVs.
Cruella will be available to all Disney+ subscribers at a later date at no extra cost.
Cruella Trailer
Cruella Coloring Sheet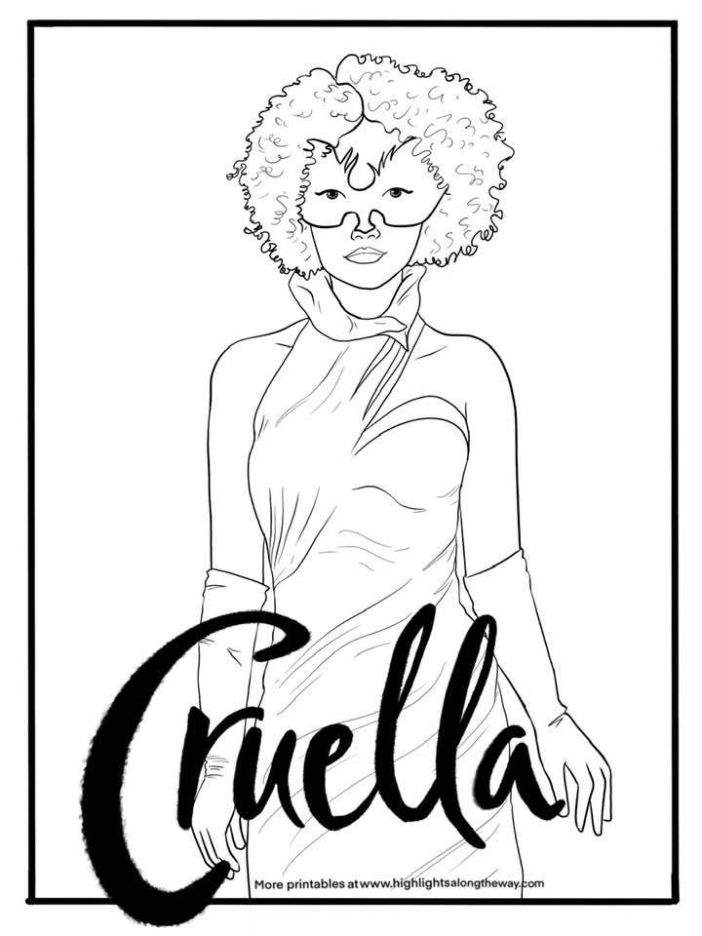 Artie "Cruella" Coloring Page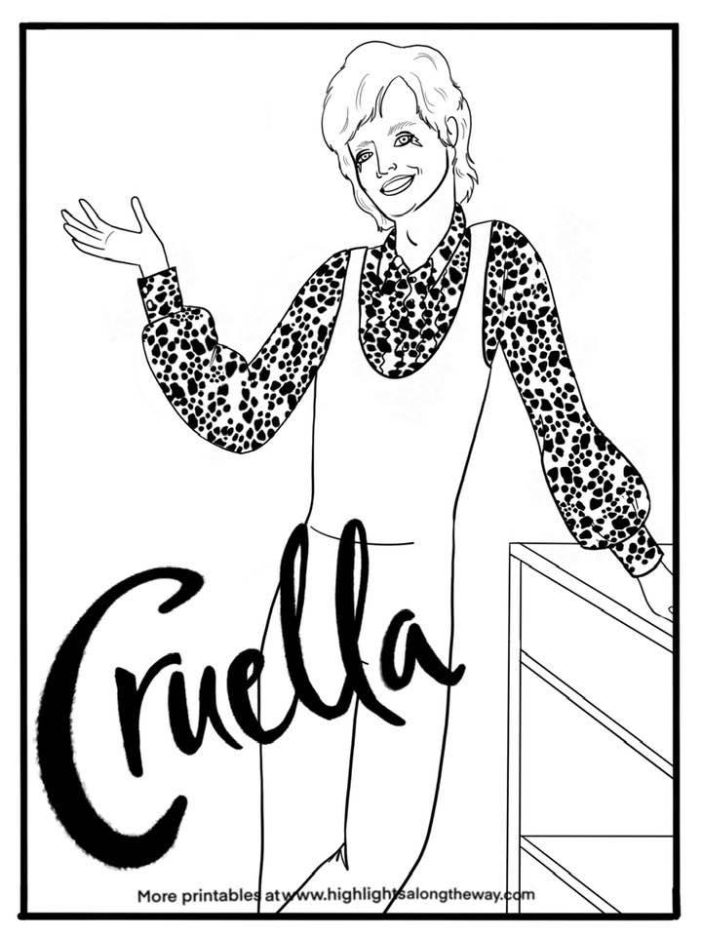 Cruella Coloring Page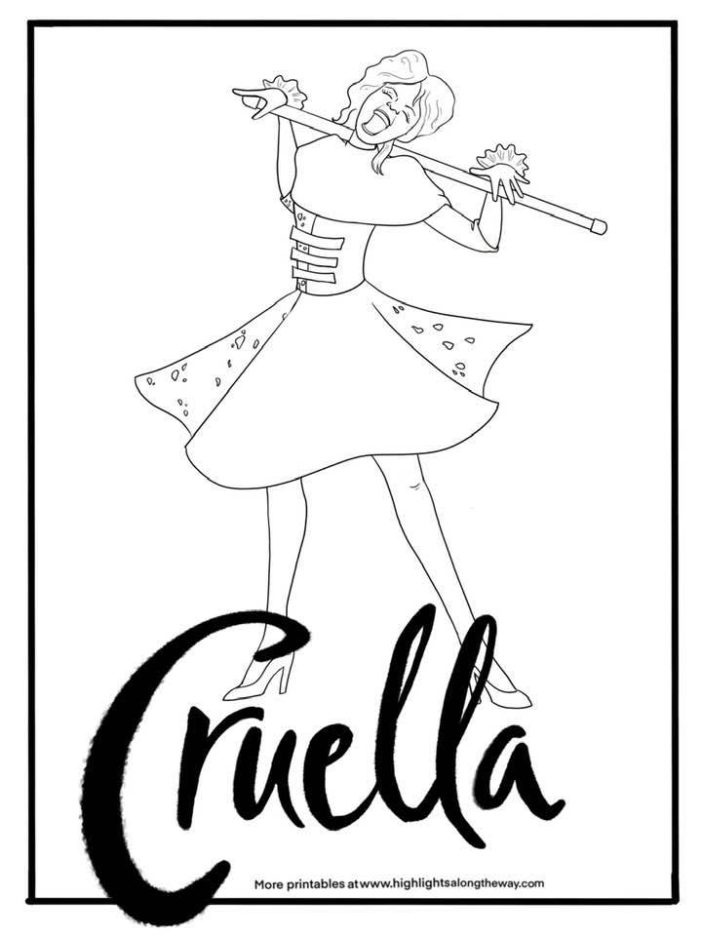 Disney themed activity sheets are some of our favorite things to share on our blog. These coloring sheets are free to enjoy by clicking and printing. We will add more Disney inspired coloring sheets and artwork in the future.
If you are a blogger or writer looking for printable coloring sheets for your blog, magazine, or book, please check out my website Kate Ham Art and follow my growing Instagram account @KateHamArt . Do not hesitate to reach out if you would like me to create printables or book illustrations for your next project. If you or your child colors one of our printables, please share it on social media and tag our page. I will always share printables in our instagram stories and I would love to feature you!
Academy Award® winner Emma Stone ("La La Land") stars in Disney's "Cruella," an all-new live-action feature film about the rebellious early days of one of cinemas most notorious – and notoriously fashionable – villains, the legendary Cruella de Vil. "Cruella," which is set in 1970s London amidst the punk rock revolution, follows a young grifter named Estella, a clever and creative girl determined to make a name for herself with her designs. She befriends a pair of young thieves who appreciate her appetite for mischief, and together they are able to build a life for themselves on the London streets. One day, Estella's flair for fashion catches the eye of the Baroness von Hellman, a fashion legend who is devastatingly chic and terrifyingly haute, played by two-time Oscar® winner Emma Thompson ("Howards End," "Sense & Sensibility"). But their relationship sets in motion a course of events and revelations that will cause Estella to embrace her wicked side and become the raucous, fashionable and revenge-bent Cruella.
Disney's "Cruella" is directed by Craig Gillespie ("I Tonya") from a screenplay by Dana Fox and Tony McNamara, story by Aline Brosh McKenna and Kelly Marcel & Steve Zissis. It was produced by Andrew Gunn ("Freaky Friday"), Marc Platt ("Mary Poppins Returns") and Kristin Burr ("Christopher Robin"), with Emma Stone, Michelle Wright, Jared LeBoff and Glenn Close serving as executive producers. Two-time Oscar®- winning costume designer Jenny Beavan ("Mad Max: Fury Road," "A Room with a View") creates the dazzling and imaginative costumes, which take on a life of their own.