Design tips for a Small Bathroom
Design tips for a small bathroom is a sponsored partnership with Bed Bath and Beyond.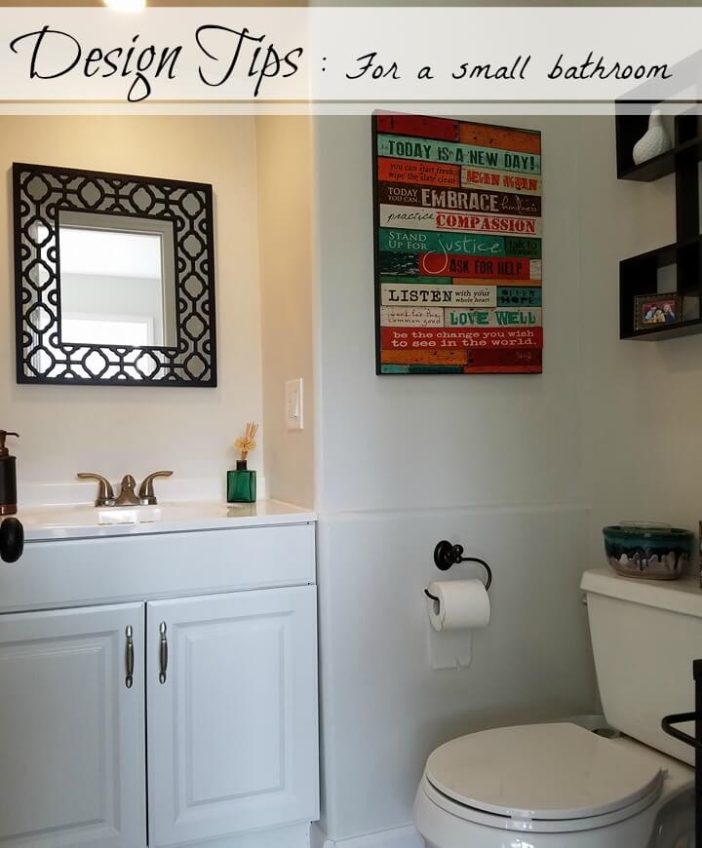 We recently added on a small powder room to our house.  We have five people in a two bathroom house and we thought that during the addition to our little fixer upper we could easily add a teensie tiny bathroom to alleviate some of the traffic to our one kids and guest bathroom. Our new bathroom is tiny – simply a toilet and sink without much else but I felt it could still be decorated and designed to be as pretty as it is useful.  I wanted to share some design tips for a small bathroom for those who want to get the most functionality out of a small powder room and still make it pretty!
We have pretty much always been in small spaces and we both come long lines of folks that know how to make the best use of small spaces.  Here are a few quick tips to keep in mind when designing and decorating your small bathroom.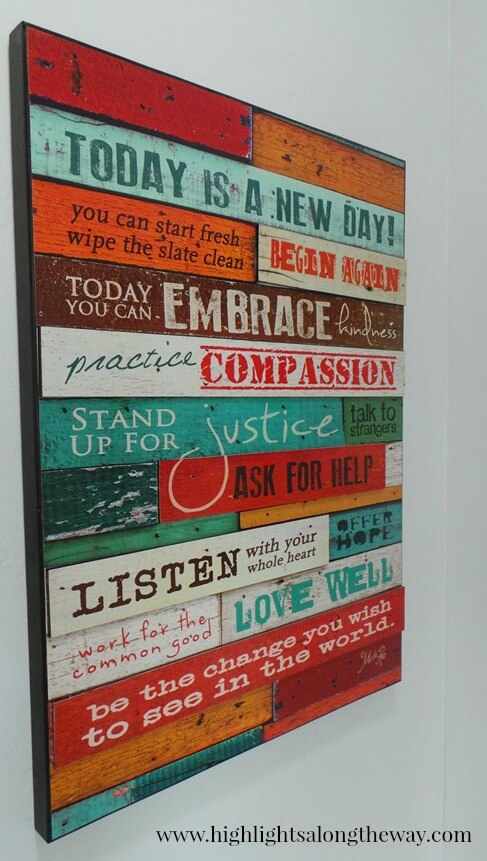 Find one statement piece and design around it.  We found this beautiful art titled "A New Day" that speaks to our family but also really goes with our decor in the rest of the house. I love the natural wood, rustic look, colors, and of course the inspirational message.  We drew out the oranges and greys to feature in the room.  We chose a light grey color for the walls, orange towels with grey and white accents, and some sweet details all around the room.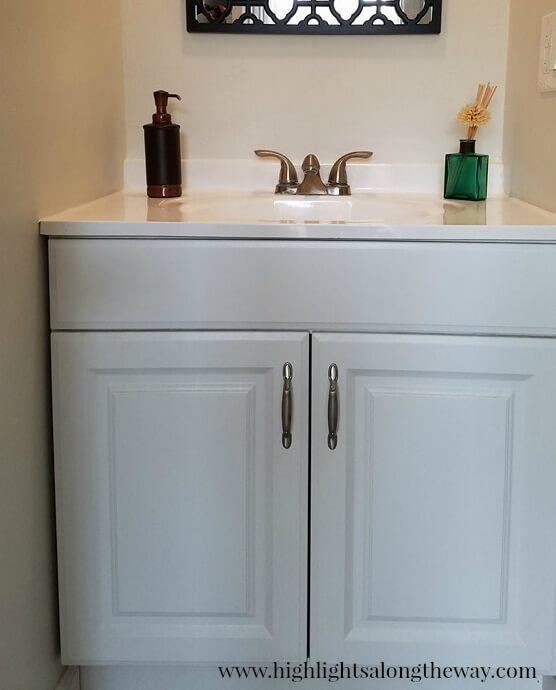 Choose a sink that provides storage if possible.  I love the look of a pedestal sink, but it just isn't practical in a small space that people are actually going to use.  In the cabinet we were able to put an organizer cubby (from Bed Bath & Beyond – ours is a few years old but works fine so no need to buy another – but you can find several just like it to suit your needs).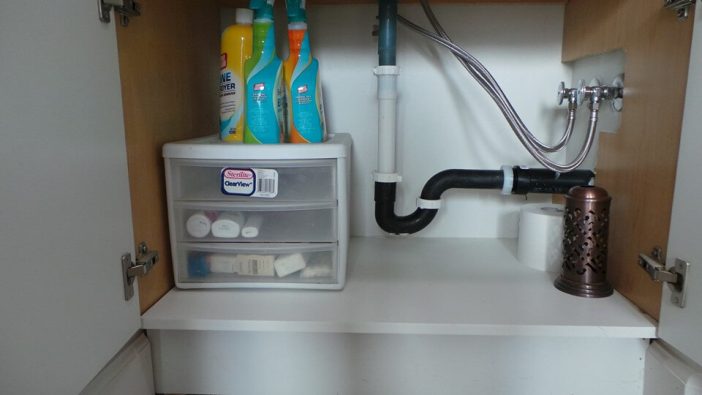 The cubby holds all kinds of small toiletry items.  Underneath we can also store toilet paper as well as cleaning supplies for the back room.  My son also has his toothbrush and some personal care items because he would rather get ready in this room and avoid his fancy pants sisters.  Everything he uses and then some can be neatly stored underneath!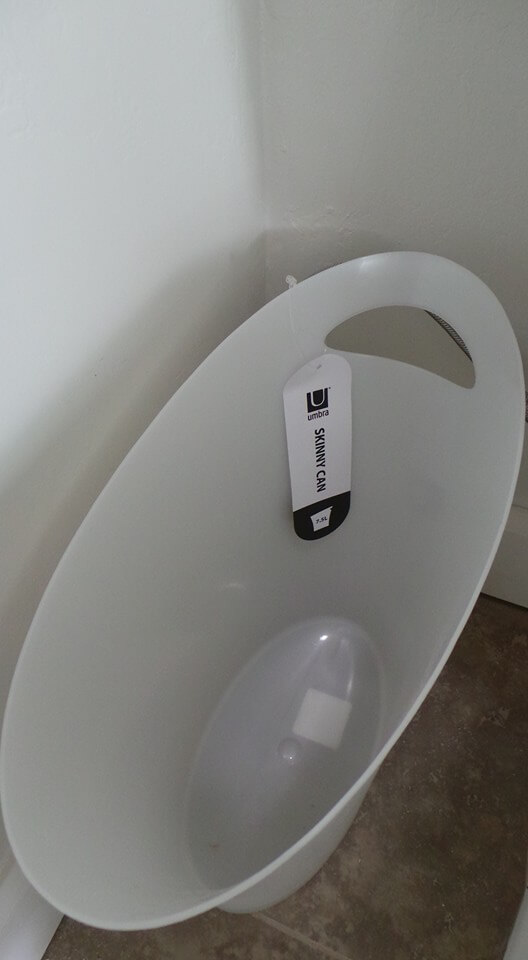 Skinny waste basket.  We have such a small space in our bathroom and space is truly at a premium.  In a low traffic bathroom we really do not need a large trashcan taking up valuable space.  This waste basket is genius in that it is narrow so it fits in snug spots but still gets the job done!  I know the picture is not very exciting, but this is a great tip for a small space – and at about $7 it is a great, no nonsense staple!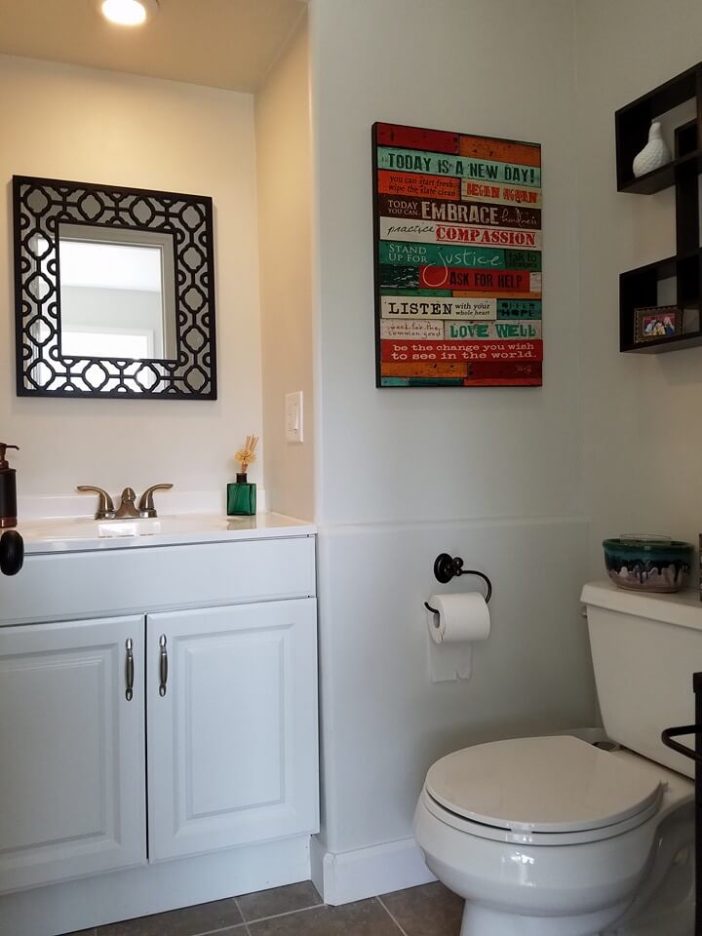 Mirrors.  Mirrors are obviously functional, but also provide so much light!  Light bounces off mirrors and also give a room depth with the illusion of more space.  I love this mirror I found in the clearance section, there were so many to choose from!
Light Color on the Walls.  In small spaces you really want to keep the walls light.  I love dark colors, but wall paint can be so overpowering an dark colors really make a small space feel even tighter.  We chose our favorite paint – Behr Marquee.  We used an awesome 'greige' (grey + beige) color called 'Ginger Sugar'.  We found that the color was still a bit too dark in the small bathroom so we actually cut the color by 50% – Home Depot is happy to customize your colors for you!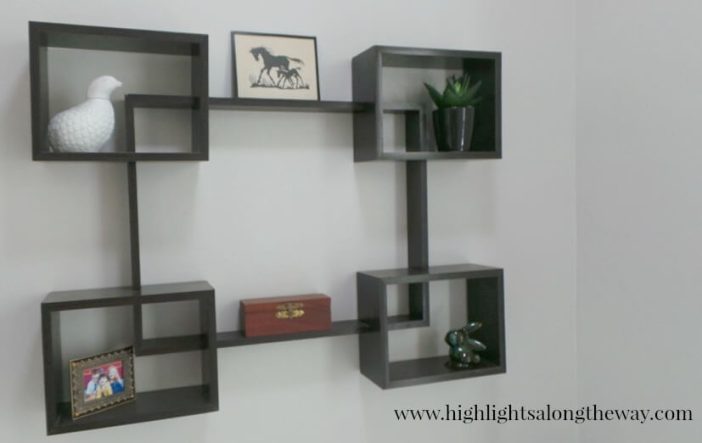 Decorate with small items – We used this tiny shelf to simply add an element of design and interest to the space.  The little items we displayed were collected over the years and we love this interlocking display shelf which displays so many of little pieces our family loves. This was easy to put together and goes with lots of different styles.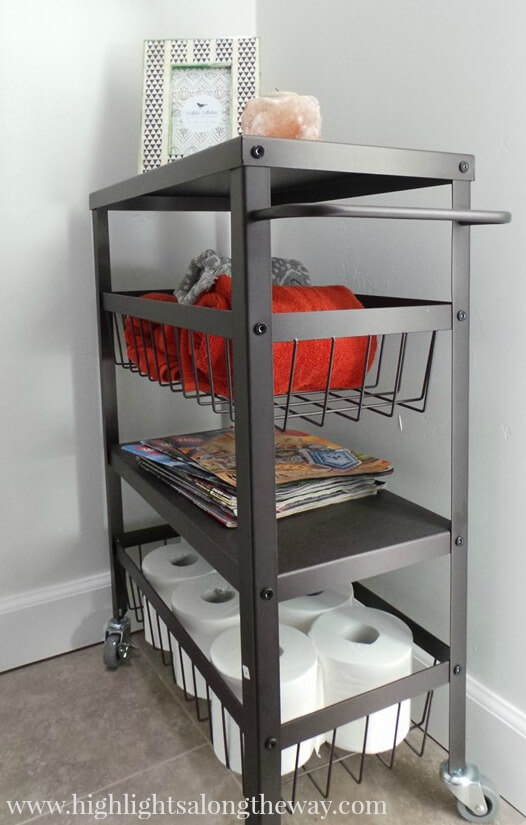 Storage.  Storage that is as cute as it is functional does double duty in a small space. This 3 tiered cart is small and was easy to put together.  The lower basket we use to hold toilet paper.  The second tier houses reading material – my son's LEGO magazines of course.  The top tier holds a color coordinated pretty picture frame and a candle.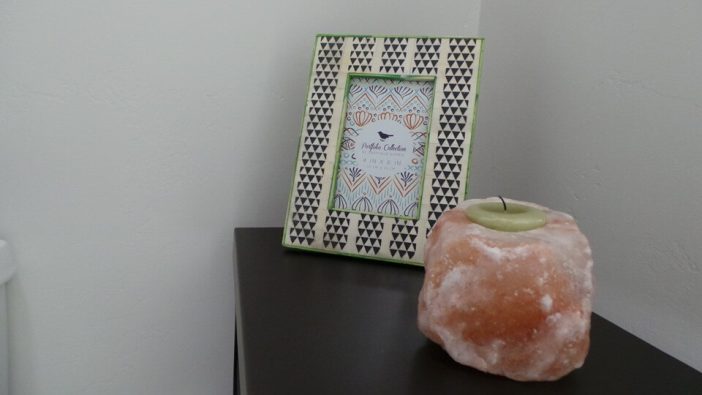 Purify the air.  Let's face it, bathrooms are stinky.  Small bathrooms can be even stinkier!  We freshened ours up with candles and Himalayan ionic crystal candle holder – not only do they look cool, but studies show that they release negative ions which purifies the air. I got a two pack – one for the small bathroom and one for another space in the house.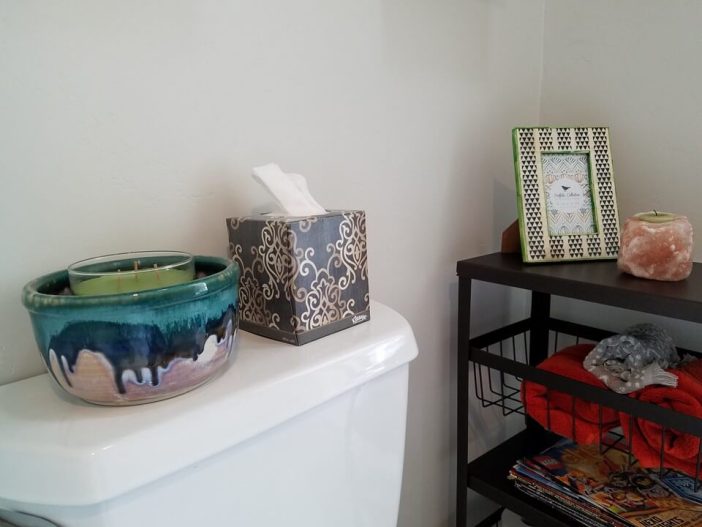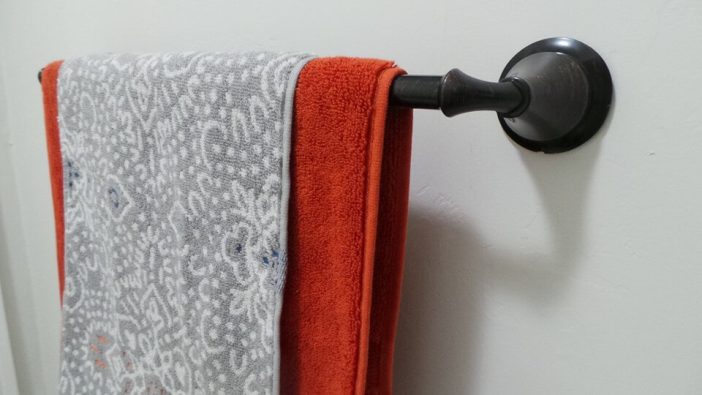 Small Hand towels will do.  A small powder room does not need large towels.  A small hand towel and some pretty accents will do.  A small hand towel will take up less space and will also take up less space in the wash – win win!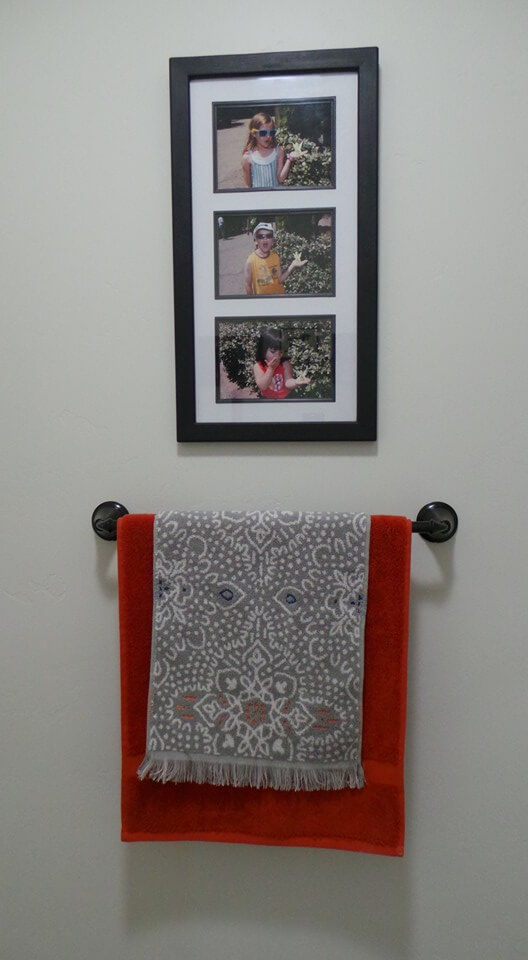 Don't overdo the hardware – In a small powder room you typically do not need more than one towel bar and toilet paper holder. Skip all the extra towel bars and robe hooks – but get a style you like.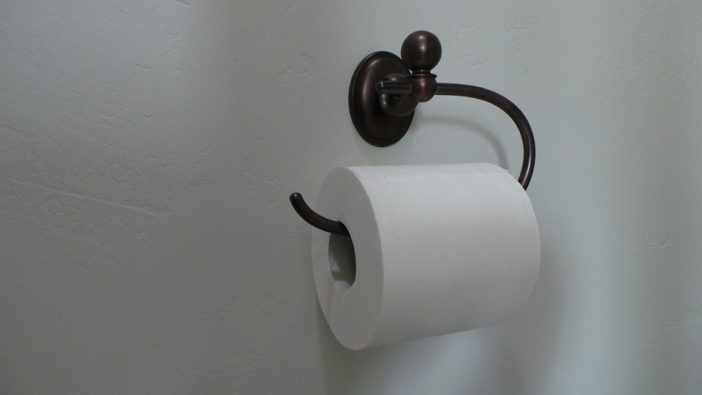 We chose an updated oil rubbed bronze. I have said this before, I will say it again.  This toilet paper holder kinda changed our lives.  It is so much easier for kids and adults to switch out a toilet paper roll.  We love the oil rubbed bronze look of this whole collection, but the toilet paper holder design is the best!
Our new bathroom is by far the smallest room in our house, but it works!  I think it is not only functional, but it is one of the best looking rooms in our house as well – thanks to Bed Bath & Beyond.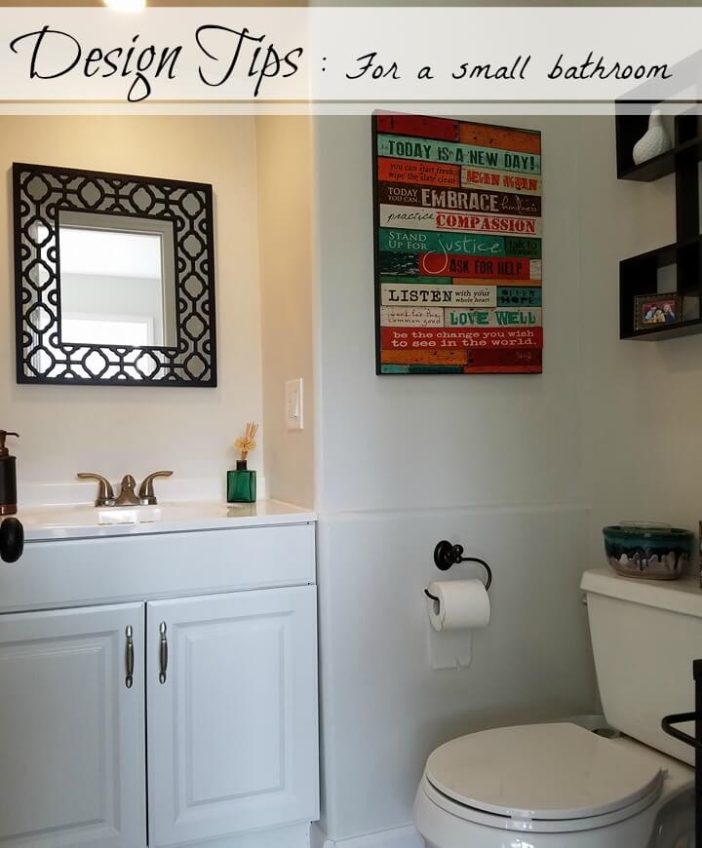 Pin for later =) https://www.pinterest.com/pin/237846424049053989/
Love the look of our new little bathroom?  Check out how we completely upgraded our teensie, tiny, broken, carpeted 80s master bathroom into the bathroom of my dreams .
Check out our kid's rooms – standard square bedrooms now all themed to the hills! Minnie Mouse toddler bedroom, Star Wars boys room, and a Shabby Chic room for my country girl!
Do you have any design tips for a small bathroom you would be willing to share?  I am always looking for ways to make our space more efficient and uncluttered.