Paint the Night Parade – Disneyland's Diamond Anniversary *Video*
Disclosure: Our family received media tickets to facilitate this post. Opinions on the awesomeness of sparkly things, anniversaries, and all things Disney are entirely my own.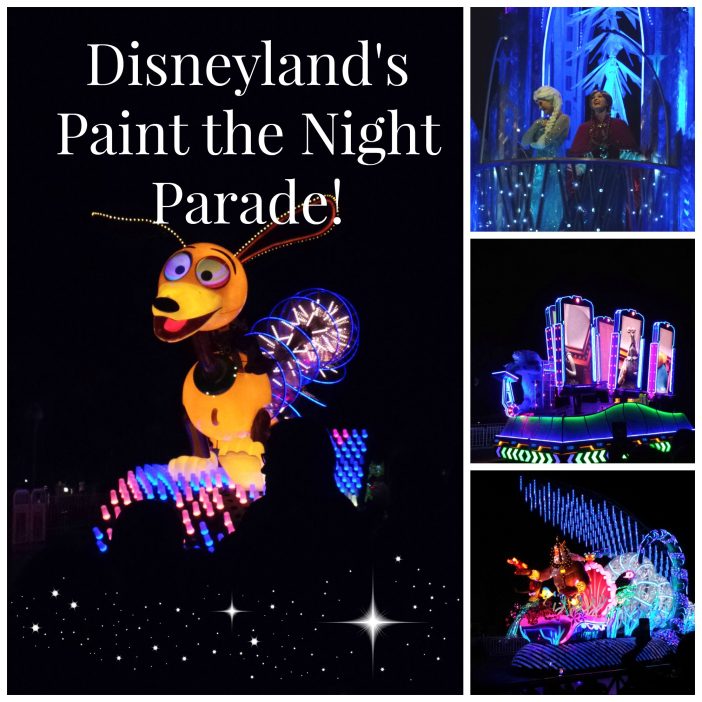 Disneyland turned 60 this year!  From food to decor to new special entertainment, it is a spectacular Diamond Anniversary and I cannot wait to share more.  My family checked out all the happenings a few days after the big reveal and it is so much more than we imagined!
First I want to share photos and a quick video from the incredible new night time parade that is sure to be unlike anything you have ever seen before.  With over 1.5 million sources of light audiences are going to be blown away by the Paint the Night Parade at Disneyland Park!
I have fond memories of the Main Street Electrical Parade from when I was a kid.  I remember misting up a bit in my late teens when they retired it.  For some reason I thought Paint the Night would be something similar, but I was wrong.  It had all the heart and charm of the Main Street Electrical Parade but with technology and innovation I could never have imagined back then.
The entire parade start to finish is gorgeous but I have to point out the highlights for our family….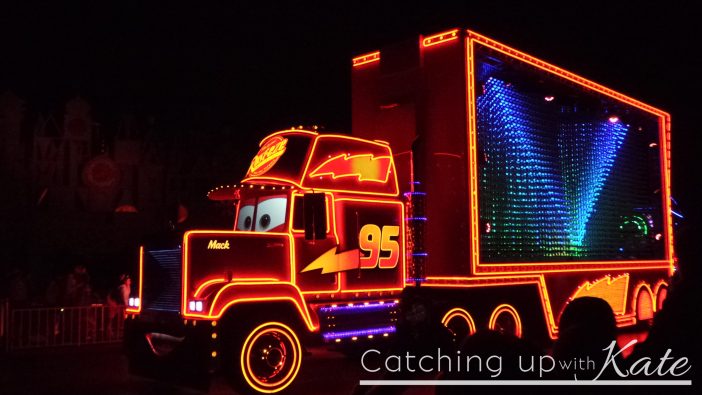 My son (and the entire audience) was floored by Mack.  We are huge Cars Fans and seeing characters from the movie was awesome – we loved seeing Lightning and Mater, but then Mack came out!  Mack is 54 feet long with thousands of synchronized lights.  It is a massive unit that really stands out in the parade.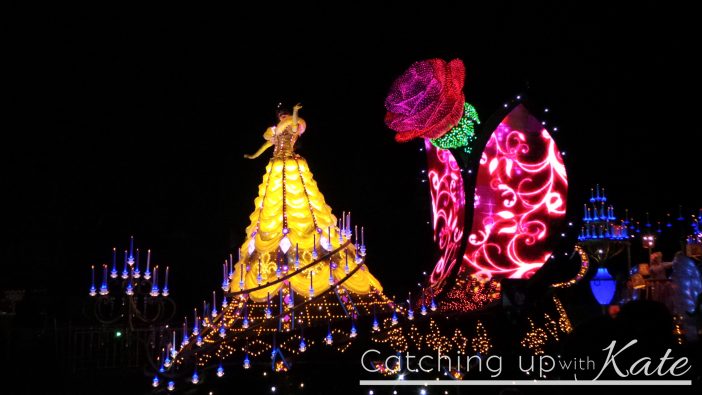 My daughters are all about the princesses and this parade has plenty! They loved the procession of princesses – Belle, Rapunzel, and Cinderella had gorgeous floats, side kicks, and dresses all with dazzling lights.  The true highlight for all the kids is the Frozen float.  Elsa, Anna, and Olaf wave and dance for the crowds from an elegant ice castle, also dripping with sparkling lights that danced along with the music.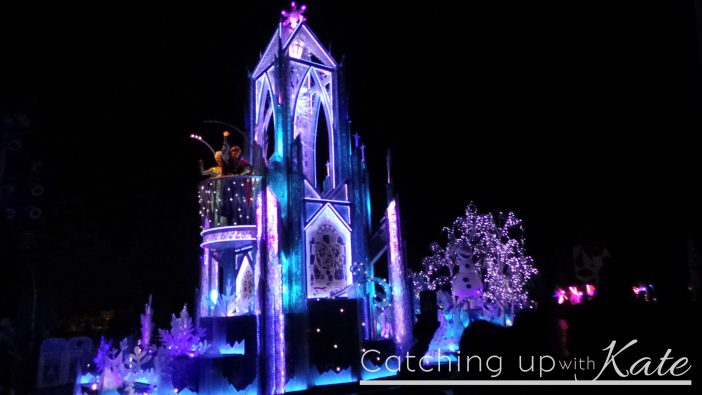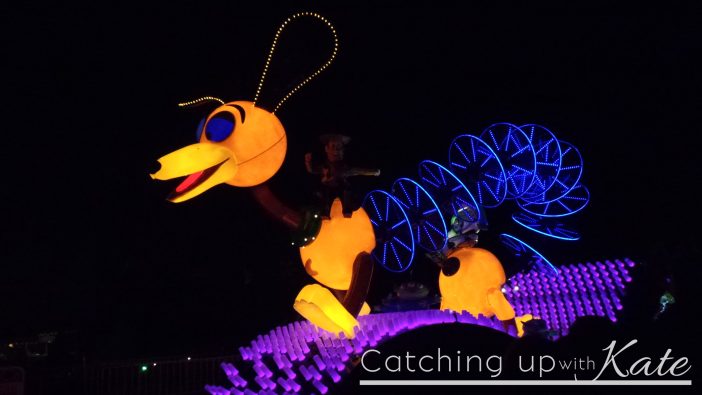 My littlest wants you to know that all her favorites from Toy Story (or as she calls it "Soy Tories") were there.  She said "It's like the Toy Story parade at California Adventure but SPARKLY Mommy!" -She wants you to know that if you love the Disney Pixar Parade at California Adventure you are going to love Disney's Paint the Night Spectacular. 😉  Woody, Buzz, Slinky Dog, and more all make an appearance.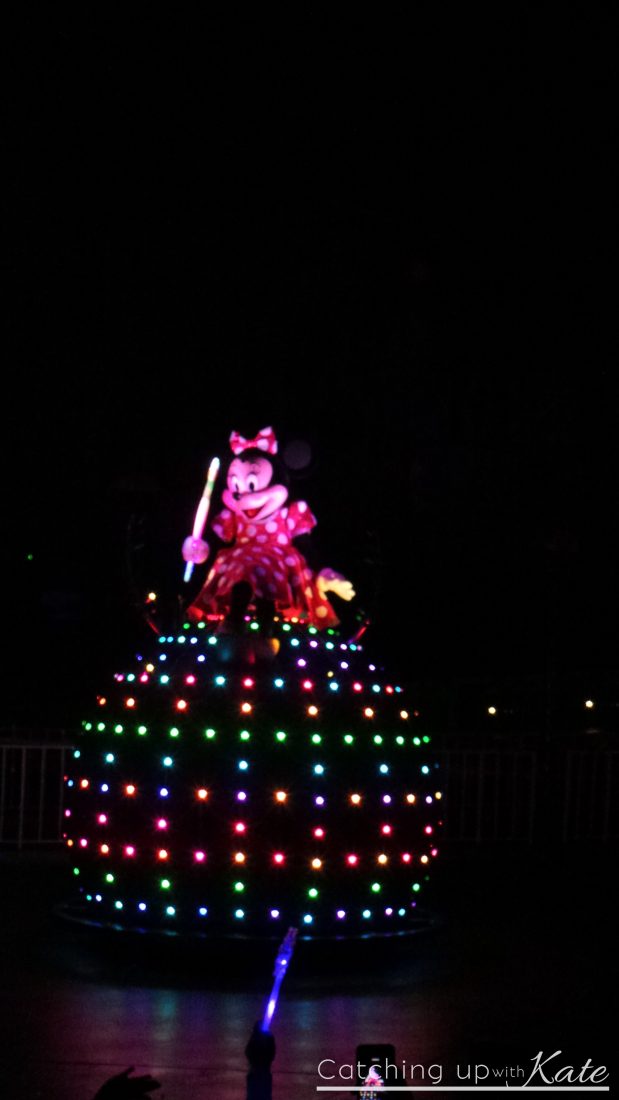 And for the Disney Classic lovers – you will be happy to know, that Mickey, Minnie, and the classics who started it all round out this beautiful parade!
It is important to note this is an extremely popular parade, people will line up hours before it starts to stake a claim on the parade route.  It is important to check out the times and leave yourself plenty of time to grab a spot.  I suggest at least 2 hours before the parade starts you find a seat, earlier on weekends.  Keep in mind this parade is about 40 minutes long and followed by a firework display that is about the same time frame.  I suggest making some fun out of waiting by grabbing a special treat and resting after running around the park all day.  We also use this time to look through our pictures and take turns taking potty breaks. I've seen people playing on tablets, card games, and even taking naps.  It can be a long wait, but everyone I know that has seen it says it was worth the wait.  We personally sat across from It's A Small World and the view was incredible.  Not only was the view perfect for the parade, but also for the fireworks that started shortly after.  My second favorite spot for parade viewing is facing the castle by the Founders statue – the castle is a beautiful backdrop for any parade and fireworks!
Below is our little highlights reel from the Paint the Night Parade – while a video cannot take the place of seeing it all in person, it is a great sneak peek!
For more fun – make sure to follow the hashtag #Disneyland60 on all social media for even more peeks at all the Diamond Celebration has to offer!
If you have never checked out the Disney Park's Blog you are really missing out!  I read it almost daily for new information, recipes, special events, and activities happening at Disney Parks – here is a fun quiz you can take on the blog right now  about the Paint the Night Parade (hint hint, all the answers are in this post!)