A Disney Cruise is the ultimate Experience gift for the holidays!
Disclosure: This site uses affiliate links.
Have you ever done a big surprise for Christmas? Not just an item that is a surprise to the kids, but something the whole family can experience? I was talking to my friends at Get Away Today and she mentioned how fun it is to surprise the family with a vacation for Christmas. Our family is moving into a stage where we love experience gift ideas. A Disney Cruise is obviously a splurge; the ultimate experience gift for the whole family. Here are some great ideas for surprising your family with a Disney Cruise. It is sure to be a holiday gift they will never forget!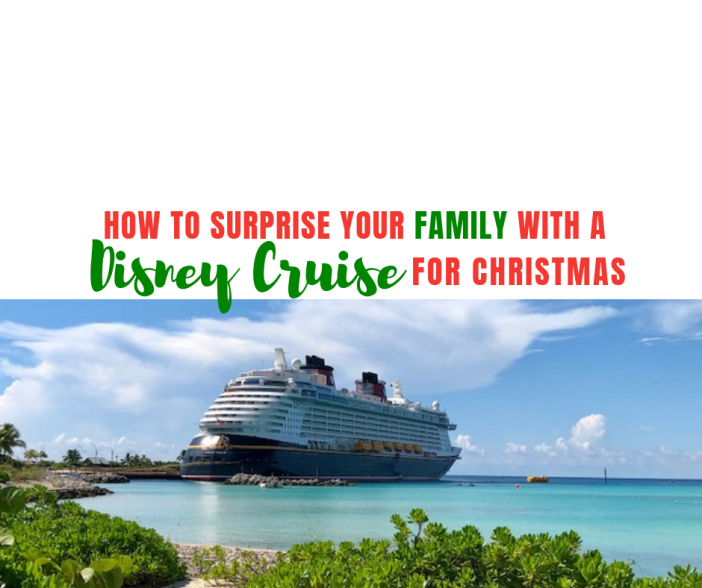 What is an Experience Gift?
Experiential gifts also known as gift experiences and experience gifts is different than a material gift. The recipient will enjoy an experience rather than toy or clutter. A few popular experience gift ideas are skydiving, kayaking, race car driving or a trip to Disneyland. A Disney Cruise is sure to be an experience gift that would lead to many magical memories. Purchases typically take the form of vouchers or gift certificates via email or retailed boxes.
Surprising the Family with a Christmas Cruise
It got me thinking about how you'd surprise the family; either doing the unveiling at Christmas and then taking the trip in a couple of days, months or maybe even taking the trip over Christmas itself. Either way, here are some tips from Get Away Today for surprising the family with a Disney Cruise for Christmas.
First of all, you can find my personal review of the Disney Wonder, one of four ships in the Disney Cruise Line, HERE on the blog. You may know that each of the ships feature Disney magic at every turn, offering a truly immersive experience for your family. All the ships offer live-action shows, movies on board, fireworks at sea, pools, waterslides and incredible, themed dining. There's so much to see on the ships themselves, you might not even want to disembark for off-shore excursions! But when you do leave the ship, you're sure to find lots of fun and adventure at the beach, taking hikes or tours and exploring local culture. Disney Cruise Line also has themed cruises for Holiday sailings so you can enjoy festive celebrations while at sea.
Before you work on surprising the family with a Christmas cruise, here's a look at some of the 2020 and 2021 Disney Cruise Line sailings you can book at discount fares with Get Away Today:
The Caribbean: Depart from Port Canaveral, Florida and enjoy port stops such as Miami, San Juan and New Orleans. Choose from 4, 5, 6 or 7 night itineraries.

Hawaii: Depart from Vancouver, British Columbia or Honolulu, Hawaii and explore Hilo, Nawiliwili and Kahului. Choose from 9 or 10 night voyages.

The Bahamas: Depart from Port Canaveral, Florida and head to ports in Miami, San Juan, New Orleans, Nassau or Disney's private island Castaway Cay. Choose from 3, 4 or 5 night itineraries.

Baja: Depart from San Diego, California and visit Cabo San Lucas, Ensenada, Puerto Vallarta and Mazatlán. Choose from 2 or 7 night itineraries.

Pacific Coast: Depart from San Diego, California or Vancouver, British Columbia and visit ports including San Francisco and Victoria, British Columbia. Pacific Coast cruises offer 5 night itineraries.

Panama Canal: Depart from New Orleans, Louisiana and explore the Canal and surrounding areas for two weeks. Visit ports such as Cartagena and Columbia.

(2021) Mexican Riviera: Beginning in 2021 you can depart from San Diego, California and head to Mexican ports including Cabo San Lucas, Mazatlán and Puerto Vallarta. In winter 2021, Disney debuts a brand-new ship, Disney Wish, which is expected to include a number of the above itineraries.
Now that you know a little more about some of the beautiful destinations your family can visit on a Disney Cruise, here's a clever way to surprise the family with a Christmas vacation, courtesy of Get Away Today.
Message in a Bottle Surprise Cruise Reveal
Use a message in a bottle to surprise the family with a Disney Cruise vacation. The simple, fill-in-the-blank coded message is fun to decode, and the message is sure to be a hit! Here's what you'll need to share the Christmas cruise news:
White Cardstock

Baker's Twine

Small Glass Bottle with Stopper

Bottle Filler (such as small sea glass, sequins, stones, sand, etc…)
For the reveal, print the coded message on cardstock and cut out. Roll it into a scroll and tie the baker's twine to secure. Leave a long length of twine that can reach the top of the bottle so you can pull the message out easily.
Slip the scroll into the bottle and fill with your chosen embellishments. With the twine coming out of the bottle, place the stopper and decide if you're going to share the message before Christmas or the morning of.
Other fun and simple surprise vacation reveals include paper countdown chains, helium balloons that float out of a box with a note attached or even a paper cut into puzzle pieces that had the cruise reveal typed up on it.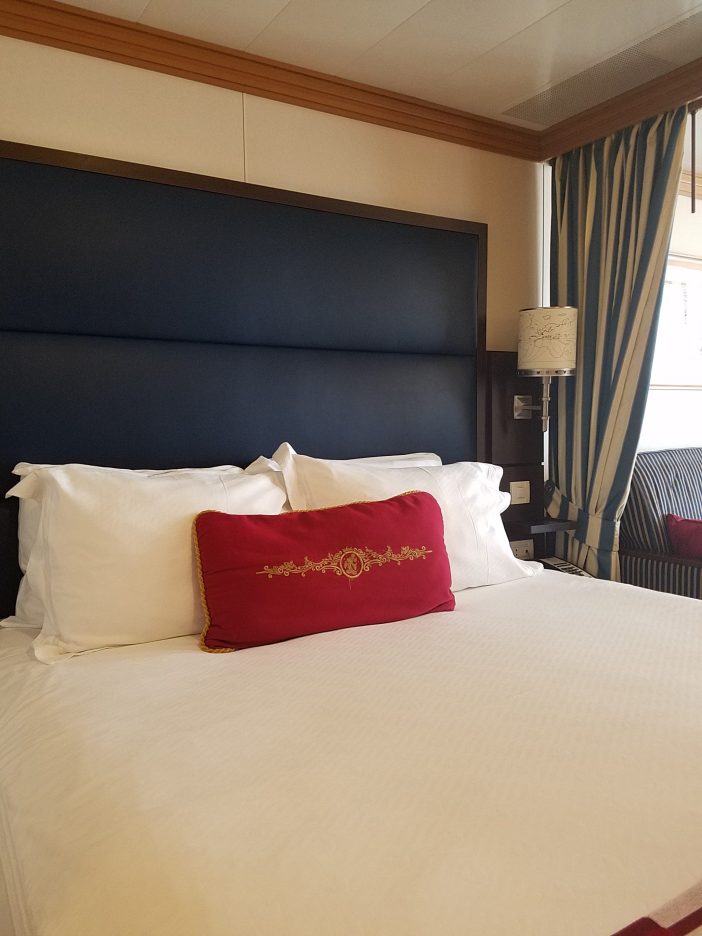 How Early in Advance to you need to book a Disney Cruise?
Many people book Disney cruises months in advance. If you are thinking of taking a cruise over the winter holidays, now is the time to start booking! You can also book a cruise several months in advance. If you would like to gift a Spring time cruise for Christmas time, Get Away Today can find you the best deal available. Get Away Today also has Lay Away options for cruise bookings, which is sure to be a great way to save a little at a time towards your family trip of a lifetime.
Book a Disney Cruise with Get Away Today
Ready to set sail? A surprise Christmas cruise is a great way to make family memories during the holidays. Take advantage of discount fares when you book with Get Away Today and no-fee payment plans. That means you can book now for Christmas 2020, making a cruise more affordable than ever before. There's also still plenty of time to book for a Christmas 2019 cruise. See all Disney Cruise Line itineraries at www.getawaytoday.com, or speak directly with a cruise specialist at 877-510-2929. Let them know Highlights Along the Way sent you!