Disney Frozen Printables : Spot the Difference
Frozen and Frozen 2 are some of the most popular movies ever in the Disney Animation library. We have so many fun and FREE Disney printables on our site. This "Spot the Difference" is free to click and print and will keep your little Frozen fan busy for a while trying to find the differences. We also have several Frozen Coloring Sheets that are also free on our site!
Here are some more awesome Disney Frozen free Printables. Disney's Frozen opens one week from today! Frozen 2 is in the works and people are so excited! Disney's animated film Frozen was a smash hit and it is still a favorite cartoon for millions of families. This free Disney's Frozen printable is perfect for winter break. This printable is high resolution and free to print from your home computer. Thank you to Disney for sending over these fun activity sheets for our Disney loving blog readers!
Spot the Difference printables are great for keeping little ones busy, they are especially perfect for kids to work on together! Print out for a last day of school activity or to keep kiddos busy on a long ride to grandma's house. Enjoy finding the difference with your favorite Frozen characters. Anna, Elsa, Sven, Kristoff, and Olaf are all here for the fun. Even the wicked but handsome Hans is here.
Frozen Spot the Difference FREE Printable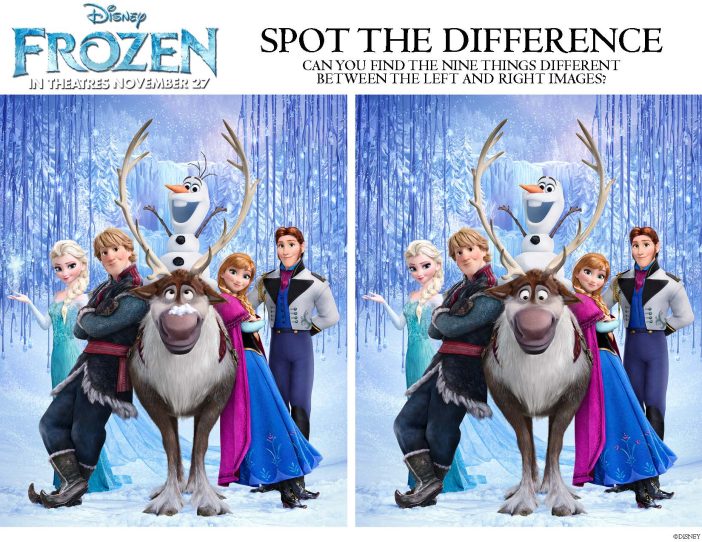 We love to follow Disney's upcoming movies on social media – use the hashtag #Frozen on Instagram, Facebook, and Twitter.
"Like" FROZEN on Facebook
Follow FROZEN on Twitter
Frozen Synopsis "When their kingdom becomes trapped in perpetual winter, fearless Anna (Kristen Bell) joins forces with mountaineer Kristoff (Jonathan Groff) and his reindeer sidekick to find Anna's sister, Snow Queen Elsa (Idina Menzel), and break her icy spell. Although their epic journey leads them to encounters with mystical trolls, a comedic snowman (Josh Gad), harsh conditions, and magic at every turn, Anna and Kristoff bravely push onward in a race to save their kingdom from winter's cold grip."
Frozen 2 synopsis – Elsa the Snow Queen and her sister embark on an adventure far away from the kingdom of Arendelle. The original cast is back!
FROZEN 2 is expected on November 27, 2019.
Want more fun Free Frozen Printables? Make sure to check our our free printable section!