Disney Merriest of Nites at Disneyland – Honest Opinion
Disclosure: This site uses affiliate links.
Disneyland during the winter holidays has always been a magical memory. Missing out on Disneyland during the holidays last year due to Covid made me JUMP at the opportunity to visit Disney Merriest of Nites with Get Away Today! I love the lights, Disney characters dressed up, and of course the holiday treats.I was thrilled to attend on opening night and share with everyone. The overwhelming question when it came to my honest opinion of Disney Merriest of Nites was "Was Merriest of nights worth the extra cost?"
This post is in no way sponsored, but as a Get Away Today affiliate I am able to offer you a special discount code you can use on top of their discounts. When you use my unique code you get a discount and I get a small commission at the same time so we all win! If you are considering giving the gift of Disneyland tickets this holiday season; Lexi made some great points in a previous article.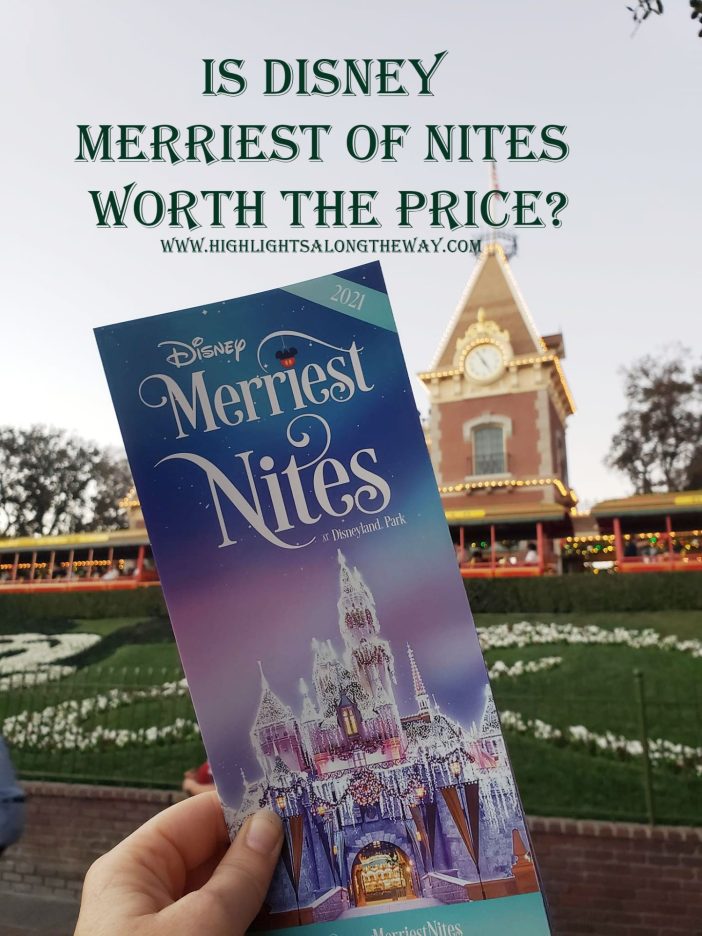 Is Disney Merriest of Nites worth the Price?
Disney Merriest of Nites is a separately ticketed event that begins at 7pm. Guests of the party wear a special wrist band and can enter the park during a 'mix in' with day guests for two hours beginning at 5pm. Merriest of Nites then begins the party once the day guests depart with special entertainment, treats, exclusive merchandise, rare character meet and greets, parades, and more!
Pros for Disney Merriest of Nites
Fun character meet & greets & sightings!
Characters we have never seen before were out to visit! Characters from Mickey's A Christmas Carol are on Main Street. In Fantasyland guests can meet Anna, Elsa, Olaf, Kristof, the Duke of Wesselton, Hans (ew), and Oaken. Lilo and Stitch meet with fans in Adventureland, Buzz dances with a DJ above Star Wars Lanch Bay in Tomorrowland, and so many others!
Parades
Parades are back and Disneyland, which guests have missed since reopening. The classic Christmas Fantasy Parade is back in all its beautiful glory. An additional short 'parade' of sorts featuring the Muppets happens several times down Main Street USA during the event.
Short ride lines
If you are into rides, these events are perfect. Most ride lines are under 10 minutes once the day guests exit for the day.
Yummy treats
While these are not included with the price of admission the party has a special menu that you cannot order at any other time in the park.
Cute swag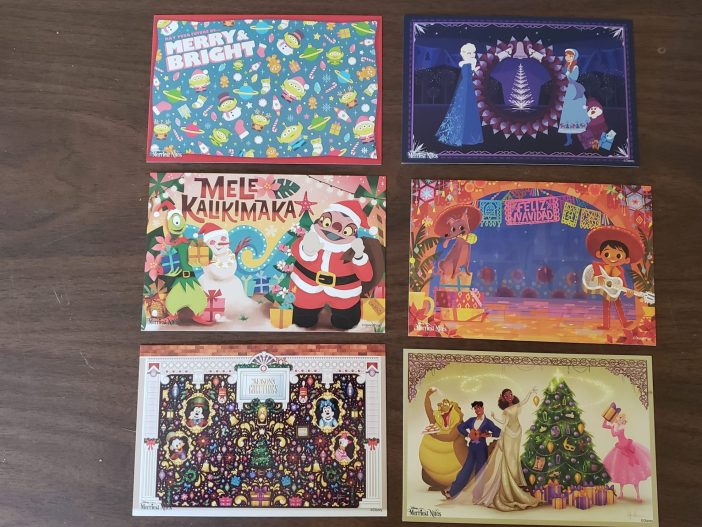 On the way in guests will receive a light up holiday necklace with a "Merriest of Nites" credentials. On the way out guests receive a pack of 6 collectible post cards created by Disney artists just for the event.
Photo pass is included
If you enjoy using Photo pass, it is FREE at the event. With cute photo back drops all over the park and characters everywhere you will get lots of cute photos for sure!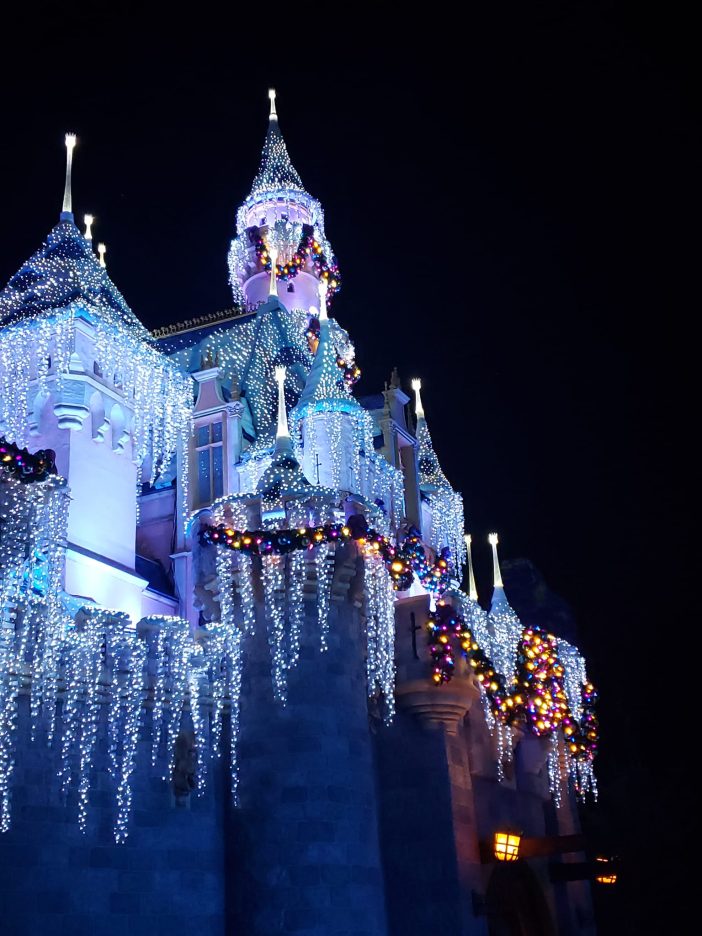 Cons – reasons I will probably skip Merriest of Nites next year
Long waits even with Disney Mobile app for food
We heard complaints all night about the long waits for food. Carts seemed to be moving fairly quickly but quick service and sit down restaurants seemed to have some issues. We waited more than an hour for items that did not even need to be prepared (just cupcakes that needed to come out of a fridge) even after Mobile App let us know our items were being 'prepared'. We did not complain; but we heard many Cast members getting an ear full from upset guests. To be fair, sitting around and waiting for food you used the mobile app to order is no way to spend your time when you have spent close to $200 on an evening event.
Underwhelming Exclusive Merch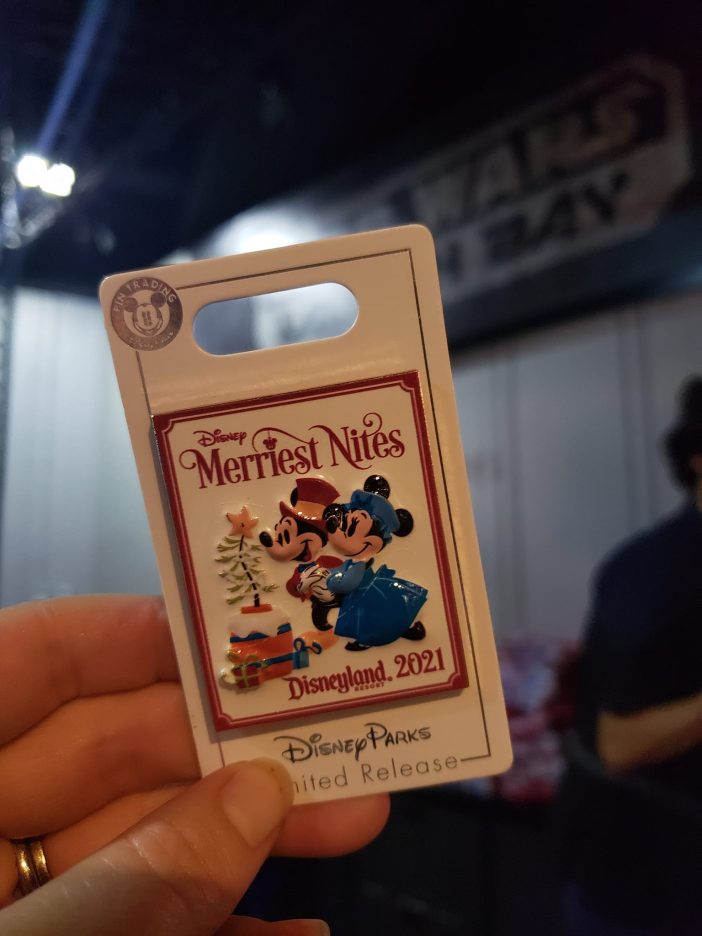 I don't often buy exclusive merchandise because we just don't have a lot of room for collections; but I of course had to go check it out. There were two shirts, a tumbler, one pin, one iPhone case, and I think that was it. I waited in a virtual queue and then an actual queue for 45 minutes to go into Star Wars Launch Bay to see things set up in a spot that had the most 'clearance warehouse' of vibes. There was no festive decor, just plain tables and registers with folded tshirts and such behind. You would think there would be cute Merriest of Nites ornaments, maybe a pin set, a mug, a plush, surely a pair of exclusive Merriest of Nites Mickey ears; but nope. I was very disappointed.
No included treats
One of the ways we justify "Oogie Boogie Bash" ticket prices is that our kids don't *need* us to buy treats. They can snack on candy, chips, and even apples, raisins, carrots, and more while they trick or treat. They also bring literally pounds of candy and snacks home with them. While I heard a rumor there would be treats like Hot Cocoa included with tickets, this was not the case. There was no shortage of treats, but nothing was included.
Parking is not included
Back in the day, Mickey's Halloween Party included parking. A couple years ago this changed and guests needed to pay for parking. Merriest of Nites tickets start at the very steep price of $165 per person and they do not include parking; which is the same price as during the day for $30.
It is really too late for a lot of little ones
I saw a multitude of melt downs by littles that were just done with all of this merry nonesense long before the midnight shut down. If your kids are night owls or you are going without kids; it is great; just know that we saw many people leave early. Considering it is a fairly short event; those couple hours really make the event even more expensive.
Would I go to Merriest of Nites again?
Honestly; probably not. There were lots of magical moments at Disney Merriest Nites. That said; if I was to go to Disneyland during the holidays again I would visit with a regular day ticket. While I LOVE Mickey's Halloween Party or Oogie Boogie Bash; I don't think this packed the same punch for the steep price. While I highly endorse a Disneyland vacation for Christmas; I'm kinda 'meh' when it comes to "Merriest of Nites".
I do think this is a good time to remind you that right now you can purchase Black Friday deals of adult tickets at the kid's price and insanely low hotel rates. To book your holiday vacation, visit getawaytoday.com or call 855-GET-AWAY to speak to one of our travel experts directly. With a flexible Layaway Plan, discount Disneyland tickets and exclusive hotel specials, you'll be able to save the most on your next Disneyland vacation. Don't forget to mention promo code Highlights for an additional $10 off your hotel and vacation package. Let them know that Highlights Along the Way sent you!