Disney Social Media Moms Celebration
Disclosure: I was invited to attend the 2014 Disney Social Media Moms Celebration. Although I was offered a discounted rate on elements of the trip, I did pay a conference fee. I was also provided gifts during the conference from conference sponsors. I was not required to write about my experience. Opinions are 100% my own.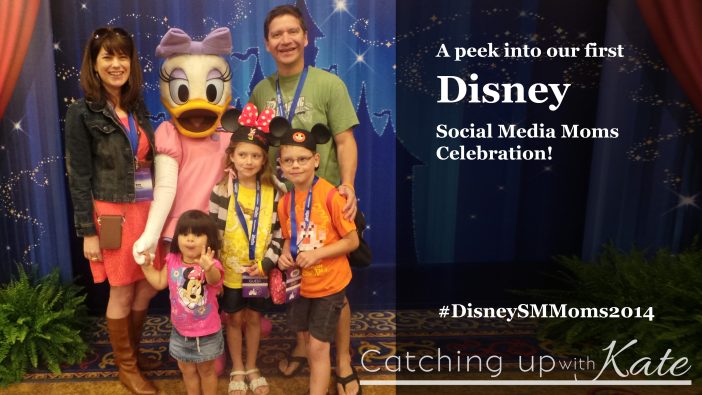 Last week my family and I were lucky enough to attend Disney Social Media Moms Celebration for the first time!  Several of my blogging friends have attended in years past and have said it was by far the most magical, fun, inspirational (and on and on) conference they have ever attended. I attended Disney Social Media Moms On The Road last year which gave me a sneak peek and I was beyond excited when our invitation for #DisneySMMoms magically appeared in my inbox!  I have shared a couple posts already, and I have several more coming soon!  It thought I should explain why we have all this extra Disney fun to report about all of a sudden!  So here is a very quick peek into our last week…..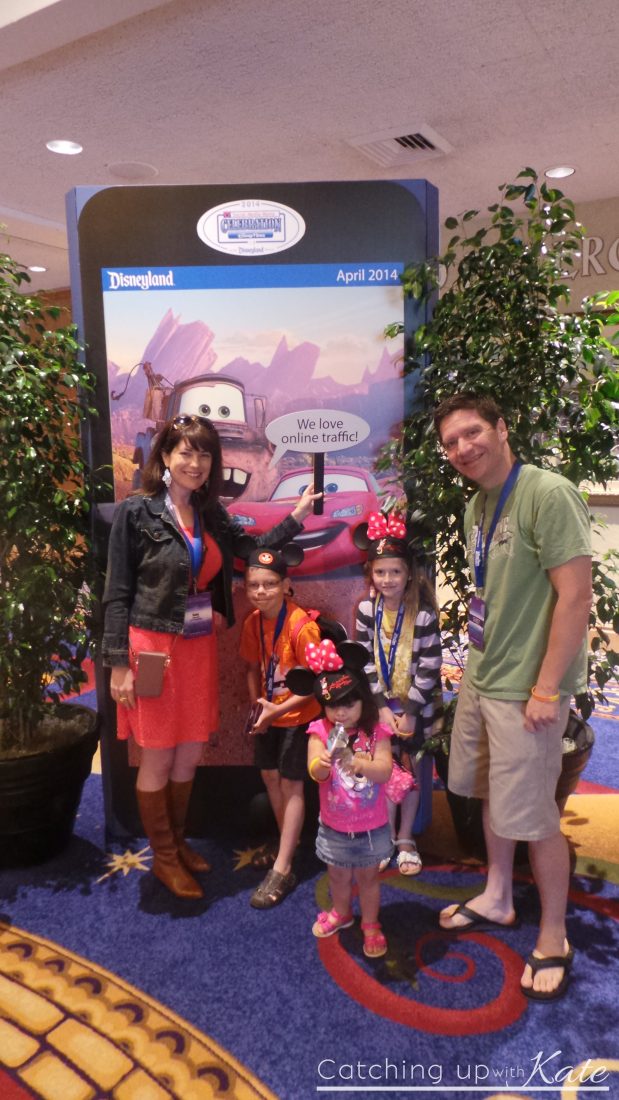 On day one we met some friends, tried out some new apps, and learned just a bit about some of the awesome sponsors…..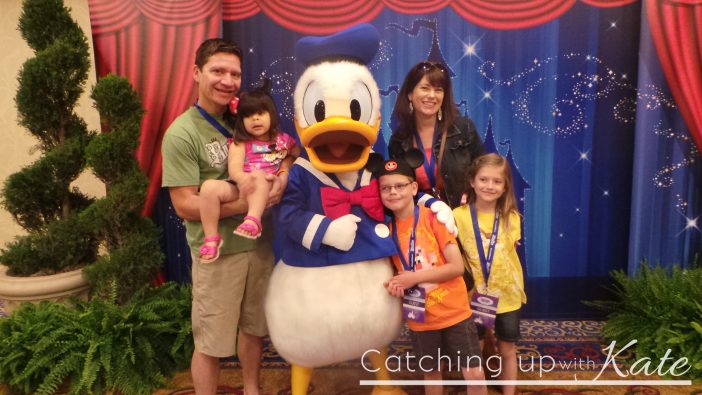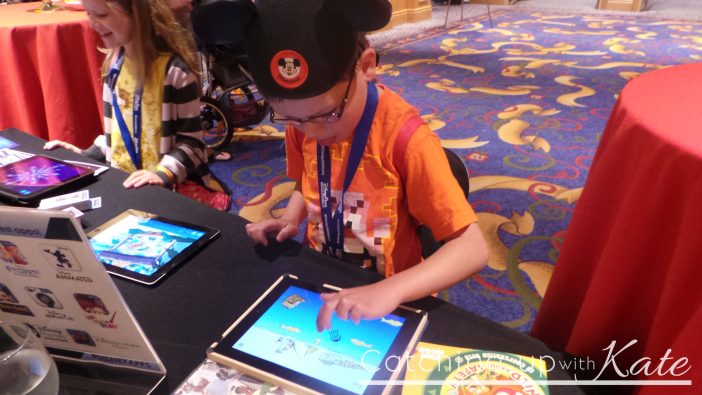 Once we were all checked in we were off to Cars Land first………… it's kinda our favorite.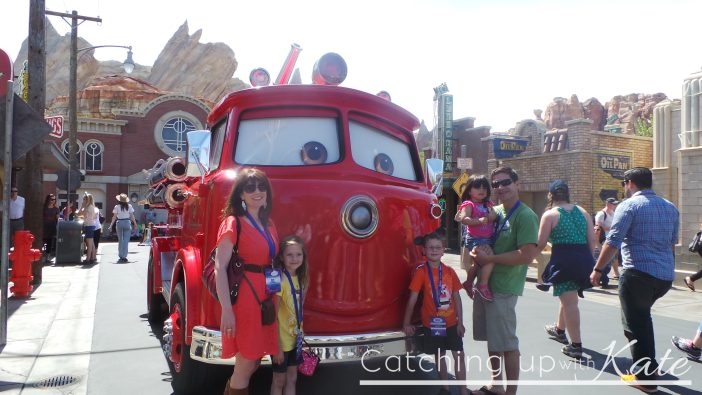 We had to make a quick stop to World of Disney because Miss J had been saving up for an Elsa Doll, and everyone knows, you can only get one at Disneyland!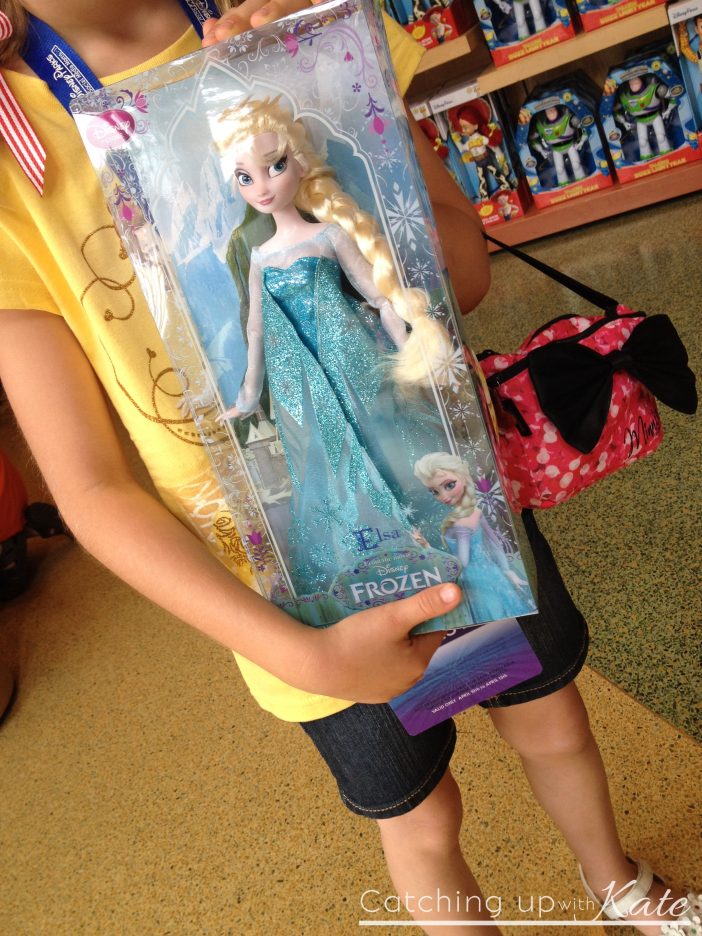 While kids and daddy got settled in the Disneyland Hotel, the good folks at Coppertone treated the bloggers to a fun welcome reception.  It was just hours in and I was already having a great time!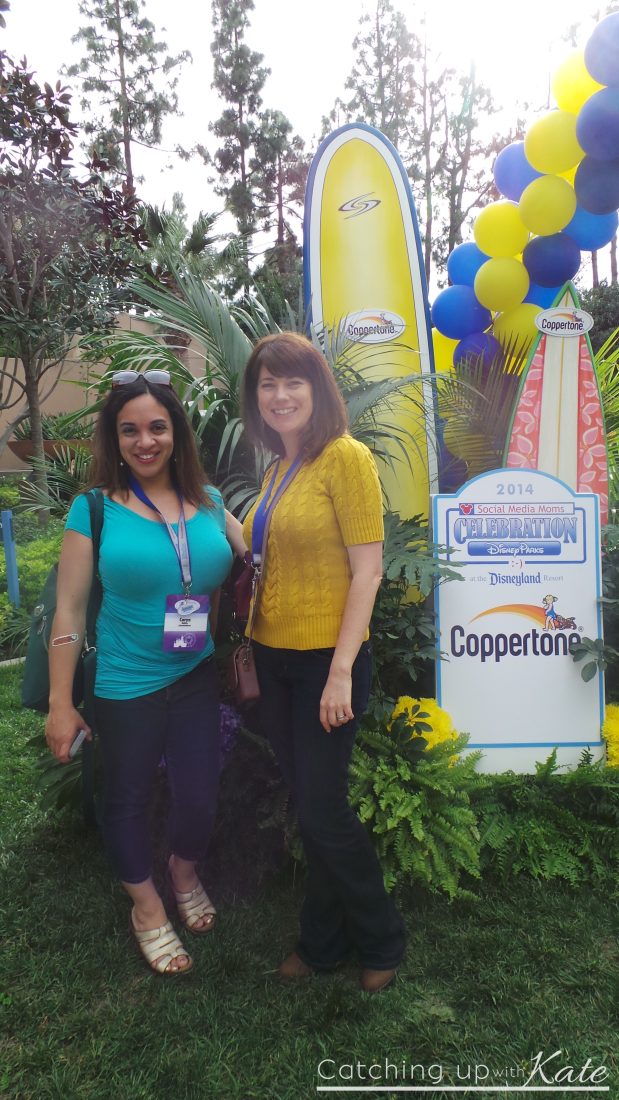 *hanging with my friend Caryn who writes at Rockin' Mama – read her blog friends*
At dinner our whole family enjoyed dinner at Big Thunder Ranch Jamboree!  We learned about Mickey Check (more on that later) from The Magic of Healthy Living.  We met fun Rabbit friends (just in time for Easter)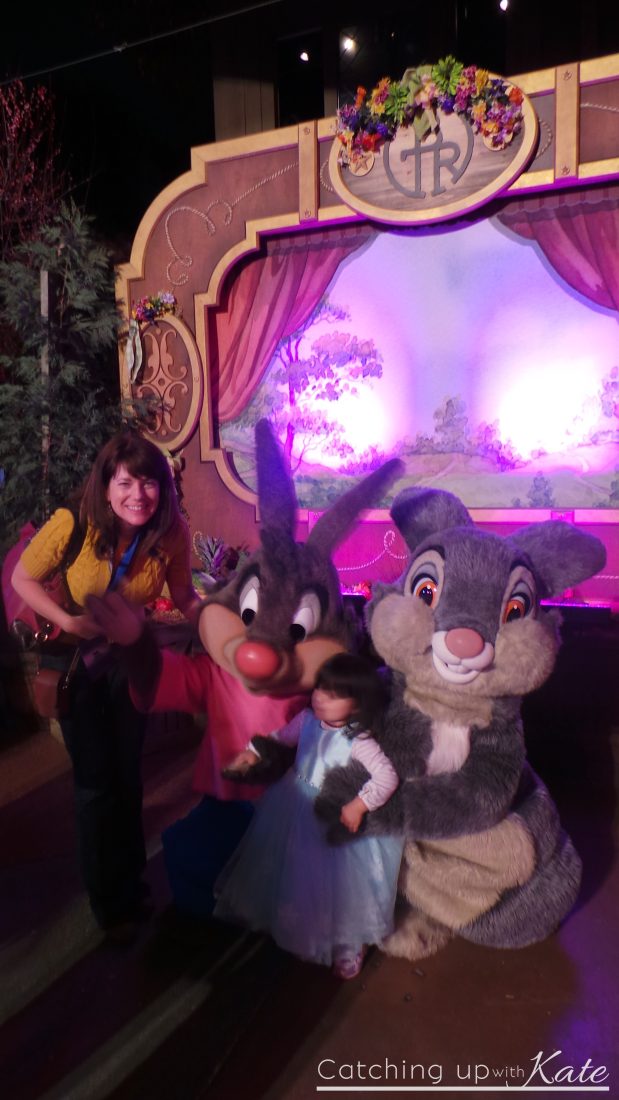 We enjoyed a delicious dinner, fun music, activities all while learning about healthy choices all around the Resort as well as healthy living apps, recipes, and things we can do at home. Oh, and Little Miss C danced to Footloose with Mickey & Minnie
And that was just the first day!
We woke up bright and early Friday and were inspired by speakers and special guests.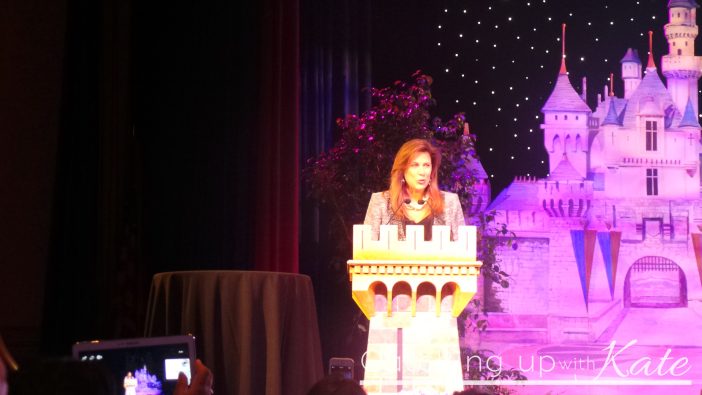 They were all amazing, and I have so much to share….. but I gotta share this….. Grumpy Cat came guys….. real live Grumpy Cat.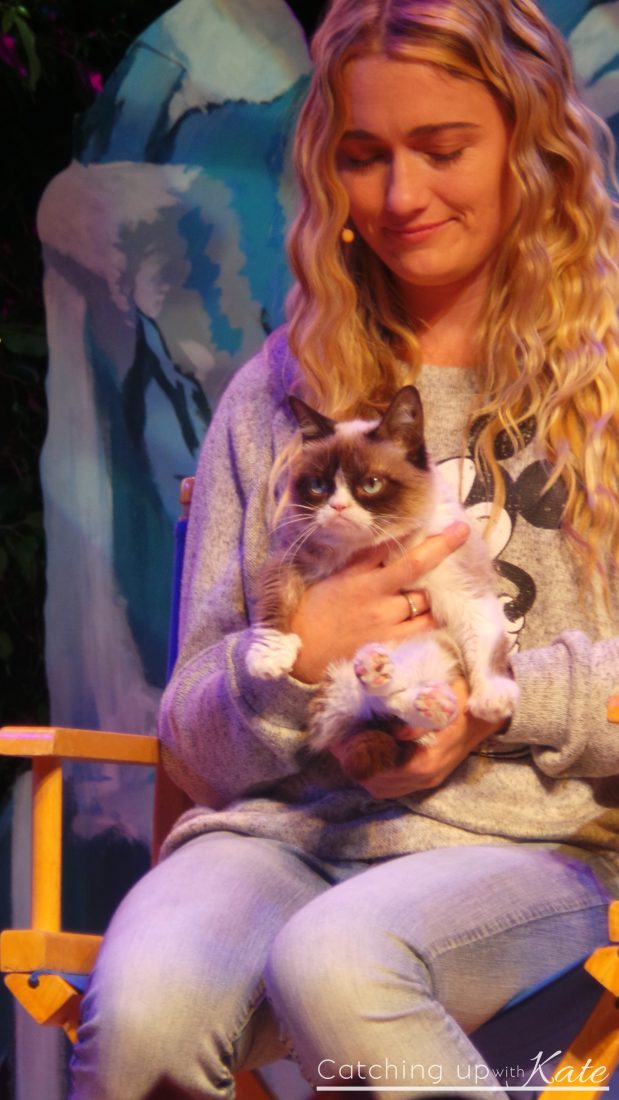 *I really wanted to squeeze her…. but I never got close enough*
*This is what EVERY night looked like at The Disneyland Hotel*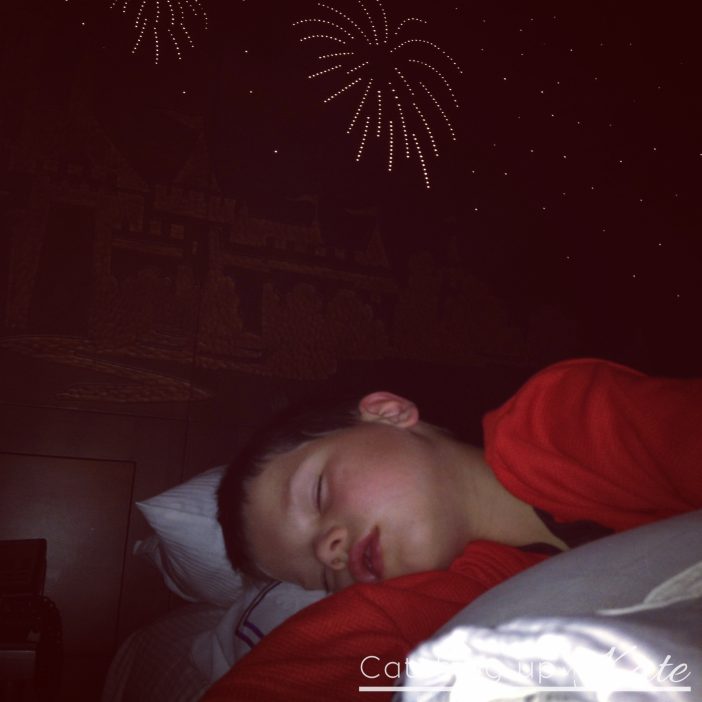 *You'd think three kids in a hotel room would be hard to get to settle, no way, they were so tuckered from all the fun each night we all got great night sleeps!*
Saturday was so full of awesome we could barely handle it – we learned about Give A Book Get a Book (C was a little overwhelmed and all our pics with Genevieve were fuzzy – so sad)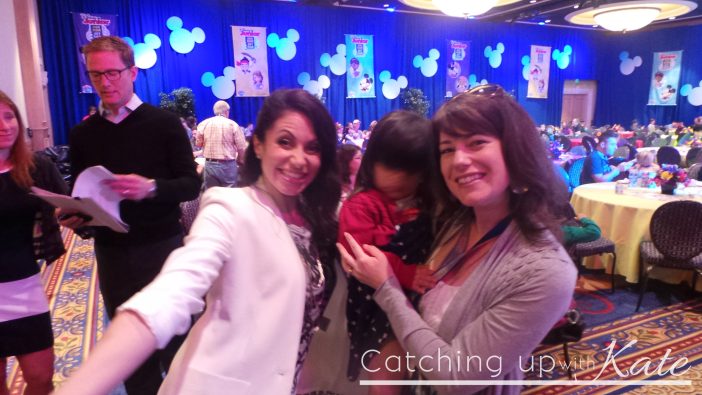 We ate cupcakes at 11 am to celebrate Elle Fanning's Birthday, with Elle Fanning!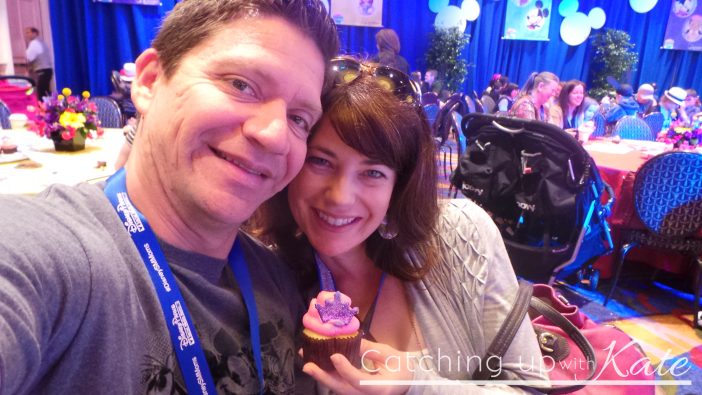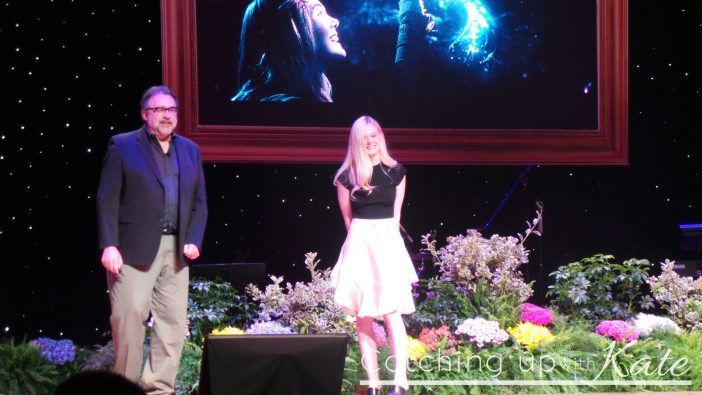 We also saw an extended trailer for Maleficent – Elle stars as Sleeping Beauty.  This movie looks incredible friends, mark your calendars – May 3o, 2014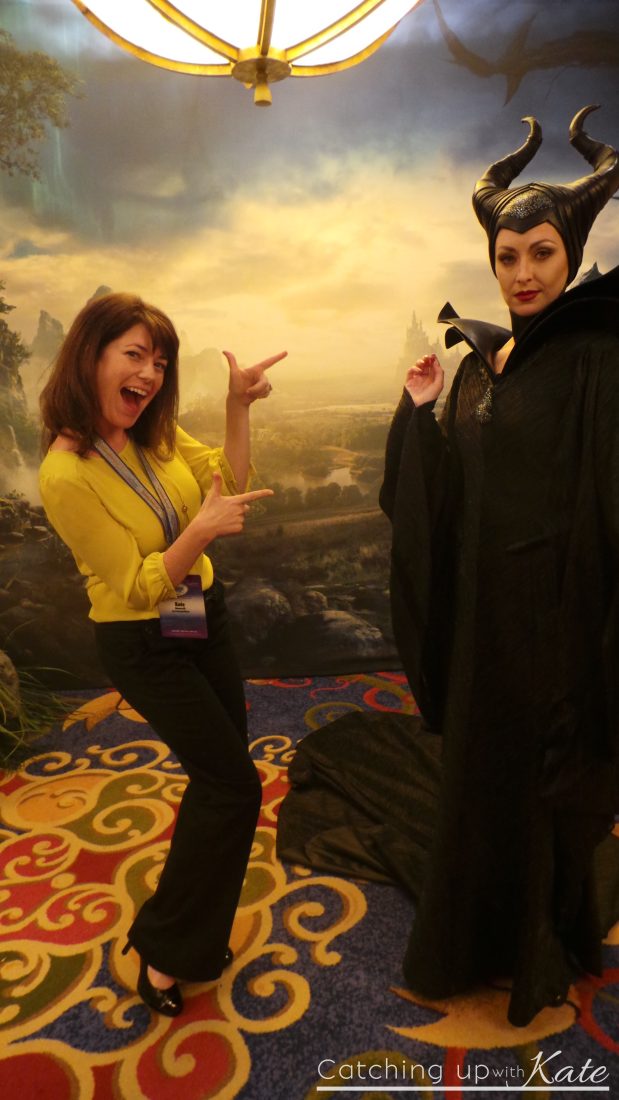 I was super jazzed to meet Maleficent, she was super excited to meet me too, but she was playing cool.
We enjoyed an early family screening of Disneynature's BEARS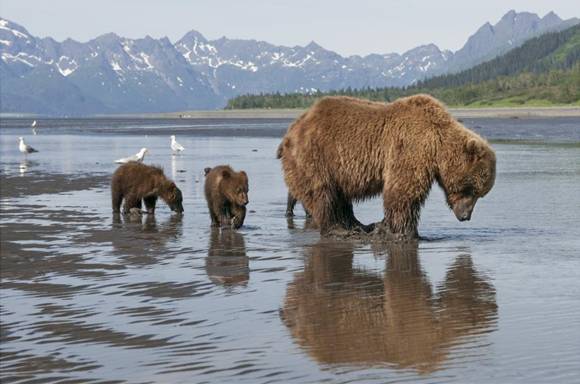 and then we hopped over to Disneyland for a bunch of rides, and a meet and greet with our favorite bear.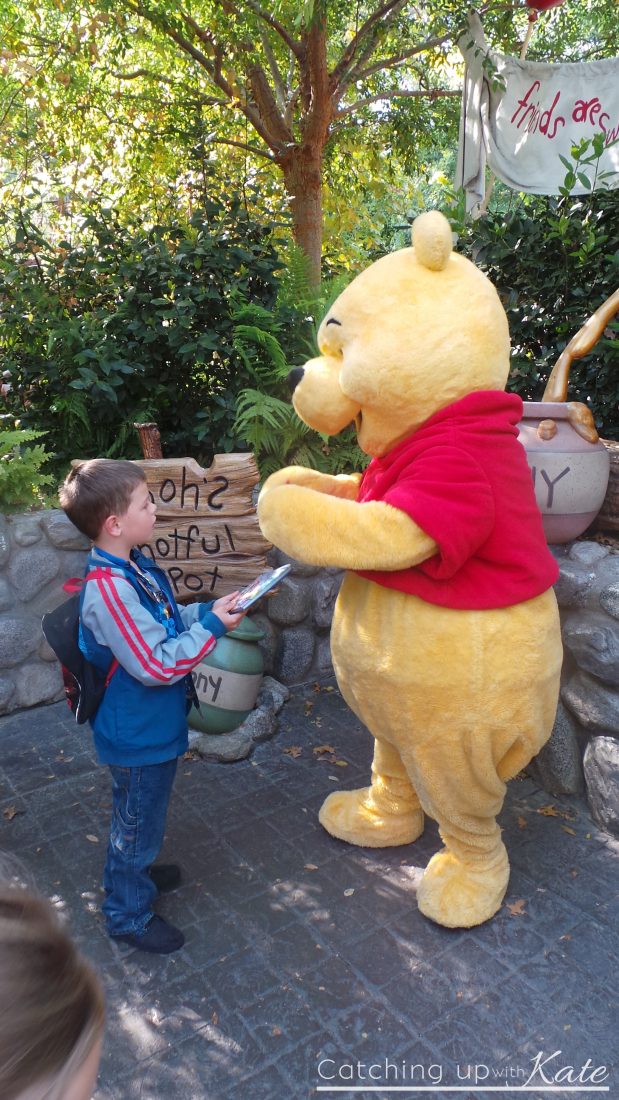 We enjoyed dinner at Toontown for our last night.  Our kids danced with their friends, enjoyed all the GoGoSqueez they could handle (thanks GoGoSqueez!!), rode rides, met new friends, and basically just savored the magic!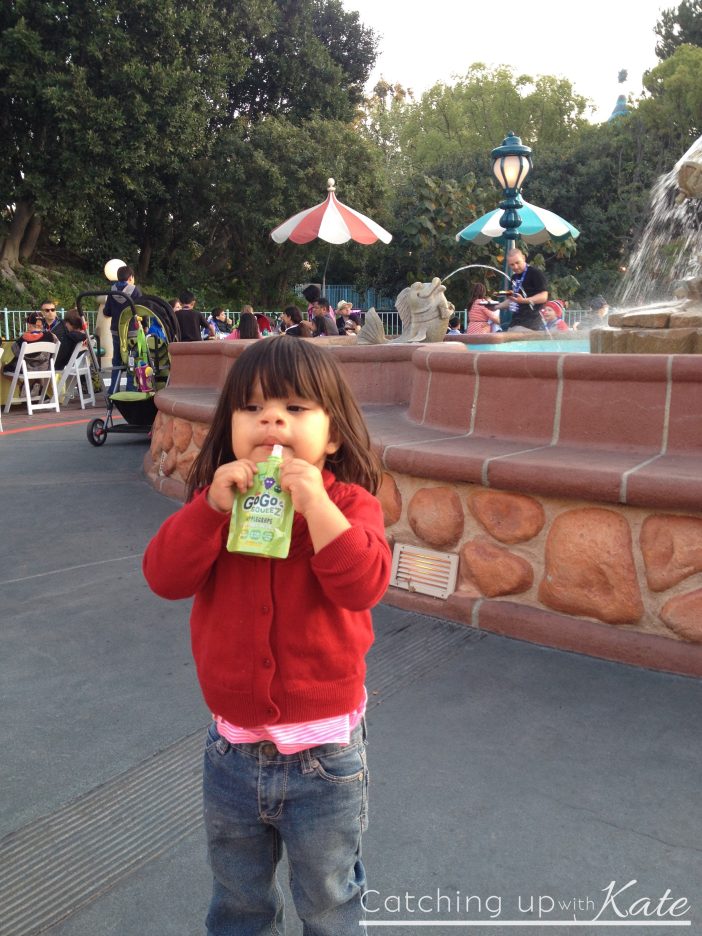 And in a move that surprised everyone, I got up at 4:45 am to participate in my first RunDisney Fun Run.  I am not a runner, not even a little bit.  It was only 2 miles, but if you know me, you know even that is kind of a stretch…. but I did it! (I think my new New Balance shoes are magical)
Our run ended in Cars Land where our families were waiting.  Disney California Adventure Park was still closed but they opened Cars Land for our conference attendees and families to enjoy – I cannot tell you how many times we rode Radiator Springs Racers….. but it was a lot friends!  I've said it a couple times I know, but it was just such a magical weekend for our whole family!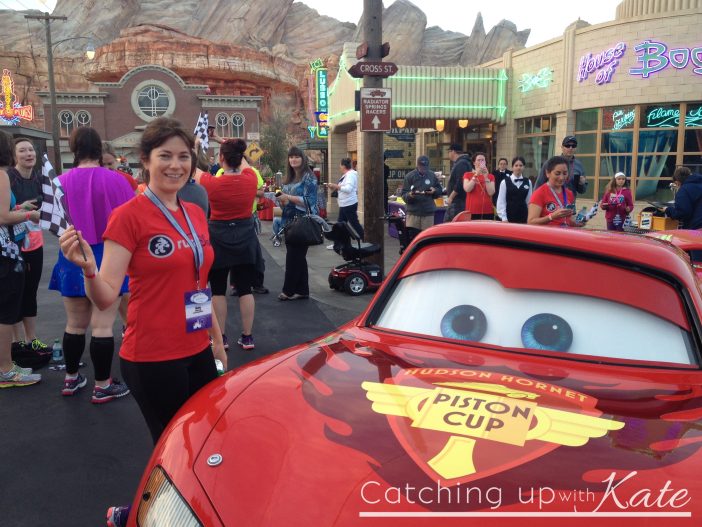 We enjoyed Sunday at the Disneyland Resort as a family and packed it up and came home.  This started as a "Wordless Wednesday" post, but apparently even a quick photo summary got a little wordy….
A HUGE thank you to everyone at Disney and every single sponsor who made this incredible event happen!  I plan on featuring each one of you in the weeks to come!  A HUGE thank you to all the other bloggers who made me feel welcome!  I was so excited to be a part of this magical club!  Hope to see ya real soon!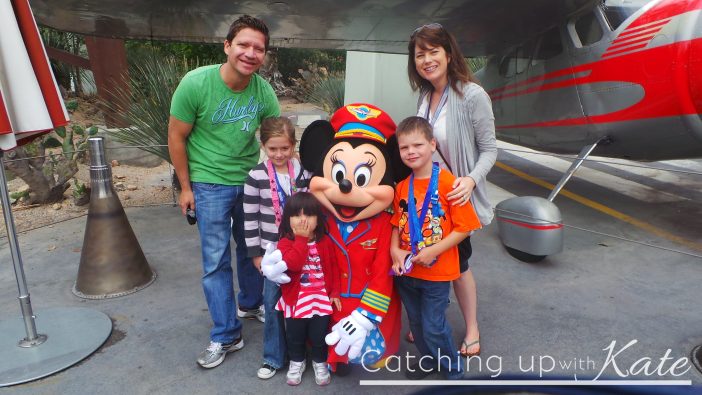 I can't wait to share more with you friends!  While the Disney Social Media Moms Celebration was a really fun event for our family to attend, it was also beyond encouraging and inspirational to me as a blogger.  I will be sharing more of what I learned at Disney Social Media Moms in the weeks to come!