All it took was $1600 and a big fat lie to potty train my youngest…..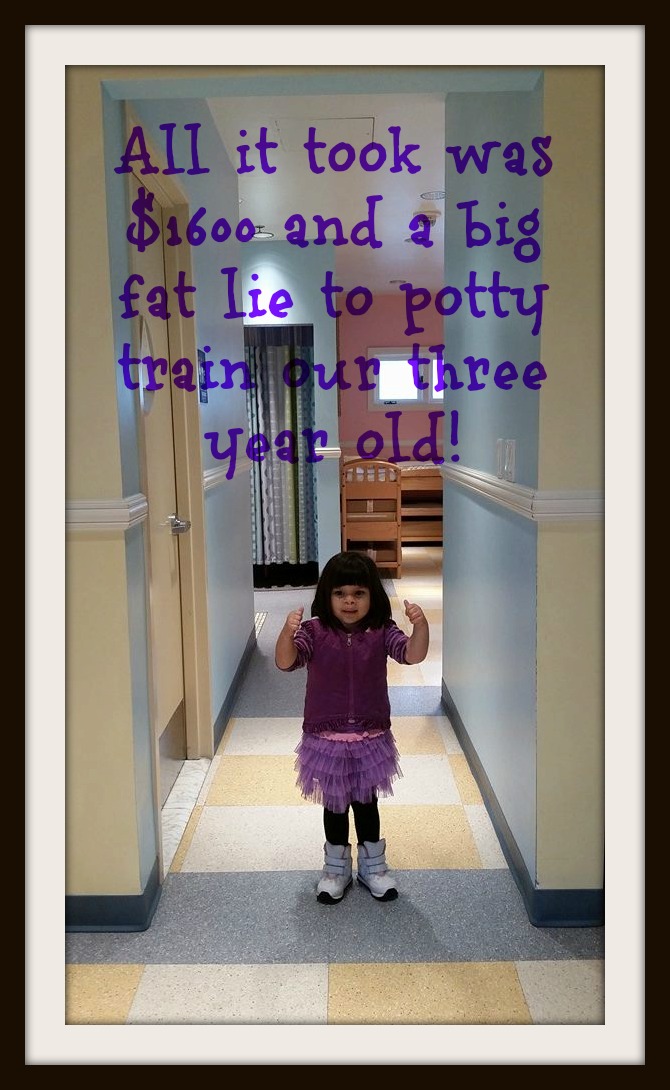 So I don't know if you have had the pleasure of meeting my youngest.  She's adorable.  She is also stubborn.  She is a huge Disneyland fan. She is also just a wee behind the curve in just about ever area (except adorableness; she dominates there).  I mentioned MANY MANY months ago how she fully understood the potty but was totally fine with being a baby and having a 'baby diaper'.  When I suggested being a big girl and using the potty she would say "Silly Mommy, I not a big girl, I is da baby, I just gonna wear dez diapers."
Sometimes she would use the potty, sometimes all day.  Then the next day we were back to pooping our pants.  No rhyme or reason except that the good Lord was clearly testing to see if I meant it when I said "We really are just going to let her use the potty when she is ready, I am not going to push like I did with her brother."
Well, when we kissed three and a half years goodbye and entered three and three quarters I was like 'Over it'.  I explained to her that she is a big girl now…. "No Mommy, dat's silly, Sister is a big girl, I da Baby."….. I explained to her that she will always be the baby, but that this box of diapers and this box of pull ups is the last we are going to buy (Costco sized so we were going to have them for a while).  After that we would use cloth diapers until she wanted to wear undies.
*blink blink*
"But da cloth is not my favorite." Little Miss C.
'Not my favorite' is Code for 'I hate that." in our family.
"Yeah I know kiddo, but they don't make diapers in your size any more.  Your body is too big for baby diapers, we will squeeze you into these and then we are done kid."
"But I is da baby."  Little Miss C.
"Yes you are sweet pea, but even babies start to use the potty once they know how to."
So we endured several months of diapers/pull ups/undies purgatory.  Like some days she was into the potty, some days she was peeing on the couch.  Some days she wanted undies, some days she wanted to use a diaper from her last box.  FOR MONTHS YOU GUYS.
Finally we had like 15 diapers and a couple pull ups left.  We were down to only a couple accidents a week and even attempting the potty while out and about.  We had made progress, but quite a ways from diaper bag free.
I looked at my sweet little girl and just straight up lied.  "You know what is so sad?"
"What's sad?"  Little Miss C
"Disneyland doesn't allow diapers anymore."  Me
*face falls*  "WHY?!"
"I don't know Baby, but they said you can't come if you wear diapers.  Their rule, not mine." Me
We went back and forth about this new development at Disney (that of course is not true) for quite some time.
Later that day she peed on the floor and I reminded her about Disneyland.
I don't think she was quite convinced so we knew we would need to kick it up a notch.  The big kids joined my scheme.  We discussed how we were going to go to Disneyland the next day….. and then we did.  And by 'We went to Disneyland', what I mean is 'We told the baby we were going to Disneyland but really we just went out to lunch and went thrift store window shopping.'
"You go to Dinney – lan today wiss-out me?"  Little Miss C *sad face*
"We did honey, it was so much fun, but we missed you.  But remember there are no diapers or pull ups and Disneyland so we couldn't take you.  But maybe if you work really hard at remembering to use the potty every time then we can go again soon OK?"  Me
I'm sure there are people that will judge.  Go for it.  She's been in undies during the daytime without any accidents ever since.  She just needed something to motivate her, and Disneyland did it.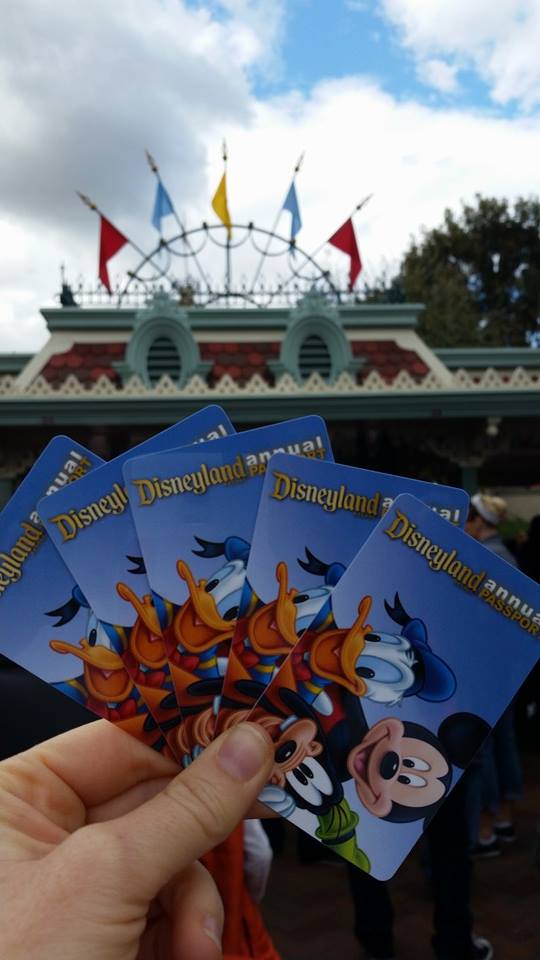 True to our word we took her to Disneyland that next weekend.  We even went so far as to get Disneyland annual passports for the whole family.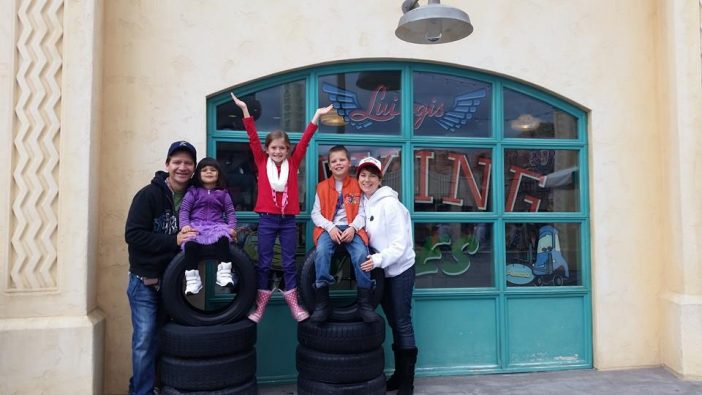 We bought them the day before prices went up and you could no longer get a parking pass with the least expensive pass option.  We had planned on it anyway.  We had Disneyland annual passes when our big kids were three and we really wanted to do it one year when our littlest was at that magical age too.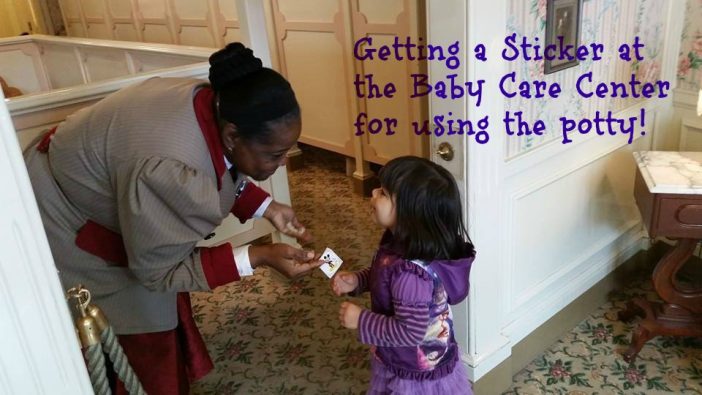 So what did we lie about?  Literally everything.  Disneyland of course allows kids to wear diapers and pull ups – in fact, they have an awesome Baby Care Center that makes diapering even easier than having changing tables in nearly every bathroom (which they do).  We were also planning on going to Disneyland anyway.  Would we have waited if she didn't start using the potty regularly?  Probably.  I'm done with diapers.  I know I can't push her at home, but I am not changing another diaper in a theme park every again.  Sorry kid, ain't nobody got time for that!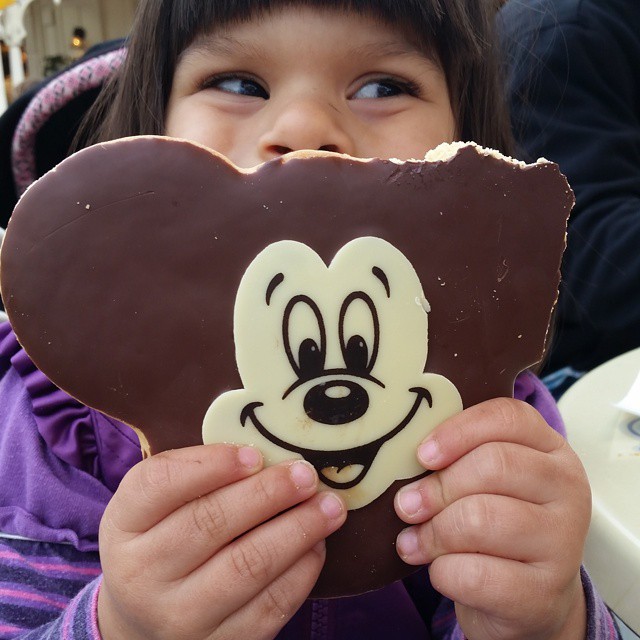 So that is the story about how all it took was roughly $1600 and a big fat lie to potty train my 3 year old.  I would do it again, I only wish I had thought of it sooner! Were we gonna buy the tickets anyway? Yup – but we just convinced her otherwise. We are basically parenting ninjas.
Stick around for more questionable parenting tips!