Disneyland Good Neighbor Hotel Review : Carousel Inn & Suites
Disclosure: Our stay was compliments of the Anaheim Visitors Bureau. Opinions are 100% my own.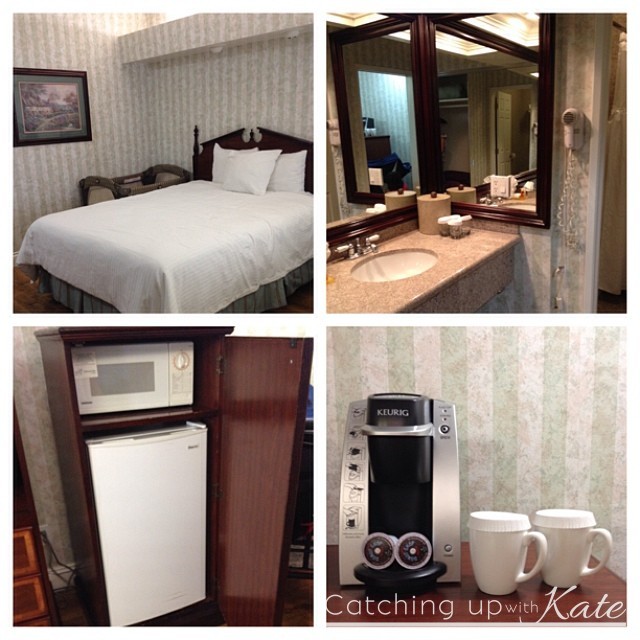 People know we love Disneyland and we also love to save money.  We are regularly asked for a Disneyland Good Neighbor Hotel Review. If you are looking to enjoy a family vacation The Disneyland Resort in Anaheim California on a budget you might be looking into a Good Neighbor Hotel option to save money.  Good Neighbor Hotels are endorsed by Disneyland and typically offer close by accommodations at a budget conscious price.  We recently stayed at the Carousel Inn & Suites, a Good Neighbor Hotel across the street from Disneyland Park and wanted to share our hotel review here.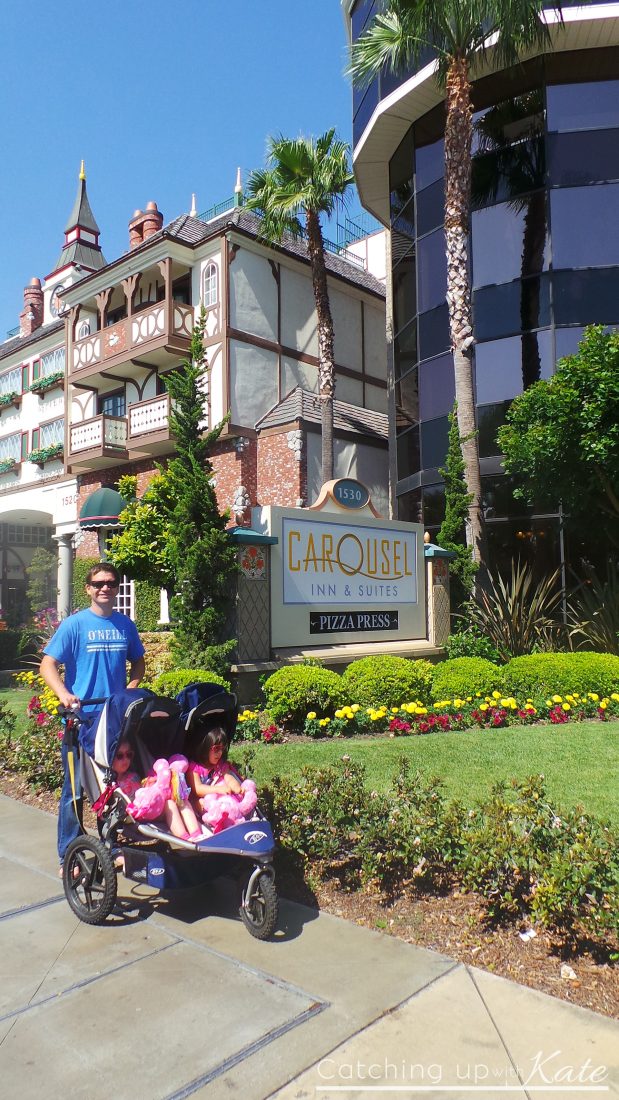 There are lots of hotels to choose from when you search online for a room near Disneyland – lots of different prices, huge range in quality, and huge difference in the ability to get to the parks.  Some are very close, some offer a paid shuttle, some offer a free shuttle.  Parking can be pricey or free.  Some offer great family restaurants on site, some even offer free breakfast!  Staying on property at the Disneyland Resort obviously offers some amazing perks, but if you are looking to save quite a bit of money you can rest assured that Good Neighbor Hotels have Disney's stamp of approval.  Read through the description of each one and see what perks fit your family best.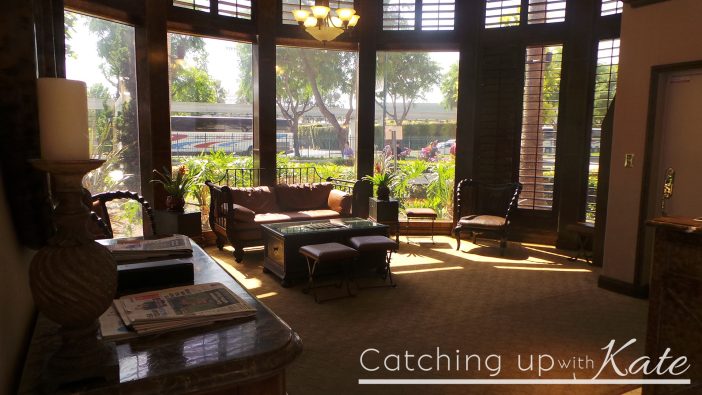 We recently stayed at the Carousel Inn & Suites which is a boutique hotel directly across the street from Disneyland.  I think our walk to Disneyland Park was actually closer than walking from the Downtown Disney parking lot (or at least very similar!) – it was SO close!
If you are planning a family trip Carousel Inn & Suites is a great hotel.  They offer a fridge and microwave, which is perfect for preparing meals and holding snacks, milk, and more.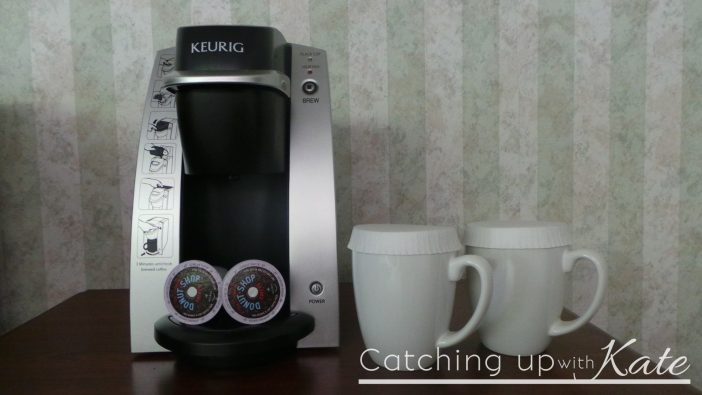 A Keurig Coffee Maker is in each room which is so convenient!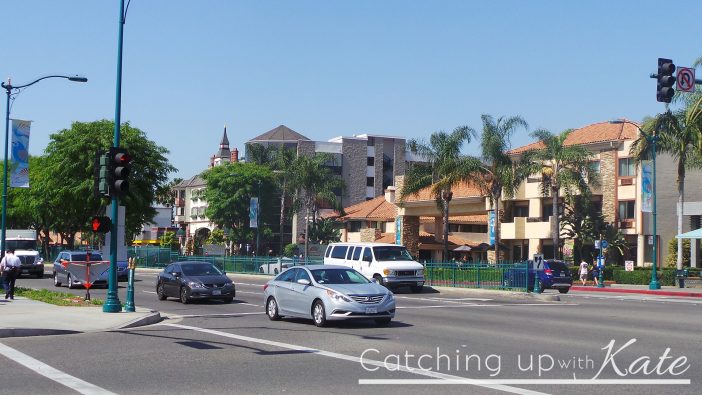 If your little ones still take naps, coming back to the hotel for a nap is a breeze – it is one of the closest hotels to the park!  The photo above is taken right in front of Disneyland – our hotel is the tall grey hotel in the middle.  Seriously close folks!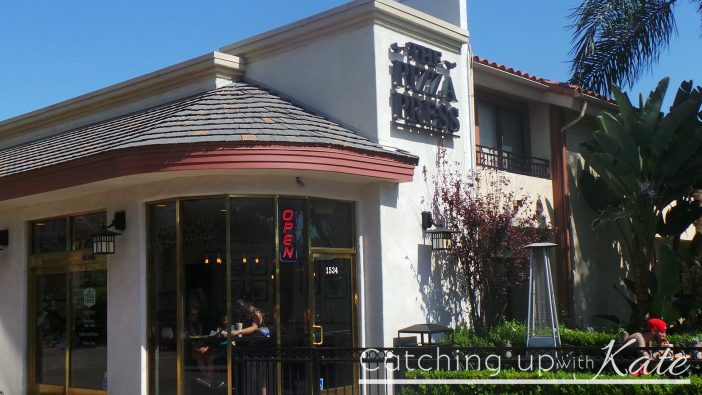 We did not check out the pool, but we heard several guest rave about it.  Pizza Press restaurant also looked super convenient, yummy,  and budget friendly.  Pizza Press is right on the main street in front of Disneyland (South Harbor Blvd) and you do not need to be a hotel guest to dine there.  This is a perfect family friendly and budget friendly location even if you are not staying at Carousel Inn & Suites!
While I would not call the Carousel Inn & Suites fancy, our room was recently beautifully redecorated and was sparkly clean.  I appreciated the faux wood floors throughout the room and granite counters in the bathroom.   The beds were extremely comfortable and we appreciated the AC on a hot summer day!
Hot tip! We always bring our own water bottles and sometimes a few snacks into Disneyland with us.  If you forgot yours, pop into the Carousel Inn & Suites gift shop – it is not huge, but it has some essentials.  We forgot water bottles (silly us!) so we knew we would be purchasing a couple – it was $3 for a large bottle of water.  This is certainly more than it would have been at Target, but much less expensive than in the Park – so it was a very reasonable compromise.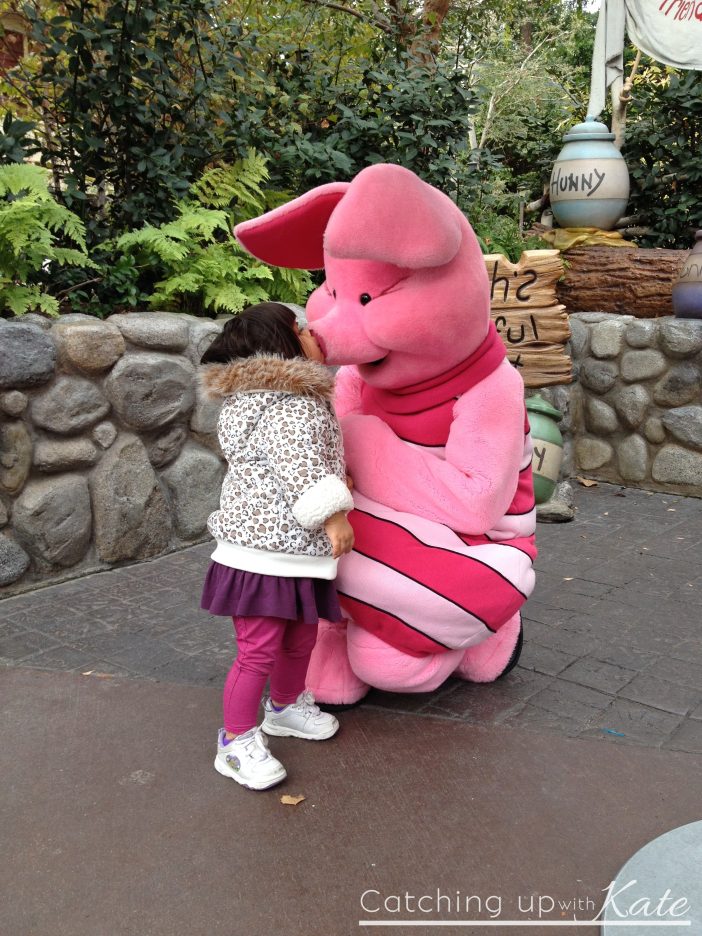 Things to Keep in Mind about this Good Neighbor Hotel Option….
* Carousel Inn & Suites is a NON SMOKING HOTEL  – YAY!  I love Non Smoking Hotels!  Smoking is gross and it can be done outside if you enjoy that sort of thing.  I love that the entire hotel is smoke free, but if you are hoping to get a room you can smoke in you are gonna have to keep looking.
* There is a $7 per 12 hour WiFi charge – if you are like us, you need Wifi.  I was bummed it wasn't included, that being said, I liked that it was a much smaller charge than most hotels – many charge as much as $15 for 24 hours, I typically only need a few hours so that was reasonable, but I thought it was worth pointing out.
* One wing of Carousel Inn & Suites has two stories but no elevator.  We were on the 2nd floor with two two year olds and a monster double stroller.  This would have been practically impossible if I was on a single trip with a child or two and a big stroller.  Everyone we met was very helpful and offered to help us up and down the stairs, you can also easily avoid the issue by asking to stay in a room that has elevator access.
* The Carousel Inn & Suites only offers Valet Parking, but it is only $11 (less expensive than many hotels charge for self park).
* If you do need a crib or roll away there will be an extra charge (nominal) – we brought our own pack & plays, but I thought I would point out for those who might need to use a hotel crib/roll away that are on a budget.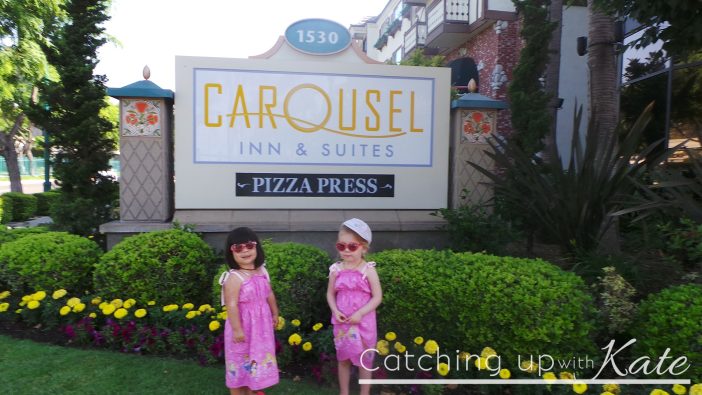 If you are looking for a budget friendly Good Neighbor hotel close to Disneyland Resort for your family, Carousel Inn & Suites is a great one to consider!  Several of our readers agreed that this was the overall best Good Neighbor Hotel near Disneyland that they had ever visited!  Thank you to the Carousel Inn & Suites for hosting our family – we hope to see you again soon!
Do you represent a Good Neighbor Hotel?  We'd love to provide our readers with another Disneyland Good Neighbor Hotel Review – please contact us today!