The Ultimate Disneyland Holiday Guide!
Disclosure: We attended a media party hosted by Disneyland Resort. All opinions are always my own.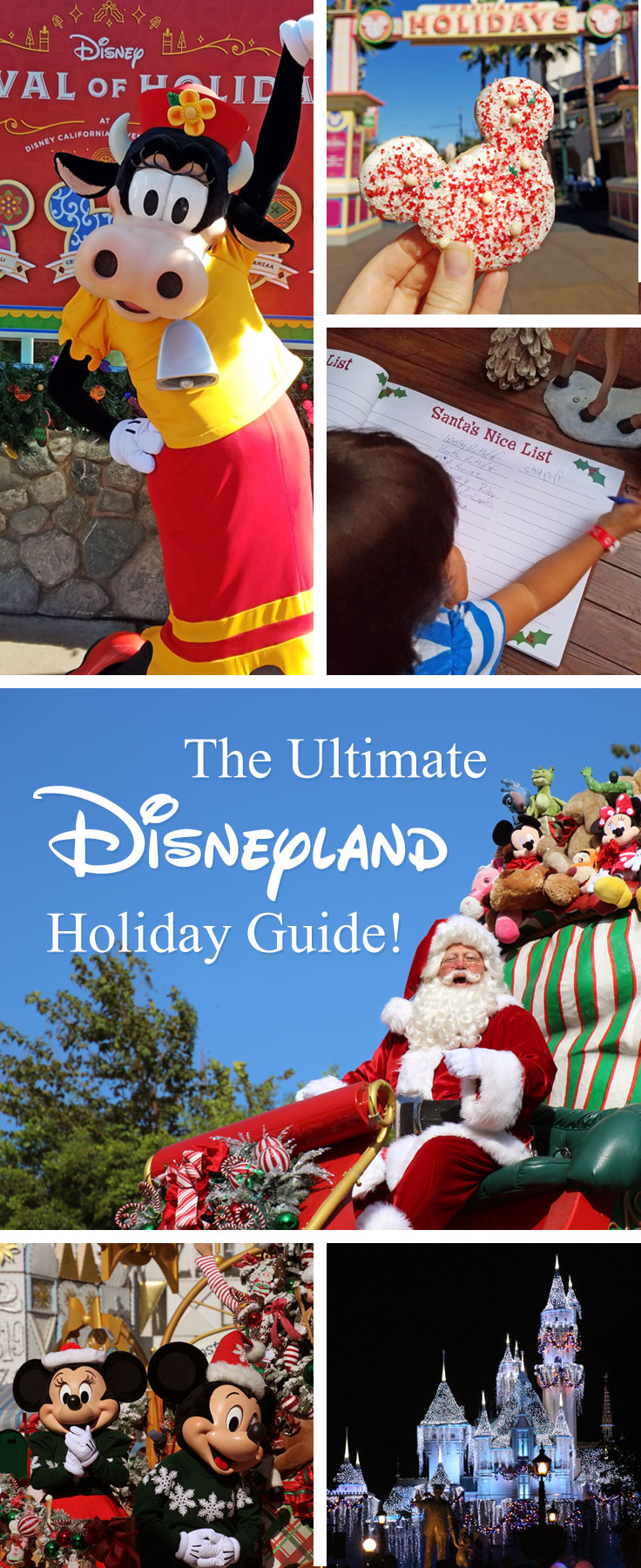 "Holidays Begin Here" at the Disneyland Resort. Nobody does holidays like Disney, so they get started a little early!  Who doesn't want to have the holidays last just a little longer? Now through January 7, 2018, the holiday season is in full swing at Disneyland, Disney California Adventure Park, and Downtown Disney.  Disneyland is a year round destination, but nothing compares to a trip during the holiday season. Here is the Ultimate Disneyland Holiday Guide for your planning needs.
During the holidays, keep your eyes open for characters dressed for the season.  Disney characters are available for photo opportunities all over the park year round, but during the holidays it is extra special.  The fab five can be spotted in Santa hats and holiday sweaters. Disney princesses are often seen in dresses that are perfect for a winter wonderland.
We love to snap photos with our Disney friends dressed in their holiday best!
The Disneyland Resort is also one of our favorite places to eat!  Disneyland is known for cute and delicious special treats.  The food selection during the holidays is the best!  A festively decorated Mickey cookie is a must, and just the beginning!  There are so many choices, we always try something new every time we go.
The Disneyland Resort is such a big place, it is really hard to hit everything in one day.  I've highlighted some of my favorite holiday happenings from each park. Don't forget to take advantage of the FREE FastPass system or upgrade to the MaxPass  ($10).  Both save so much time! I will be sharing about my love of the MaxPass at length in a future post! Stand by. Check out all the special holiday festivities below and try to visit as many as you can!
Holiday Magic at Disneyland Park
Haunted Mansion Holiday actually began during the Halloween Season, but it is just as fun to visit in November and December! The Haunted Mansion transforms from mid September until early January for a collide of holidays! Halloween and Christmas together in one ride! Celebrate the Horror-Days with Jack Skellington and the whole Nightmare Before Christmas crew!
Did you know the REAL Santa is in this parade?  The Christmas Fantasy Parade has been an annual tradition for decades at Disneyland.  Classic Disney Characters along with reindeer, snowmen, and Santa all dance and sing in this festive parade.  Check parade times for the day of your visit.  Grab a cup of hot cocoa on Mainstreet USA and enjoy!
It's a Small World is the perfect ride for any family at any time of the year.  During the holiday season it features holiday traditions from all over the world!
"Believe….In Holiday Magic" Fireworks 
Disneyland Park offers a spectacular fireworks show during the holidays. Festive music and fireworks that capture the season perfectly are capped off with a little 'snow' fall.  I suggest finding a spot to watch the fireworks either in front of Sleeping Beauty's Castle or It's a Small World. It is the perfect 'kiss goodnight' from Disneyland.
Obligatory Disneyland Sleeping Beauty's Castle Picture
And just across the way from Disneyland Park is Disney California Adventure Park.  A whole new world of holiday fun waits for guests there too! If you have Park Hopper tickets you are in for a treat!  We always suggest you take a picture holding a giant bouquet of balloons while you travel from park to park.  We've found that the folks selling balloons have no problem letting you take a quick photo as long as you are polite and wait your turn if they are currently making a sale.
Seriously – always do this picture! It is so fun!
Disney California Adventure Park features "Festival of Holidays!" – Multi cultural holiday celebrations and so much more!
Delight in unique menus at all 12 marketplace kiosks at different locations around the park. It is a celebration of diverse cuisines, cultures and traditions. This is my favorite place to eat during the holidays. I like to pick a couple different treats from different booths. The flavors are amazing!
If you are looking for a very sweet splurge – I suggest the Egg Nog!
You can see Santa in the Parade at Disneyland Park, but you can meet him in person at Disney California Adventure Park.  Santa is at Redwood Creek Challenge Trail.  Meet Santa and his merry Elves now through December 24th. Once Santa flies home on Christmas Eve, kids can still meet with "Santa Goofy" through January 7th.
Here are our kids meeting Santa this year.  You can see our little one got a little tongue tied, but Santa was still so great with all of them!
Viva Navidad includes a street party, special Character meet and greets, a parade, and more! From January 4  – 7th guests can enjoy 3 Kings Day festivities as well.
Season's Greetings from Radiator Springs
Radiator Springs goes all out for the holiday season!  Mater's Jingle Jamboree, Luigi's Joy to the Whirl, Cars in Santa Hats, and decor throughout the land.
World of Color – Season of Lights
World of Color is a beautiful night time spectacular that we always watch before bidding a fond farewell to Disney California Adventure Park.  Season of Lights is a beautiful World of Color show infused with holiday magic that is a delight!
Thank you to our friends at Disney for inviting us to be a part of the holiday festivities! We hope to see ya real soon!
#HolidaysBeginHere