Disneyland Resort Toddler Edition!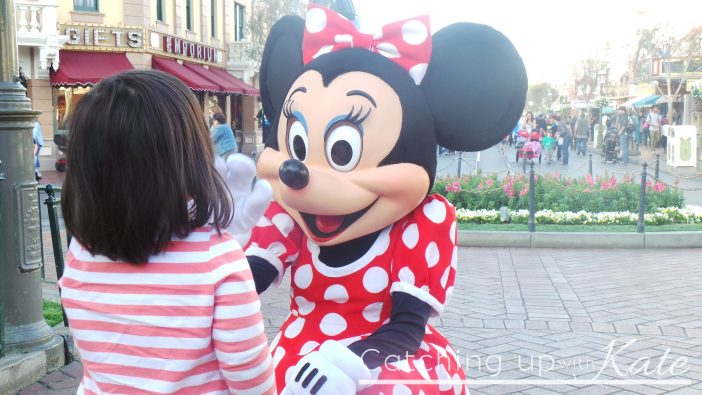 Last week I had a conference that just happened to be held at The Disneyland Resort.  While the big kids had school during this week day conference, it worked well for my freelancing husband and still free at Disneyland two year old to enjoy the Disneyland Resort Toddler Edition – at a discounted rate!
The big kids stayed at home with Grandma with no argument because we promised them we would take them by themselves very soon.  Daddy took Little Miss C around the park while I was in my meetings and on Friday we were able to hang out just the three of us.  Daddy and I have been to Disneyland more than 100 times and C is just starting to understand what Disneyland is so we let her lead the way.  Much to our surprise she really enjoyed meeting characters much more than rides.  She enjoyed the rides, but what really lit her up was meeting characters.  She doesn't stand in lines very well, but she was highly motivated to be patient if Mickey was at the end of that line.  So what is a parent to do?  Find the nearest cast member and ask them who was making an appearance today of course!
Here are just a few of the highlights of the Disneyland Resort Toddler Edition (the grand finale is our tiny little 2 year old who is often told "Boo" is her doppelganger meeting Sulley…. seriously I die of the cute.)
Our first day we had only a couple hours in the park, but luckily we found Minnie…..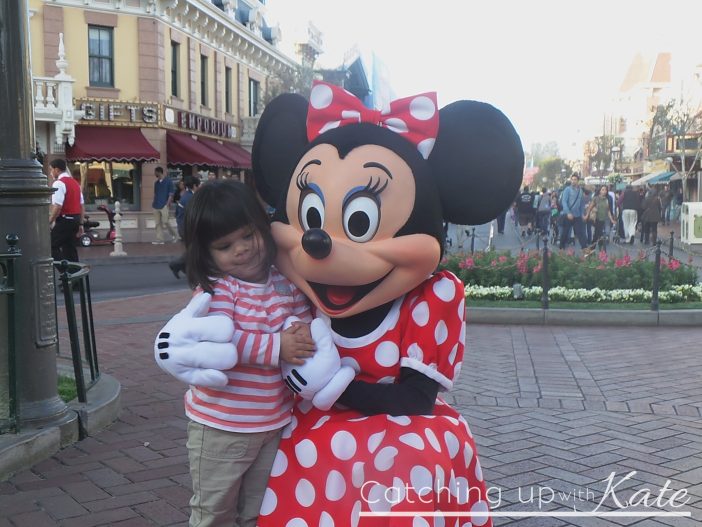 People who know our Sweet C know that she doesn't give away her feelings very freely, it was so so sweet to see her smile and lean into Minnie.
We decided the last day to splurge on a Character Breakfast!  Storyteller's Cafe is located in The Grand Californian Hotel & Spa – which is where we were staying anyway.  Storyteller's offers an awesome Character Breakfast – you can choose a buffet or a menu breakfast – we chose to just order menu options, the food is very good and prices are great especially considering you have so many Characters who spend lots of time with each kiddo!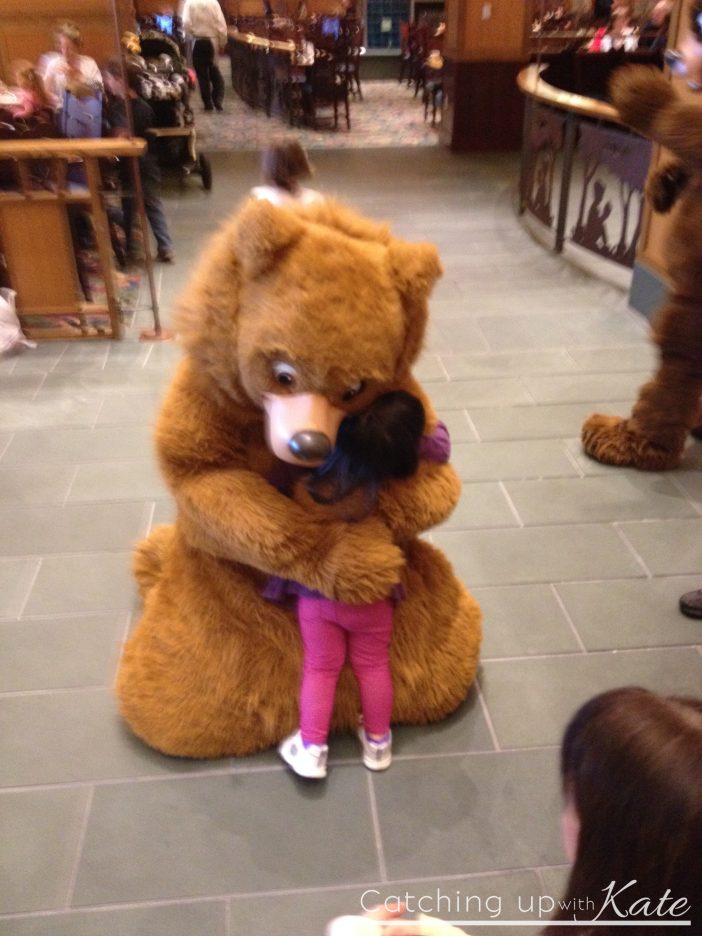 Here we are playing 'hokie pokie' with Koda from Brother Bear!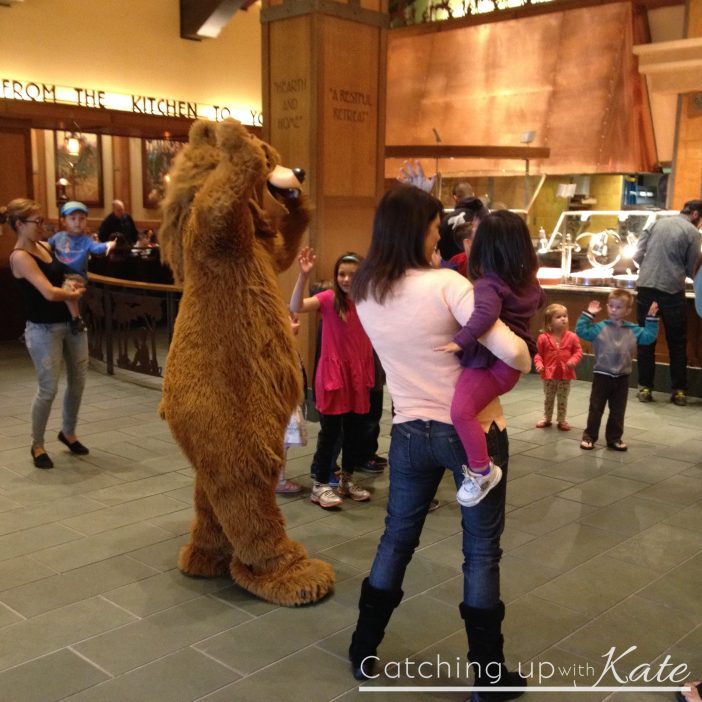 Here is the hubs getting into the fun…..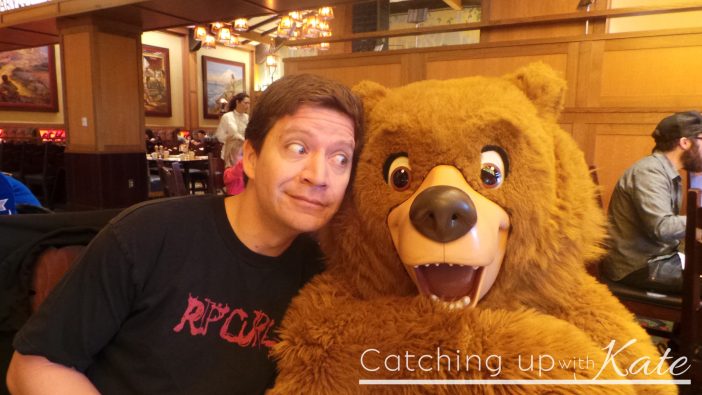 And one of my favorites……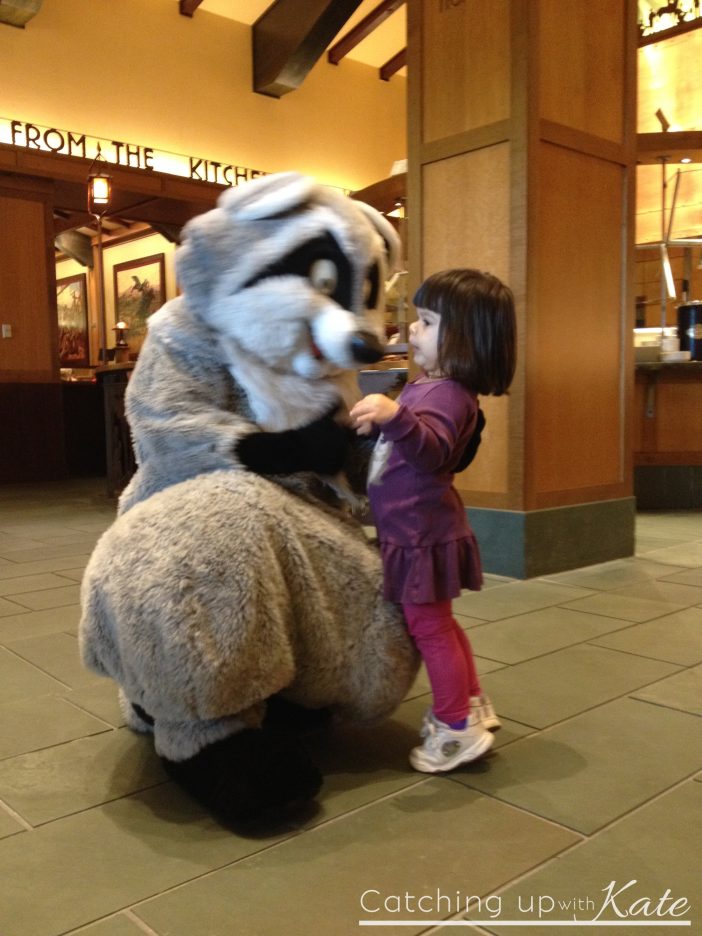 Once we had a belly full of yummy breakfast and we had spent time with everyone at Storyteller's Cafe, we spent the rest of our day mostly chasing characters.  We met almost 20 characters in our quick trip and even had time for a few rides!  Here are just a couple of our favorites from that day…..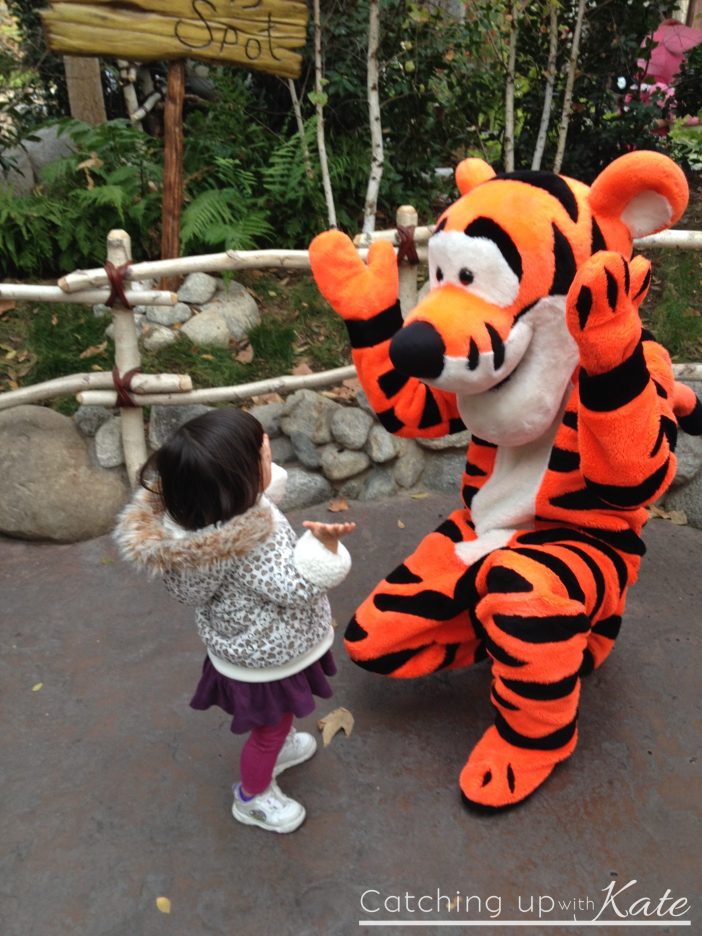 Peek a Boo with Tigger!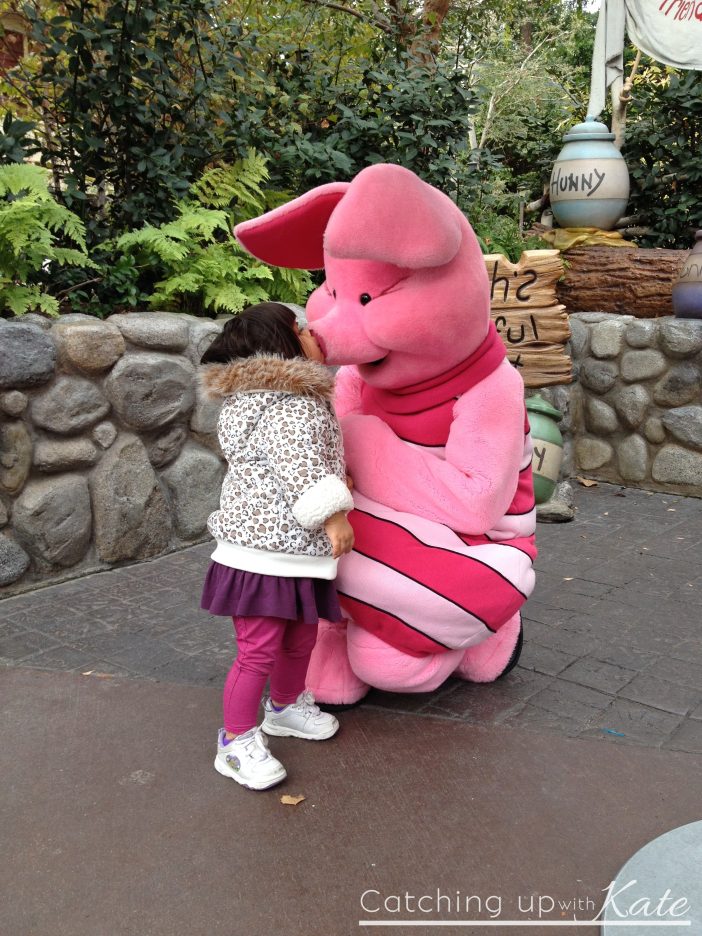 kisses for Piglet!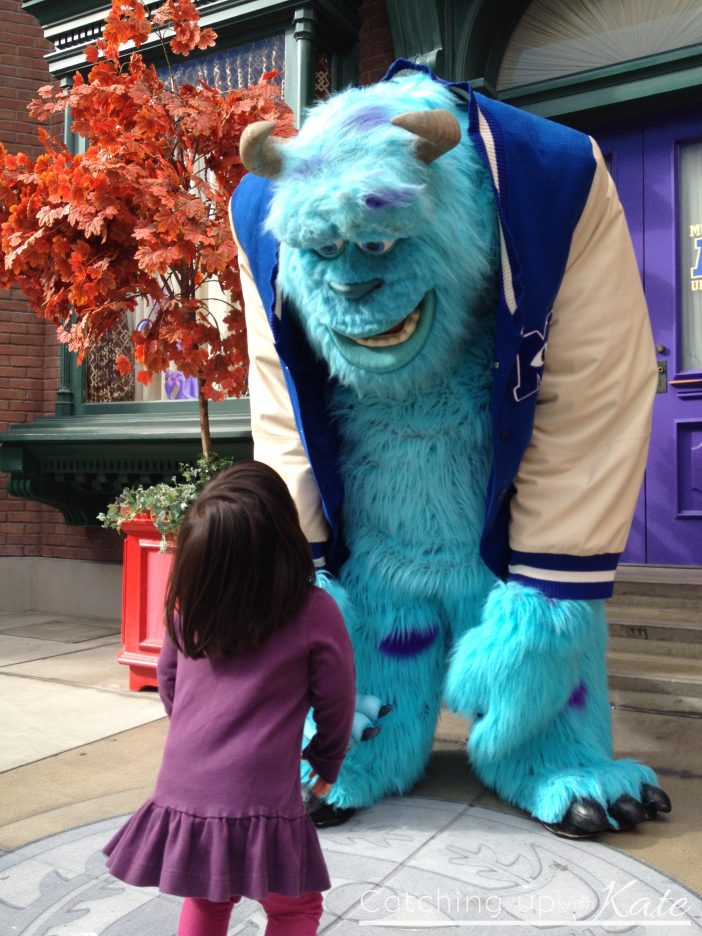 Trying to jump up to Sulley (he eventually got down on his knees so she could see him)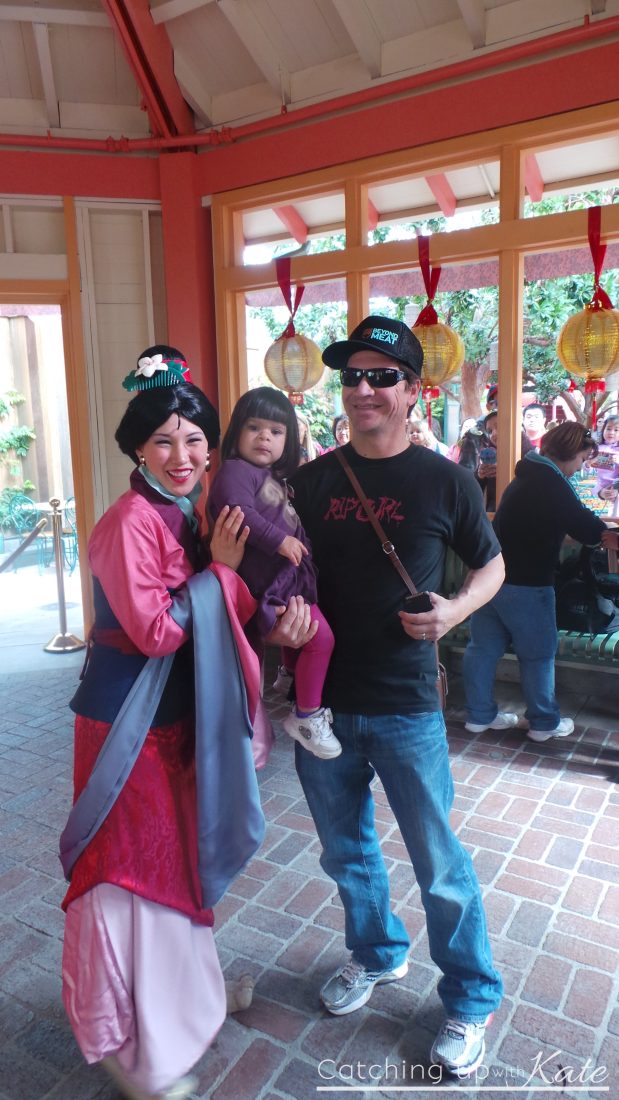 Mulan was out just for the Happy Lunar New Year Celebration!  We felt very lucky to meet her!
And we just had to share this too…… C (who we are regularly told looks like "Boo" from Monster's Inc) got to meet Sulley for the first time – she wasn't even a little bit scared and we got all the cuteness on video! (my apologies for my loud voice as the camera person…. totally unprofessional ;-))
If you are bringing a little one to Disneyland I would encourage you to follow their lead, we honestly had a whole day planned out to get in early and ride a bunch of rides but I think this was more fun for her, and that is really what it is all about right?