Disneyland California Resident Ticket Discount!
Disclosure: This site uses affiliate links. Affiliate links are to the best offerings at Get Away Today and offer a bonus discount when using the code HIGHLIGHTS. We thank you for using our affiliate link (at no additional cost to you) - this pays for our server fees to keep this site running.
SoCal residents are offered an excellent discount on multi day Disneyland tickets at certain times of the year. While the best deals are during the off season, there are discounted Disneyland tickets and hotel deals year round through Get Away Today. SoCal residents can take advantage of the best deals, but Get Away Today also has Discounted Disneyland Tickets for your out of town guests! Check out all the information below, but also check out the packages on Get Away Today before booking directly with Disneyland.
California Resident Disneyland Deals 2022!
We are excited to let you know that the Disneyland Resort just announced a new California Resident offer for summer 2022! California Residents can save up to $86 per ticket off the gate price with our NEW California Resident Summer Ticket Offer. This limited-time special is valid for travel from June 13 – September 15, 2022.
Yes, this deal is for ALL California residents, not just SoCal residents! These deals can also be combined with our HIGHLIGHTS discount code for an additional $10 off!
Guests can choose from 3-Day Park Hopper or 1-Park per Day tickets, with or without Disney Genie+ Service. These tickets do not have to be used consecutively.
There are two different savings options. Monday – Thursday tickets offer the most savings; $86 per each 3-Day 1-Park per Day or Park Hopper ticket, with or without Genie+ service. Monday – Sunday tickets offer the most flexibility and are a $36 per ticket savings on 3-Day 1-Park per Day or Park Hopper tickets, with or without Genie+ service.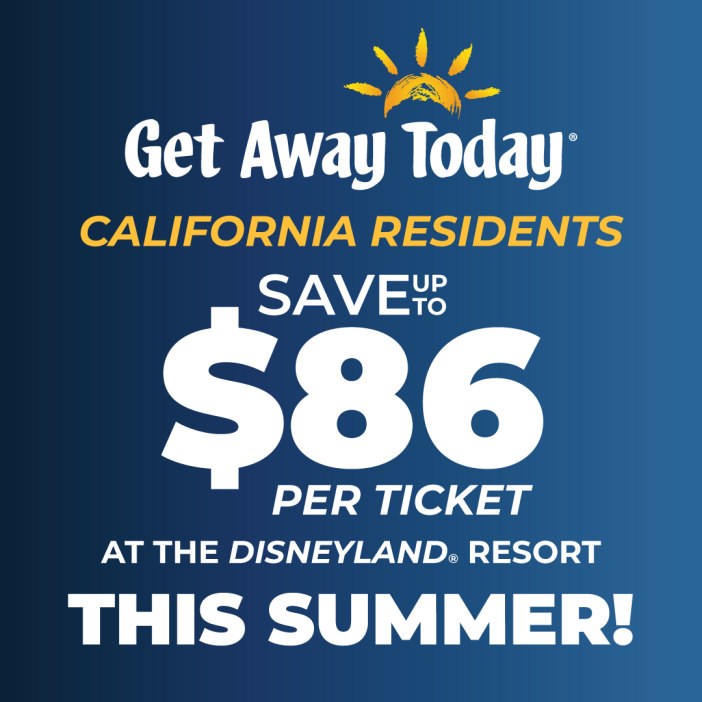 Get Away Today is a Disney partner and while their deals are very good, they are not 'too good to be true'. Should you choose to book your tickets or vacation package through Get Away Today make sure to enter HIGHLIGHTS in your check out to get an additional $10 off.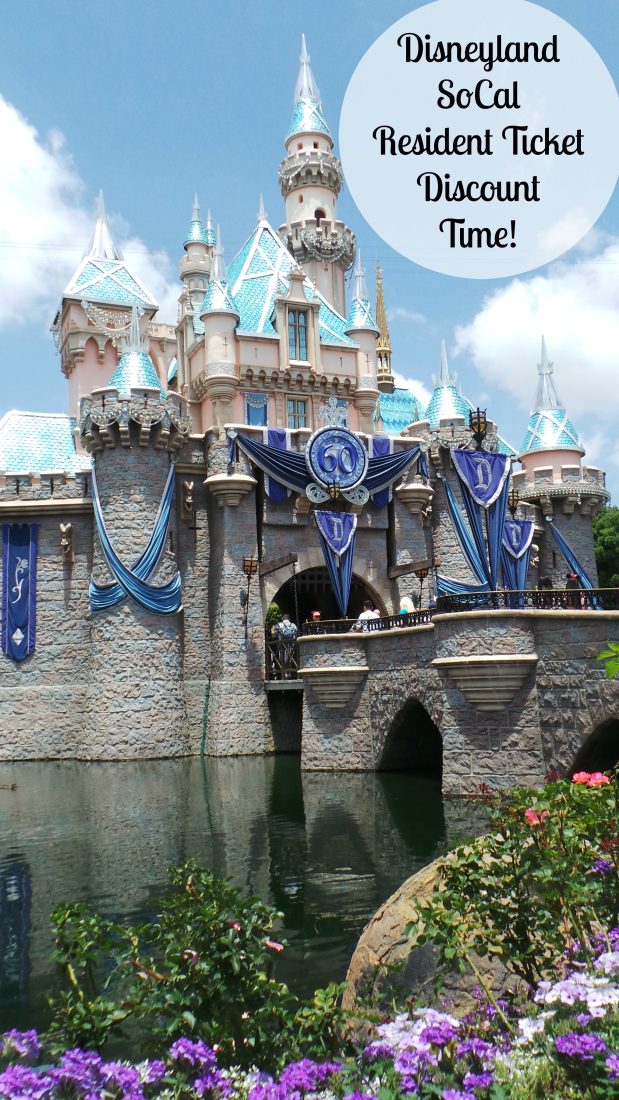 As a SoCal resident this is my favorite time of year! If you are hoping to go to Disneyland and are on a tight budget, the Disneyland SoCal Resident Ticket Discount is by far the best way to stretch your dollars. I am THRILLED to announce that Disneyland is offering this deal again, I thought they might skip it because attendance has been record breaking this year – but Southern California you are in luck again! The SoCal discount ticket is here – below are all the details on how you can visit Disneyland with this awesome once a year discount!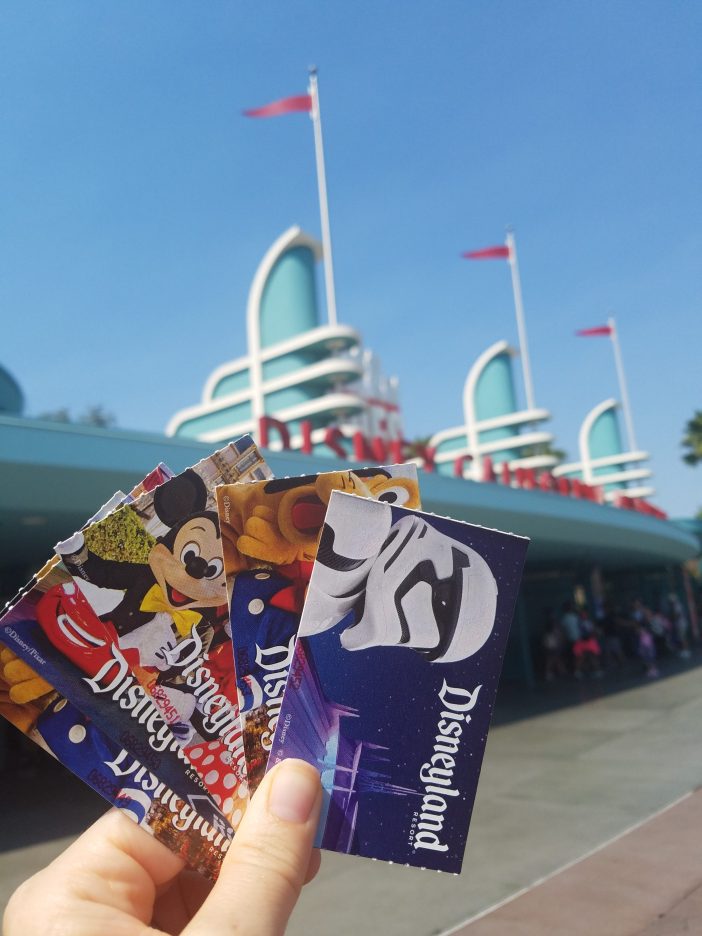 Disneyland SoCal Resident Ticket Discount
Below is all the information you need to know about this great off season discount at Disneyland…..
The Disneyland SoCal Resident Ticket is only available for purchase and use by Southern California residents. Southern California residents within ZIP codes 90000-93599 and Northern Baja California residents within ZIP codes 21000-22999 with proof of residency can purchase these special tickets. Proof of residency is required at admission as well.
There are two day and three day tickets available as both park hopper or single park per day options (I will tell you which I prefer personally further down the page),
Tickets are valid from date of purchase (starting on January 6, 2016) through May 26, 2016. The only block out days are March 20th – April 2nd – these dates tend to be very busy because of Spring Break.
You do NOT need to use tickets in consecutive days, but all days of your pass must be used up before May 26, 2016.
Magic Mornings is available to those who purchase their tickets online!
All tickets are for guests ages 3 and up – there is no child or adult ticket. If your kiddo is under three you will not need a ticket for that child.
Disneyland SoCal Resident Discount Ticket Options
2 Day 1 Park Per Day Ticket – $149 (breaks down to $74.50 per day)
2 Day Park Hopper Ticket – $189 (breaks down to $94.50 per day)
3 Day 1 Park Per Day (with Magic Morning Option if you buy online) – $179 (breaks down to $59.97 per day!)
3 Day Park Hopper ticket (Magic Morning Option online also) – $219 (breaks down to $73 per day)
This is a great discount over the normal admission prices which start at $93 (child's ticket) per day for one park. I personally suggest purchasing the 1 park per day option. Not only does this save money, but I believe focusing on one park per day saves quite a bit of time too – no traveling back and forth. Disneyland and Disney California Adventure Park are very close to one another, but you could still spend quite a bit of time traveling back and forth. I suggest devoting one full day to each park.
Remember to purchase your tickets online. Buying your tickets online saves you time! Why wait at the ticket booth when you can be in the gates?! If you are grabbing the 3 day pass you will also be able to take advantage of the Magic Morning option – this gets you in the park one hour before most guest! Grab a fast pass and hop on some rides before the park is even officially open!
We love to visit the Disneyland Resort during the off season because crowds are typically smaller so we spend less time in line and more time on rides and enjoying attractions, shows, and treats. Keep in mind that during this season there are always a few rides closed for renovation and the hours are often shorter. Shorter hours and a few rides closed never bothered our family because Disneyland and Disney California Adventure Park are so big that we could never finish the entire park in one day even if it was completely to ourselves.
Grab your Disneyland SoCal Resident Discount Tickets Here and also check out all the other info and details.
Looking for more ways to save at Disneyland? Check out our Disneyland on a Budget article as well!
See you at the Happiest Place on Earth!