Disneyland Bedroom for a boy or girl!
When our littlest came along, it was a bit of a surprise.  Those of you that don't know the story, we had thought we would be adopting a 2 year old little girl and very quickly that door closed.  Very quickly another door swung way open, this time for a newborn little girl; our sweet C.  Well of course we were so excited to have C join our family but it kinda threw a wrench in our room sharing plans. We did decide on an adorable Disneyland Bedroom for the big kids to share!  We used Disney memorabilia from my childhood and cheerful paint to make a very budget friendly "Happiest Room on Earth!".
Disneyland Bedroom
Our plan was for our two girls (5 and 2 1/2) to share a room for a year or two until we move to a larger house.  Well, now we had a tiny baby instead of a 2 1/2 year old.  Our thoughts of a a princess room for our girls that were two or so years apart wasn't really gonna work out.  Babies have naps, diaper pails, changing tables, and just a lot more than the bunk beds and conversations we originally thought two big girls could share.
So plan B was to give J's room to C and for our big kids to share a room.  This was difficult, we knew it would only be for a year, maybe two, but five year olds have opinions.  Our big kids are very much the stereotypical boy and stereotypical girl.  S is all about adventure, swords, cars, and all things manly.  J has big plans to become a princess when she grows up.  *sigh*
These photos are from years ago, long before I really took light into consideration with photography.  We moved out of this adorable room and on to our new house before we took any new photos. I still think this Disney room is such a fun idea and I hope you can find inspiration for your own Unisex Disney themed room.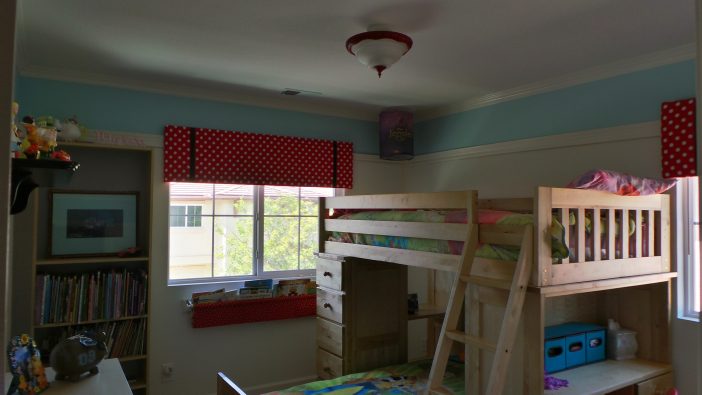 Did I mention we were also really trying to save money?  So we needed to do something 'do it yourselfy'
Well, it didn't take us too long to get the kids on board with the idea of making a Disneyland bedroom fit for a boy and a girl!  There is an attached bathroom that has been Disney themed since they were babies so they loved the idea of it spilling into their Disneyland bedroom!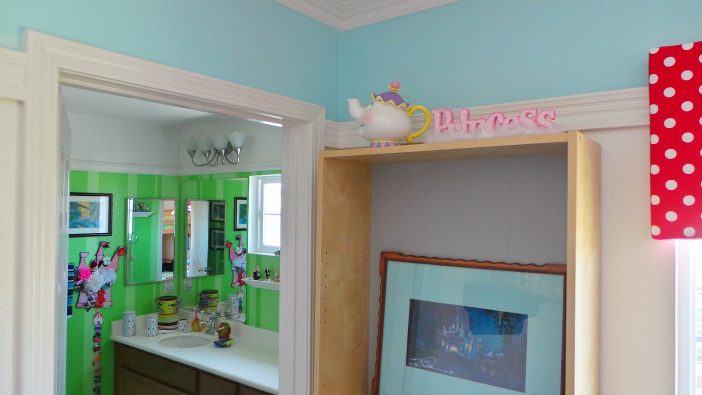 Grandma & Grandpa gifted them with light wood bunk beds – about all that would fit in their tiny 10 X 11 room!   We purchased a skinny bookshelf at IKEA on clearance and one big dresser for them to share to complete their room – now it was just time to dress it up!
Before this room was a very cool boy's surfer room – it looked really cool with khaki colored walls with burlap and bamboo trim, but it was time to pull all that down.  Now that we had all that extra furniture in there we wanted to make the room look a little bigger and brighter.  We painted the room a crisp white and trimmed it with a pretty baby blue border all around the top.  The kids said it looked like 'sky' and I totally agree!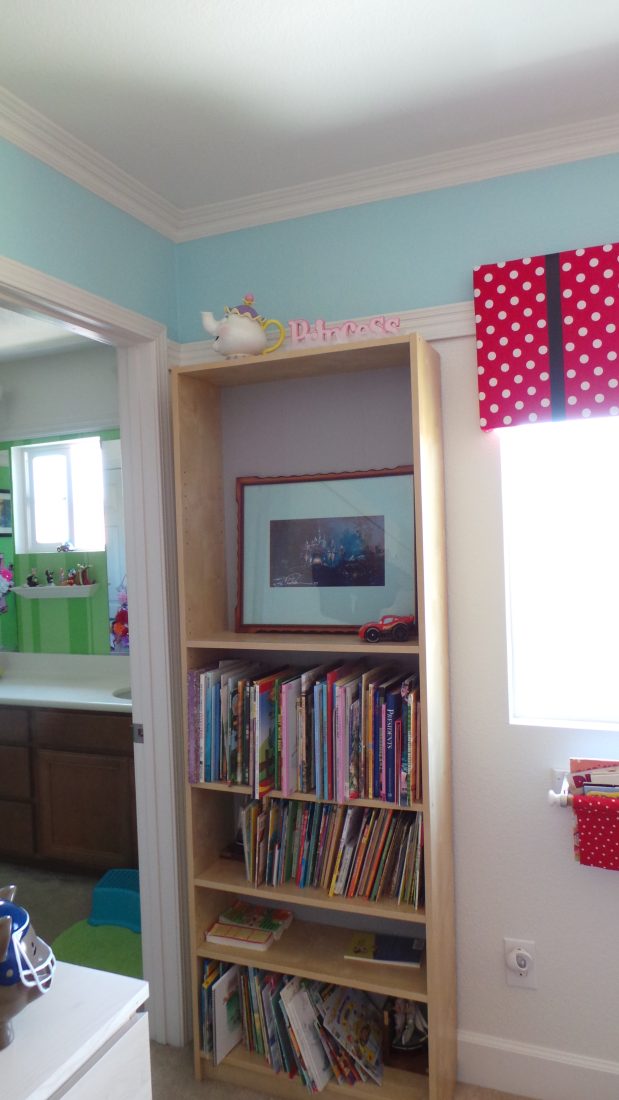 We used lots of cool things we already had to theme it to the max!  My dad made me this fun shelf when I was in high school.  I knew we would find an awesome use for it someday and this was it!  We painted it black and displayed some of the Disney figurines I collected over the years.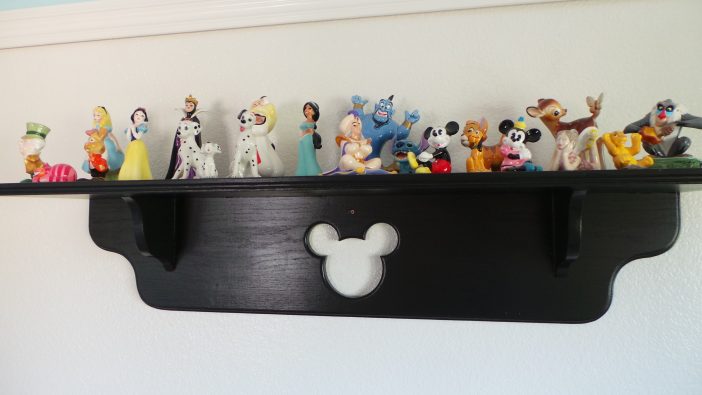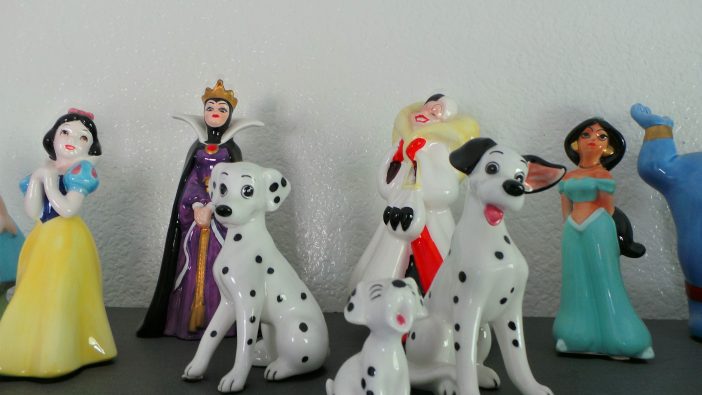 We added a print of the Disneyland Castle that I bought many years ago at the top of their bookshelf.  The kids love the happy colors!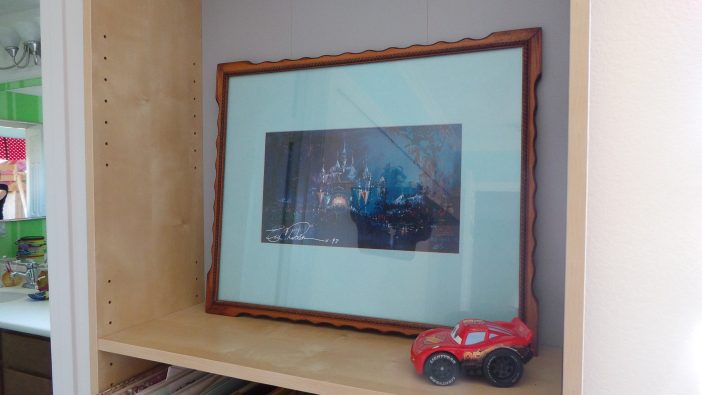 We took down the window boxes that were covered in surfer print fabric and simply recovered the boxes with a fun red fabric with big red polka dots.  We finished the look with thick black grosgrain ribbon detailing.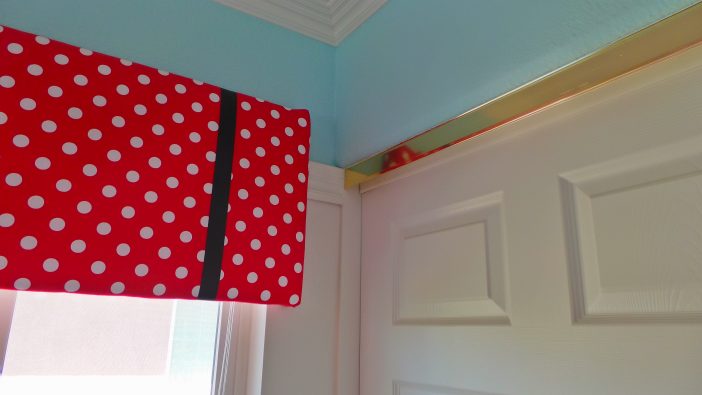 I bought coordinating fabric with somewhat smaller polka dots and Harry made this fun book sling.  Our kids have LOTS of books and we really wanted to take advantage of every bit of space we had!  You can check out lots of book sling tutorials from various blogs on Pinterest – the one I had pinned has been taken down – doh!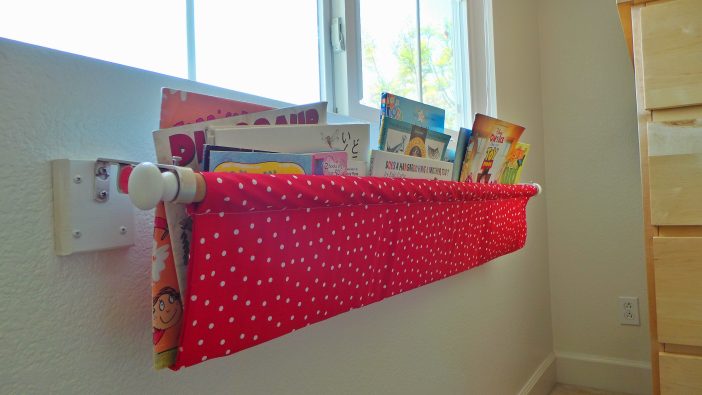 We had purchased this light fixture for the girl's room at a going out of business sale for only $3 – WHAT?! I know.  That is awesome.  The only problem – it was white and hot pink.  Well shucks….. that isn't gonna work we thought.  For about five seconds we thought about where one might find a reasonably priced light fixture in primary colors and then I whipped out some cheap red paint.  Voila!  In about 20 minutes all the pink was red and we had a perfect light fixture!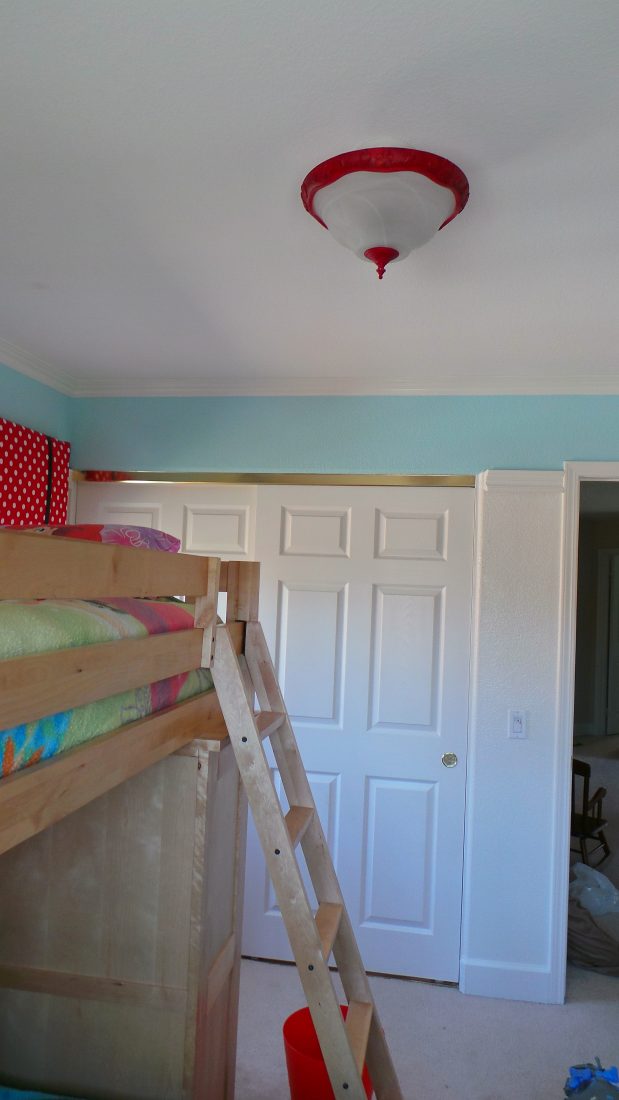 IKEA again to the rescue – we bought a very inexpensive red desk chair and red waste paper basket to bring it all together!
Grandma gifted them with cozy Disney blankets for Christmas the year before – Toy Story for S, Tinkerbell for J.  We used these cozy blankets instead of traditional comforters.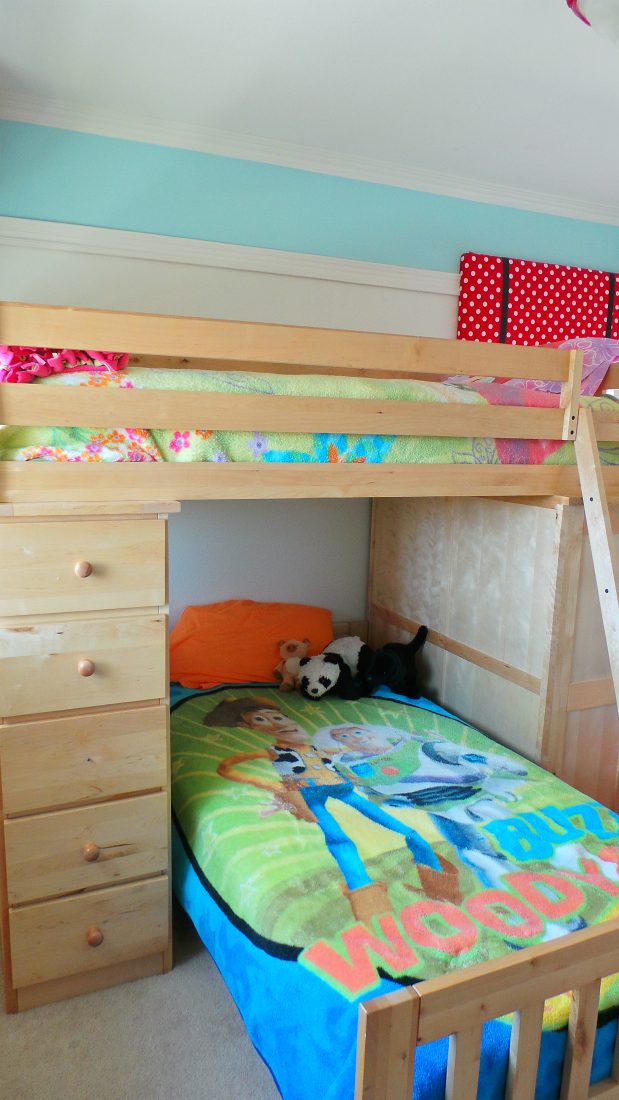 By reusing many things we already had, making a couple cute things, and a little bit of bargain shopping we were able to create a really cute room based on their favorite place in the world (Disneyland!!) that was not too 'boyish' or too 'girlish'  – a Disneyland Bedroom was a perfect fit for them.
Sharing a space was not exactly easy for two kids – especially a boy and girl, but they really liked their Disneyland bedroom!