10 Reasons to Gift Disneyland Tickets for Christmas
Disclosure: This site uses affiliate links
Experience gifts, rather than toys are our favorite! Taking an awesome family vacation is a magical way to celebrate a birthday or holiday, and many people value it above stuff under the tree. Disneyland tickets are definitely a splurge, but are sure to bring memories for decades to come.
If you are considering a Disney vacation for a Christmas surprise, these are some great things to keep in mind! Get Away Today also has some awesome package and theme park ticket deals that might just make it more affordable than you thought! There is a big Disneyland hopper ticket sale going on right now that is just in time for holiday gift giving!
Last year Disneyland was still closed, but things are looking up. Theme park tickets are a really fun idea to celebrate things getting a little better. Our family cannot wait to visit Disneyland again!
Are you interested in going to Disney's Merriest of Nights? Tickets are a splurge for sure, but you can get a deal for your hotel and day trip to Disneyland through Get Away Today!
Merriest of Nights Details
Holiday Experiences
Join the fun at 6 uniquely themed parties with some favorite Disney Characters—including Mickey Mouse, Miguel, Tiana, Elsa, Lilo, Stitch, Buzz Lightyear—plus snow moments on Main Street, U.S.A. and even an appearance from Santa Claus himself!
Early Admission to Disneyland Park
Arrive ahead beginning at 5:00 PM and explore the park before the party, no theme park reservation required.
Merry Entertainment
Get into the festive spirit with a special performance of A Christmas Fantasy Parade.
After-Hours Access to Attractions
Ride some of the park's classic attractions—including holiday favorites like "it's a small world" Holiday and Haunted Mansion Holiday—throughout the event, usually with shorter wait times. (Access to Mickey's Toontown, Critter Country and Star Wars: Galaxy's Edge will not be available during event hours.)
Character Appearances
Be on the lookout! You may see both rare and classic Disney Characters dressed in their holiday best who will stop by to join the festivities.
Festive Photo Ops with Themed Backdrops
Let Disney PhotoPass photographers capture shots—with unlimited downloads of photos taken during the event—against memorable event-themed backdrops.
Holiday and Event Merchandise
You'll have the opportunity to purchase holiday merchandise, including special Disney Merriest Nites-themed merchandise available during the event.
Specialty Holiday Treats and Eats
Feast on holiday treats with a twist! Enjoy event-inspired menu options like hot chocolate and cookies at select Disneyland Park locations.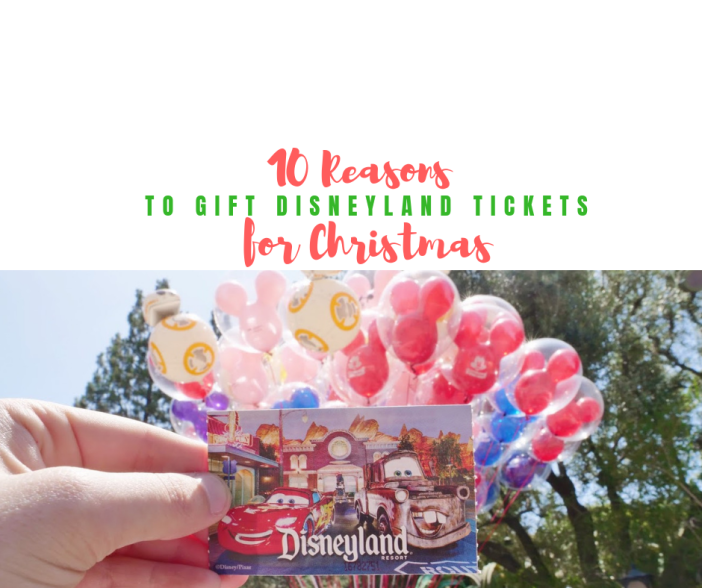 Hi everyone, it's Lexi from Get Away Today, here to talk to you about the holidays. Can you believe that 2018 is almost over? While I'm excited for family gatherings, delicious meals and holiday parties, I feel like time keeps moving faster every year. My little ones are young now, but, I know that they'll be grown up in a blink of an eye.
Because of this, I want to talk to you about giving the gift of a vacation for the holidays this year. While opening presents on Christmas morning is nice, making memories together as a family is priceless. And, what better place to do that than the Happiest Place on Earth? Today, I'll give you my top 10 reasons why you should gift Disneyland tickets for Christmas this year.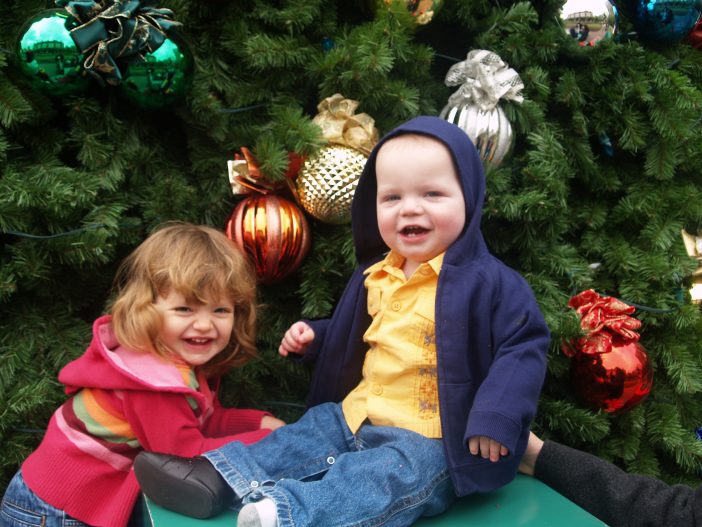 A blast from the past Christmas picture of our big kids at Disneyland!
10 Reasons to Gift Disneyland Tickets for Christmas
Unforgettable Memories
It's goes without saying that when you take a vacation to the Disneyland Resort, you create memories that will last a lifetime. Whether you take a funny ride photo on Splash Mountain or see your child meet their favorite character, Disneyland is full of magic for everyone. When you give the gift of a vacation, you'll be able to create memories that will last much longer than a plastic toy, doll or electronic gadget.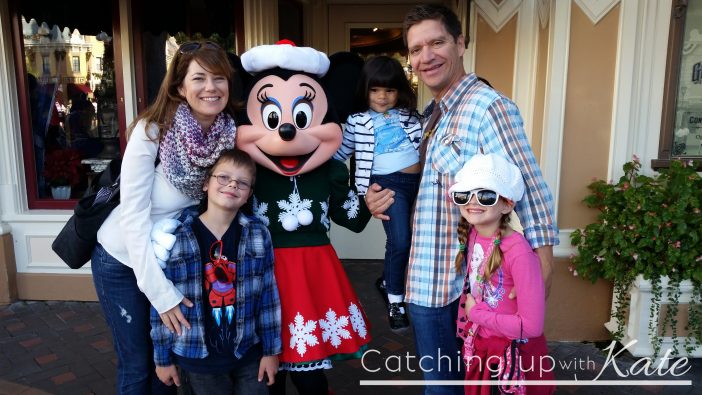 Less Clutter
Opening gifts in the moment is exciting, however, the clean up afterwards is anything but. Wrapping paper, bows and boxes start to pile up and while kids get to play with their toys, you're stuck cleaning up the clutter. Not to mention, those toys start to appear around the house and soon become forgotten about. When you take a vacation, you don't have to worry about the mess – just how much fun you'll have at The Happiest Place on Earth!
Small Gifts
If you don't want to skip out on the presents altogether – you don't have to! While Disneyland tickets can be the main part of your Christmas, you can always purchase Disney-themed shirts, plushes or Disney gift cards to take with you on your vacation. Now is your chance to be creative!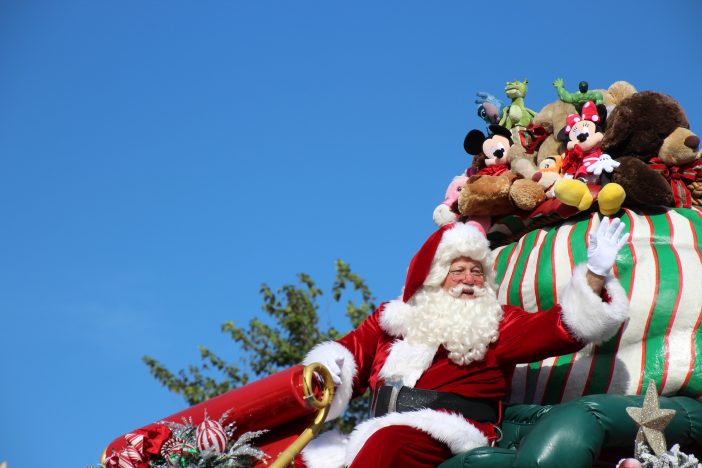 Element of Surprise
Who doesn't love a good ol' fashion surprise? One of my favorite feelings is being able to surprise people, especially those that I love. There are SO many ways to be creative in surprising your family with Disneyland tickets on Christmas morning. If you need any ideas, be sure to check out Get Away Today's website for creative ways to let your loved ones know they are going to Disneyland!
If surprises aren't your thing or you have older family members traveling with you, you can have your family help you plan your Disneyland trip. Not only will they feel involved, but it'll get them even more excited for their upcoming vacation!
Quality Time with Loved Ones
It feels like the older everyone gets, they become busier with school, work, sports and activities. Because of this, it's harder than ever to spend quality time with family. Going on a vacation for the holidays means that you don't just get to spend Christmas morning with them, you'll be able to spend a few days with those you love the most.
Hotel & Ticket Deals
Did you know that it might actually be less expensive to vacation with your family than to open presents on Christmas morning? According to statistics, the average amount spent on children for Christmas is about $400, while 40% of families say they spent more than $550 per child. Not only could you spend less than you usually would, but you'll be able to have a vacation of a lifetime.
Right now, Get Away Today has SO many hotel and ticket deals, just in time for the holiday season. When you take advantage of our Extra Day Free ticket offer, you'll be able to stay and play longer to experience all of the holiday magic. Plus, you can book a hotel with an extra night free, free breakfast and free parking to save even more! No matter what you choose to do, our travel experts will make sure you have the most magical (and affordable) vacation yet.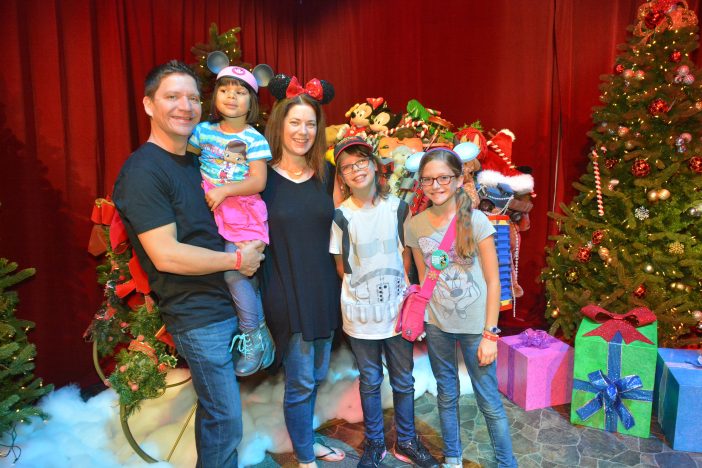 Holiday Festivities at Disneyland
If you choose to travel from November 9, 2018 to January 6, 2019, you'll be able to experience Holidays at the Disneyland Resort. During this time, you can enjoy festive ride overlays, delectable treats, seasonal décor, dazzling entertainment and so much more. Whether you get a FastPass for Haunted Mansion Holiday or stop to watch A Christmas Fantasy Parade come down Main Street, U.S.A., there is something for everyone to enjoy during this joyful celebration. Plus, who wouldn't love to wake up on Christmas morning in Disneyland?!
2020 Fun
If you still want to experience the holiday fun at home, but gift a vacation for Christmas, you can always plan a vacation for 2019. And boy, does 2019 have a lot in store for guests who visit the Disneyland Resort! If you haven't heard, a little thing called Star Wars: Galaxy's Edge will be making its way to Disneyland Park in the summer of 2019…. update check out the pictures of GALAXY'S EDGE!
However, if you're not into Wookie's or Jedi's, Disneyland still has so much to offer next year. While no official dates have been announced, guests can experience the Lunar New Year celebration, Food and Wine Festival and more!
Layaway Plan
At Get Away Today, we understand that not everyone has the ability to pay for a vacation up front. That's why we created our interest-free Layaway Plan. For just $125 down, you can book your dream holiday vacation or plan next year's trip. The best part? You can make as many payments as you'd like, whenever you'd like, just as long as everything is paid off at least 15 days before you travel. Get Away Today makes vacationing more affordable and flexible than ever before!
Fun fact – you can get adult tickets at the kid's price right now with the Get Away Today Black Friday sale (which started early!) Grab multi day tickets and even book a whole vacation using their Black Friday Disneyland Tickets Deal! Don't forget to double dip by using the code HIGHLIGHTS for an additional $10 off your booking. HIGHLIGHTS is a unique code that only our readers can use for a bonus discount (you do NOT need to be a subscriber to take advantage, just reading this post makes you eligible!). Have a magical time!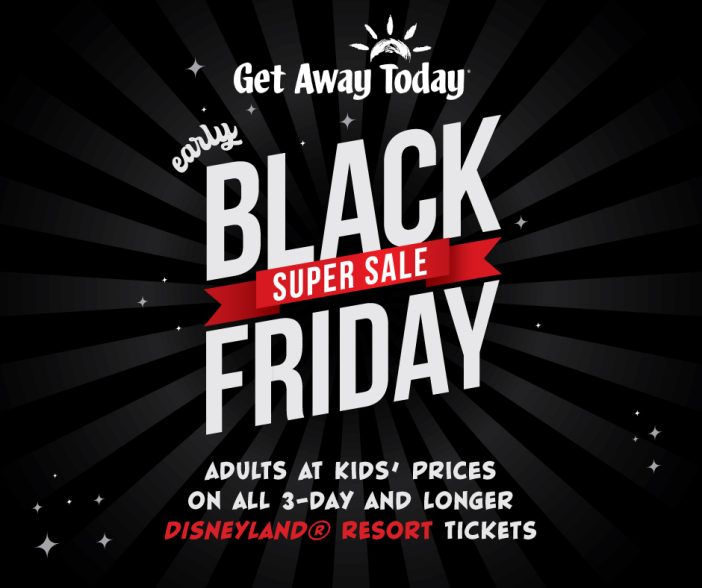 It's FUN for Everyone
What more is there to say? Not only will this be a gift to remember for your kids, but you'll also get to enjoy it too! A trip to The Happiest Place on Earth is more than the fun attractions, character meet and greets and delicious treats. It's a place to spend time together as a family, make unforgettable memories and enjoy each other while you can.
Note from Kate – so many people asked me why I trust Get Away Today that I wrote a post about the only Discount Disney Travel Company I Trust. I hope it helps you love them as much as I do! We have enjoyed trips to the Disneyland Resort with Get Away Today and hundreds of our readers have too! I hope you will check them out, it is a great way to save a little money with a Disney endorsed travel agent!
So, what are you waiting for? To book your holiday vacation, visit getawaytoday.com or call 855-GET-AWAY to speak to one of our travel experts directly. With a flexible Layaway Plan, discount Disneyland tickets and exclusive hotel specials, you'll be able to save the most on your next Disneyland vacation. Don't forget to mention promo code Highlights for an additional $10 off your hotel and vacation package. Let them know that Highlights Along the Way sent you!