Disney's Aladdin – Is it too scary for kids?
The long awaited remake of Disney's Aladdin is finally here. Disney has spent the last several years re-imagining classic animated films into updated live action adventures. Aladdin was one my favorite movies growing up and I hold it close to my heart. With a combination of shooting some scenes almost exactly as the beloved original and updating plot lines that were problematic the first time around, the newest Aladdin made my heart so happy. I found the update to Aladdin to be richer and deeper than the original. Many parents are wondering if the live action version of Aladdin is too scary for their younger children.  People often wonder with a higher rating will make the movie less kid friendly.  I am here to share a spoiler free review about Disney's newest film Aladdin!
Is Aladdin Safe For Kids?
Because our kids have grown up on this blog, we are often asked about our take on a new movie.  Readers know that we are fairly conservative about what we show our kids, especially when it comes to violence and sexual content.  We do not mind action or fighting, but we avoid themes with graphic violence.  We also avoid movies that are sexually suggestive; there is just no need for that when we are still young and our brains are still developing.  We also like to know if a movie has language we are going to need to tell them to not repeat.  Aladdin checks all my boxes of a perfect movie that our whole family can enjoy! Pardon the pun, but it is a diamond in the rough.
Disney's Aladdin is rated PG.  Many families are concerned that there might be more adult language used with a PG rating.  We were surprised that even The Incredibles 2 slipped in a few 'bad words'.  Honestly, swearing doesn't bother me that much. Judge away, I just don't really care that much for an adult word here or there in a movie.  While cursing and swearing might not be a deal breaker for me, I know it is for many families.  I listened for 'bad words' during the screening of Aladdin and did not hear one.  Families do not need to worry about bad language in the newest version of Aladdin!
One thing I really loved about the newest version of Aladdin is that Disney really did their homework to fix some of the things that were problematic with the first version.  In the 1990s Disney unfortunately used colorism to tell stories but they have changed their ways.  Disney also did not honor the culture of the people depicted in the story of Aladdin.  I was thrilled with the way director Guy Richie was able to keep the essence of such a beloved film, but updated it in a way that honored the culture rather than in some ways taking jabs at it.  Without any spoilers, Disney updated the princess theme as well. Jasmine lets us all know in the first version that she is 'not a prize to be won'; but the point is confirmed further in the updated story. Jasmine is older and pushes back even more when it comes to patriarchal traditions.  Film makers had consultants in many different areas to hopefully avoid issues they had in the past and you can really see the effort.  From subtle word changes in songs to complete changes in plots, the newest version of Aladdin is something that our family is excited to share with our kids.
Violence is always a concern for our family.  While some of our kid's friends boast about seeing scary movies, our kids are not into it. A live action film is generally going to be more realistic than a cartoon and this is certainly the case with Aladdin.  I would consider Aladdin an action film. There are moments of peril, including Aladdin almost drowning (this is not a spoiler if you have seen the original).  Aladdin is not a bloody or gory movie.  If you are looking for comparison, I saw it as less violent than a tame Marvel movie.  There is definitely action, fighting, and scary moments; but it is not gory.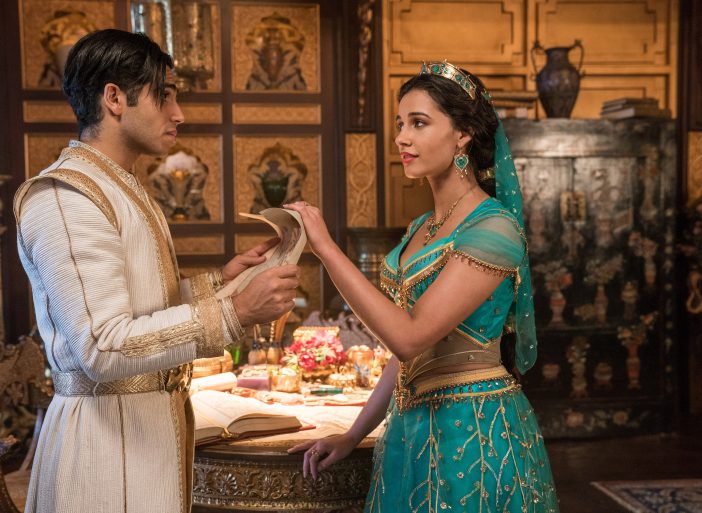 I am leaving sexual content for last because there isn't much to speak of.  Aladdin is a love story (the BEST LOVE STORY if you ask 9th grade me), but it isn't sexy.  The flirting and kissing are both G rated in my opinion.  The cartoon Aladdin had racier kisses in my opinion. Costumes were far more modest in this version than in the cartoon.  You will see a little bit of cleavage and a little bit of midriff; that is it. Aladdin wears a shirt under his vest, Jasmine does not end up in a slave 'harem' outfit toward the end, characters are overall more covered. The costumes and accessories are rich and beautiful; but not demeaning.  I don't remember any sexually inappropriate comments; even in innuendo.  The movie felt very 'grown up' for all the right reasons and none that we felt gave a damaging message.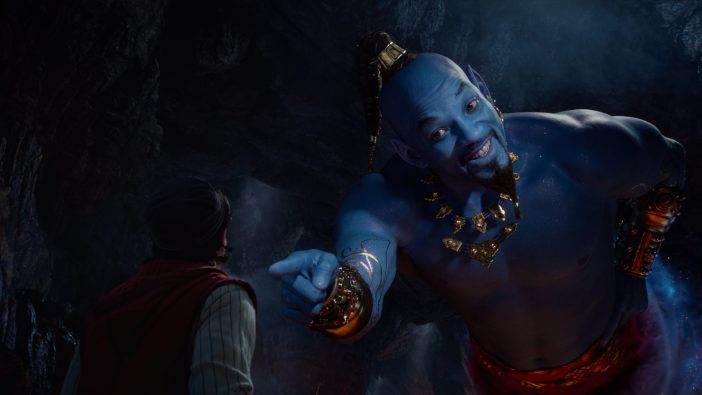 I must be honest and let you know there was one thing I did not like.  The Genie was not OK you guys.  When Will Smith was human genie, it was fine.  Blue, jacked Genie was bothersome.  Genie was hilarious and wise; just like the original.  Genie is supposed to be weird and flimsy when he is a genie; but in this version he is like a blue Hulk and I am not here for it.  It never won me over; but as in many things in life; I had to accept that this is the Genie now.  The terrible Genie design does not have to ruin an otherwise perfect movie.
As always, I suggest you look at this as a guideline, read other reviews as well, and ultimately know your kids.  If you have any reservations I highly suggest seeing it first either on your own or with other adults and decide if it is too intense for your child.  If you are anything like me, you won't mind seeing it twice.  My 12 year old son attended the screening with me and our whole family will be in theaters this weekend!
Free Aladdin Printables are coming soon, make sure to come back!