Paper Snowflakes Printables from Disney's Frozen
Disclosure: Highlights Along the Way is a participant in the Amazon Services LLC Associates Program, an affiliate advertising program designed to provide a means for sites to earn advertising fees by advertising and linking to amazon.com.
Disney's Frozen was such a smash hit that there have been several mini movies and a Frozen 2 is in the works! We cannot wait for Frozen 2 to hit theaters in the future, but for now we will enjoy these high resolution activity sheets from our friends at Walt Disney Animation. We love this Frozen themed craft that you can make with your home computer. Paper snowflakes a wonderful non-denominational winter craft that you can make at school, home, or really anywhere. Here are some more fun paper snowflake printables in honor of the upcoming Disney movie Frozen!
Please feel free to send the link to this post to friends! You may use this free printable activity sheet as part of a virtual school activity or just for fun at home! When sheltering in place is over, these make wonderful party activities and decorations.
Brand New Frozen 2 Printable Coloring sheets are also available on our site! Make sure to click the link for seven brand new Disney Frozen 2 coloring sheets. The new coloring pages feature lovable characters from the first movie as well as new characters that we cannot wait to meet.
While there is no end to items you can buy to celebrate Disney's Frozen, we love that these activity sheets are a fun freebie! These printable snowflakes are a perfect non-denominational winter craft to use in school or even at home on a snowy or rainy day. Thank you to Disney for sharing these Frozen activity sheets as well as our other Frozen themed activity sheets which you can find listed below.
Here Elsa teaches kids how to make a paper snowflake – perfect for decorating the house for winter!
Frozen Snowflake Free Printable Activity Sheet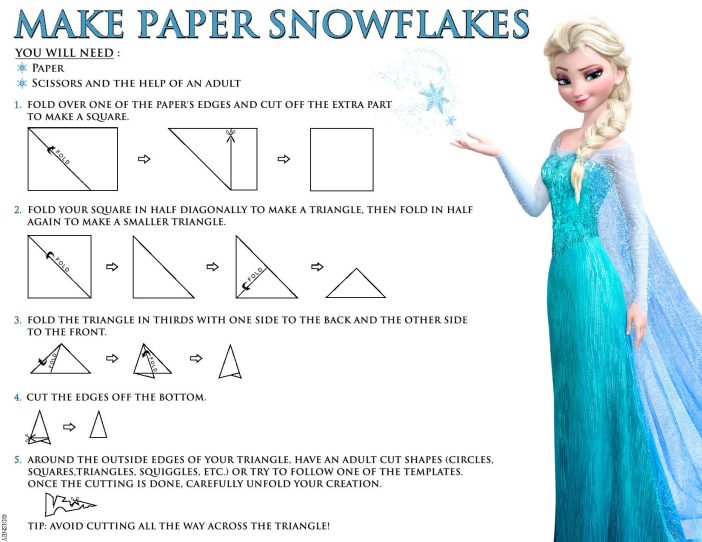 While these snowflakes have been very popular, the most popular printable on our site has to be our Olaf Printables (also courtesy of Disney!). They go so well together I had to mention them too!
Snowflake printables are perfect holiday and winter activities. Print a few out for your classroom or for your kids at home. We love this activity as we get ready for winter. Following a template makes it easier for little ones. Decorate your whole house with whimsical handmade snowflakes. We make paper snowflakes the week before Thanksgiving. These also make perfect winter and Christmas decorations.
Frozen themed birthday parties are sure to be huge this coming year. Decorate your party room with snowflakes. Better yet, party guests can make their own as an inexpensive party activity. Please make sure to check out our other Frozen printables – including an Olaf "do you want to build a snowman" printable!
Frozen will delight audiences for years to come! Here is the movie's synopsis "When their kingdom becomes trapped in perpetual winter, fearless Anna joins forces with mountaineer Kristoff, and his reindeer sidekick to find Anna's sister, Snow Queen Elsa, and break her icy spell. Although their epic journey leads them to encounters with mystical trolls, a comedic snowman, harsh conditions, and magic at every turn, Anna and Kristoff bravely push onward in a race to save their kingdom from winter's cold grip."