A day at Disney's Magic Kingdom Park
Disclosure: Our trip was hosted as part of the Zootopia Event press junket. While all expenses were paid and posts were expected - opinions are 100% my own.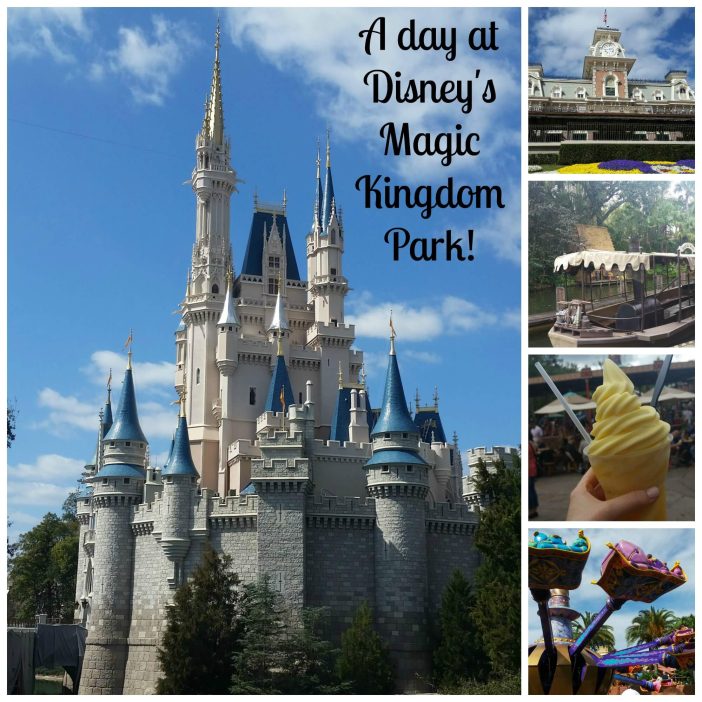 Magic Kingdom Park is the heart of Walt Disney World and it was a childhood dream come true to go again last month. While I grew up on Disneyland, I was always fascinated with Disney's Magic Kingdom.  I love finding the little differences and also the similarities between the two parks.  Magic Kingdom is a perfectly magical destination for children of all ages!
This was actually my second trip to Disney's Magic Kingdom Park – I wrote about the first time I went to Magic Kingdom with my family here – it is actually a little story about how some lady stole my free trip to Walt Disney World once, but how I have totally forgiven her. 😉  It's a funny little based on a true story that also has some amazing pictures of Magic Kingdom that is going to make you want to book a trip immediately!
But trip number two was all grown ups.  Sort of grown ups – kids at heart is probably a more accurate way of putting it.  I love that Disney is truly fun for all ages! My sweetest family memories growing up were at Disneyland, some of my best memories with my own children are also at a Disney park.  But you know what?  Disney is SO FUN with grown ups too!  While this trip was an excellent combination of work and fun – I have always loved an opportunity to hang out at a Disney park with grown ups.  Disney's Magic Kingdom Park is the classic that anyone coming to Walt Disney World absolutely needs to visit!
Let's take a picture walk though the Magic Kingdom – shall we?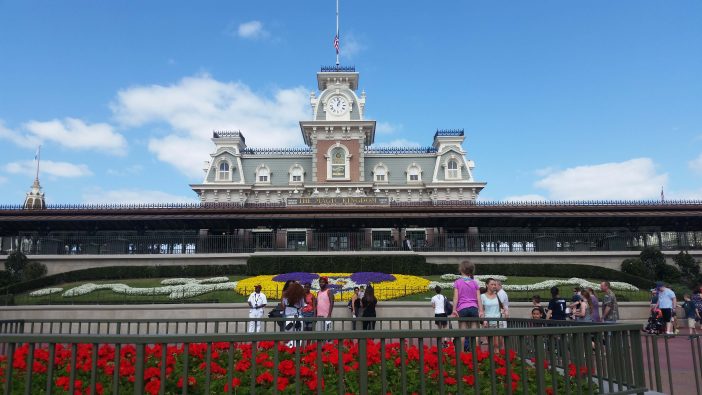 When you walk in the gates you see something similar to the original.  The flower Mickey sculpture, train station, it's all so familiar!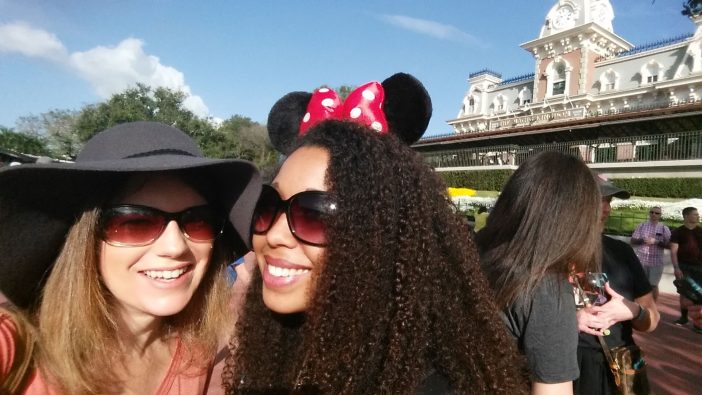 Obligatory 'just got in the gates' selfie with Deanna from Honey & Lime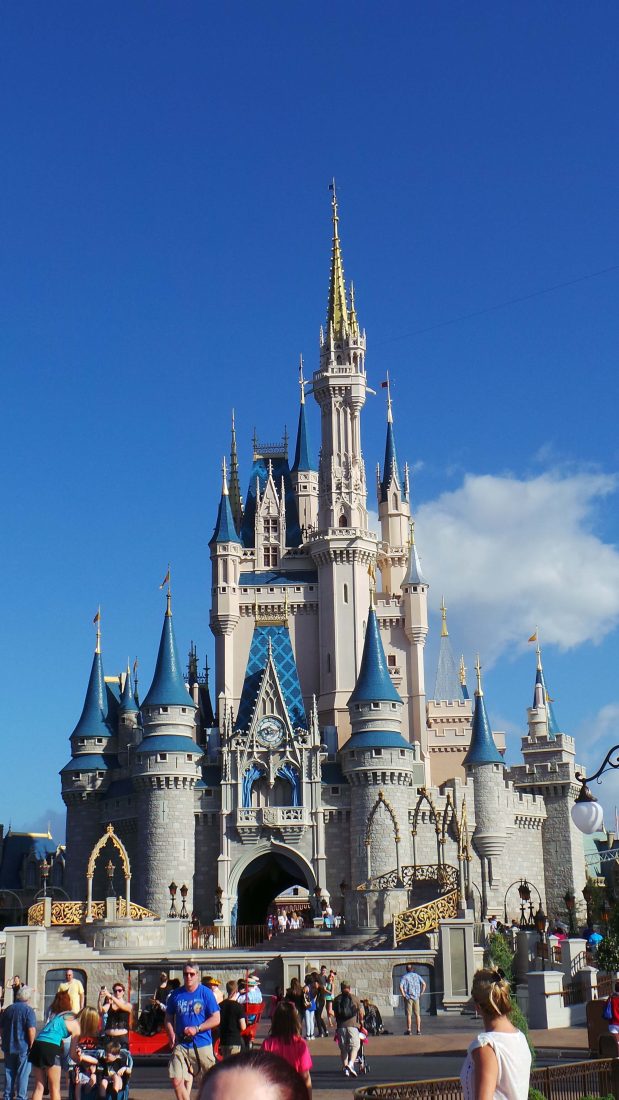 While I love my sweet little Disneyland Castle – Cinderella's Castle at Disney's Magic Kingdom Park is just massive and whimsical! It really takes your breath away!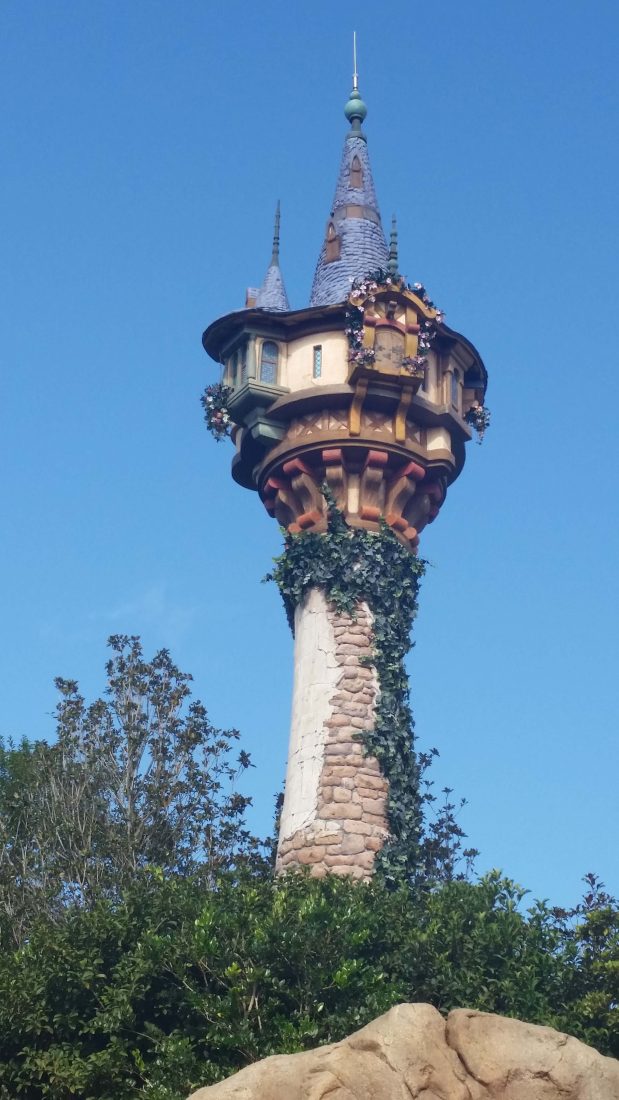 Rapunzel's tower!  This is one of our favorite modern movies and I love seeing it's presence in the park!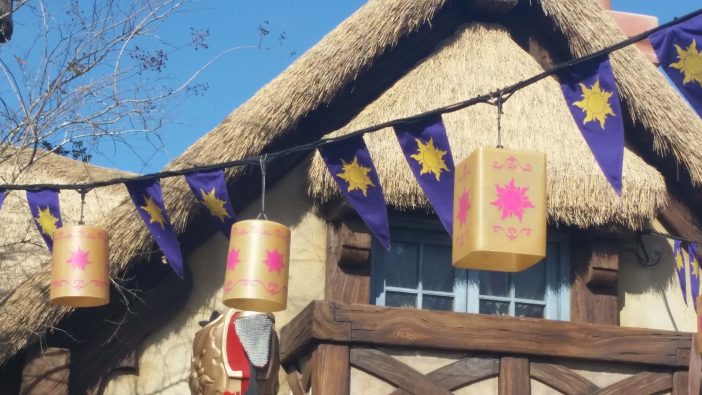 Oh, and then there is this Rapunzel themed bathroom!  Can you believe it?  Even the bathrooms here are magically themed!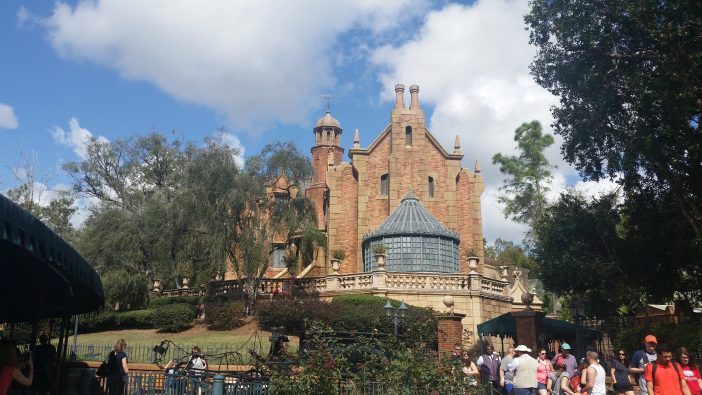 Many of the rides at Magic Kingdom are similar to the original at Disneyland Park, but have a distinct look.  The Haunted Mansion is nearly a carbon copy inside, but the actual mansion outside has a totally different look!  It is completely different but equally as charming and spooky at the same time.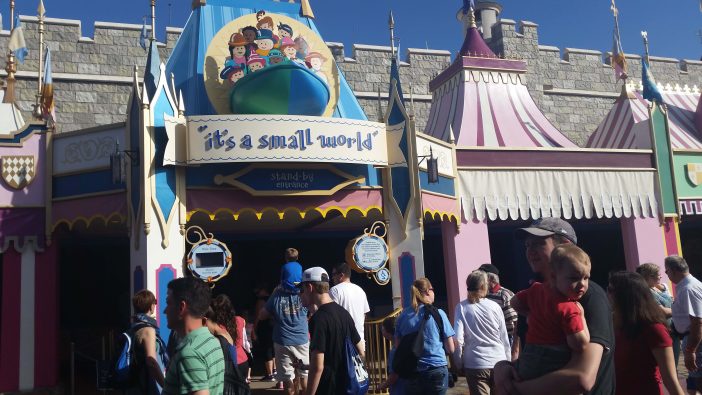 It's a small world was difficult for me if I am being honest.  I expected something equal or even more grand than the original and they actually tone it down.  Um.  What?! The ride inside is nearly a model match to the original, but the outside kinda hurt my heart a little bit.  I love Disney World, but I just needed to prep those who have a soft spot for the original Small World – it is just toned down a bit.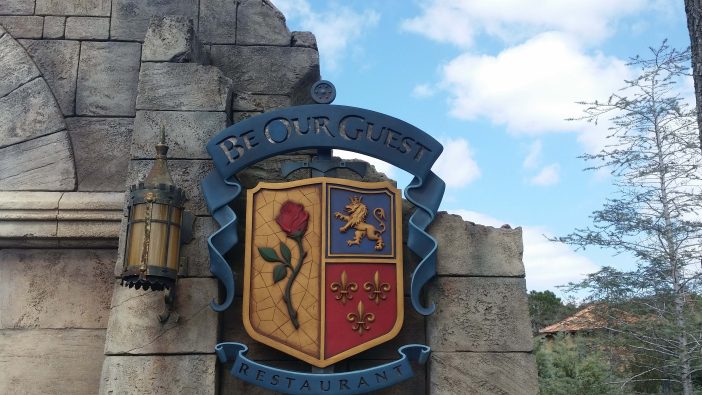 I was so excited to check out the Be our Guest restaurant!  Beauty and the Beast is one of my favorite Disney animated movies and I loved the idea of a themed restaurant.  My friends and I went during lunch which was surprisingly budget friendly. The restaurant is counter service but you sit in a grand ball room – so fancy!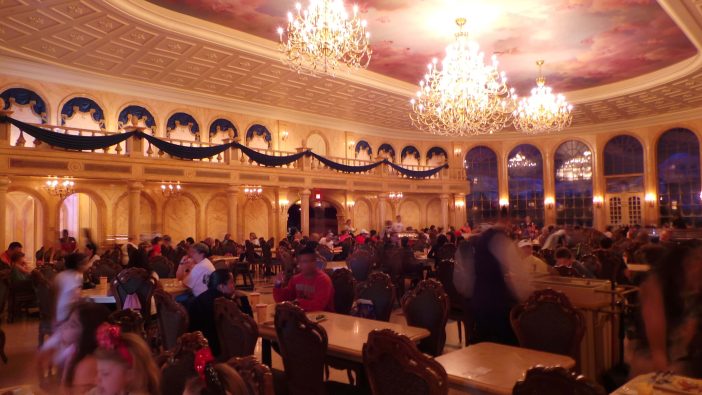 ….and if you are wondering, yes.  Try the grey stuff…. it's delicious!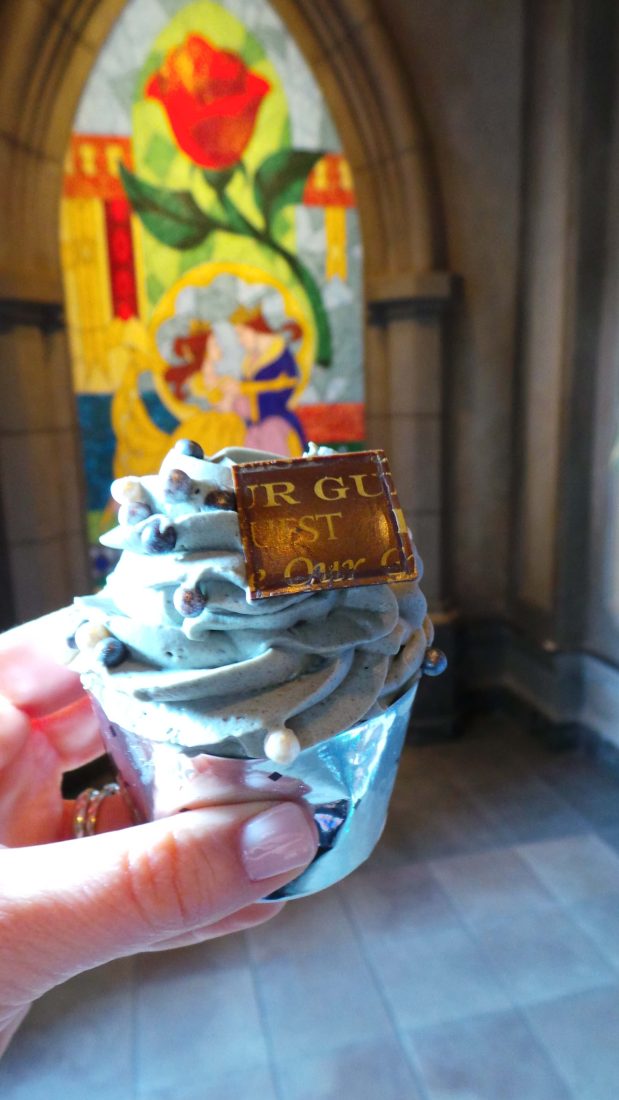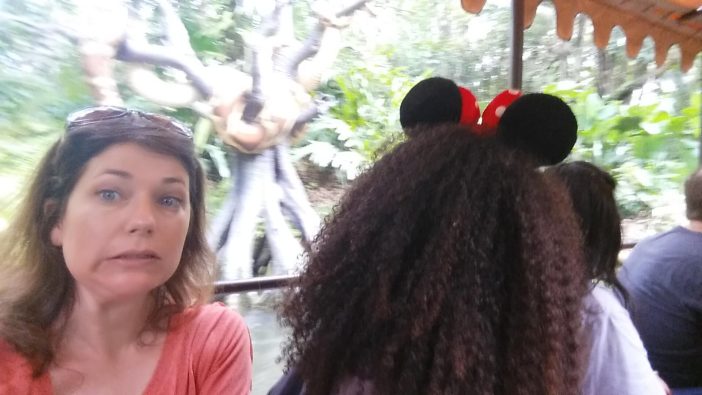 I narrowly escaped the grip of a giant python behind me…… Jungle Cruise is kinda corny, but also my one of my favs!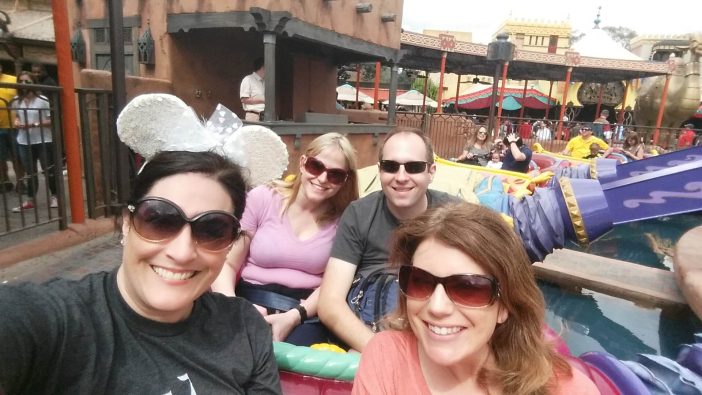 Obligatory "On a Magic Carpet groupie" with friends!
And in case you are still looking for convincing to get yourself to Walt Disney World….. here it is my friends….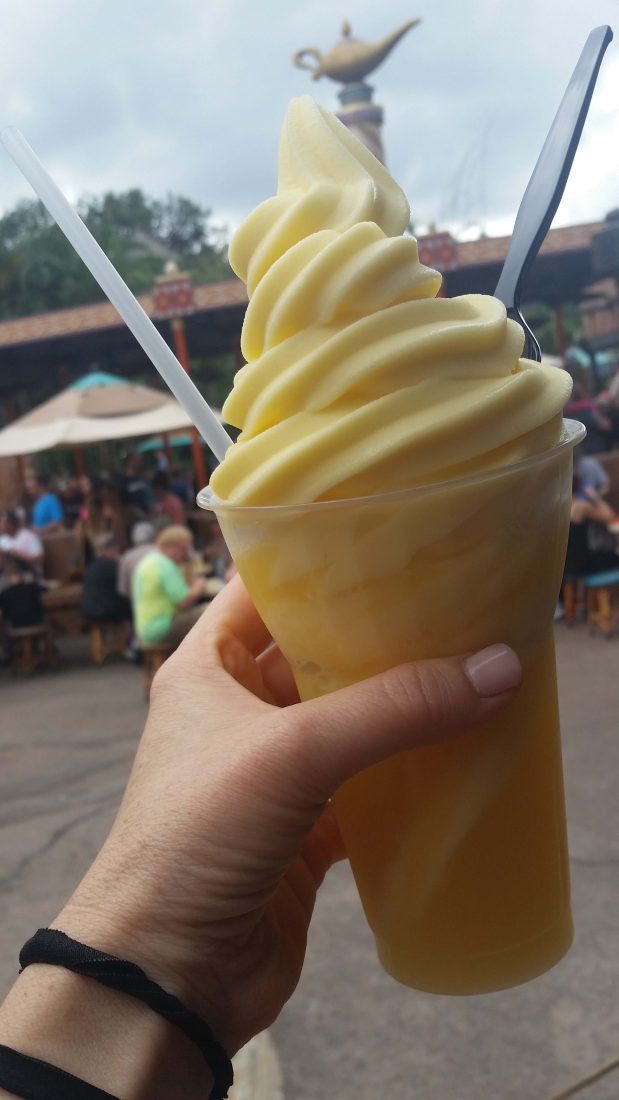 This, boys and girls- is a colossal Dole Whip Float.  Pineapple frozen yogurt floating in fresh pineapple juice.  It is big enough for two to share and it is something I have convinced myself is healthy because it involves fruit.  I am not a nutritionist so don't take my advice, but also don't burst my bubble if this is more of a splurge than I think it is.  Dole Whip is a must on any Disney trip in my opinion!  Our group enjoyed Dole Whips on the last day of our trip and it was really the best sweet treat we could have before we all left for home.
We were only at Disney's Magic Kingdom for half the day which was so much fun, but I will have to return to check it out at night time! Want to see even more pictures?  Find the post "That time some lady stole my free trip to Walt Disney World…." linked in the 'other posts' in the sidebar and below – we took so many pictures!  Walt Disney World – and specifically Magic Kingdom Park is as beautiful to photograph as it is fun!
We were lucky enough to visit Magic Kingdom Park as part of our Zootopia press event – as you probably already know, Zootopia is in theaters now!  Make sure to check out the trailer below….