Frozen Birthday Party!
Disclosure: Our blog was selected to host a #DisneySide party. Disney sent us a big box of supplies and goodies to contribute to our fun day. We were obviously big fans of Disney already and opinions are 100% my own.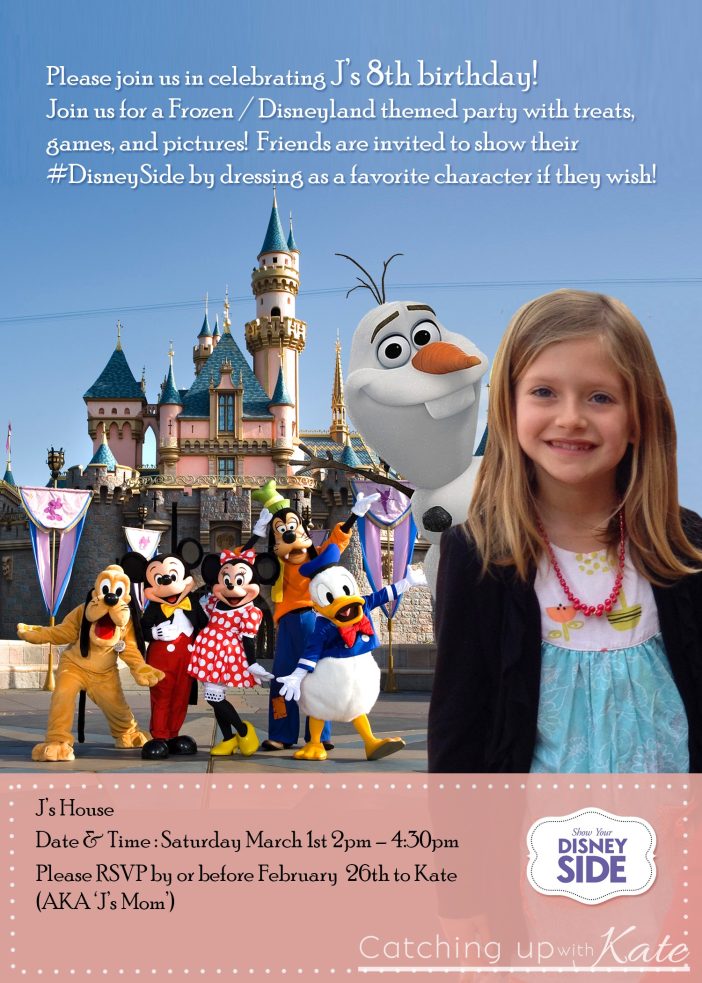 Our oldest really lucked out this year! Our blog was super lucky to be chosen to host a #DisneySide party!!  #DisneySide is an awesome campaign that encourages fans to show their "Disney Side" everywhere from Disney Parks to just every day life.  As pretty much everyone knows, we are big fans of Disney so this party was totally up our alley! And of course since this is the year of 'all the things Frozen' – we are double themes this year – so it is also a Frozen Birthday Party.  My daughter's birthday is next month so we decided to have her party just a wee bit early!  She had already stated she wanted a "Disneyland and Frozen" birthday party so it was perfect!
Our party was all kinds of fun!  The good folks at Disney sent us over a big box of goodies to help make our party spectacular, but that was just the start!  Here is a video of all the items Disney was kind enough to send us!
And here are a few things we purchased at the 99 cent store and the Dollar store to fill out our party supplies!  Check out what we purchased to fill in the Frozeny gaps (all in all – we spent about $30!)
Our kids still LOVE dress up, especially the birthday girl, so we invited our guests to show their Disney Side by wearing a costume if they wanted.
We like to have a nice balance of healthy treats and 'it's a party so live a little' treats and this party we went a little nuts on both.  We had a lot of fun trying to stick within the theme!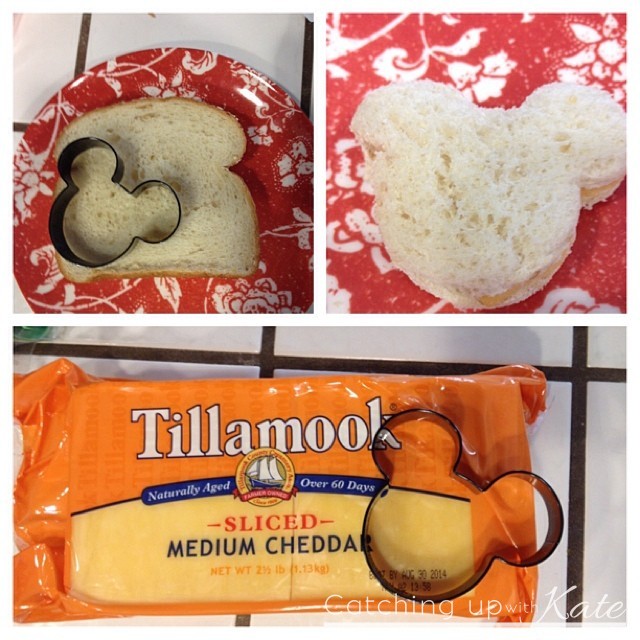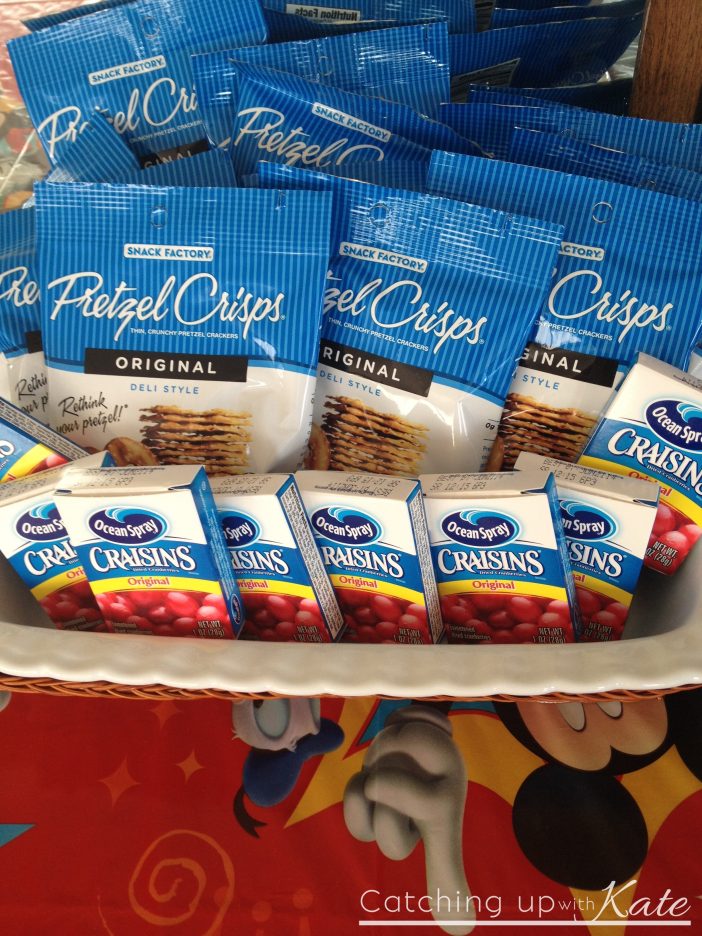 Mickey Sandwiches, Pretzel Crisps, and Olaf Noses – we used a Mickey shaped cookie cutter with Tillamook cheese for simple, but yummy sandwiches along with Pretzel Crisps and Carrots (Olaf Noses) with Hummus as a fairly healthy start for our guests.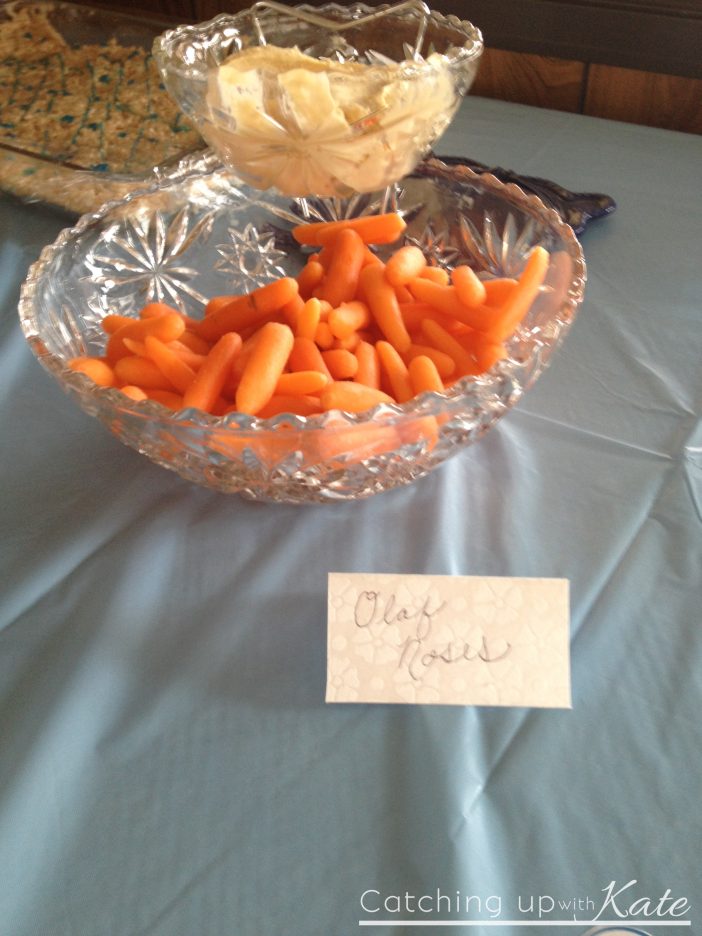 Almost every party we have we like to serve Honest Kids & Honest Tea – we are hoping to get our kids through childhood without drinking soda at all – we have noticed Honest products on our recent trips to Disneyland – so it is totally within the theme too!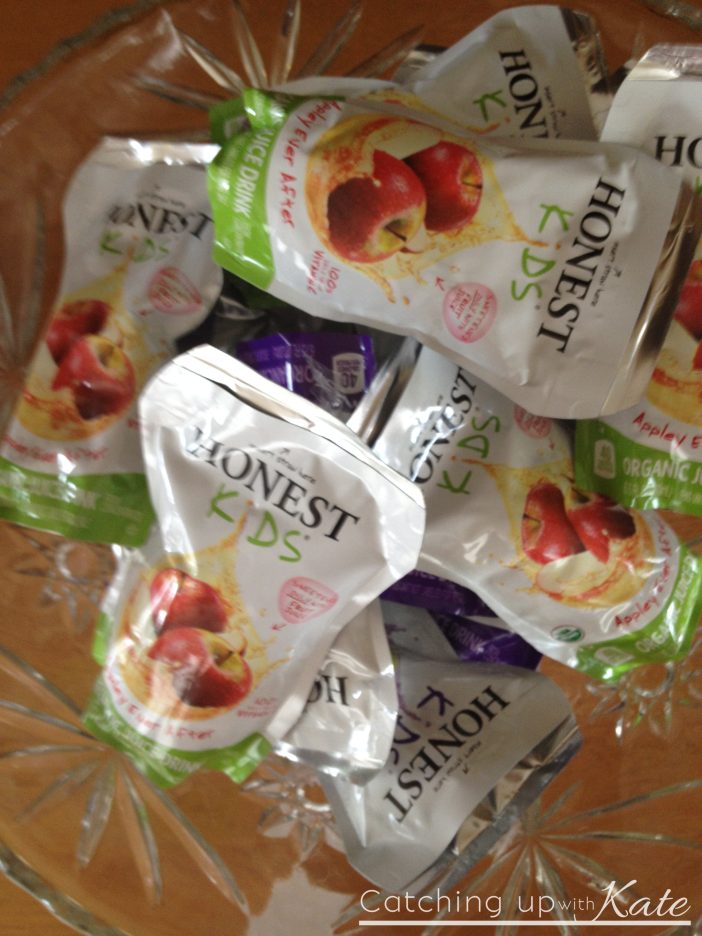 "Dole Whip" floats!  This is seriously SO easy!  Kids love root beer floats right – but again, we aren't big on soda.  One of our family's favorite treats at Disneyland is pretty much anything served at the Dole Whip stand by the Enchanted Tiki Room.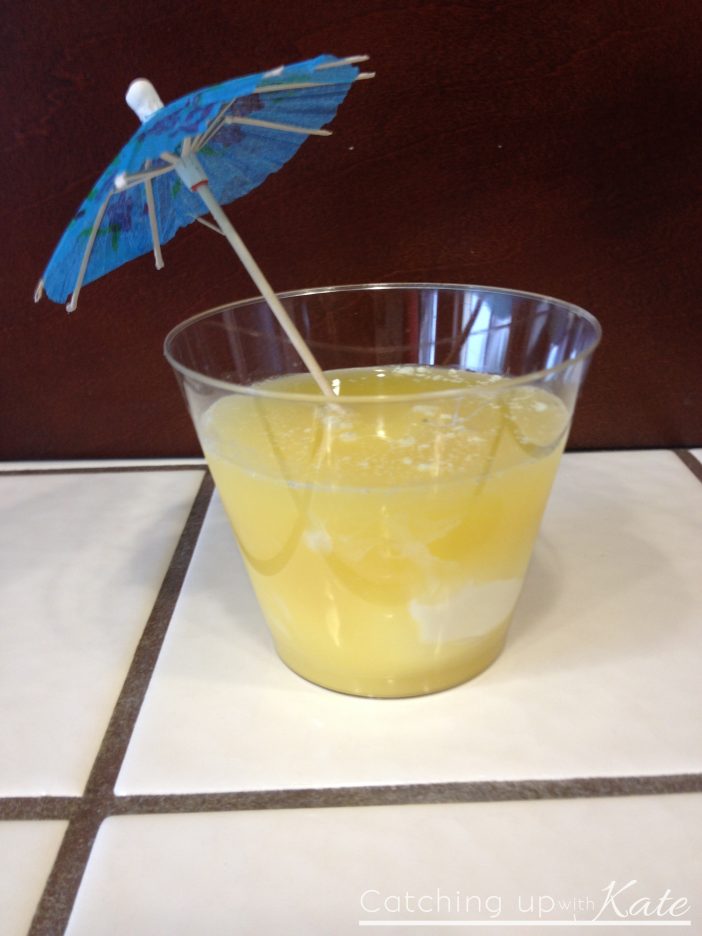 Our daughter squealed when I suggested we serve "Dole Whip" floats!  It's super easy!  One scoop of vanilla ice cream, pour in some pineapple juice, add a tropical umbrella – viola!  It really wasn't much more effort than scooping ice cream, but this was so much more festive!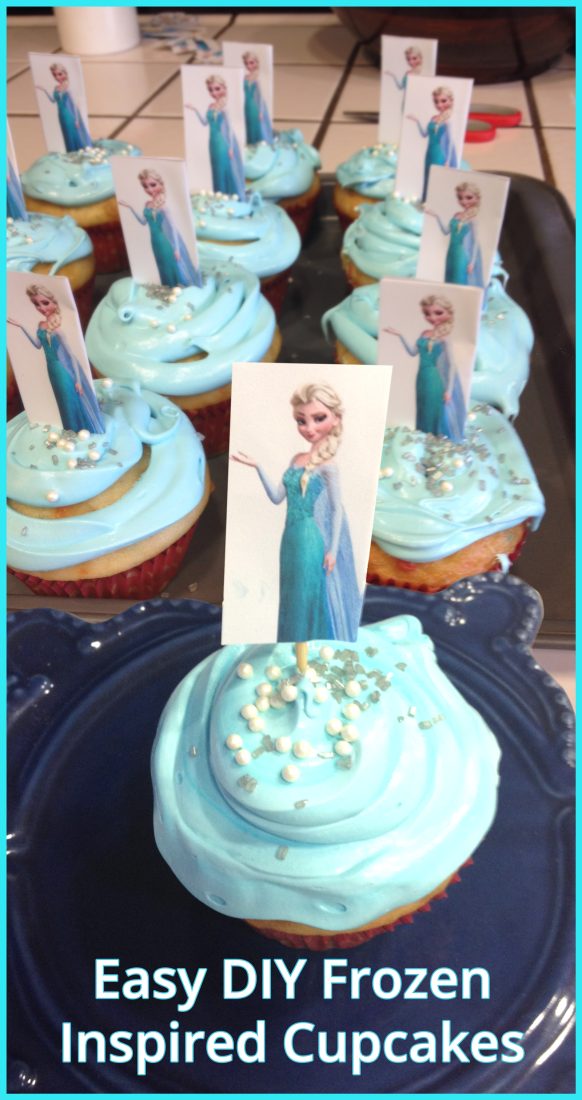 Frozen themed cupcakes!  Believe it or not, our Party City had not even one Frozen themed party supply (WHAT?!)  I know.  Actually no worries, we are totally resourceful!  We made vanilla boxed cupcakes and just dolled them up.  Vanilla frosting with a drop of blue food coloring looked just right!  I got some pretty edible pearls as well as silver and gold sprinkles.  Fancy schmancy!  And to top it off, we printed out small pictures of Elsa, Anna, and Olaf, attached them to toothpicks – viola again!  Also very easy, but very special!
Decor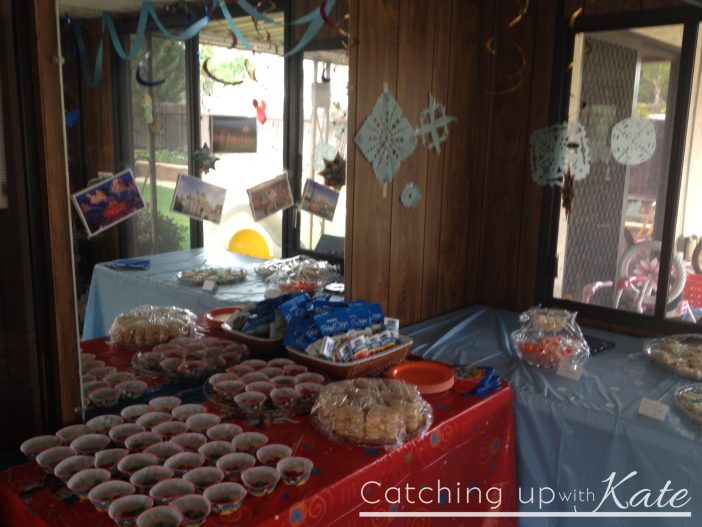 Disney sent us some classic Mickey Mouse decor, napkins, cups, and more!  We added a Frozen twist with homemade snowflakes and baby blue streamers.  Grandma was kind enough to let us use some of her beautiful crystal party ware to go with the snow castle theme.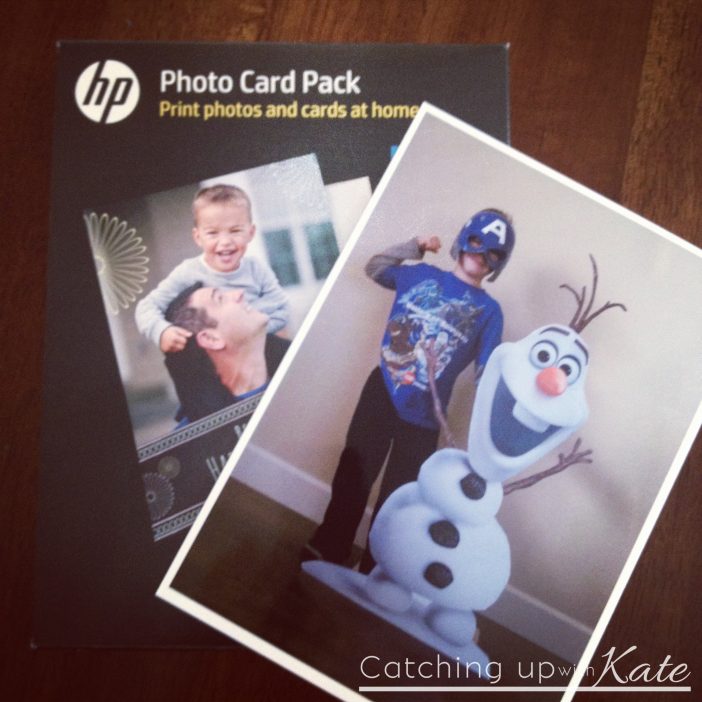 Daddy took pictures of the kids with Olaf and printed them out on HP paper (provided in our #DisneySide box) as a party favor for each of our guests.  We also had fun stickers, bracelets, and more sent in our #DisneySide box to share with our friends too!
Entertainment – Sadly – the weather chose to be extremely rainy and windy the day of our party and cancelled a few of our outside festivities.  That's OK though!  Crafts and movies to the rescue!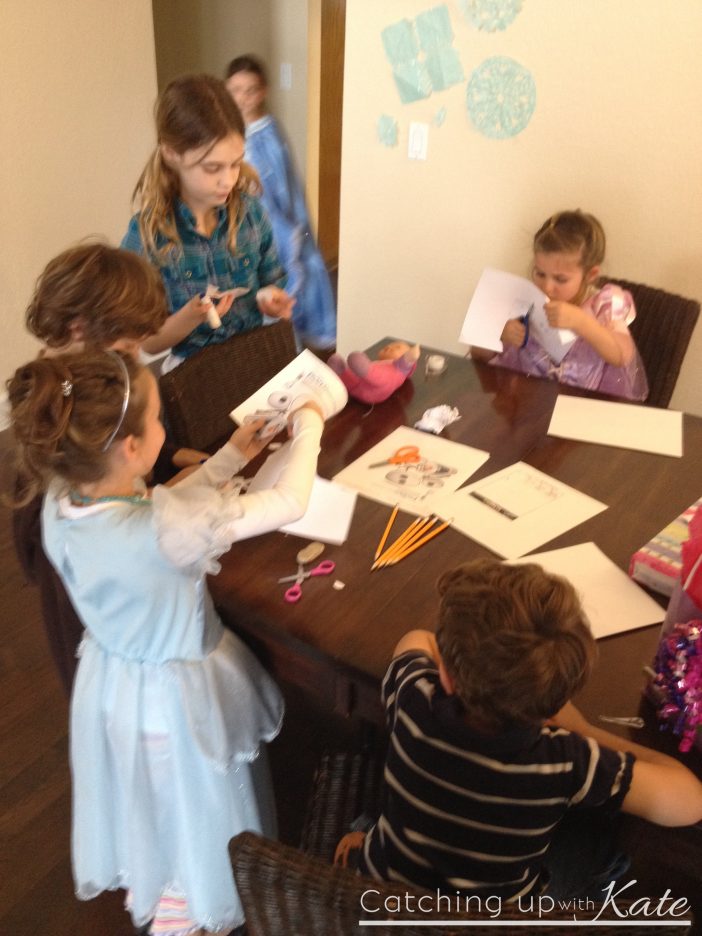 We sang "Do you want a build a snowman" while we made an Olaf Craft.  We are super thankful to Disney for releasing Disney's Frozen on Itunes the night before the party!  What luck!  Also, I am pretty sure the sing-a-long viewing with a bunch of 7 – 9 year olds is the cutest thing I have ever seen!
Our parties are never super fancy.  I think this one was a bit of an exception, but still very budget friendly!  Have you ever had a Disney themed party? How about a Frozen Birthday Party?  I bet there are about one million Frozen Birthday Party blog posts out there! I would love for you to link it in the comment section.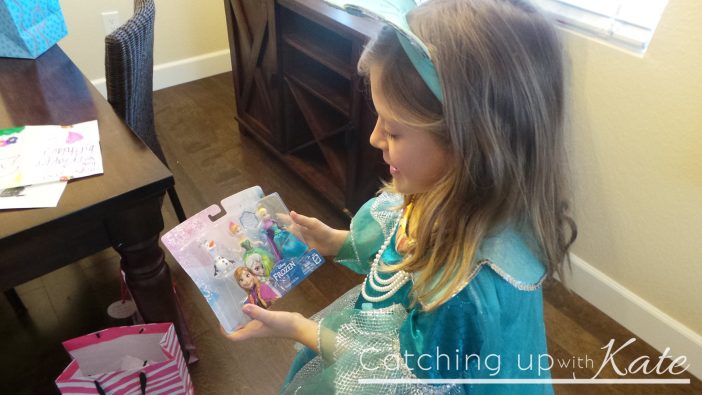 I say it every year, I cannot believe this little lady is already another year older.  Eight years old!  Eight years have flown by.  We are so proud of you little girl!