DIY Anger Costume
Disclosure: Highlights Along the Way is a participant in the Amazon Services LLC Associates Program, an affiliate advertising program designed to provide a means for sites to earn advertising fees by advertising and linking to amazon.com.
Anger is one of the easiest costumes to make!  Inside Out is one of our favorite movies, and a perfect family or group costume idea. Here is how we made a no sew DIY Anger costume from pieces we already had! If you are looking to make Inside Out costumes, we have DIY tutorials for the entire cast of emotions.  Make sure to check out all of our Disney Pixar DIY costumes for your next Halloween party!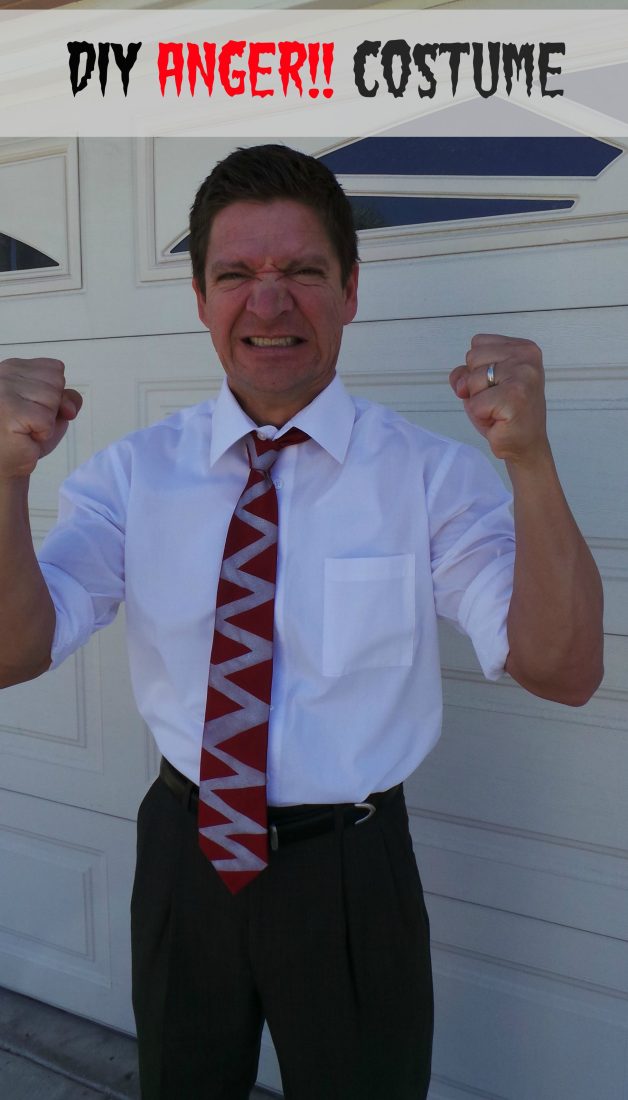 And to further our DIY Inside Out costume series – I bring to you 'Anger'!  Our whole family is dressing up together and poor Harry got stuck with Anger.  Anger blows his top easily, which is not much like Harry – but in any event, we needed an Anger so he is taking one for the team. All our costumers are almost completely thrifted pieces and this was no exception.  I think using pieces we already have or purchasing new pieces that can be reused (either by us or passed down) are fantastic.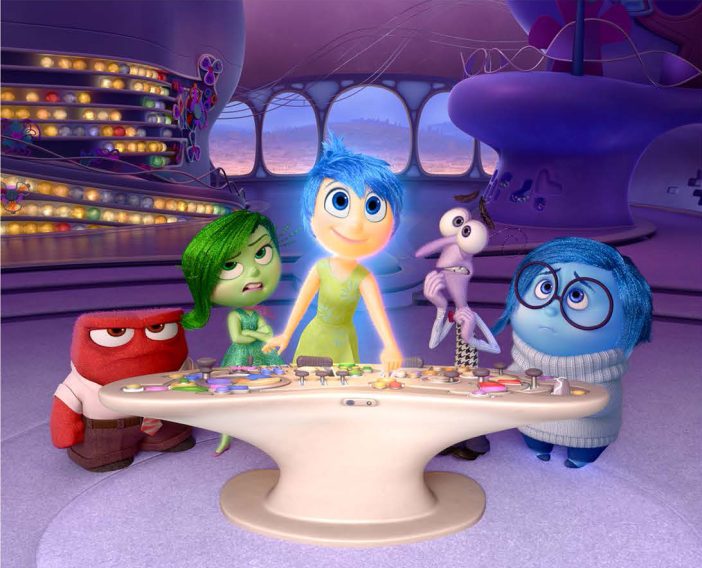 Fear's uniform is easy – white dress shirt, brown woven pants, red tie with silver triangles.  That won't be too hard to put together…..
A white dress shirt he already had – check!
Dark brown woven pants – thrift store for $1.50 – check!
Red tie with a little spray paint – thrift store for $3 plus paint he already had – check!
Spikey hair and his crazy face – free! Priceless! check!
That's it! So for less than $5 he has his DIY Anger costume ready to go!
Again, I love a costume that uses pieces we already have or that can be used again.  His white dress shirt has been used for work for about a year and will go back into circulation after it's work as part of the Anger costume is done.  The 'old man' dress slacks I bought at the thrift store will go back – basically we rented them from the thrift store – we purchased them for a small amount that helped disabled veterans with much needed services, and they will go back and they can sell them again! Awesome!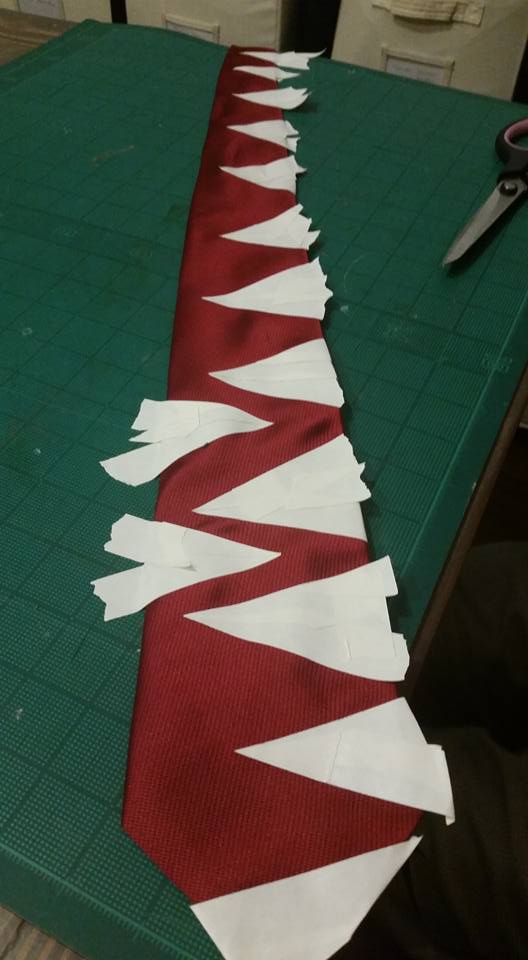 The tie?  Well, we kinda ruined that….. unless someone wants it for their own Anger costume in the future – hmmm – perhaps it will end up on Etsy. If you want to make your own – get a red tie and use tape to make triangles in the pattern above.  Then simply paint the exposed part of the tie in a light grey – we used an airbrush but any kind of fabric paint process will work.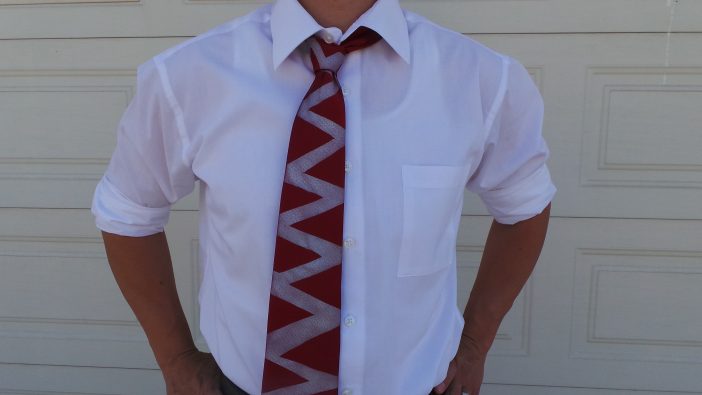 If you would prefer to 'easy button' it – you can purchase a pretty awesome Anger Costume on Amazon and have it at your home in a couple days with Prime! (affiliate)
We are doing the whole set 'Anger, Sadness, Joy, Fear, and Disgust' – so keep it here for all of our costumes.  You can see our DIY Sadness Costume and our DIY Fear Costume already!  I hope you will check them out.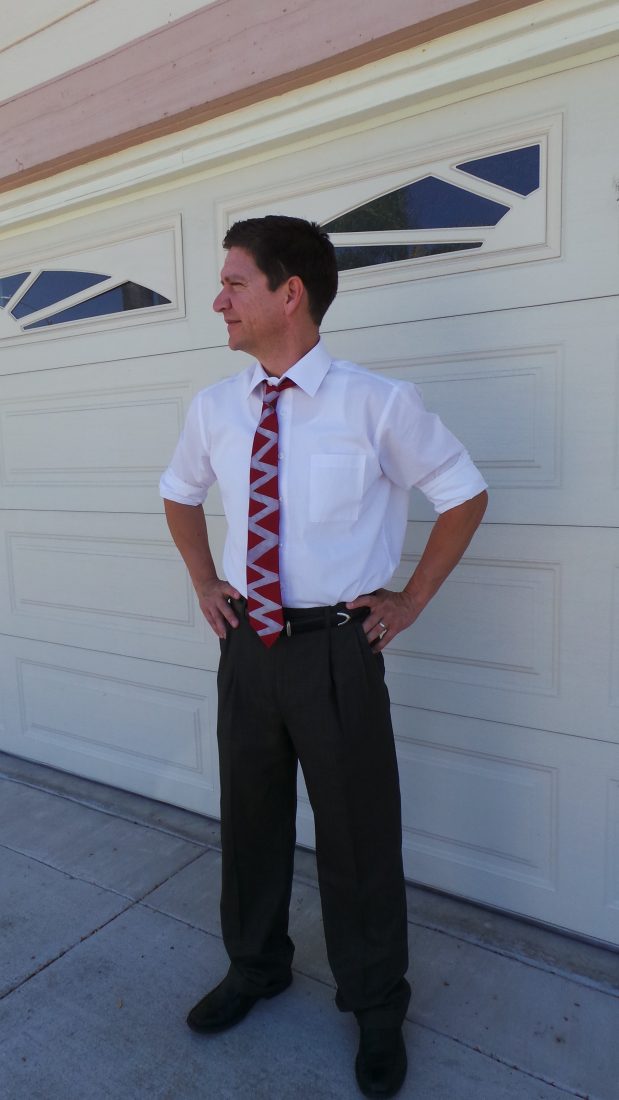 Harry never participated in Halloween his entire childhood.  He trick or treated as a college student once (no costume)…. much to his parent's disappointment (they mean well).  He thinks this whole dress up thing is kinda silly, but he is a good sport.  He loves that this is something our whole family participates in and that Mickey's Halloween Party is such a precious memory.  Mickey's Halloween Party starts THIS Friday – what?!  You can purchase tickets for Mickey's Halloween Party here – you can read why we think Mickey's Halloween Party is the best here!
What was your best 'last minute' costume?  Leave it in the comment section!