DIY Baymax Ornament : Easy Kid's Crafts from Big Hero 6
An adorable Baymax ornament is a simple holiday gift a child can make.  Fans of Big Hero 6 will have so much fun with this DIY Christmas ornament.  This is a perfect project for a snowy day during the winter break from school.Follow these simple instructions using clear glass ornaments you can purchase at any craft store. Disney fans will love this clever and unique ornament!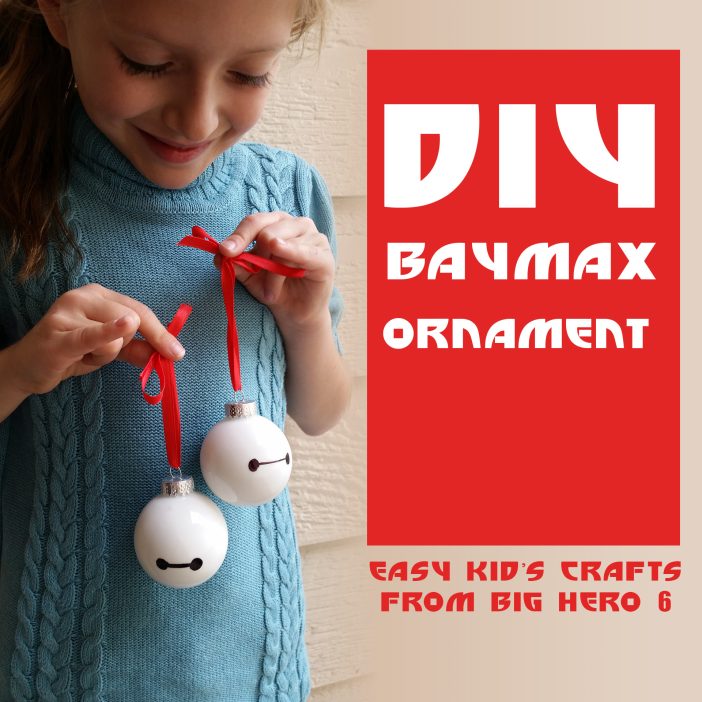 This year we made our cutest DIY ornament to date!  Our daughter cannot wait to share her DIY Baymax ornaments with her friends and family.  This craft is truly something kids can do on their own.  My daughter and I made two dozen of these one afternoon while her brother was out and baby was napping.  Once we had done a couple together I think she easily could have made these ornaments herself.
I loved that all of the supplies for these ornaments were simple and inexpensive.  The step by step process is very easy and really fun for kids.  My kids tend to get impatient when a craft takes too long so this was a great one for them because it was really kid friendly and quick!
If you are looking for a fun and inexpensive craft you can do together with your kiddies this is a great one!  It is the perfect gift for any Big Hero 6 fan – pretty much everyone loves Baymax right?
I must admit, we did not come up with this idea ourselves – the good folks at Disney send over fun activities and printables to bloggers regularly and this craft was one of my favorites!  Typically I just share the printables here for our readers to use as they wish but these Baymax ornaments came out so cute I just had to show off ours!  If you would like the step by step instructions for how to make your own DIY Baymax Ornament simply click below for the free printable instructions!
Feel free to print and share the DIY Baymax Ornament instructions here!  Just click and print – easy peasy – enjoy!  If you make a DIY Baymax ornament I sure hope you will show it off by sharing a picture of it over on our facebook page!