DIY Bride Costume
If you are looking for a great, last minute no-sew costume for your daughter, this is it!  Our daughter loves anything to do with brides.  A bride costume is a surprisingly easy and inexpensive costume to put together.  A bride costume is sweet, modest, charming, and not at all scary!  If you want, you can easily modify this no-sew costume into a scary costume by adding some rips or scary make up.  This costume can be put together in a sort amount of time and looks as pretty as a picture!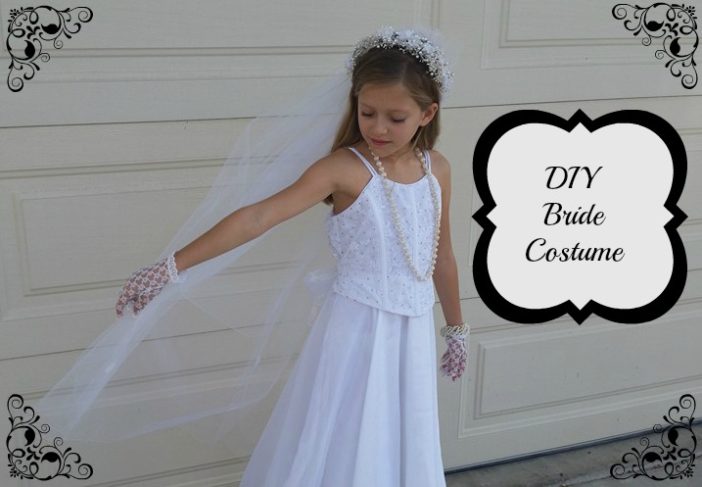 A bride costume is a great modest costume for a little girl.  We are not at all fans of the flirty costumes that are available to our nine year old at the Halloween costume store so we mostly make our own costumes.  Our little girl loves brides, they are real live princesses for a day.  A bride always looks their absolute best for her groom and is full of happiness, hope, and love.  She can't wait to be a bride when someone worthy of her comes along….. until that day we are going to have to settle for bride dress up.  Now we could purchase a low quality bride costume on just about any website or in any Halloween costume store – but we found a great DIY bride costume that is much better quality and often times less expensive!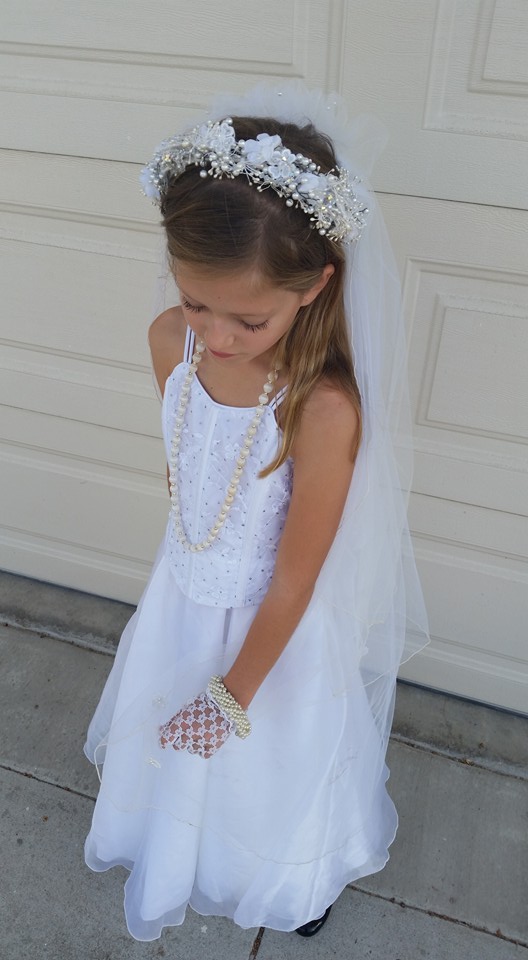 As always, I start looking for costume inspiration while at thrift stores.  I look for articles of clothing that I can easily modify to make into a costume for our kiddos. A bride costume is so easy to make out of another dress it kind of boggles my mind there is even a market for bride costumes!  Flower girl dresses and first communion dresses are almost always available at thrift stores for a fraction of the price.  Flower girl dresses and first communion dresses are very expensive, as they should be! These special occasion dresses are made with beading, embroidery, ruffles, and beautiful details.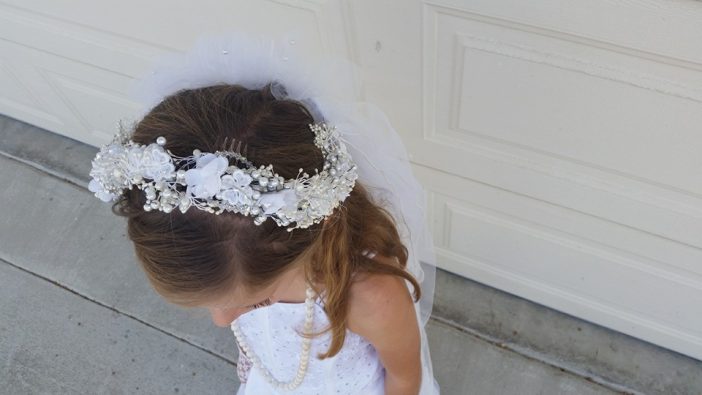 But once these special dresses have been worn to the ceremony or party it is pretty much useless.  For the most part, these dresses have only been wore once before they are donated!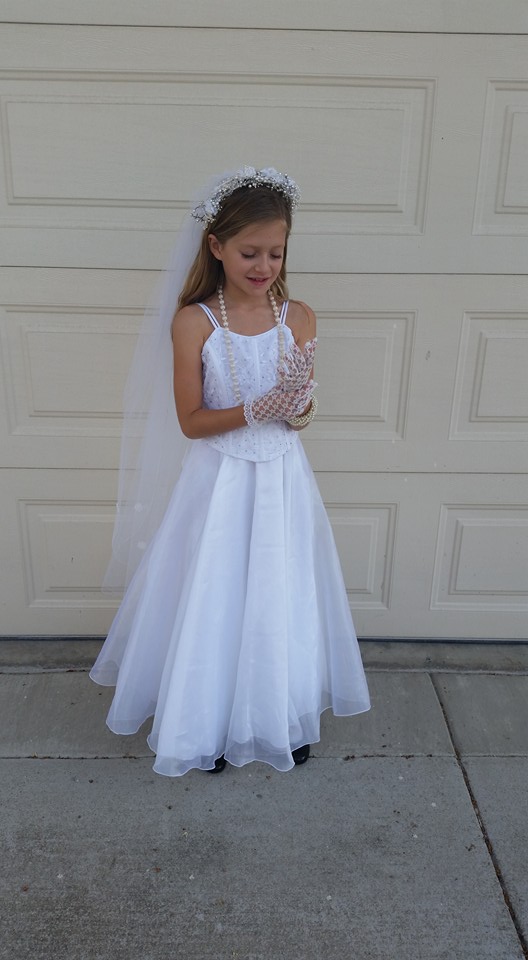 We purchased our beautiful white flower girl dress at the Goodwill for only $10! This flower girl dress was 100% polyester and said 'dry clean only' and I was like "Whatever, in the gentle cycle you go." Guess what? It came out just fine.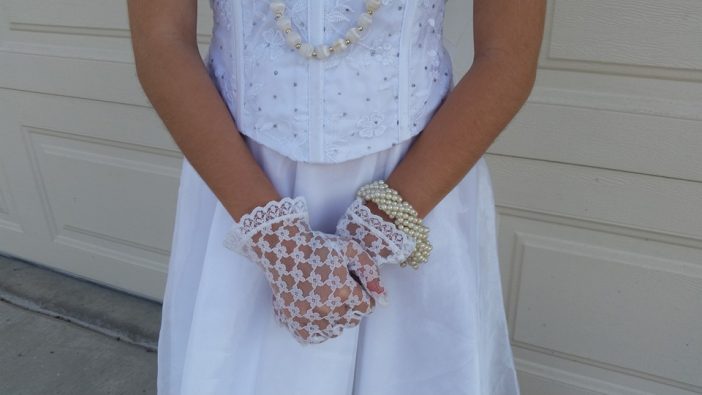 For a few dollars more we found a veil and lace gloves.  She dressed up the look further with accessories passed down from her Great Aunt.  Of course you want to wear some family jewelry on your wedding day.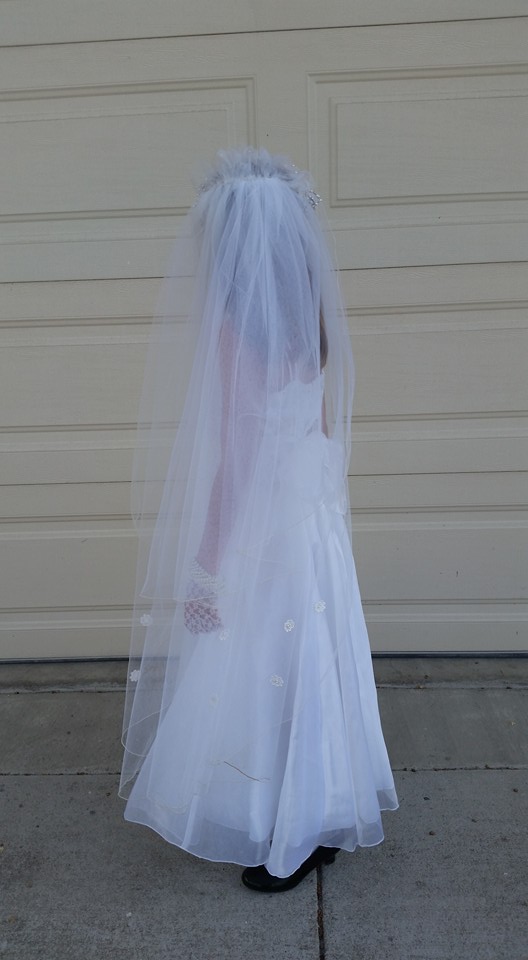 For less than $15 she has a beautiful Halloween and dress up costume!
Random  – but I am trying to build up my pinterest account – will this work on your pin board?  I will love you forever if you Pin It! https://www.pinterest.com/pin/237846424048031219/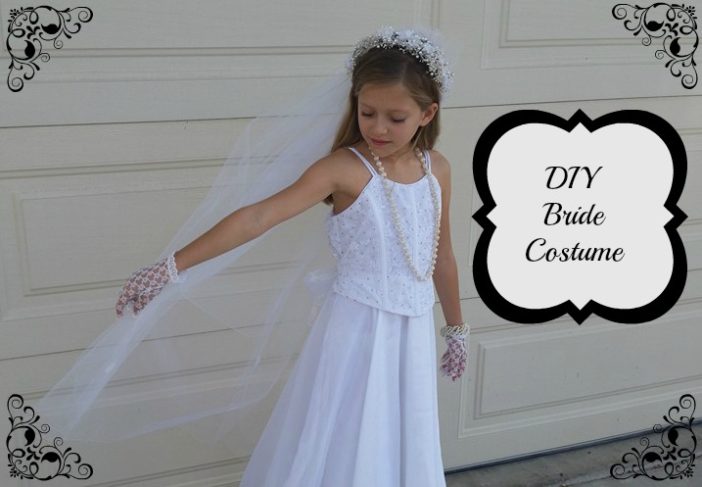 If you are looking for an easy or last minute costume for your little girl a DIY Bride Costume is a really easy one!