DIY no sew Cinderella Dress! Thrift Store Make over!
Disclosure: This site uses affiliate links. When a purchase is made through our links we make a small commission.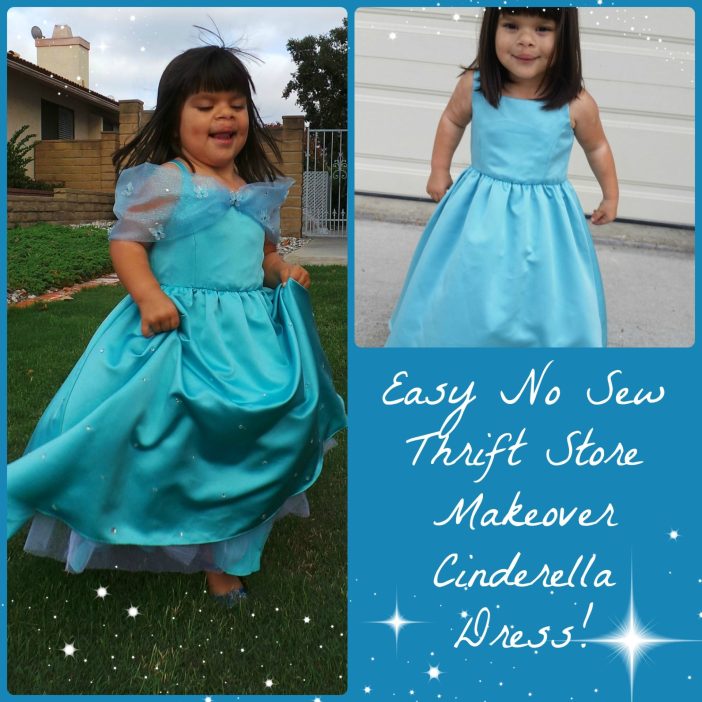 I am really excited about this thrift store dress make over!  Today I am sharing a DIY Cinderella Dress, and not just any DIY, but a No Sew DIY Cinderella dress! I love taking a thrifted dress and re-imagining it into a costume.  My sewing skills are like the worst of the world so if I can avoid taking my sewing machine out that is the best.  Sometimes a sewing machine is necessary and I almost always sweet talk Grandma Rosie into helping us out, but very often a little modification with a glue gun is all that is necessary.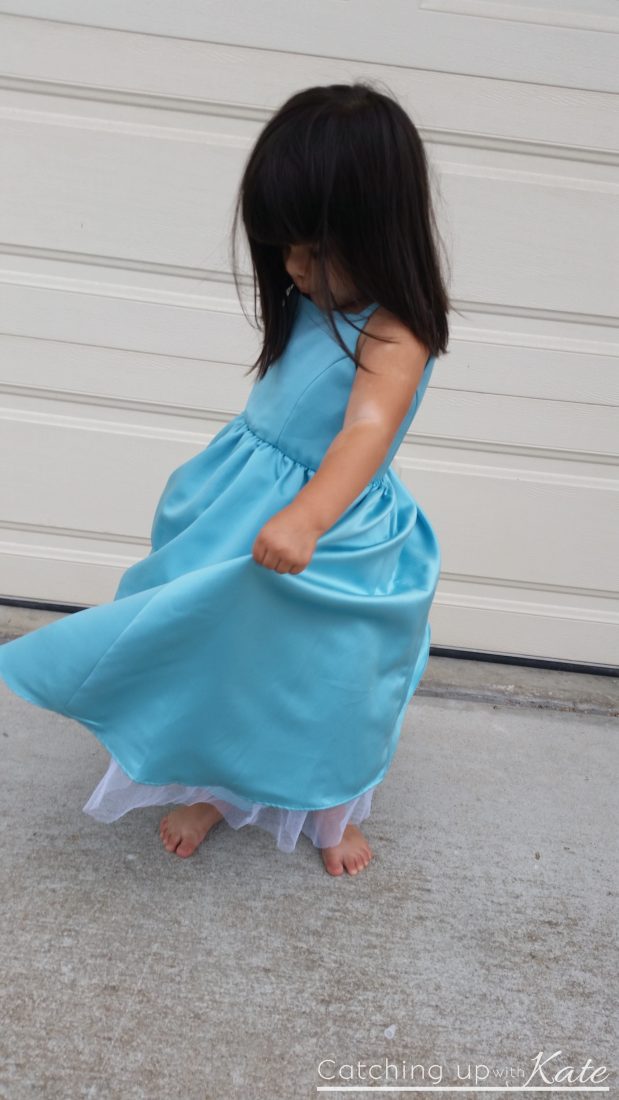 On a recent thrifting adventure I found this little Aqua colored Davids Bridal flower girl dress for $3.65.  Now I am aware that Lily James' Cinderella dress is a cooler blue than this one I found, but I felt it was close enough, and the shape was so perfect that we would easily be able to push it towards the theme.  If you want to make over a dress for a Lily James Cinderella dress you simply need to look for a dress with a big princess ball gown style skirt and bodice with tank sleeves.  Look for a dress in a light blue or even white – you could dye the fabric fairly easily.
As a reminder – here is our inspiration…..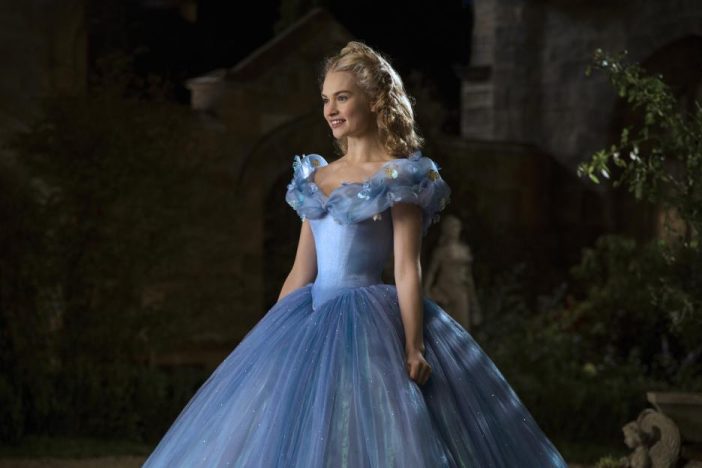 So sparkly and blue and lovely.  If you have a little imagination, it is easy to see how we can make over our little thrift store dress to pay homage to the original. Structurally all this dress REALLY needed was a tulle sashy wrap around thingy.  I don't know what that is called.  In addition to the sash wrap around thingy we would also need to bling it out with some little rhinestones and also some butterflies.
DIY Cinderella dress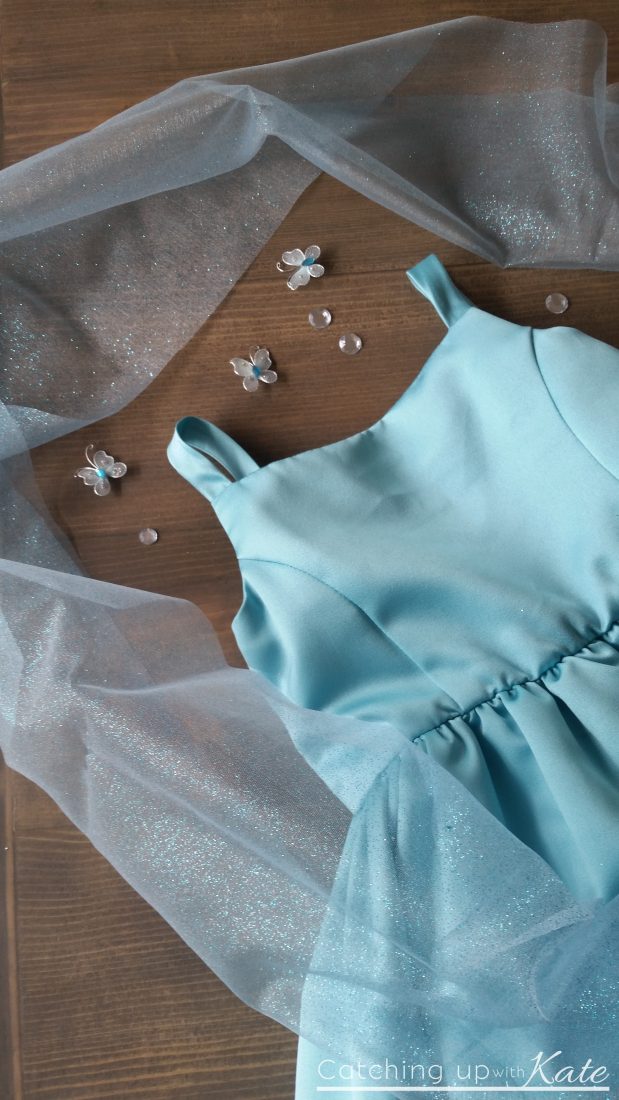 At a local craft store I was able to find rhinestones and tulle (I only used 1/8th of a yard and had some left over!), and I found butterfly 'wedding scatter' on Amazon for a $5 shipped! I included my Amazon store affiliate link at the bottom of this post for anyone looking for this item – this was the least expensive option I could find and it worked perfectly!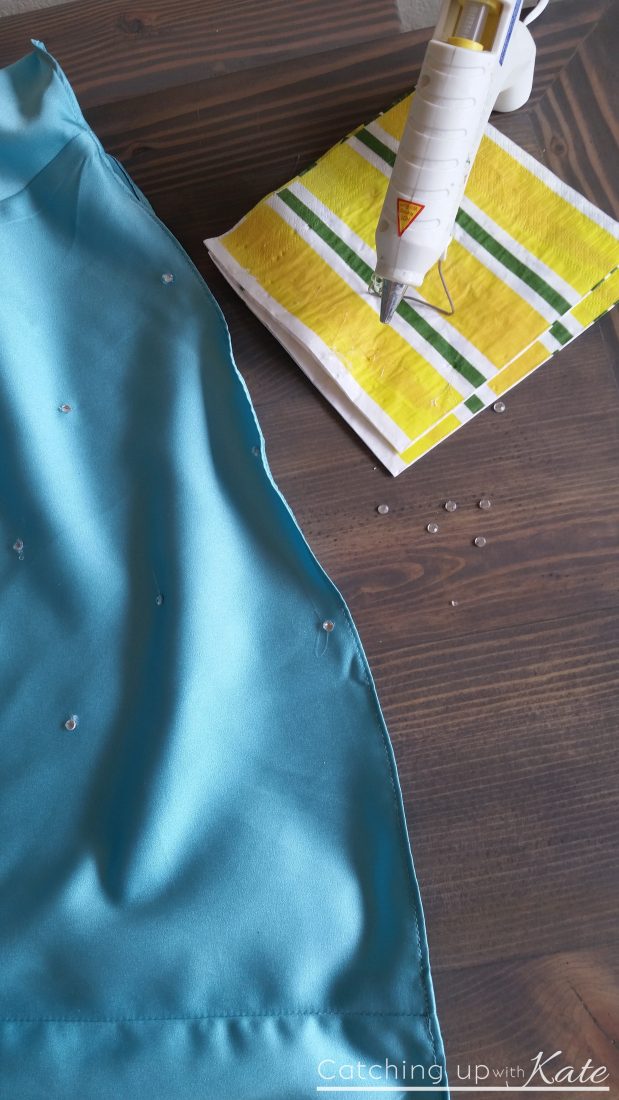 The process was easy  – first I simply glued small rhinestones all over the skirt.  It is an important time to note this dress will likely not make it through a wash cycle – but it will be pretty for our trip to Mickey's Halloween Party – or really just any time we want to feel like a princess!  I suppose one could hand sew on every bitty rhinestone, but that's crazy talk if you ask me!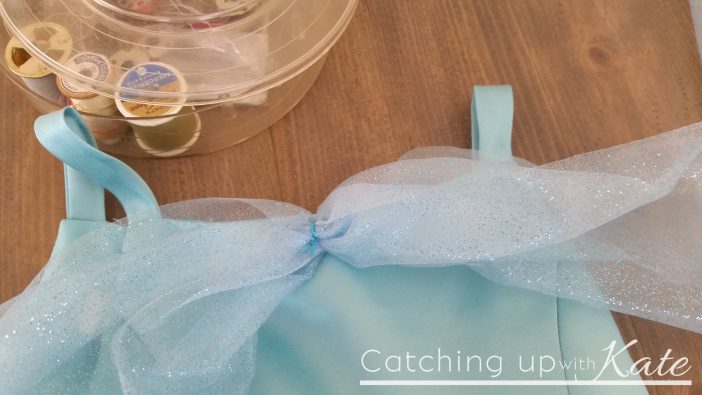 Next I hand measured the tulle around my little Cinderella to make sure she had plenty of room to move her little arms and cut to the proper length.  At the middle I simply gathered and then wrapped thread around it tight – tying off multiple times – this gives a pretty gather in the front.  Now I know I said this is 'no sew' – but I did decide to sew the middle (poorly) onto the top of the bodice rather than hot gluing.  One hand stitch done sloppily can still count as 'no sew' right?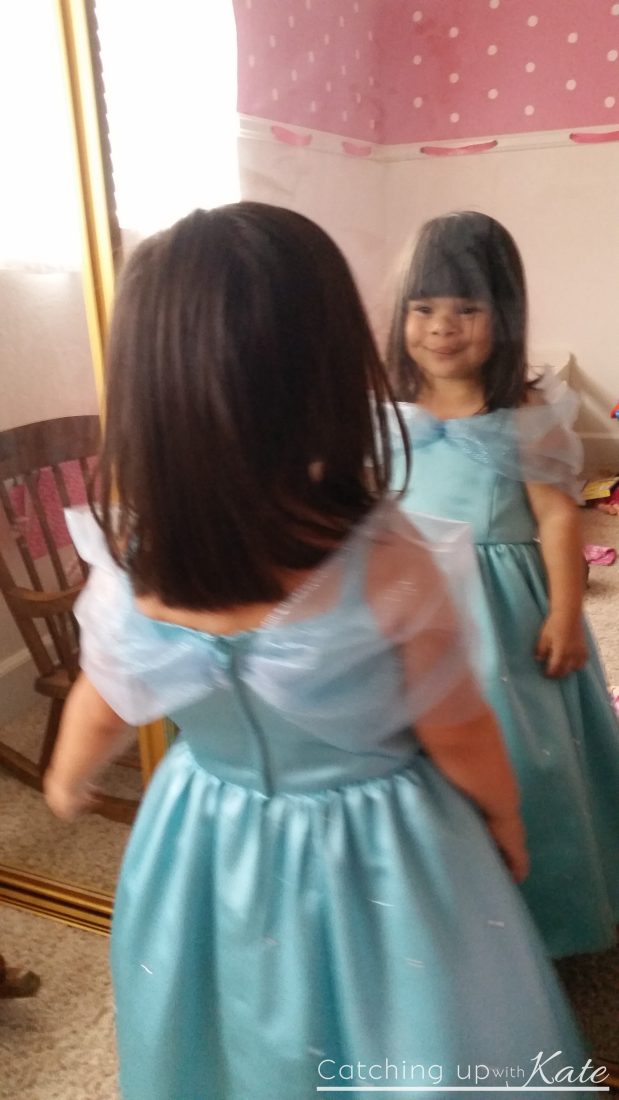 She took a quick looksy in the mirror and was like "Dis is perfect Mama!" and then I reminded her we still needed some very special sparkles and butterflies added.  Reluctantly she let me take off her dress to put on the finishing touches.
And in one afternoon the transformation was complete!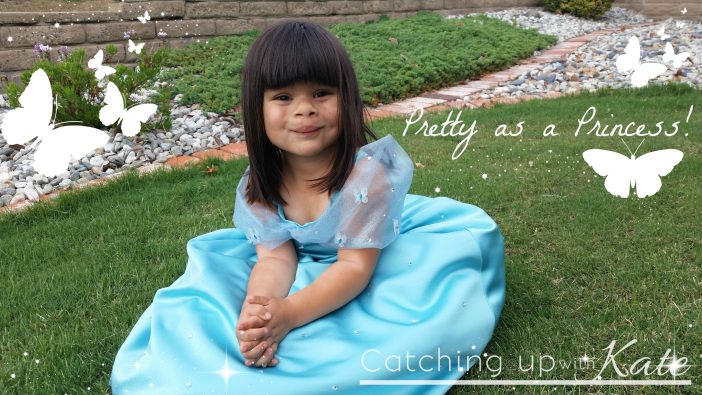 The total cost of this costume was about $15
$3.65 – dress at the thrift store
$2 – tulle (we still have some left over)
$3.50 for rhinestones
$5.00 for butterflies + shipping costs
Do you have a fun DIY kid's costume tutorial? I would love for you to link it for our guests in the comment section! Be sure to check out all our costumes below…
Save