DIY Dora Costume : Easy and Frugal Toddler Costume
Disclosure : My Amazon Affiliate link is included. This never costs readers any more, I make a microscopic commission if you purchase something through the link. My children's poorly funded college accounts thank you for considering using our provided links.
I just had to share what just might be the simplest and certainly the least expensive costume I have yet to make!  Our littlest's is all about Dora (she is all about a lot of things – but Dora is her silly cartoon du jour so we are having fun with it!)  Check out our DIY Dora Costume – it just took a little time and a lot of luck!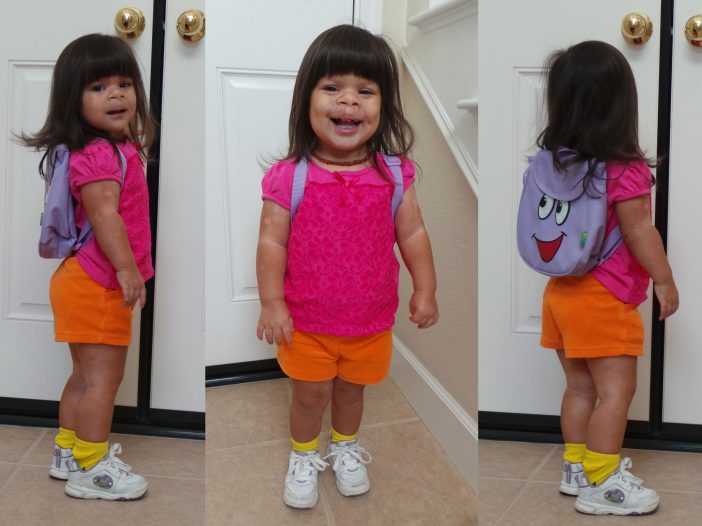 She is only two and doesn't quite get Halloween yet – but we are hoping she is gonna love this costume for when we trick or treat. We are transforming her into Dora with this simple DIY costume.  She is gonna be so excited!  This costume is so simple it is almost criminal that you can purchase a Dora costume in my mind – I wanted to share quickly how our easy DIY costume came to be…………..
Step 1 – Look exactly like Dora.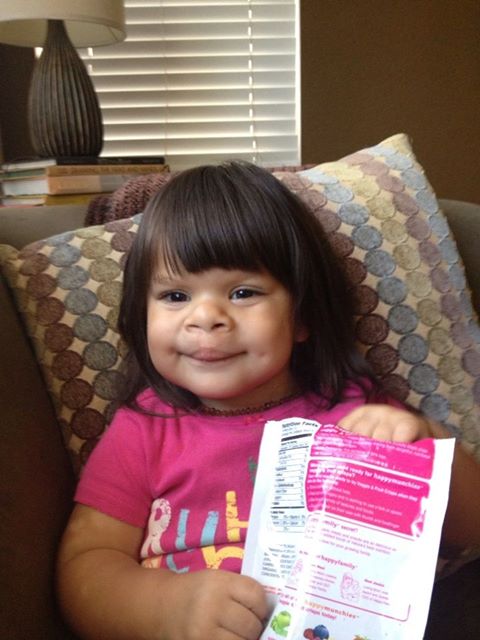 Check.
(Let's say for argument sake your kid doesn't look like a Dora clone – You can purchase a Child's Wig Dora the Explorer
and that should pretty much do it!)
Step 2 – Obtain a "Dora Back Pack" – You can purchase a Dora the Explorer Map & Plush Backpack PURPLE
on Amazon -That being said, if the stars align properly as they did for us – you might just find it at a garage sale.  I found a Dora back pack while garage sailing for a mere 25 cents.  Um, yes please!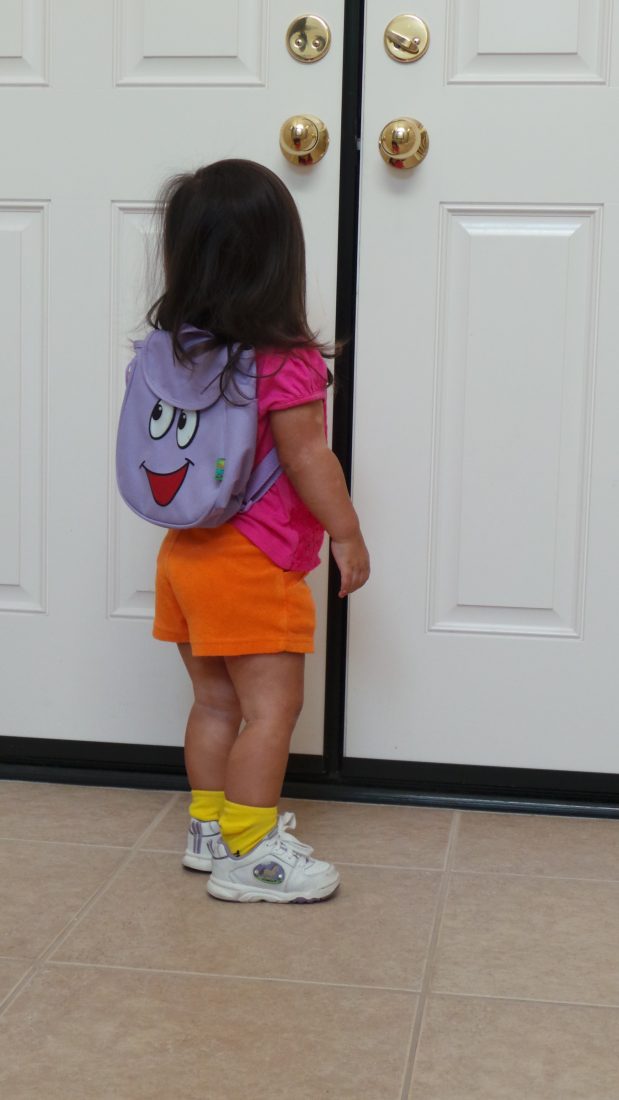 Step 3 – Obtain orange shorts.  Once again – Amazon is a much better option than driving all around town – especially with free shipping on your purchases and gas being $4 a gallon AND orange shorts being kinda weird – like you can't be sure they are gonna be at any store you go to right?  Or, once again – you can find them for a quarter at a garage sale.  For real – I got a cute little terrycloth shorts & hoodie set at a garage sale for 50 cents in Dora shorts orange – STOKED!
Step 4 – Obtain a bright pink t-shirt.  It is likely if you have a 2 or 3 year old girl this might already be in her wardrobe – if not, this is the easiest part of the costume to find out and about.  Our little girl got a very cute plain pink t-shirt as part of an outfit she got for her birthday! SWEET!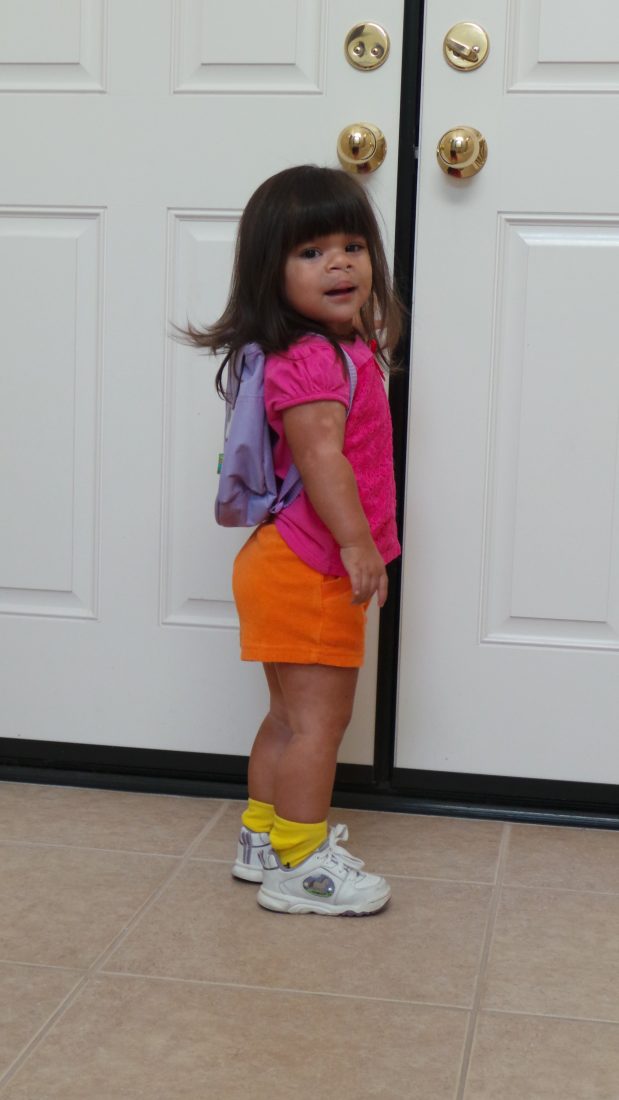 Step 5 -Dora wears yellow socks and white tennis shoes. This is also something fairly easy to find and might already be in your kiddo's closet! (Our mostly white shoes have horses on them, I wasn't about to go out and buy plain white tennis shoes when these worked just fine – also, because I like to brag about it – these are Stride Rite, they had never been worn…. and they were $3 at a garage sale last year – TADA! I'm not including them in the total cost for the costume because we totally already had them!)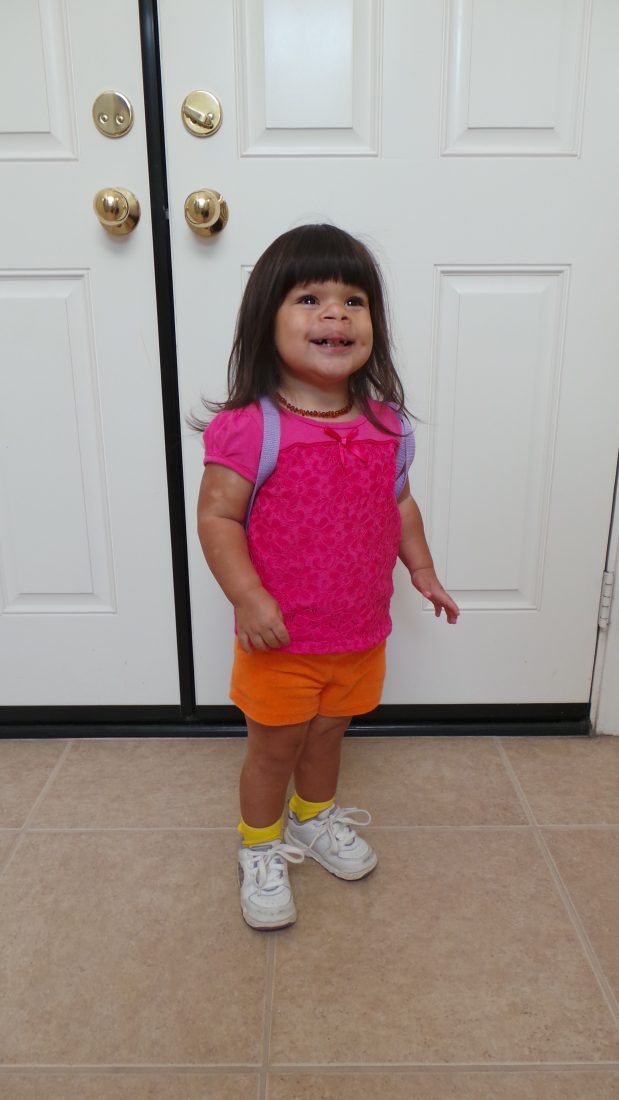 Viola!  DIY Dora costume!  For those of you that like to play the 'How much did it cost?" home game – you are correct – because of several lucky finds (and the fact that our baby girl is a Dora Doppelganger) our whole costume cost us 50 cents out of pocket.  We had the shirt, socks, and shoes already!  How is that for an awesome Toddler Halloween costume?!  Even if you need to buy all the items new – these are pretty much just regular clothes – so your kiddo will get lots of use out of them later too!  Bonus!
Back Pack can even double as a trick or treat bag – although I should warn you that if your toddler is anything like ours, asking her to remove the back pack and hold it in her hands may result in a mini meltdown.
Happy Trick or Treating friends!