DIY Elsa Frozen Dress : Thrift Store Make over – NO SEW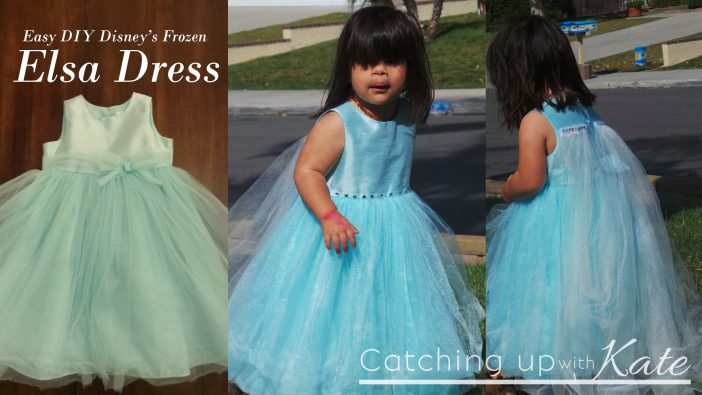 I am not sure if you know this, but there is a bit of Disney Frozen obsession going on in our house.  Big time.  Of course we wanted an Elsa dress for our big trip to Disneyland for Disney Social Media Moms, and I was willing to sacrifice a good portion of our clothing budget to buy Little Miss C a fancy dress for this exciting trip!  Imagine my surprise to find that Elsa dresses were sold out everywhere I looked.  My littlest had a hand me down Aurora dress which is beautiful and thought that would just have to do even though she hasn't seen the movie, perhaps we would have an Elsa dress for our next trip to Disneyland.  So obviously, DIY Elsa Frozen Dress was in gonna be happening….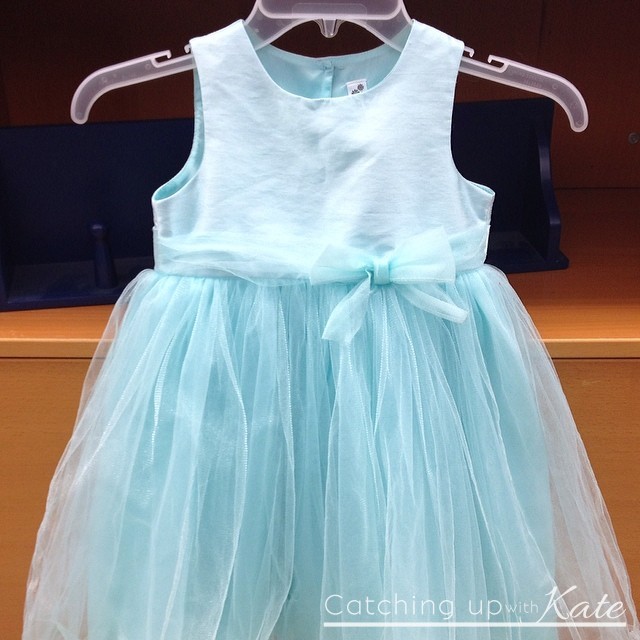 And then I saw this little beauty staring at me at the Goodwill!  I love a good No Sew Thrift Shop Makeover!  I won't say that our dress turned out to be an exact replica, but we had plenty of people know exactly who we were paying homage to in our dress, so we thought it was successful enough to share.  Look at this pretty little dress in Ice Queen blue, and at $5.99 it was just perfect for a do it yourself project!  This dress is a few years old, made by Cherokee and was originally sold at Target, a quick stop over at eBay might find you one in your little girl's size.  Our little one wears a 2T or 3T – this dress was a 4T, so for our little girl it fit in the chest and was simply longer, which is perfect for a princess dress.  I am not a seamstress, and I wasn't about to ask my mom to sew us a bunch of Disney inspired costumes (again), but I thought even I could alter this dress easily to at least make a nod to my little girl's favorite heroine.  My thoughts were I could airbrush some snowflakes, add some rhinestones and glitter, add on a cape and voila!  Elsa Dress!  I mean, seriously, how hard can it be?  Honestly, it really was super easy and fairly inexpensive!
We had a few trial and error moments – we tried to use card stock instead of plastic for our snowflake stencil (just being cheap…. hot tip, you gotta use the plastic) we tried to use puffy paint, but it didn't go well.  Overall we are very happy with how the dress worked out, and our little Ice Queen got lots of compliments as she rocked out at Disneyland.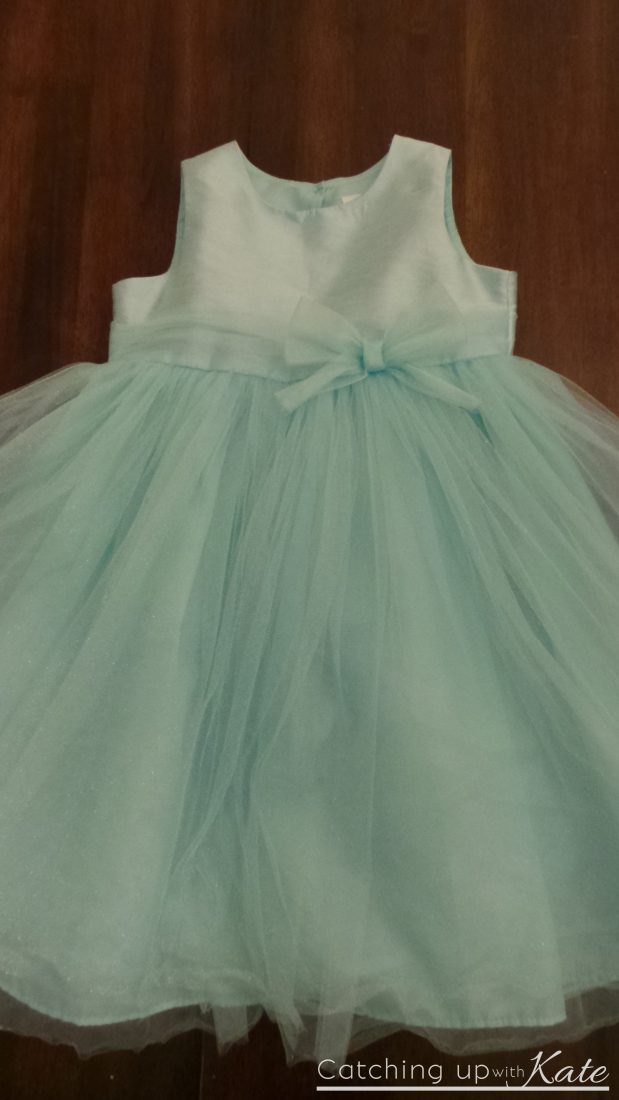 1) Find a dress in the correct color first.  This might sound silly, I suppose your step one can be "Go to the fabric store and construct a dress in the perfect shade of Ice Blue"….. but I wasn't gonna do that.  This was obviously us being in the right place at the right time, I am just walking you through what we did – keep in mind there are lots of pretty dresses out there – maybe you will happen upon a gold dress that will be perfect for your little Beauty, or a green that is fit for a Princess who falls in love with a Frog – we were just extremely lucky to find it in our daughter's favorite at the exact right time!
This dress was awesome!  It was beautiful ice blue which looked very regal in raw silk and lots and lots of tulle.  It was so twirly and pretty as it was, and when I walked in the door with this dress as is my 2 year old squealed "Momma got da Etza dess fo' me!" *Translation* "Momma got an Elsa dress for me!" – it would have been good enough, but 'put your kid in an ice blue dress and call her a Disney princess' doesn't really make for a great blog post, so I decided to take it a bit further.  A couple easy modifications really brought it to life.  Is it a perfect replica? Nope.  For one, Elsa's dress is all slinky and dare I say sexy….. which to be honest, I am kinda against (I mean, Elsa is a grown woman and can dress however she wants, but my guess is her parents didn't let her dress like that when she was two either, I wasn't upset that it was a full skirt is all). Disney Store dresses are full skirts too, so it is totally cool for a lot of reasons that it is not exactly like the movie in that regard.  I wasn't going to make sheer sleeves, and it has been kinda hot here, but for chilly days I simply put a long sleeved white shirt underneath – exact? Again, no, but you all get the picture.  Overall we got the right color, added a cape in the right spot, and spray painted a bunch of snowflakes on it, and our little girl treasures it!  My advice – keep your eyes open for the perfect dress at thrift stores, garage sales, etc!
2.  Remove what you can that isn't working for your project.  In our case, our dress had a tulle ribbon across the front.  Very pretty, but it wasn't working, so I used a seam ripper to pop it off.  Easy peasy.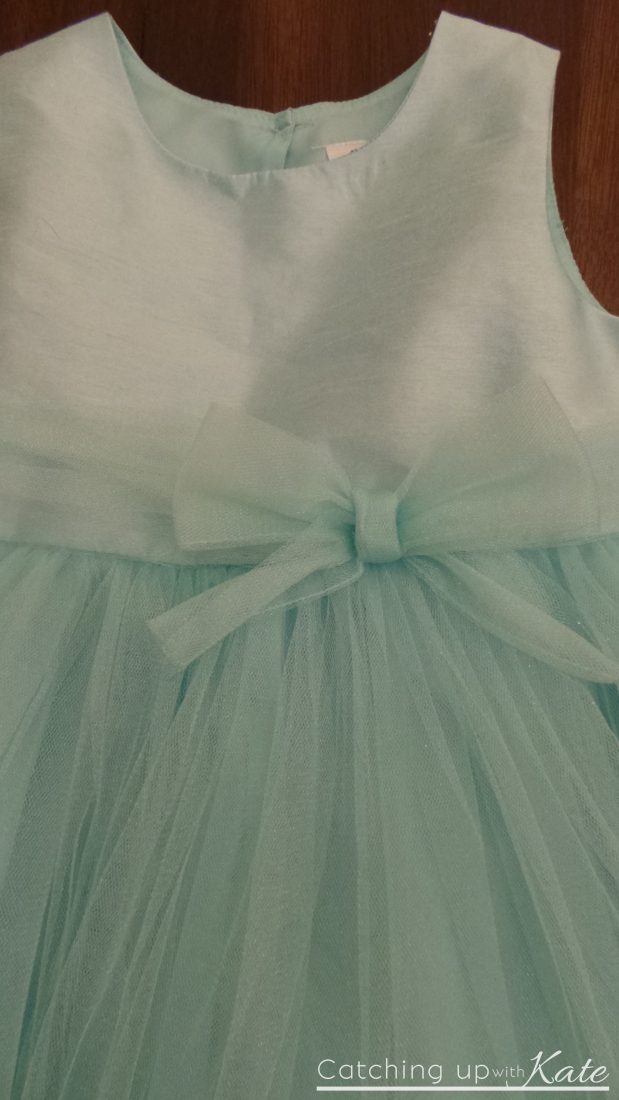 3.  Add on a few finishing touches.  For this costume we added snowflakes, rhinestones, and a cape.  We also added a white long sleeved shirt under as well as a cute pair of TOMS shoes she happened to get as a birthday present in perfect Ice Princess blue!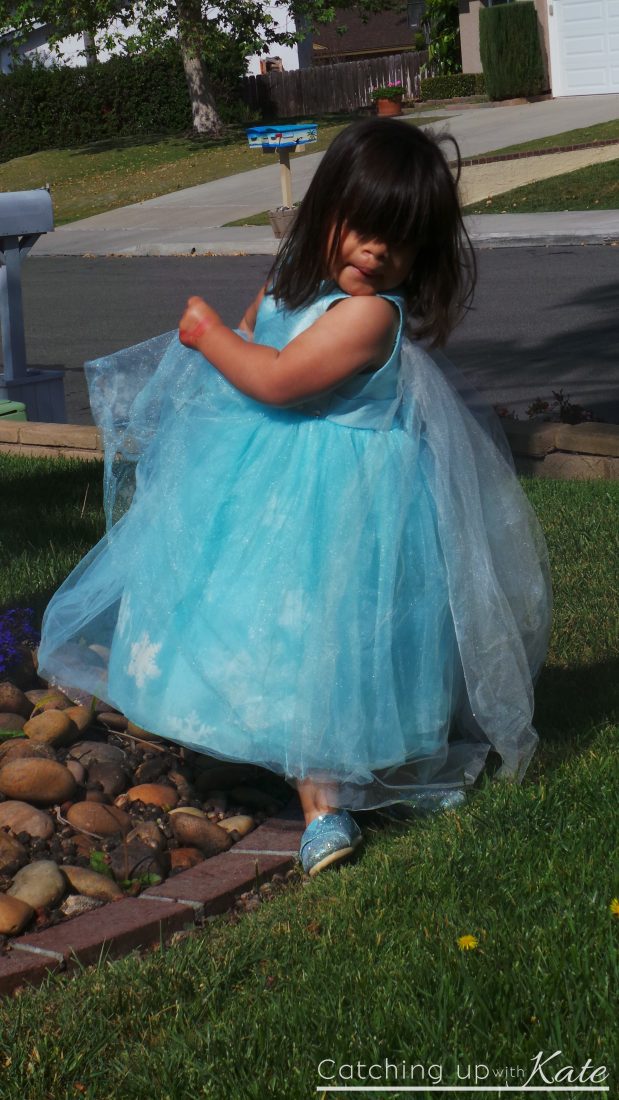 Snowflakes – this was pretty easy once we decided on the right paint.  We started with fabric paint and puff paint but it didn't really hold well to the fabric we were using.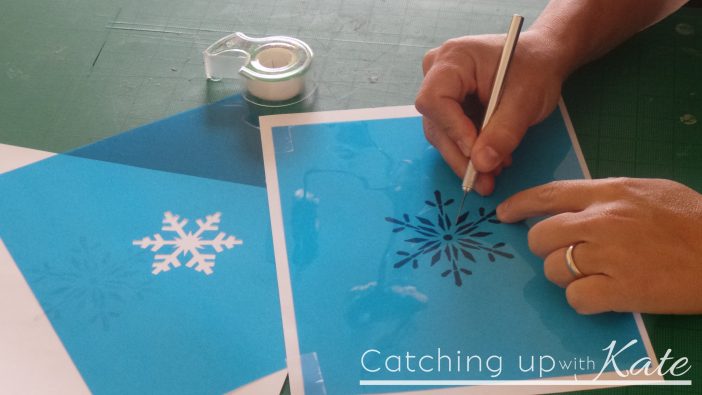 We decided to go with standard airbrush paint and it worked like a charm.  Harry was kind enough to cut snowflake stencils in two different sizes and designs, I painted them willy nilly all over the under skirt.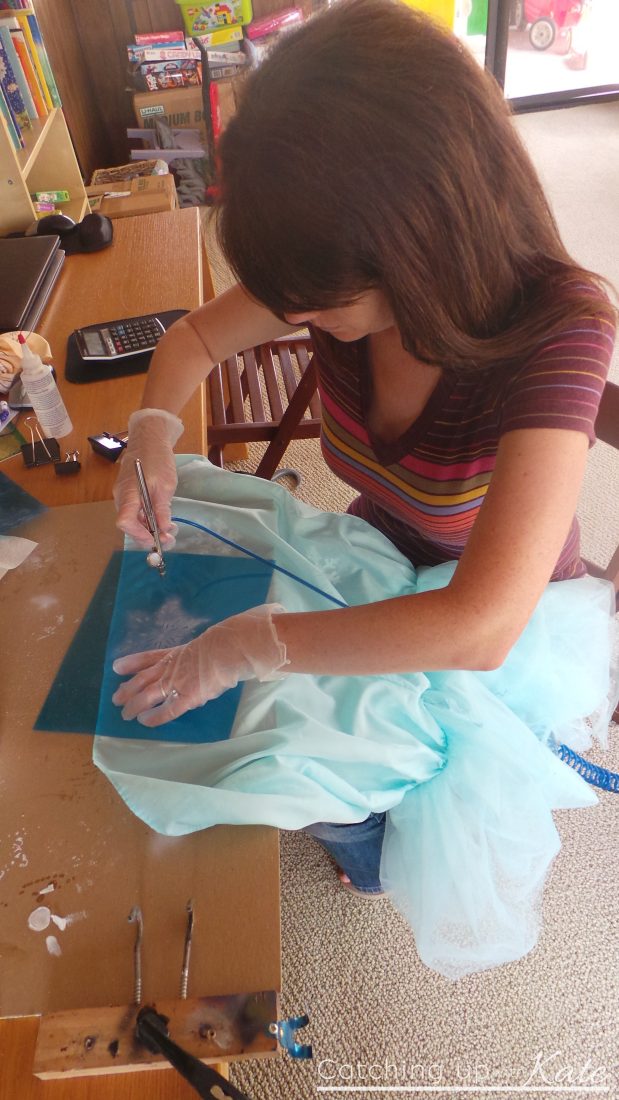 I also painted them on the top layer of tulle as well as the fabric I used for the cape, honestly, this part didn't go well, it was VERY faint.  You could see it in just the right light, but it was hard to photograph.  If I was really committed I probably would have bought a different kind of paint and hand painted it on…… but ain't nobody got time for that.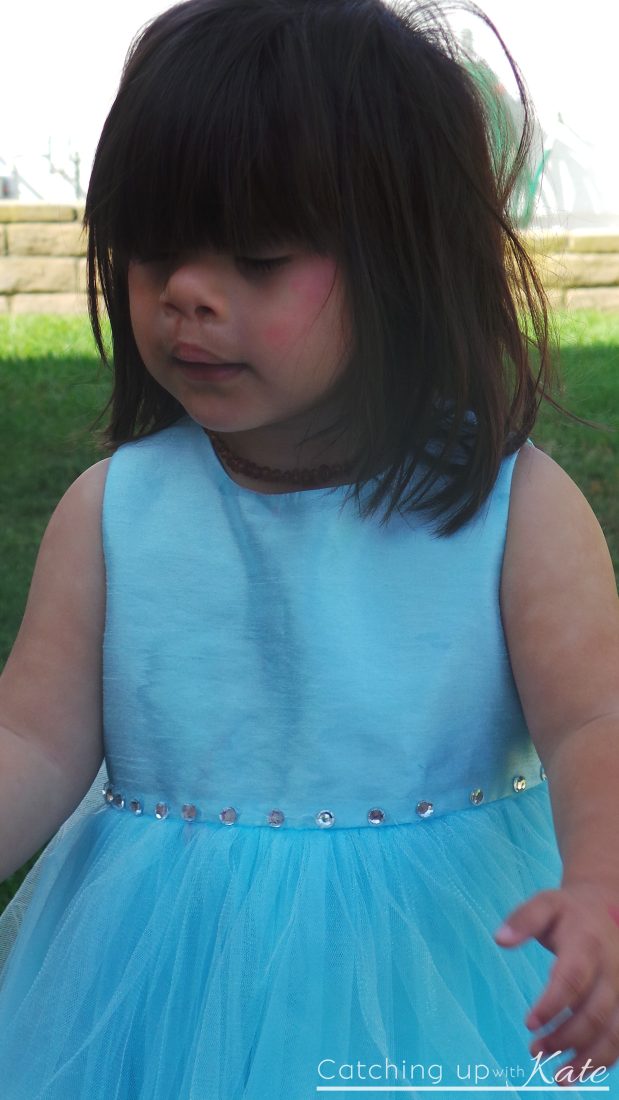 Rhinestones – I originally anticipated this being more extensive, but opted to just put a few rhinestones across the belt area in the front, just for a little pizazz.  I considered putting these sparklies all over the chest to be more authentic, but I felt it wasn't going to work for my little girl.  If you are making the dress for a child that can handle more sparklies, I would totally consider adding a few more.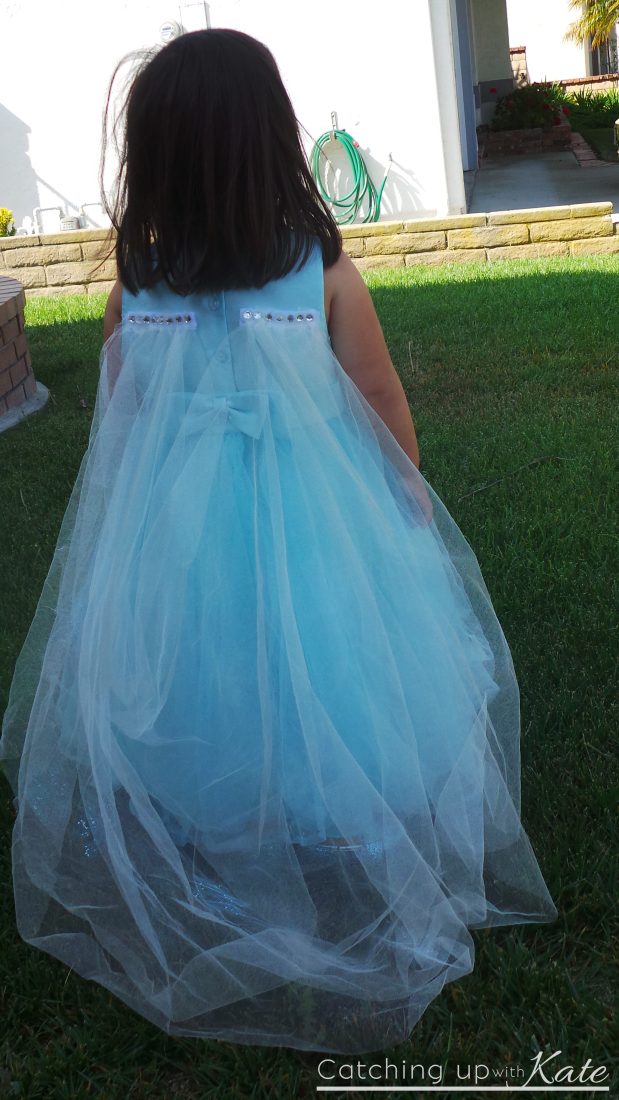 Cape – this was my favorite part!  I almost used this Elsa Cape Pattern, but decided I could make something a wee bit easier and that might even look a little more like the Snow Queen.  I needed the cape to be detachable so she could take it off when needed, especially for car rides.  I really like to avoid sewing whenever I can, so I used a glue gun!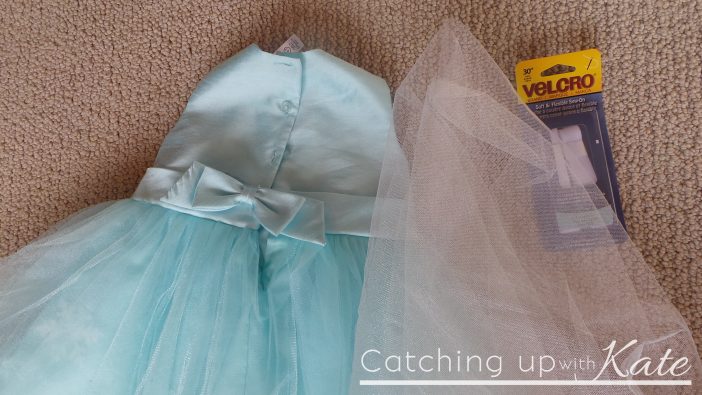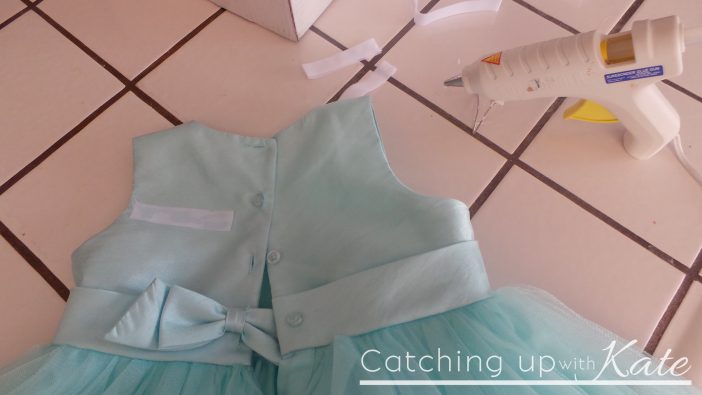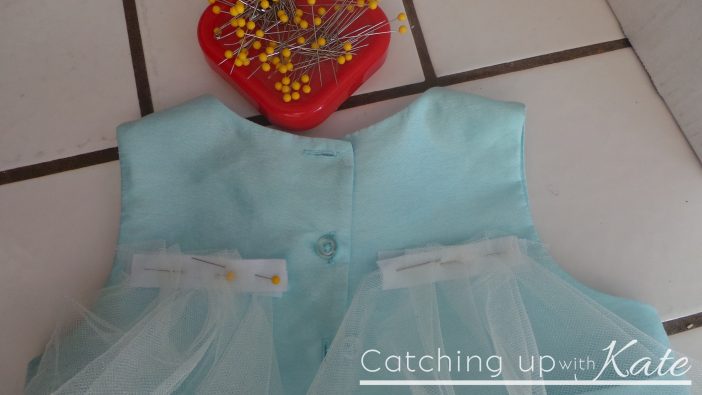 Elsa's cape is under her arms, weird, but so pretty!  I attached velcro on the back just below her shoulders.  I purchased one yard of tulle at a local fabric store for about $1 (nice!).  I gathered up the ends and pinned them to corresponding velcro.  Again, I am not gonna be sewing here so I slapped a bunch of hot glue on top of it and then placed pretty rhinestones on top to disguise the glue.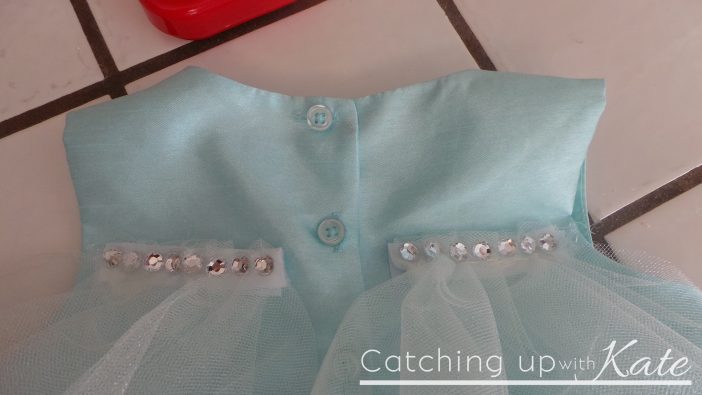 The result was a very pretty and flowy cape that detaches when necessary.  She loves to run around with her cape in each hand and announcing "Da coud neva boddered me anyway! Pssshh!" *Translation* "The Cold Never Bothered Me Anyway!" *dramatic sound for effect*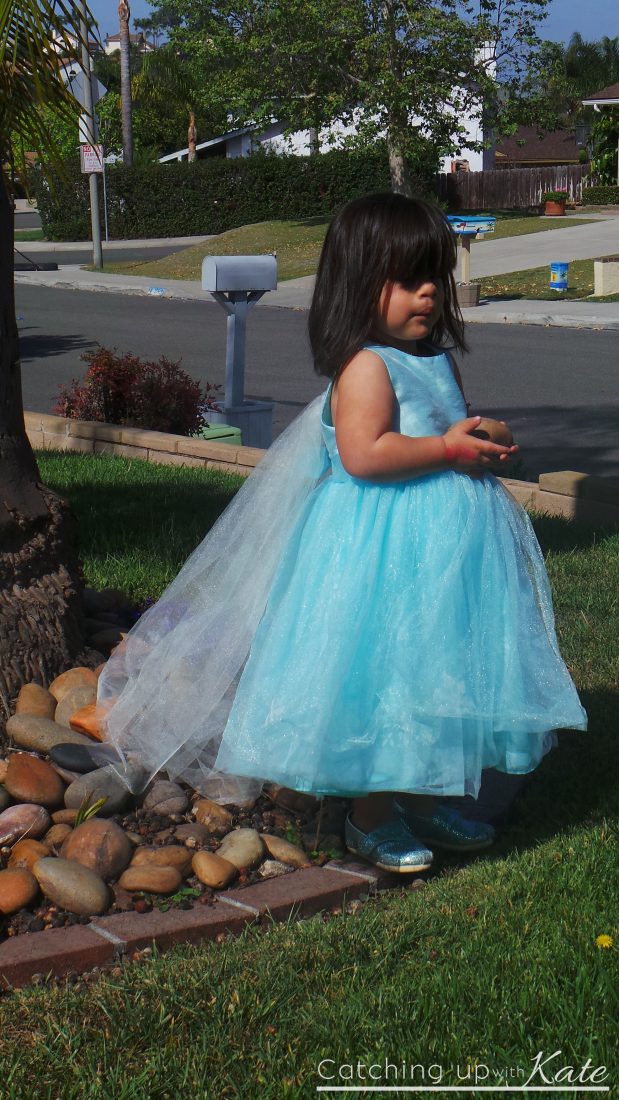 Again, there are snowflakes all over this dress.  They were hard to photograph, so you are gonna have to take my word for it, but they are really what makes this dress!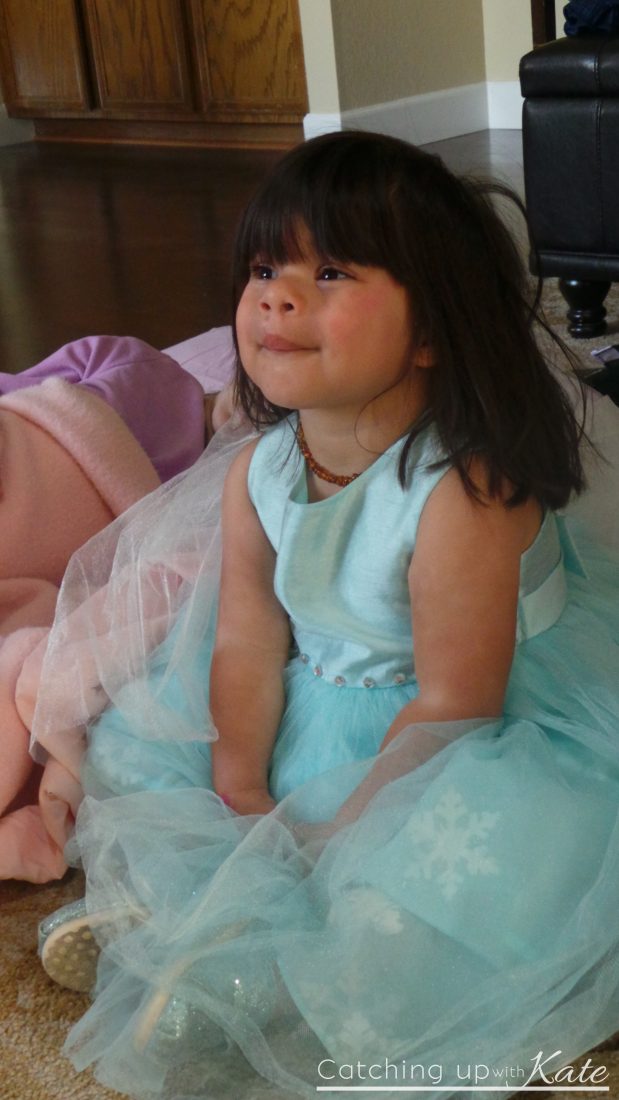 The total cost of this dress was about $25 – $6 for the original dress plus our stencils, rhinestones, tulle, and paint.  It was actually less considering we only used a tiny bit of the paint and will likely use it towards another project later, but I am counting all of our receipts.  Our daughter is spending every minute she can in this dress for now, but if it survives, I think it will be an awesome dress to trick or treat for Halloween in!
*editors note….. I am well aware of how neglected my daughter's bangs are, I promise we will get her a haircut this week.*
Want more DIY dress up ideas?
DIY Dora
DIY Family of Five Mary Poppins Cast
We've got DIY Olaf coming….. so stay tuned for that!
Follow our Disney Frozen Pinterest Page for more Frozen Fun!
If you make a DIY Elsa dress can you leave a link in the comment section?  I would love to see your little Frozen Ice Queen too!