DIY Mickey Halloween Tree Ornaments!
Everyone loves easy, fun, DIY crafts, so I'm super excited to share with you some of my favorite, original, mickey Halloween ornaments! Anyone can make these crafts and I'm sure you'll love them! These DIY ornaments are made with easy to find common materials so you get your materials at any craft store. This is also a terrific craft to do with your kids. Let's get crafting!
Decorating the Christmas tree is one of the most fun things to do in the holiday season. The whole family gathers around it and carefully hangs sentimental and decorative ornaments. Some might even say that it is the best part of Christmas. So why not decorate a Halloween tree? Why not decorate the tree twice a year? You can decorate for Halloween and then switch it out for Christmas and have the tree out for 3 months! Today I am going to share with you a few super easy DIY Halloween tree decorations!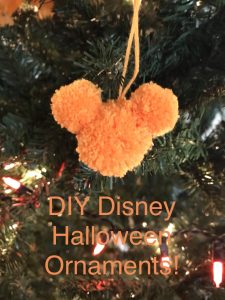 The first of these decorations is the orange mickey pom pom ornament, this one is the easiest and anyone can make it! All it is is three pom poms sewn together with a string added. You can make it today in just 10 minutes! The three things you need are orange yarn, scissors, and a needle. This one was inspired by that giant Mickey pumpkin they have on main street at Disneyland during Mickey's Halloween Party. I love that pumpkin. Whenever we go to Mickey's Halloween party we always take pictures in front of that pumpkin. So I designed this little pom pom ornament to symbolize it.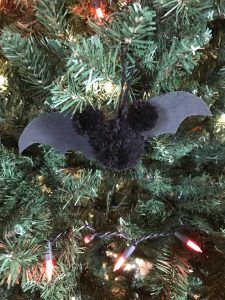 The second of our decorations is the mickey bat ornament. You only need black yarn, a needle, scissors, black foam board, and a hot glue gun. To make this one, all you need to do is make the pom pom mickey and hot glue on foam board wings using our template. This one represents one of Mickey's costumes during Mickey's Halloween party. You know, the one where he's a vampire and has bat wings and fangs. Super easy and fun!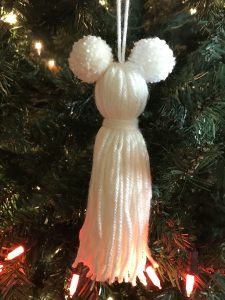 My personal favorite of our DIY ornaments is the mickey ghost. In this ornament, you simply attach some pom poms to a tassel and then you have a mickey ghost. All you need is white yarn, scissors, a needle, and a small book. I love the big white light up ghosts they put up at Disneyland at Halloween! I made these tassel pom pom ornaments as a tiny version of the ones they have at the parks. These are my favorite of the three designs!
DIY GHOST MICKEY ORNAMENT
DIY MICKEY BAT ORNAMENT
But what else should I put on my Halloween tree? We topped our tree with a witch hat and added some orange lights. Another fun idea is to add orange, purple, or black feather boas to your tree. You can also use fake cobwebs and spiders! Another idea is to make a pom pom or tassel garland. You can also attach ribbons to Disney figurines to make character oranments! Experiment with colors and designs! The sky's the limit!
To make these ornaments be sure to watch the videos below! Each is super simple and easy to follow along. I go into detail on how to do each step. Whether you're a beginner when it comes to crafts, or an old pro these tutorials will work for you! I hope you enjoy it! While your at it be sure to like, subscribe and enjoy!