DIY Sadness Costume
Disclosure: Highlights Along the Way is a participant in the Amazon Services LLC Associates Program, an affiliate advertising program designed to provide a means for sites to earn advertising fees by advertising and linking to amazon.com.
Sadness from Pixar's Inside Out is such a cute little character. Sadness is an awesome DIY character costume. Dress up as part of a group character costume or on your own. Sadness is a wonderful costume for kids and adults alike. This cute blue and white costume is so easy and pieces can maybe be worn after the dress up party as regular every day wear. Grab some friends to play Anger, Joy, Disgust, and Fear and get ready to be the cutest group at the Halloween Party. Sadness is a really great last minute, no sew costume idea. Happy Halloween, my sad friends!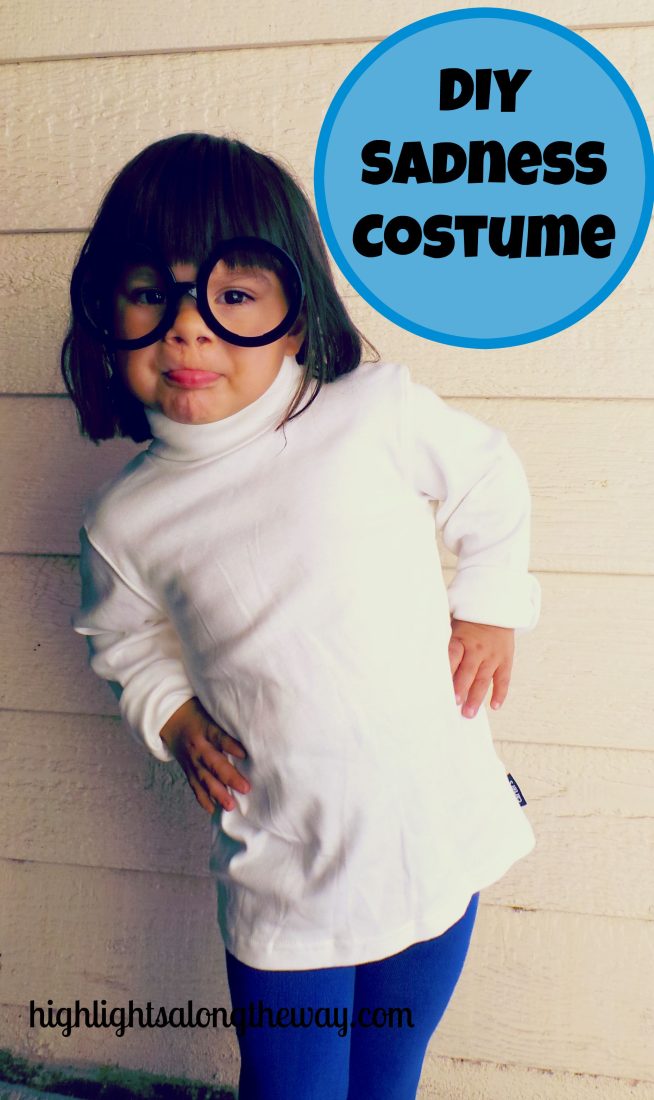 Our littlest is pretty much the happiest of all the people most of the time – but I mean – she sure makes a cute little Sadness – amiright? This DIY Sadness costume could not have been easier. Is it an exact match? Nope. Was it free because we used items we already had? Yup.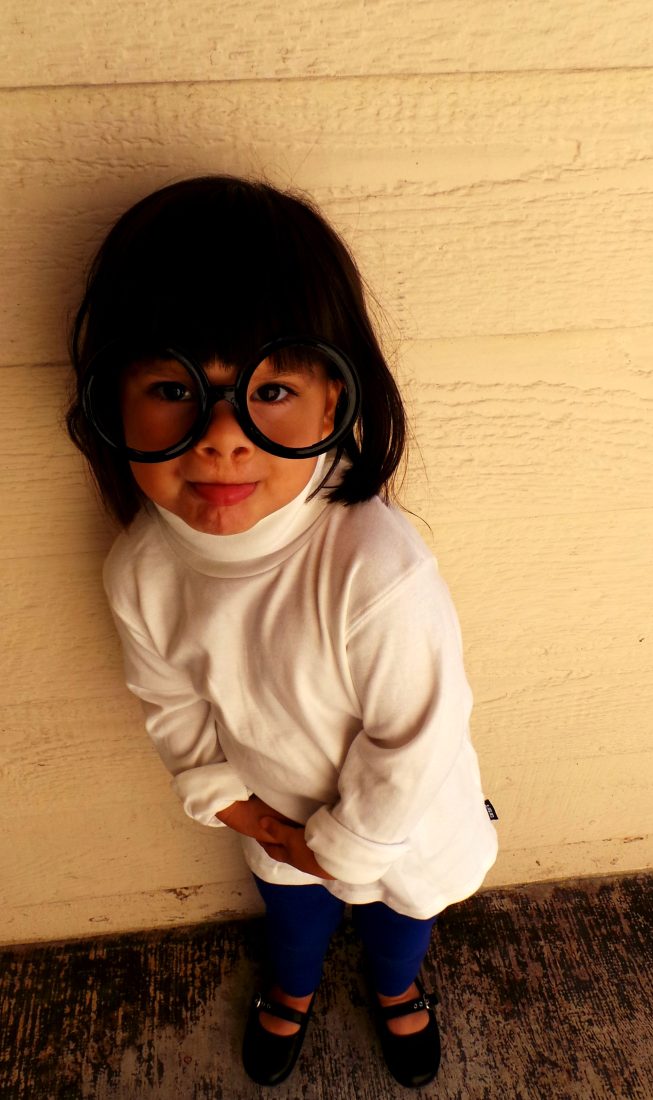 *please note the four year old is doing her best 'Sadness' face* #Idieofthecute
Sadness wears a very simple outfit in the Disney Pixar film Inside Out. She wears a white/pale blue turtleneck sweater, blue leggings, and Black Frame Round Glasses
. We had all the 'close enough' clothing items in her closet and the glasses were left over from a Mr. Peabody and Sherman gift bag (of all things!). I must admit – I cut her hair to be a little closer to Sadness' bob – is that crazy? I cut her hair for her Sadness costume….. But I mean, look how cute…….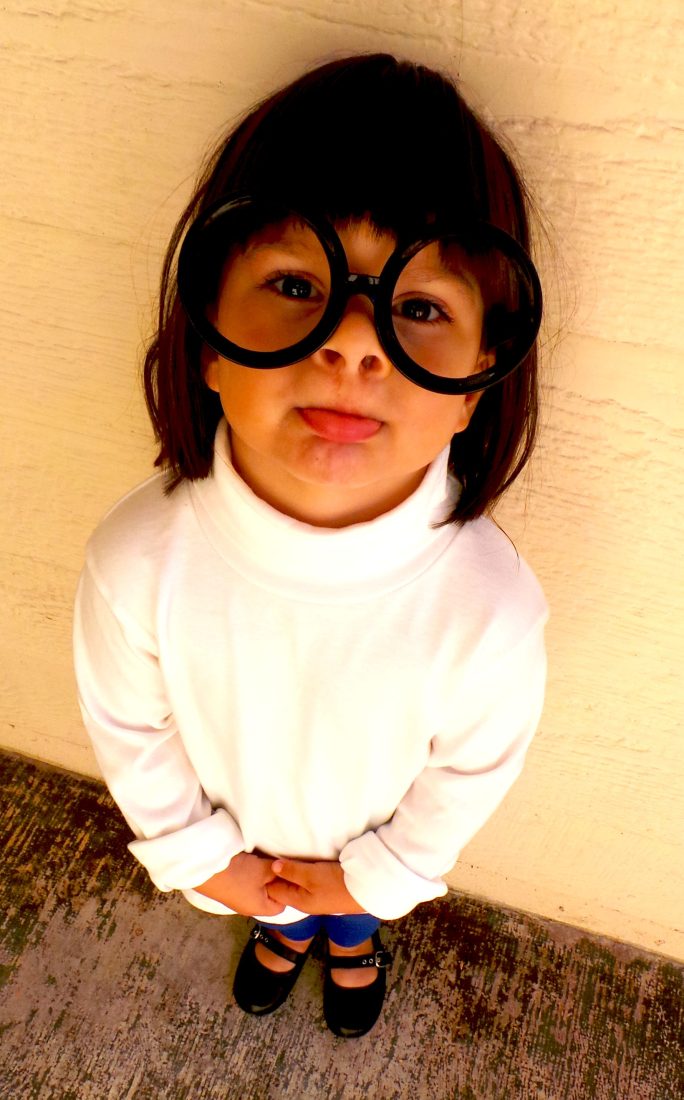 Buy the items to make your own DIY Sadness costume below …..
Black "Sadness" Glasses…..
Blue "Sadness" Leggings….
White Turtleneck long sleeved shirt (you could also look for a sweater if you want to be more authentic – but we are in SoCal and it is going to be HOT on Halloween so we went with something more lightweight)
*affiliate links*
I personally love making costumes with items we either already have or items we can repurpose in the kid's wardrobes after Halloween. A costume to wear one day is always fun, but I really like to get as much use out of anything we can. The glasses have been used in other costumes and I am sure will be used in others to come – the turtleneck and blue leggings are sure to be worn again as well! So there you have it – a not exactly perfect, but will do just fine DIY Sadness Costume!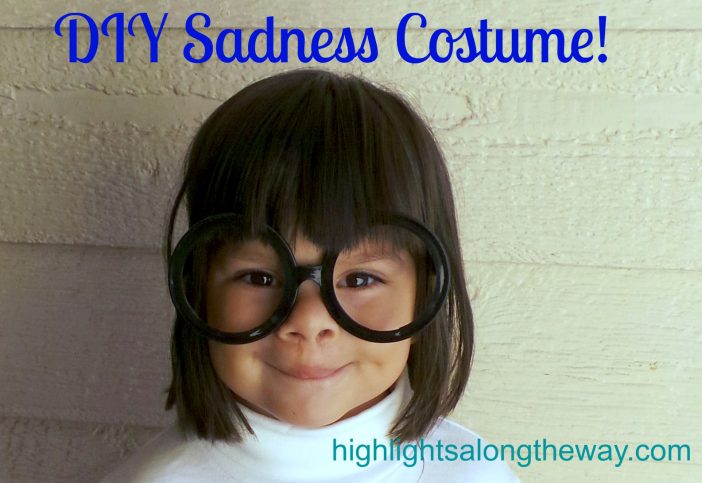 Keep it here – we will be sharing our whole Inside Out family costumes as we get closer to Halloween – also make sure to check out all the Inside Out costume ideas on Desert Chica! Did you blog about a Sadness costume too? Link it in the comment section!
Save
Save