Dog Barbie Costumes
Disclosure: Highlights Along the Way is a participant in the Amazon Services LLC Associates Program, an affiliate advertising program designed to provide a means for sites to earn advertising fees by advertising and linking to amazon.com. This site uses affiliate links.
Everyone knows that Dogs are a member of the family. Four-legged fur babies also need costumes for Halloween. With the Barbie movie being one of the most popular movies of all time, we had to share our ideas for Dog Barbie Costumes. Our dog Mabel is clearly a "Weird Barbie" and we are obviously sharing our Weird Barbie Dog costume below. Your dog may be more of a classic Stereotypical Barbie, in which case we have a perfect outfit for her. Pink dog dresses, dog cowgirl hats, and even blonde wigs for dogs can create the perfect costume to turn your Dog into an Instagram sensation this Halloween.
Dog Halloween Costumes
Who dresses up their dog for Halloween? Dog costumes are just so funny! Most cities have Dog Halloween Costume Contests that are just a fun place for Dog owners to meet. Dogs in costumes are always a funny thing to watch on Instagram and TikTok. Most dog owners love their dogs as if they were their natural children so why would they not want their fur baby to experience the joy of Halloween. We always bring our dog along while our kids trick or treat, her costume always gets lots of laughs. This year our dog is going to be Weird Barbie, so we had to share the other ideas we considered! Make sure to try on your dog's costume before hand so she can get used to the idea of dress up.

Dog Barbie Costumes – Ideas
Below we have shared a few ideas for your Dog to dress as a Barbie Movie Character. Make sure to top off the costume with a dog sized silly blonde wig and maybe a cowboy hat. Double check that you get the right size for your particular dog. While most costumes seem to be made for smaller dogs, we have found several medium and large size dog Halloween costumes for our big Barbie pup!
Pink Gingham Dress Stereotypical Barbie –
I could not believe this perfect pink gingham dress for a dog. It even has a big pink bow on the back, just like human Barbie!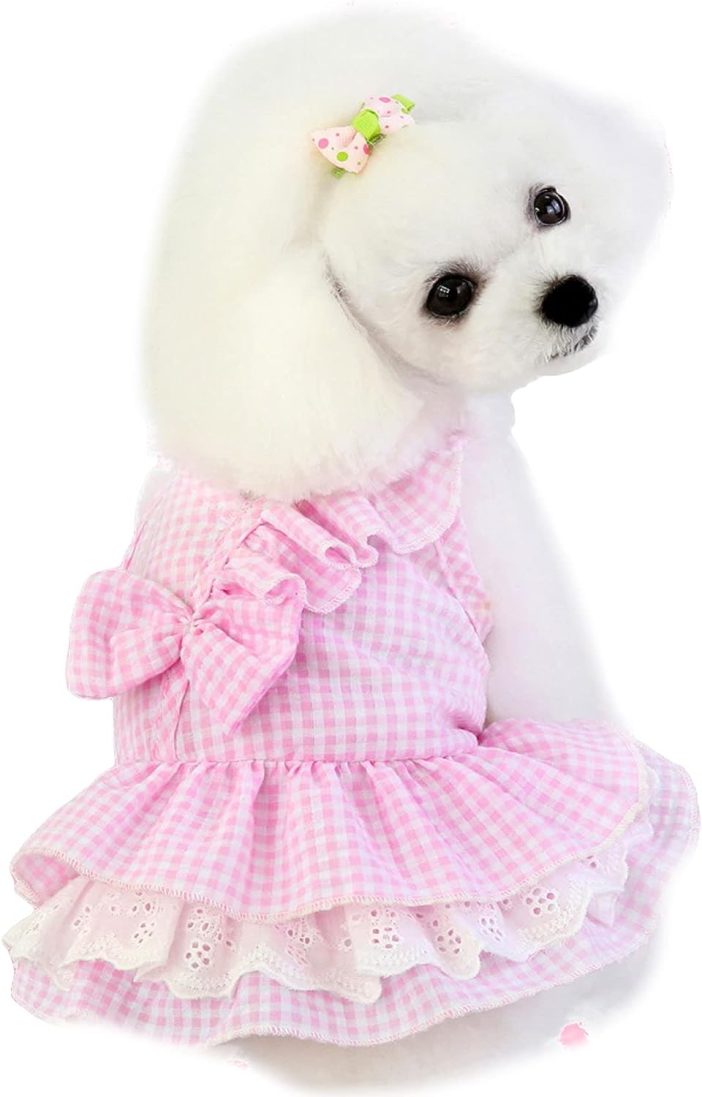 Pink Cowgirl Barbie Dress

Pink Cowgirl Barbie is such a fun costume. How cute would your little four-legged Barbie be in this little pink cowgirl costume for a dog. What a sassy little cowgirl!
Barbie Wig for Dogs
This Blonde Dog Wig comes in several sizes. At less than $10 shipped, think of all the costumes your beautiful pup can use it for over the years to come! This year it is a must to put under a Dog Cowgirl Hat. What dog doesn't want to have long, blonde hair, even if just for a day!
Dog Cowgirl Hat
Those who have seen The Barbie Movie know that Barbie wears a White Cowgirl Hat. I will add a dog sized white cowgirl hat as soon as one becomes available. For now, your pretty little Barbie can wear this tiny Dog Cowgirl Hat which will match her pink Dog Cowgirl costume.
Dog Ken Costume
Is your Dog Just Ken? That is OK! Your dog is Kenough! Here is an amazing Ken costume that is sure to give your doggo some swagger in the Dog Halloween Costume Contest! The perfect Ken costume for your Dog is where Ken wears a Fur Coat. A Ken will need a Fur Coat, a black and white bandana, sunglasses, and an obnoxious necklace.
Dog Ken Costume pieces are curated here! Here are a couple Black and White dog Bandana options that are a great price! This Dog Fur Coat will be perfect for Ken, but he can also wear it on cold walks all winter! Who knew they made Dog Sunglasses? He obviously needs this obnoxious Dog Necklace. What really brings it together is the Horse in a Horseshoe Charm for your necklace. Everyone will know that your dog is the silliest of Kens with his bandana, fur coat, sunglasses, and cheesy horse in a horseshoe necklace! Be ready for him to know that he is Kenough when he wins the doggy costume contest!
Weird Barbie Dog Costume – Coming soon!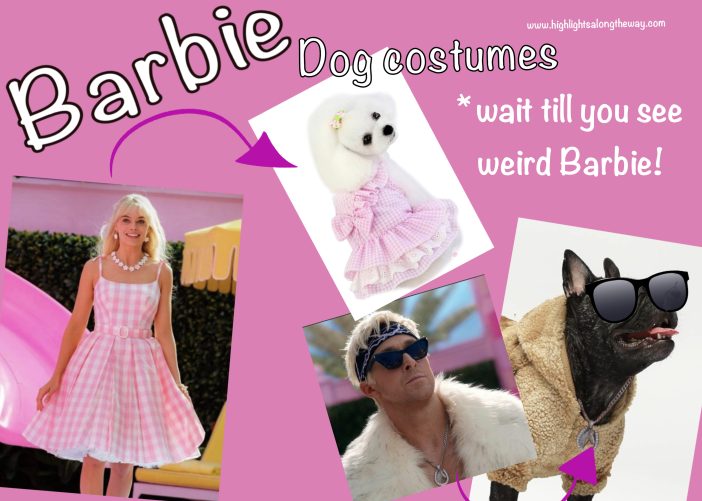 I hope your doggie has fun trick or treating or strutting their stuff in a Dog Halloween Parade. Dogs really are part of the family, so they should have a costume! If you want your human family to dress up like Barbie too, we have a trending Barbie Halloween Costume round up as well! Happy Halloween, Barbie! Barbies support one another so I truly hope you will share this post with friends and pin it to your Doggie pinterest boards! Thank you, Barbie!