Dr. Jill Biden Coloring Page
Dr. Jill Biden is the current First Lady of the United States. She is an educator, a mother, a step mother, a wife, and a doctor! Dr. Jill Biden is married to the president of the United States, Joe Biden. Joe and Jill Biden also served as the Vice President and Second Lady during both of President Obama's terms as President. Dr. Jill Biden is known for her intelligence and compassion and is working hard at building America back better. If you would like to see coloring sheets featuring the administration prior to Joe Biden, we have a Bigly Awesome Coloring Book where you will surely need an orange crayon. In all seriousness though, it is so wonderful to see Dr. Jill Biden residing in the White House and we are celebrating her today!

This printable can be colored digitally or printed out and colored however you wish. Make sure to compost your paper one you are done. Feel free to use this printable in your classroom virtually or in person. Click to download and print from home or school.

If you enjoy this free educational printable coloring sheet featuring First Lady Dr. Jill Biden, make sure to check out our educational printable section featuring Amanda Gorman, Hamilton, Harriet Tubman, California Missions, and so many more! We also have 'just for fun' coloring sheets featuring Gabby's Dollhouse Coloring Sheets , We Can Be Heroes Coloring Sheets, Sharkboy and Lavagirl Coloring Sheets, American Girl Doll Coloring Sheets , Olaf Coloring Sheets, Coco Coloring Sheets , Trolls Coloring Sheets and so many more on our site!
Teachers are welcome to share a direct link to this webpage to their students (pretty please do not just copy and share. I provide these for free, but traffic to my blog provides my money with a small income while I am virtual schooling my own three kiddos, I so appreciate sharing!). Thank you!
Dr. Jill Biden Printable Coloring Sheet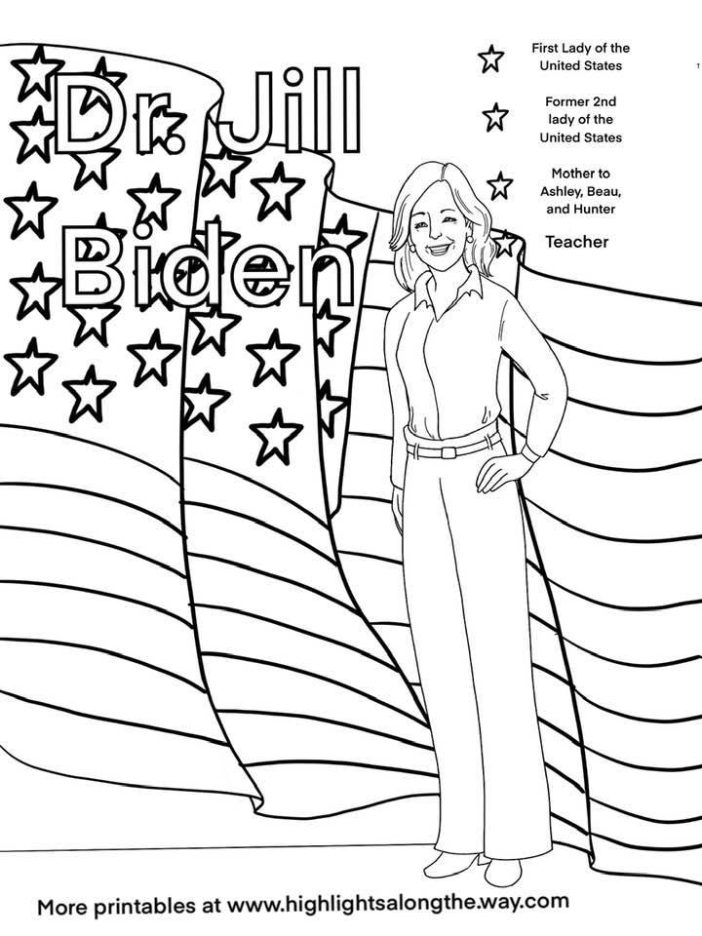 Thank you for stopping by Highlights Along the Way. Please check out our Printables page for literally hundreds more Broadway, Educational, TV, Disney, American Girl, Pop Culture, and other fun printable coloring and activity sheets!