Dr. Strange Multiverse of Madness – Red Carpet (No Spoilers!)
Disclosure: Thank you to Disney for inviting us!
About last night…. Dr. Strange Multiverse of Madness world premiere in Los Angeles! Last nightin Hollywood, stars Benedict Cumberbatch, Elizabeth Olsen, Benedict Wong, Xochitl Gomez, Rachel McAdams, Jett Klyne, Julian Hilliard, Sheila Atim, Adam Hugill and Charlie Norton joined director Sam Raimi, producer Kevin Feige, executive producers Louis D'Esposito, Victoria Alonso, Eric Carroll and Scott Derrickson, screenwriter Michael Waldron and composer Danny Elfman for a walk down the red carpet to celebrate the world premiere of Marvel Studios' "Doctor Strange in the Multiverse of Madness." The film opens in theaters everywhere on May 6, 2022.
One of the thrills about living in Los Angeles is that sometimes we are invited to red carpet premieres! On Monday night I was given the difficult task of choosing just one Marvel fan in my family to take as my date to the Dr. Strange Multiverse of Madness premiere. My oldest is a huge fan of WandaVision and the Scarlet Witch, so she won the coveted spot.
Below you may enjoy some photos from the red carpet premiere of Marvel's Dr. Strange Multiverse of Madness as well as a no spoiler review written by my teenager.
Is Dr. Strange Multiverse of Madness appropriate for kids?
Before we get into her review; I gotta answer the question we get on the regular. Is this movie appropriate for kids? I generally have seen Marvel as a safe brand for my kids. Marvel tends to have fun fight scenes but a good message and very little blood or gore. With rare exception we have never had a problem with our kids seeing Marvel movies even when they were little. Dr. Strange Multiverse of Madness is one of those exceptions. The newest Dr. Strange movie has a PG-13 rating and I would say it is a 'hard PG-13'; it could have almost been a R rating.
The theme is very dark and while it isn't as gory as some movies; it is gorier than any Marvel movie I have seen. Without giving spoilers a child is hunted the entire film. There are a few bad words that I care nothing about; but you might. Lots of people don't make it out alive and their unpleasant deaths are pretty gross. It is hard to say anything more without giving things away. It is an amazing movie for Marvel fans, but it really earns that PG-13 rating. All that to say; my ten year old who was fine with Black Widow, Cruella, and Black Panther will be sitting this one out. Everyone needs to make their own decision for their kids; but I personally do not think that the new Dr. Strange movie is appropriate for kids under 12 or 13.
DOCTOR STRANGE: MULTIVERSE OF MADNESS NON-SPOILER REVIEW:
(by my 16 year old)
Doctor Strange: Multiverse of Madness… there's a lot to unpack here! I had the pleasure of seeing the movie yesterday May 2nd, and let me tell you, this movie is fantastic! I think one of the reasons it was so thrilling and mind blowing was the fact that it is a separate genre from a typical Marvel film. Yes, I can confirm, this is definitely a horror movie.
Multiverse of Madness is rated PG-13 for intense sequences of violence and action, frightening images, and language. Personally, I'm not a fan of anything too scary but I made an exception for this movie. The jump scares and suspense kept me both on the edge of my seat and almost jumping out of it! I think that this film is rated fairly at PG-13, and I would recommend it to teen and young adult fans of the action/adventure and horror genres. Most kids under age of twelve would probably find this movie too frightening, so I would not recommend it for kids. The scariest parts I would say are the many monsters featured in the movie, some disturbing images, and a bit of gore. You don't see too much of the gore, but it is pretty brutal. Even including these horror elements, the plot is complex with tons of completely unexpected twists and turns, but it is also easy to follow. My favorite type of movies have fantasy elements and an unpredictable plot, and I'm happy to say that this movie has both. So I would recommend it even to non-marvel fans.
As all Marvel movies are, this movie was also partially a comedy. There were several scenes, especially towards the beginning of the film, that had me cracking up. I guarantee you'll laugh watching this movie.
My favorite element explored in this film was the connections and world-building that are featured. Marvel has started drawing connections between some of their older, supposedly not on the MCU timeline movies into our current MCU plot. I can't say anymore without spoilers, but you'll definitely see some familiar faces from long past movies. The suspense building up to one of the biggest reveals had me thinking, "Wait… hold up… no! No, they didn't!" But it's Marvel guys, so of course they did.
One of the things Marvel does best is staying unpredictable. The trailers had me expecting something completely different from what I saw, and it was thrilling. Something that fascinates me is how extremely vague the trailers are about the plot, but you don't realize how vague they are until after seeing the full movie! And let me just say, this movie changes how we see the MCU forever. In addition, the movie concludes with a MASSIVE cliffhanger that I cannot stop thinking about!
Finally, the last thing I wanted to talk about is a new character, America Chavez. America, portrayed by Xochitl Gomez, is a super-powered 14-year-old girl. What I loved about her character is the fact that she was not only a strong female lead who didn't need any help, but she was also a YOUNG, strong, female lead. Just watch, she's going to become a role model for girls after this movie comes out. Something that I really appreciate from Marvel is that they are evening out the ratio of boy and girl superheroes. Looking back to the original Avengers and even the team that took on Ultron versus what we have now really shows how much our society in real life has grown. This really sends home a message that girls can be equally powerful and I admire the female empowerment they are embracing.
Overall, this was a fantastic film and I highly recommend it to teens, young adults, and all-around Marvel superfans! Make sure YOU check it out, only in theaters on May 6th, 2022!
TTYL! – J.
Dr. Strange Multiverse of Madness Red Carpet Pictures
Here are a few photos we took and also several provided by Marvel of the world premiere in Los Angeles on Monday May 2, 2022.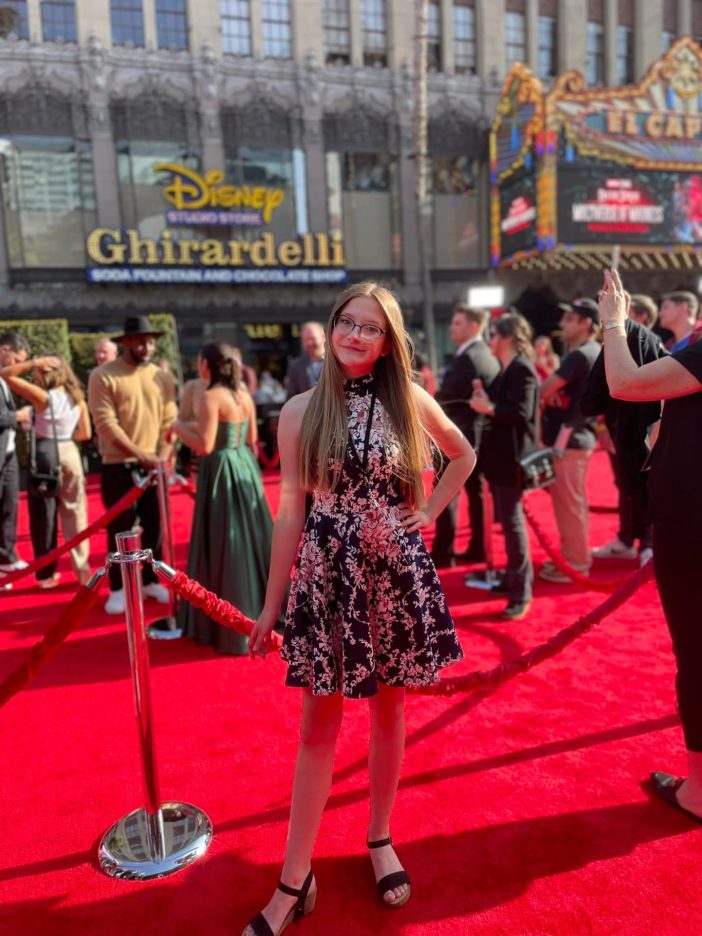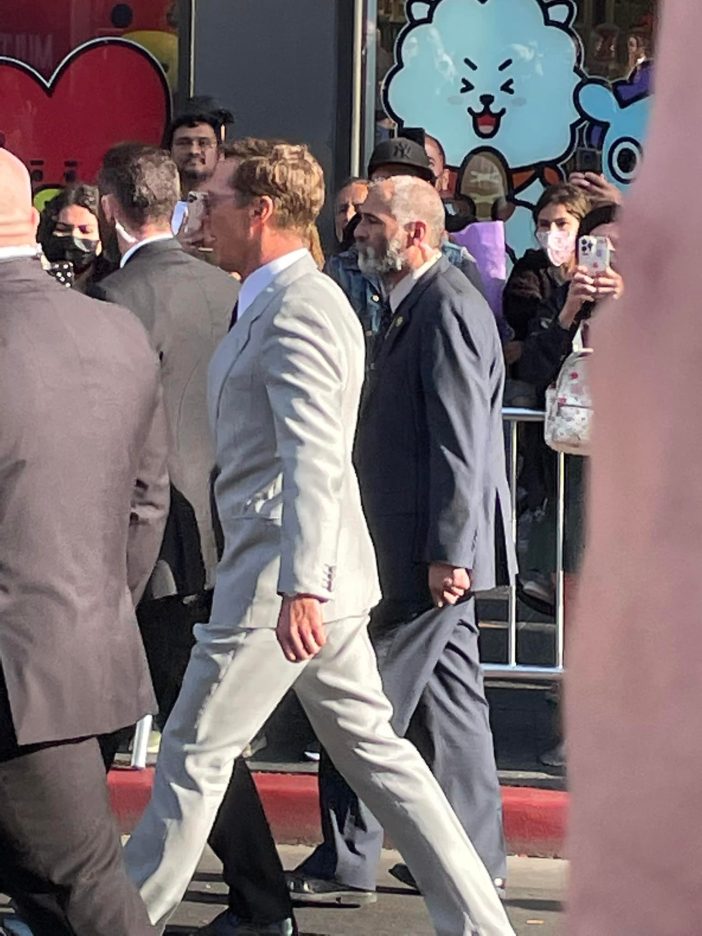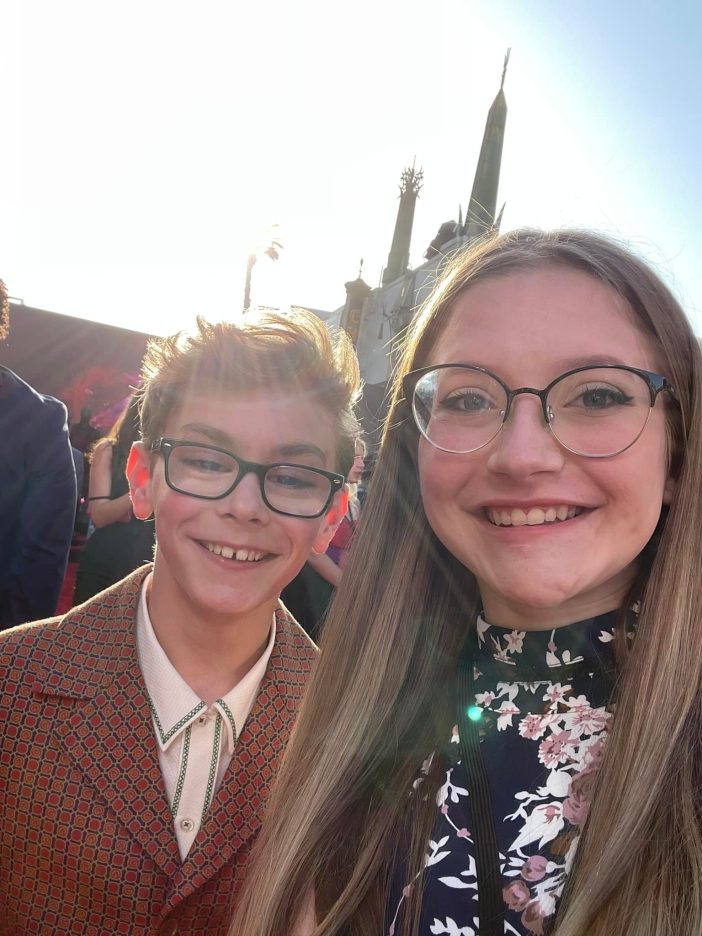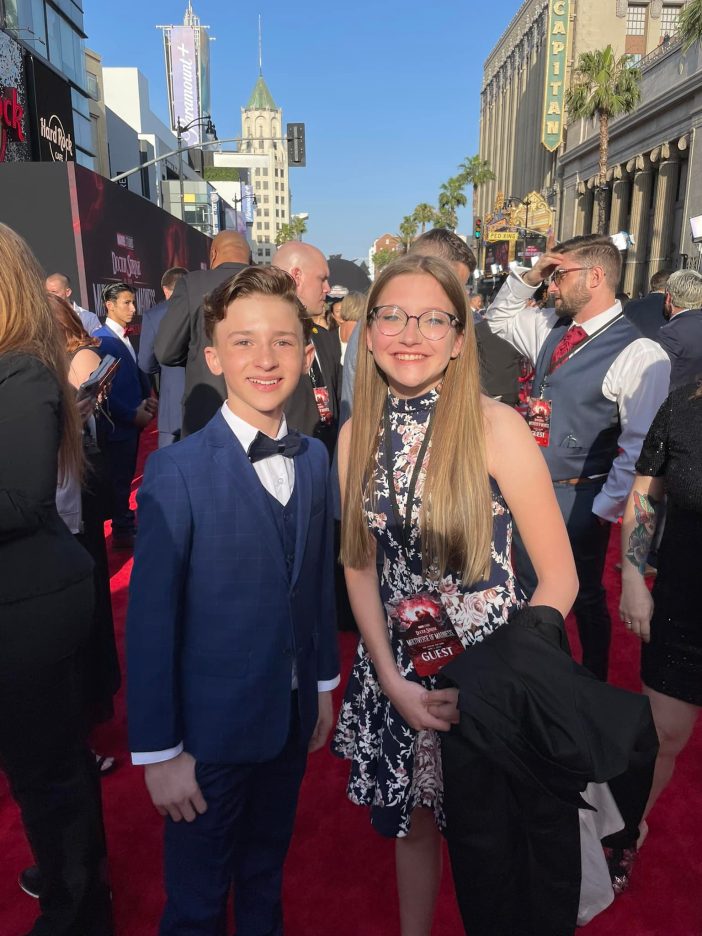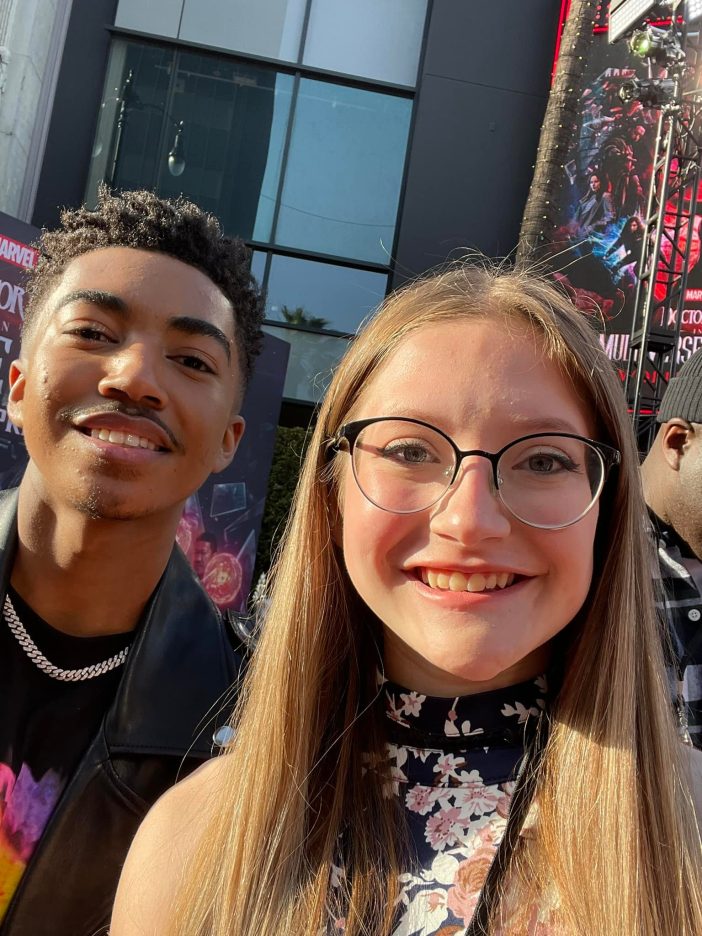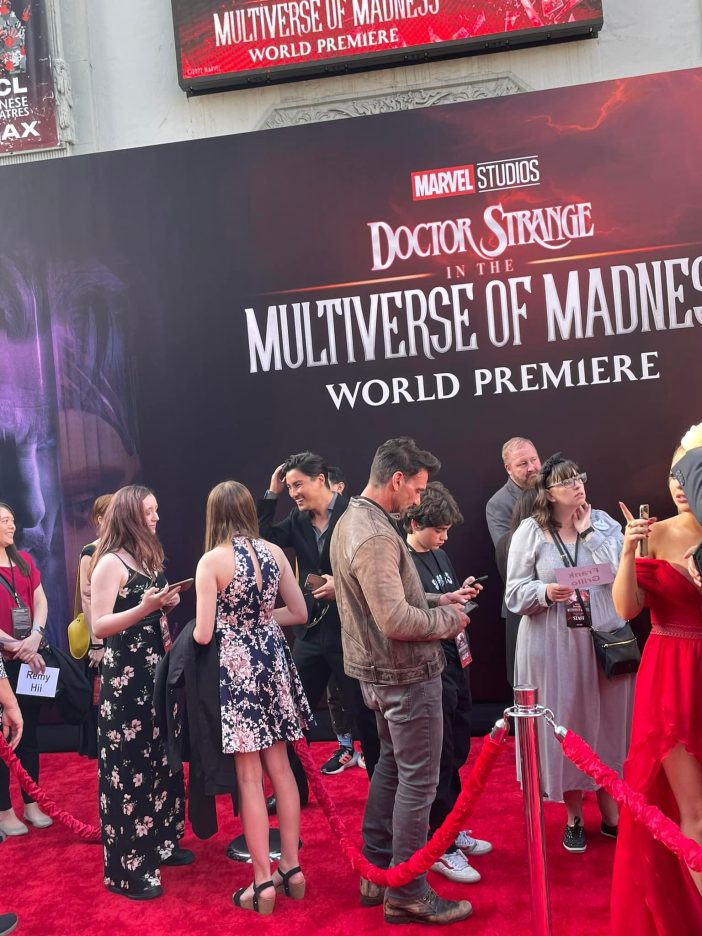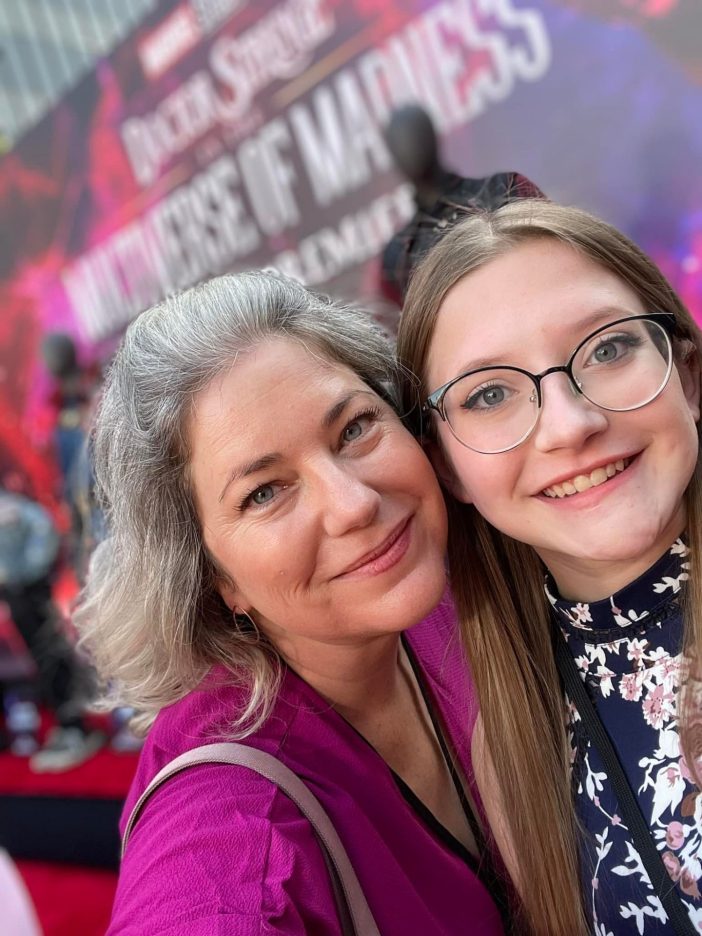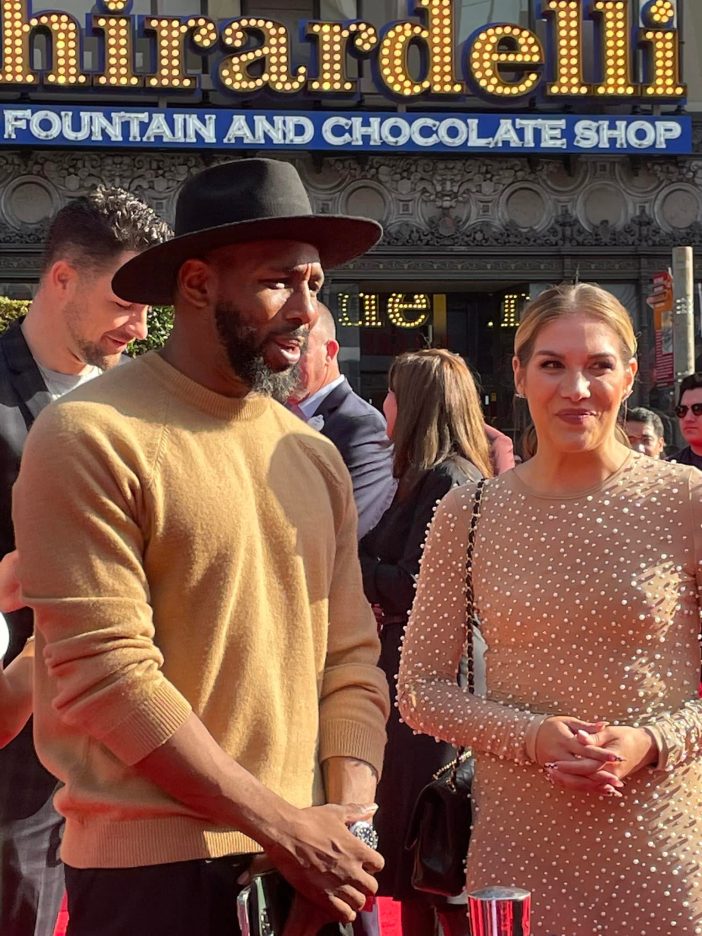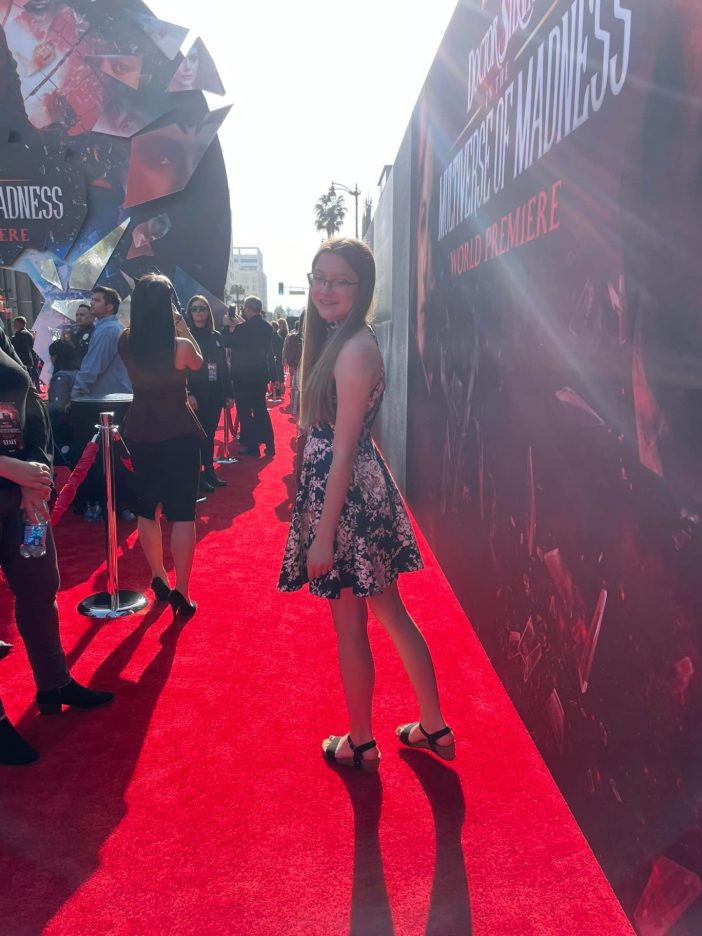 And lastly, this picture with the cast and the audience. My daughter and I are in the upper right hand corner of the mezzanine. See the person in hot pink? Fun fact, that is Tiffany Haddish, and we are right behind her. We are unrecognizable, but we were there and that is fun!
In Marvel Studios' "Doctor Strange in the Multiverse of Madness," the MCU unlocks the Multiverse and pushes its boundaries further than ever before. Journey into the unknown with Doctor Strange, who, with the help of mystical allies both old and new, traverses the mind-bending and dangerous alternate realities of the Multiverse to confront a mysterious new adversary.
"Doctor Strange in the Multiverse of Madness" stars Benedict Cumberbatch, Elizabeth Olsen, Chiwetel Ejiofor, Benedict Wong, Xochitl Gomez, with Michael Stühlbarg, and Rachel McAdams.
The film is directed by Sam Raimi, and Kevin Feige is the producer. Louis D'Esposito, Victoria Alonso, Eric Hauserman Carroll, Scott Derrickson and Jamie Christopher serve as executive producers. The screenplay was written by Michael Waldron.
Thank you again to J for such a great review!