Dungeons and Dragons: Honor Among Thieves – Activity Sheets – Free Printables
Disclosure: Highlights Along the Way is a participant in the Amazon Services LLC Associates Program, an affiliate advertising program designed to provide a means for sites to earn advertising fees by advertising and linking to amazon.com. This site uses affiliate links.
Adventurers rejoice, Dungeons and Dragons : Honors Among Thieves is now available to watch from home. We are sharing free Dungeons and Dragons Activity pages you can instantly download to celebrate this exciting addition to your home movie library! The printable sheets are free for D&D fans to print out and enjoy. People who love to play the game Dungeons and Dragons as well as new fans of the film will enjoy printing out the activity pages here. Check out this free gift from our friends at Paramount and enjoy the film from home today!
These D&D free printable play sheets are especially exciting to share because I created them! I was thrilled to work for Paramount as part of the promotion of the home release of Dungeons and Dragons : Honor Among Thieves. Please enjoy these high resolution licensed printables featuring moments from the film "Dungeons and Dragons : Honor Among Thieves". My family saw the film in theaters and can't wait to watch it again from home. To celebrate, let's download and print this D&D Maze, D&D Word Search activity sheet, Dungeons and Dragons "Spot the Difference", Print out three free Character bookmarks, and learn how to draw the Mimic Chest. Thank you to Paramount for letting me create these printables for fans of film based on the fantasy role playing game.
Five printable activity pages are available for home and school use. Print as many as you wish! Printables include three Dungeons and Dragons bookmarks, D&D word searches, D&D printable maze, a Dungeons & Dragons : Honor Among Thieves Spot the Difference, and a how to draw the Mimic Chest page. Fans of the fantasy game will appreciate finding the hidden Owlbear, learning to draw the Mimic Chest, and finding hidden words from the movie. I hope fans love them!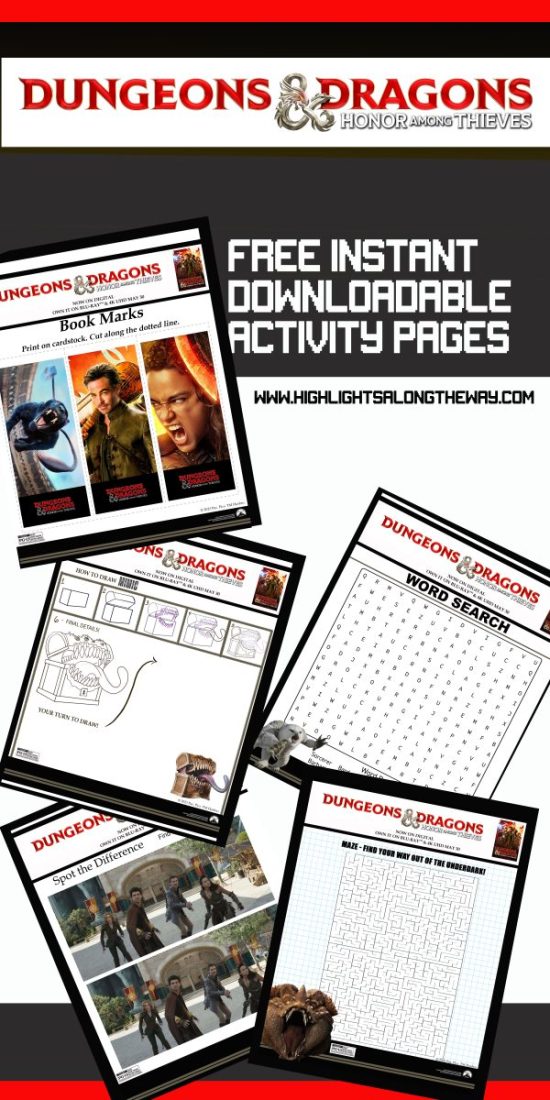 Dungeons and Dragons Free Printable Maze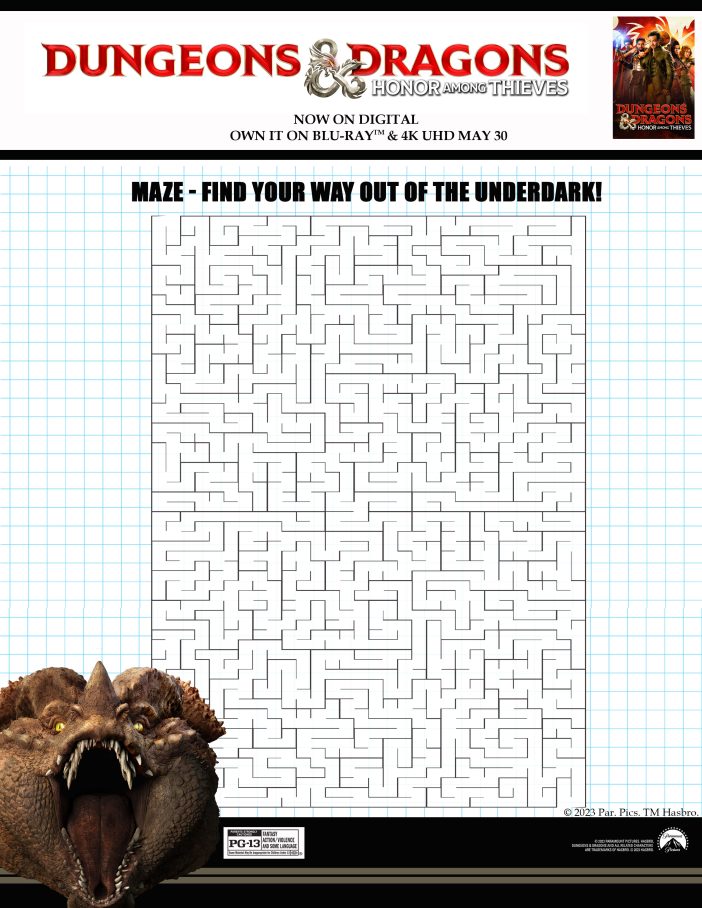 A new spin on the Dungeons and Dragons Maze! While players of the game may make their own unique DND mazes, this is a traditional maze to find your way out of the Underdark. Best of luck!
Dungeons and Dragons : Honor Among Thieves Book Marks – free Instant Download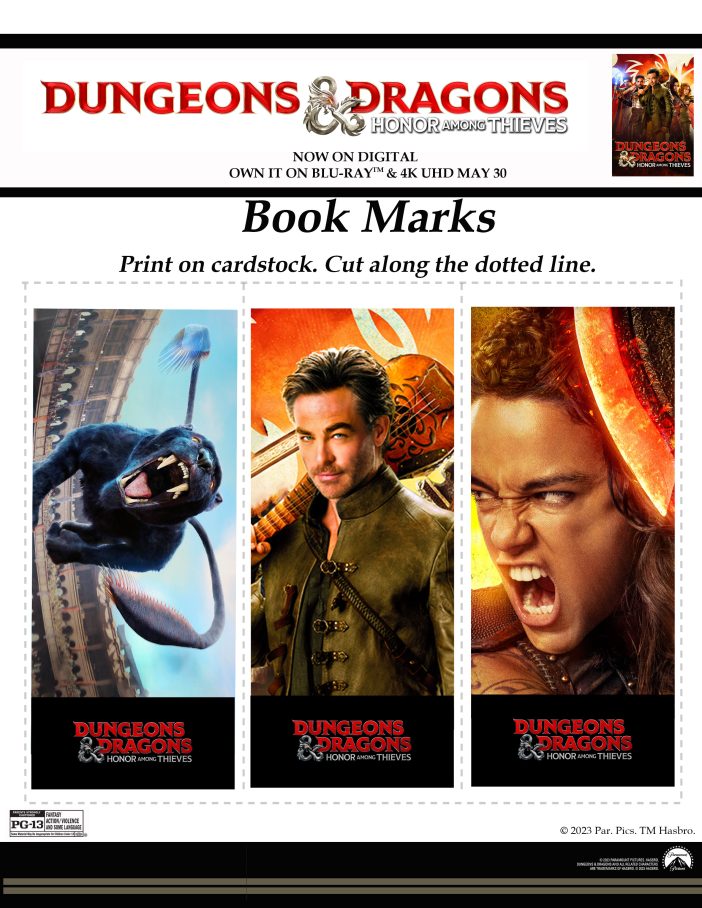 Use your book marks to save pages in this incredible "The Art of the Making of Dungeons and Dragons". Every artist and fan is going to want to own and be inspired by this gorgeous hard cover book!


DND Word Search – Instant Download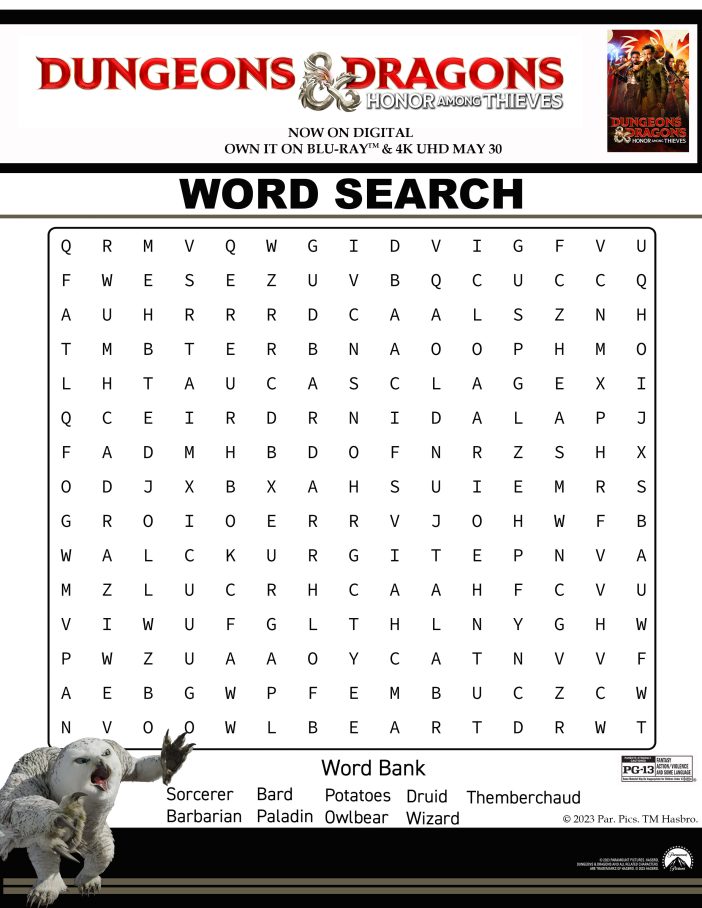 Immerse yourself in the fantasy world by finding all nine words in the word bank! Dungeons and Dragons fans can find the word "Sorcerer", "Bard", "Barbarian", "Potatoes", "Druid", "Owlbear", "Wizard", "Paladin", and "Themberchaud". Remember that with this word search you can discover the words going in every direction, including backwards!
Dungeons and Dragons free Mimic Chest 'how to draw' step by step printable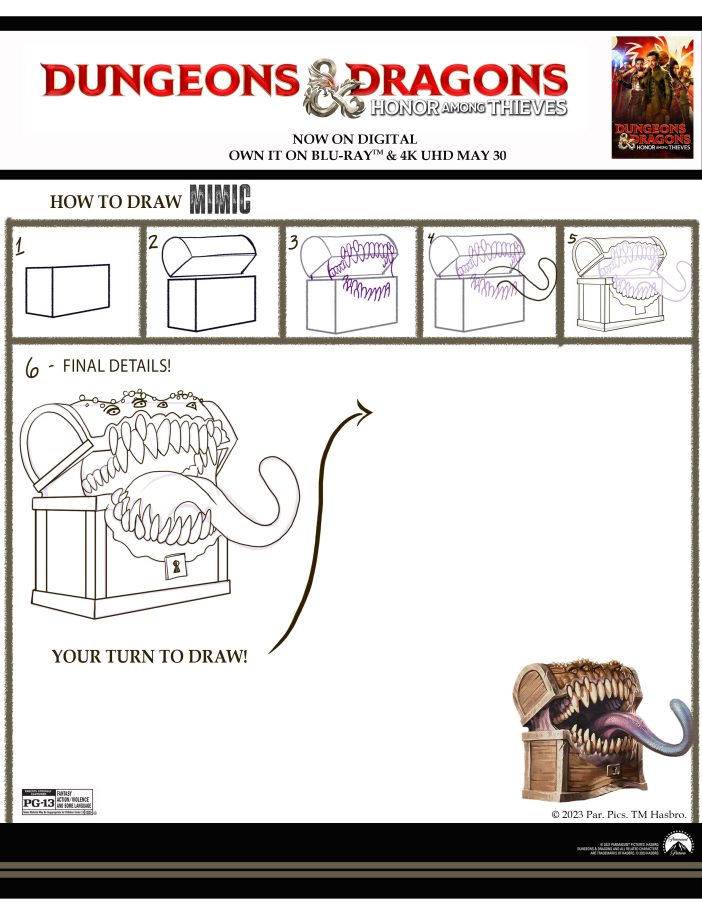 Have fun with this "Mimic Chest" drawing tutorial. Drawings do not need to be perfect to be awesome. Mimic isn't Mimic without a crazy amount of teeth and that crazy tongue! Make sure to put your own artistic spin on your final fantasy creation!
Dungeons and Dragons Honor Among Thieves Film "Spot the Difference"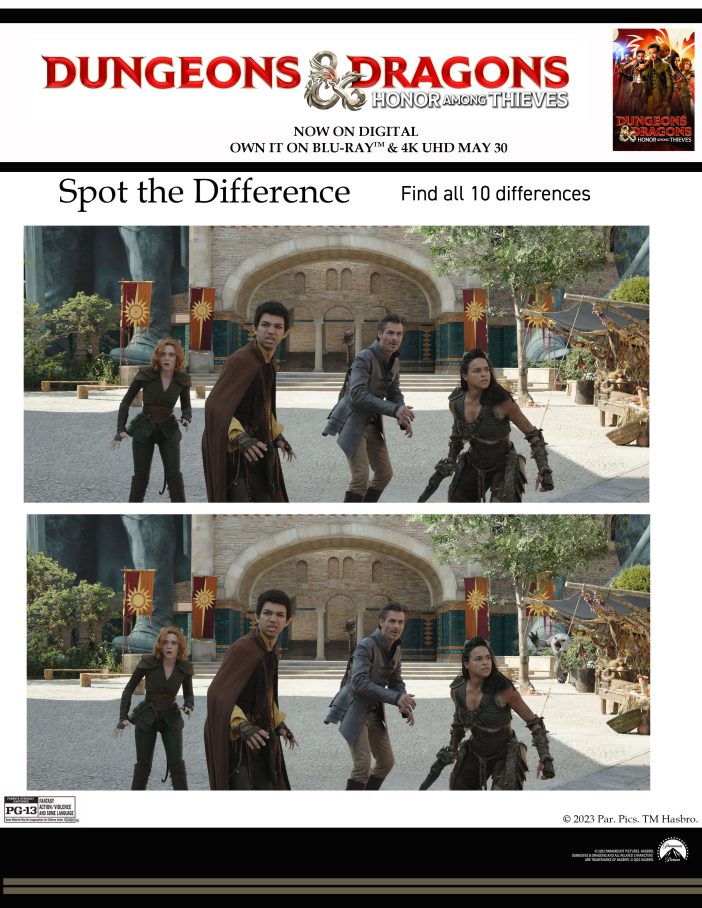 We know that Dungeons and Dragons fans have a keen attention to detail. Find ten differences between these two movie stills above. Some differences are a bit more difficult than others, so look closely.
About Dungeons and Dragons : Honor Among Thieves
An action-packed adventure that's fun for the whole family, DUNGEONS & DRAGONS: HONOR AMONG THIEVES arrives for fans to watch at home on Premium Video-On-Demand and to purchase on Digital May 2, 2023 from Paramount Home Entertainment.
"Bursting with action, comedy and spectacle" (Kristy Puchko, Mashable), DUNGEONS & DRAGONS: HONOR AMONG THIEVES has been hailed as "a total blast" (Scott Mantz, KTLA-TV) and "the best movie of the year" (Lex Briscuso, The Wrap). Certified Fresh on Rotten Tomatoes® and boasting a 93% audience score, the film is "the perfect movie for the whole family!" (Joe Deckelmeier, Screen Rant).
Fans who purchase the film on Digital will have access to over an hour of fascinating bonus content taking them deeper into the exciting world of Dungeons & Dragons. Go inside the making of the movie, featuring interviews with Chris Pine, Michelle Rodriguez, Regé-Jean Page and more. Explore the universe, characters, magical creatures, epic fight sequences, and stunning visual effects. Plus, laugh along with a hilarious gag reel and check out deleted & extended scenes not seen in theaters! Bonus content is detailed below:
From Dice to Dragons: Honoring the Lore— Go behind-the-scenes with Chris Pine, Michelle Rodriguez, and the cast and crew to witness the thrilling journey of bringing the classic board game to life in the ultimate D&D experience.
Rogues' Gallery: The Heroes of Dungeons & Dragons— Get an in-depth look at the heroes of the film as the cast delves into their characters and reveals the secrets behind bringing them to life on screen.
Fantastic Foes— Explore the dark side of D&D with a look at the film's complex and fascinating villains.
The Bestiary— Check out the cutting-edge visual effects, prosthetics, and intricate costumes that went into the creation of the movie's magical beings and fantastical beasts.
Forging the Forgotten Realms— Discover the secrets behind the exciting sets and breathtaking locations in far away lands!
Broadswords, Battle-axes & Badass Brawls— Dive into epic fight sequences with a behind-the-scenes look at the mind-blowing stunts and powerful weaponry that went into this heart-pumping action adventure.
Gag Reel— Don't miss the hilarious gag reel with bloopers and outtakes.
Deleted and Extended Scenes— Uncover even more of the action with deleted & extended scenes not seen in theaters!
Synopsis
A charming thief and a band of unlikely adventurers undertake an epic heist to retrieve a lost relic, but things go dangerously awry when they run afoul of the wrong people in this hilarious and action-packed adventure.
DUNGEONS & DRAGONS: HONOR AMONG THIEVES will arrive on 4K Ultra HD SteelBook™, 4K Ultra HD, Blu-ray™, and DVD on May 30th.
What is Dungeons and Dragons : Honor Among Thieves Rated?

DUNGEONS & DRAGONS: HONOR AMONG THIEVES is rated PG-13 for fantasy action/violence and some language. While every family is different, our 11 year old did watch this film. Our family saw this D&D movie as a 'soft' PG-13. Our daughter plays D&D at school and with friends, so it was a really fun film for her to watch. Typically we follow the general rule of no PG-13 until kids are 13, but this was one of our exceptions. We encourage parents to read many reviews before making those choices for their family.

PARAMOUNT PICTURES Presents In Association with eOne
A JOHN FRANCIS DALEY & JONATHAN GOLDSTEIN Film "DUNGEONS & DRAGONS: HONOR AMONG THIEVES"
CHRIS PINE MICHELLE RODRIGUEZ REGÉ-JEAN PAGE
JUSTICE SMITH SOPHIA LILLIS and HUGH GRANT
Music by LORNE BALFE Costume Designer AMANDA MONK Film Editor DAN LEBENTAL, ACE
Production Designer RAYMOND CHAN Director of Photography BARRY PETERSON
Executive Producers DENIS L. STEWART JOHN FRANCIS DALEY JONATHAN GOLDSTEIN
CHRIS PINE ZEV FOREMAN GREG MOORADIAN
Produced by JEREMY LATCHAM, p.g.a. BRIAN GOLDNER NICK MEYER
Based on HASBRO'S DUNGEONS & DRAGONS Story by CHRIS McKAY & MICHAEL GILIO
Screenplay by JONATHAN GOLDSTEIN & JOHN FRANCIS DALEY and MICHAEL GILIO
Directed by JONATHAN GOLDSTEIN & JOHN FRANCIS DALEY