Easy DIY Agnes Costume from Despicable Me!
Disclosure: Highlights Along the Way is a participant in the Amazon Services LLC Associates Program, an affiliate advertising program designed to provide a means for sites to earn advertising fees by advertising and linking to amazon.com.
Agnes is the cutest of all the characters in Despicable Me.  I am excited to share this adorable and easy DIY Agnes Costume. This sweet no sew costume is one that anyone can put together right now!  Perfect for trick or treating on Halloween with your favorite fluffy unicorn!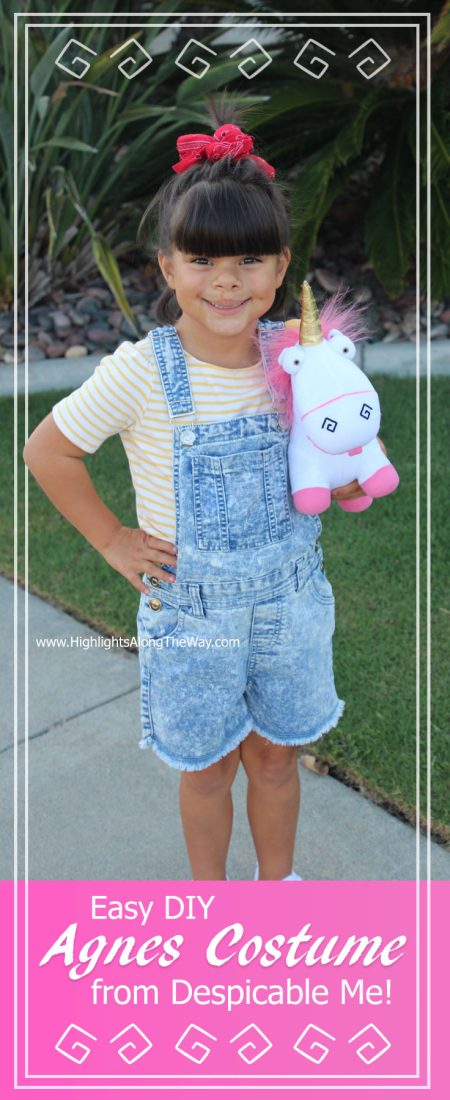 With Despicable Me 3 hitting theaters this summer we were super excited to add another costume to our list.  Today we are sharing an easy DIY Agnes costume.  This costume does not involve any sewing and includes pieces that can be worn the rest of the year.  While we love to take pieces from thrift stores and alter them slightly, but this time we used some brand new pieces too.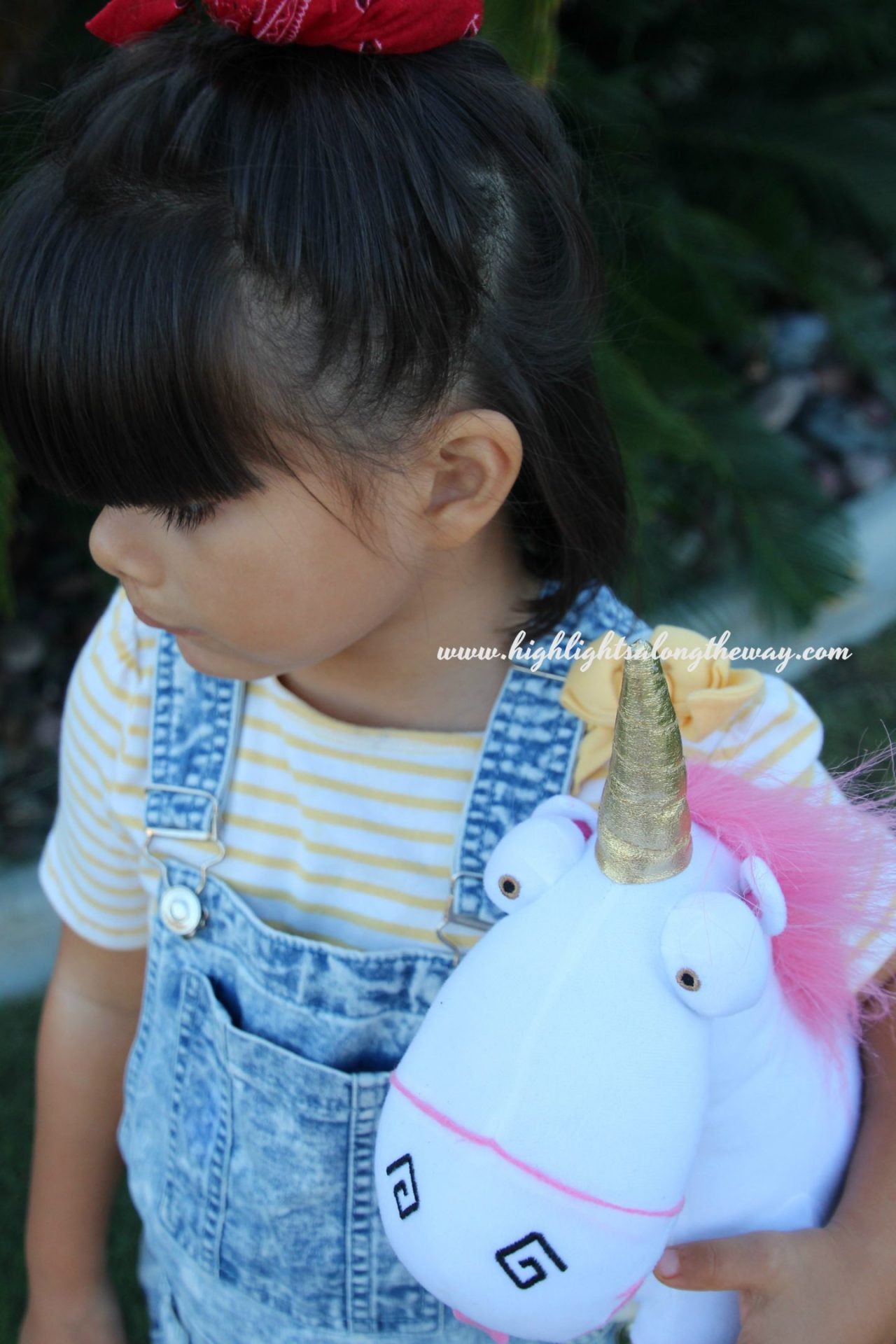 Agnes captured the heart of audiences with the first Despicable Me movie.  Little Miss C is often told by friends, family, and strangers that she has a striking resemblance to the littlest of Gru's daughters.  While I think any child can easily pull off this costume, we think our little one having giant brown eyes and the perfect hair cut for Agnes just really begs for her to wear the costume.
Don't miss out on this high value coupon for Despicable Me themed vitamins! Our minions thought it was a fun special treat to start the day!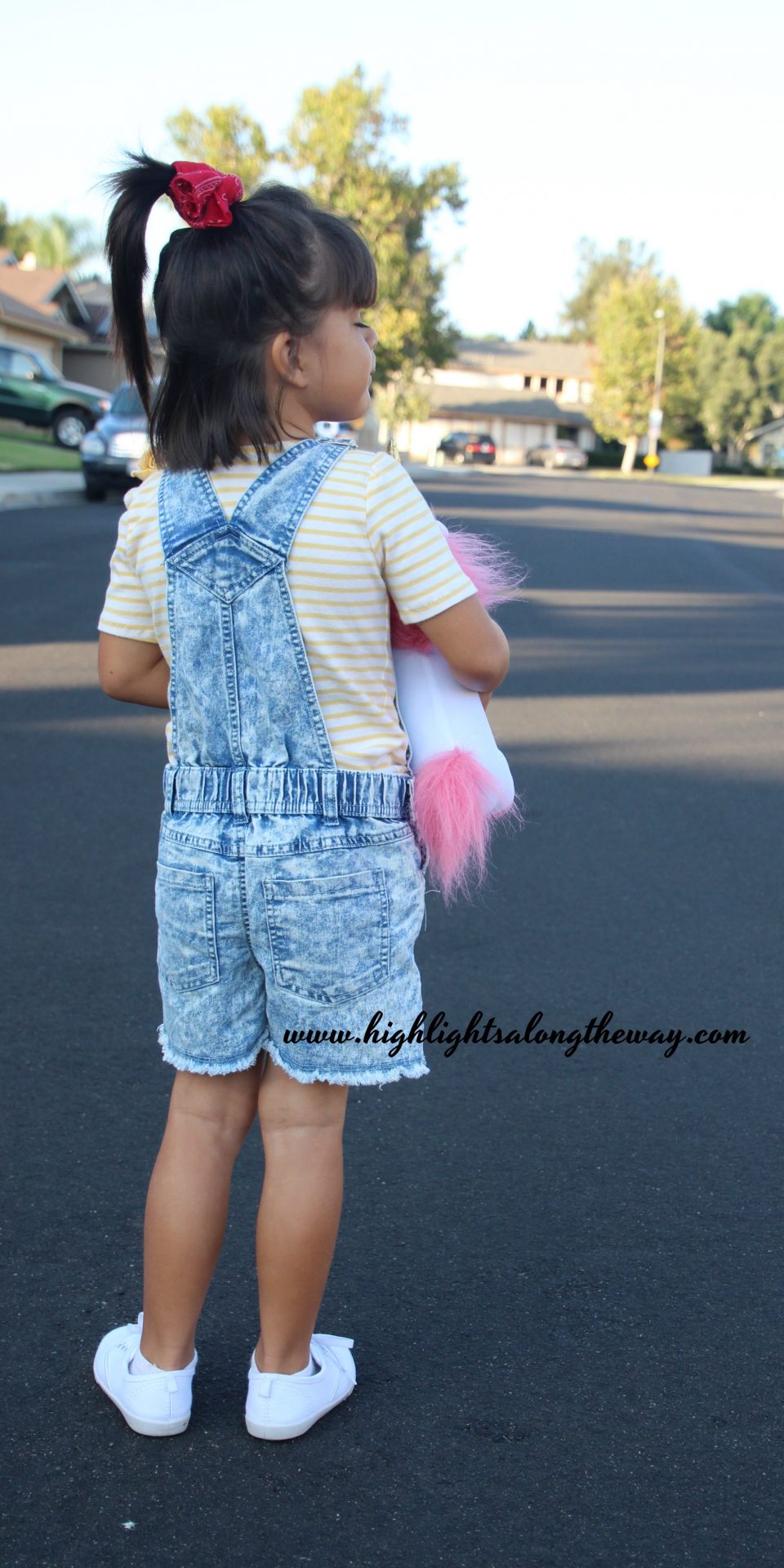 The first thing you are going to need is a Fluffy Unicorn.  We were lucky enough to score a brand new, licensed Despicable Me unicorn with pretty pink hair at a garage sale for 50 cents!  If you are not quite so lucky in your quest for a pre-loved unicorn, I have found that our good friends at Amazon never disappoint.  Here is a brand new Despicable Me Unicorn with a much lower price tag than you will find at Universal Studios.
This Despicable Me costume cost less to put together than buying a brand new costume online.  While some may prefer to purchase the official costume just out of convenience, this was not difficult and we love that our daughter is able to incorporate the costume pieces into her every day wardrobe for months to come.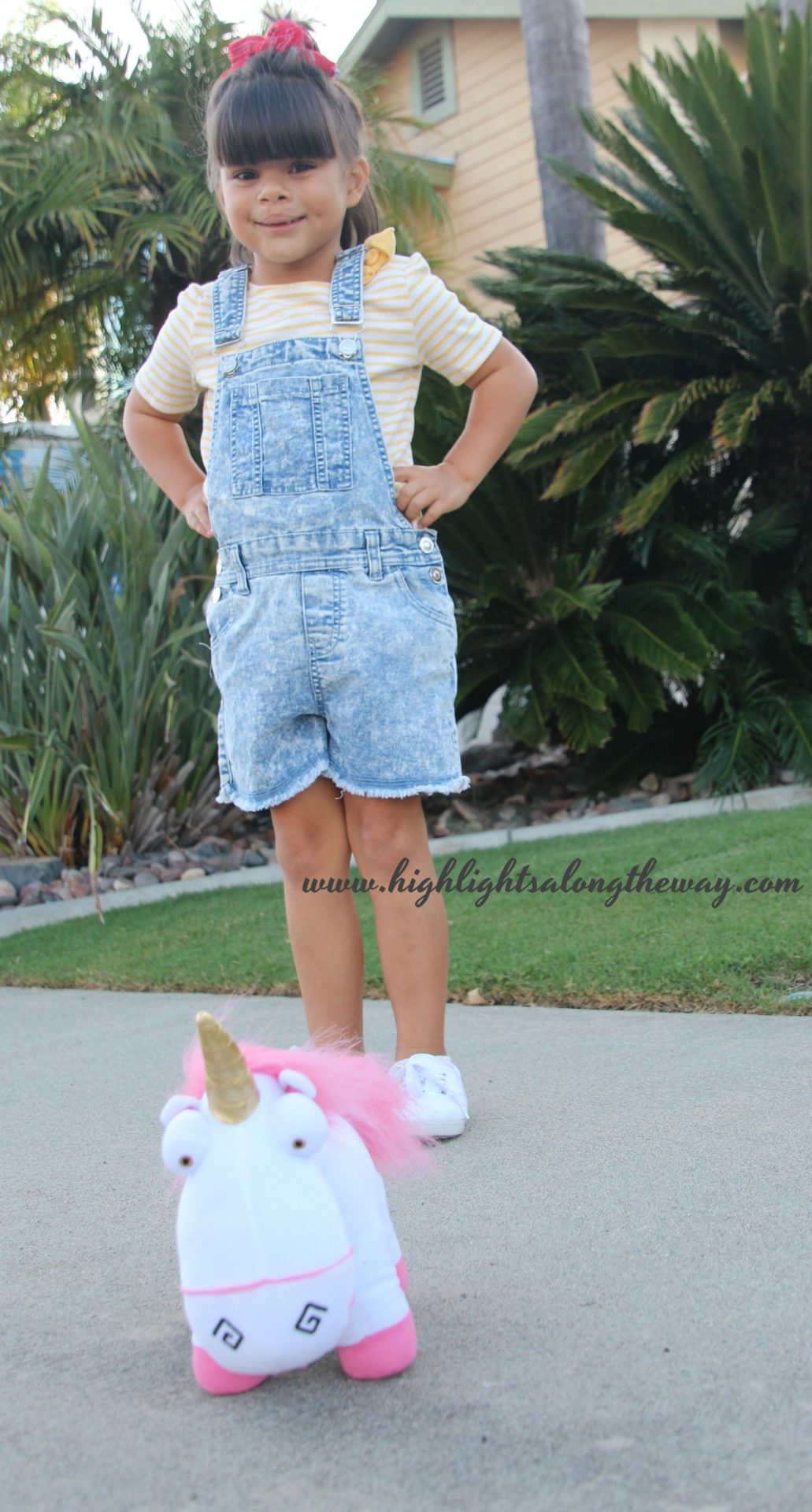 Don't miss these FREE Despicable Me Printables!
Agnes wears a yellow and reddish striped t-shirt, which is harder to find in the internet age than one might think.  We decided to use a yellow and white striped shirt she already had. It still passes. If you do not have a striped shirt already, here are a couple options available from trusty Amazon.
Overalls are easier.  There are so many choices in stores and online.  These acid washed overalls are so cute, comfortable, and work well for Agnes.  At only $10 shipped I was like "Sold!".
Plain white shoes and a red scrunchy ties it all together.  We found both for less than $10 total at Walmart.  Our daughter loves her "Agnes shoes" and they go with everything!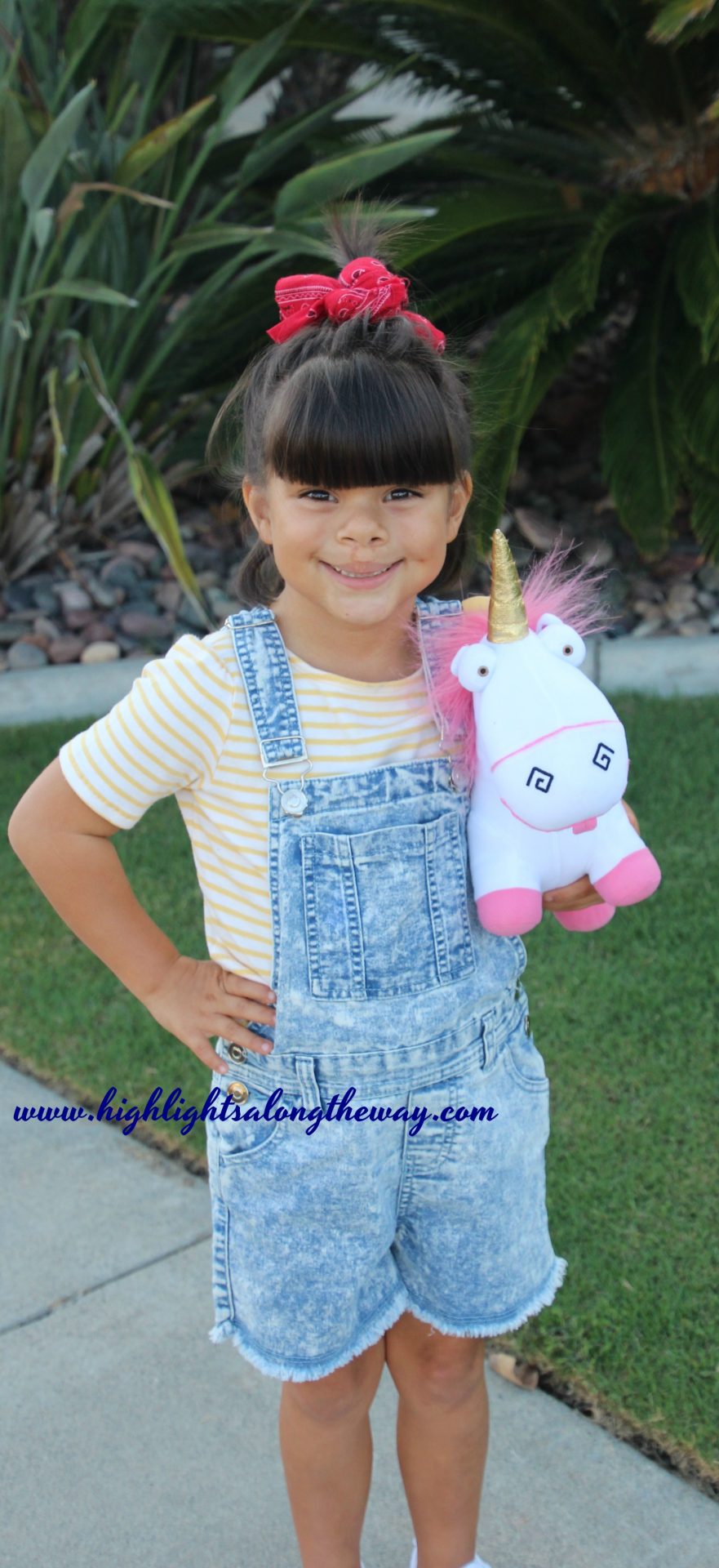 If a quick costume is what you are looking for, Amazon Prime has a perfect solution! $24 shipped!  I still personally love putting together real pieces that can be used in our regular wardrobe, but sometimes you need to just need an easy button.
If your little one loves Despicable Me and unicorns, this easy DIY Agnes Costume is a winner! Make sure to check out our other DIY Costumes too!