Easy Elemental Cupcakes
Disclosure: Highlights Along the Way is a participant in the Amazon Services LLC Associates Program, an affiliate advertising program designed to provide a means for sites to earn advertising fees by advertising and linking to amazon.com. This site uses affiliate links.
Wade and Ember from Elemental are about to be household names. Disney Pixar movies are always a popular birthday theme, kids everywhere are going to want these easy Elemental cupcakes! DIY custom cupcakes are such a key feature of a themed birthday party. Today we are sharing quick and easy Elemental cupcakes using store-bought cake mix and frosting. Make a splash at your Elemental party with the cutest cupcakes in Element City. Use the provided Elemental Cupcake Wrapper to make these easy Elemental cupcakes shine bright! I dare say your party guests will think these cupcakes are fire!
Fire red and water blue with perfectly curated sprinkles is really all you need. We used simple white cake mix and store-bought frosting. We've included a printable Elemental cupcake wrapper you can download below. I dare say your party guests will think these cupcakes are fire.
You can combine these cupcakes with our Easy Elemental Dipped Pretzel Rods and make an awesome dessert table for your party!
Disney Summer films are always a go to party theme for kids. Elemental is guaranteed to become a popular birthday party theme over the next year. These cupcakes could easily be modified to fit other similar party or cupcake ideas like generic fire and water designs. Elemental is based on "Fire", "Water", "Earth", and "Air". Because the main characters are Fire and Water, we focused on those two for our cupcake design.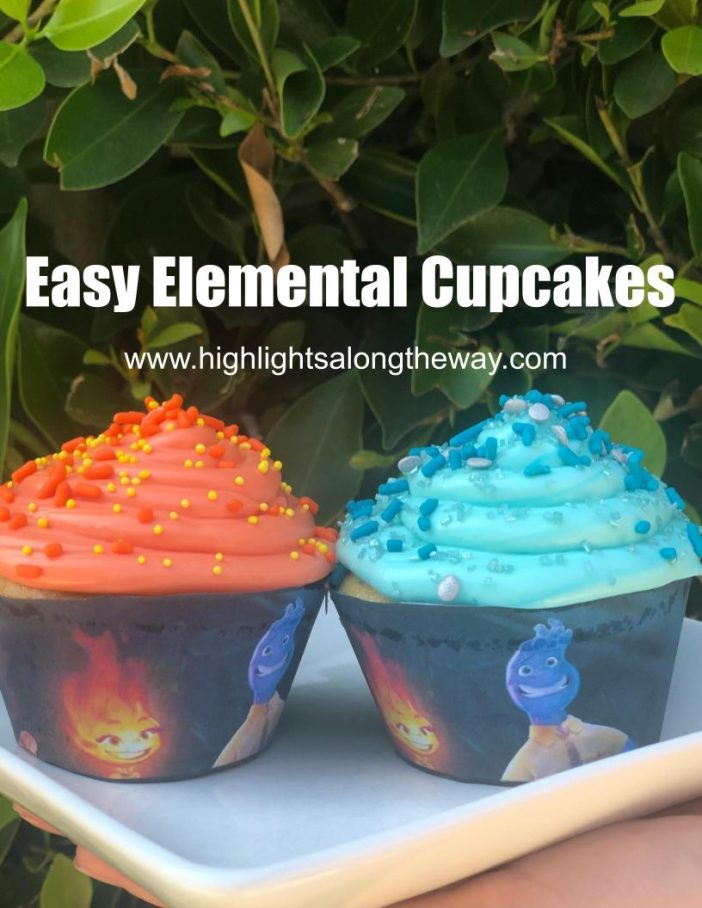 Many fancy blogs will feature tutorials with complex designs and decorations. This isn't that kind of recipe blog. We know most parents don't have the time to create 24 mini masterpiece cupcakes. These are perfect fire and water themed, but anyone can make these cupcakes. You don't need any fancy equipment and the recipe can be easily modified if don't have some materials.
But first, a moment for this Art of Elemental Book…
Why You're Going to Love this Recipe:
Boxed Ingredients Only! The only things you'll need to make the cupcakes themselves are premade cake mix (and the 3 things you need to add to it) and premade frosting.
Fast and Easy to make. Most fancy cupcakes take hours, but by combining a couple of baking hacks, these cupcakes won't take you more than an hour and a half!
So Cute you could cry! Wade cries a lot in this film.
A Twist on Usual Cupcake Design. While cupcake toppers are the norm; the wrappers we are sharing here are so fast. You can always add an Elemental cupcake topper as well, but these wrappers are a less used decorative item.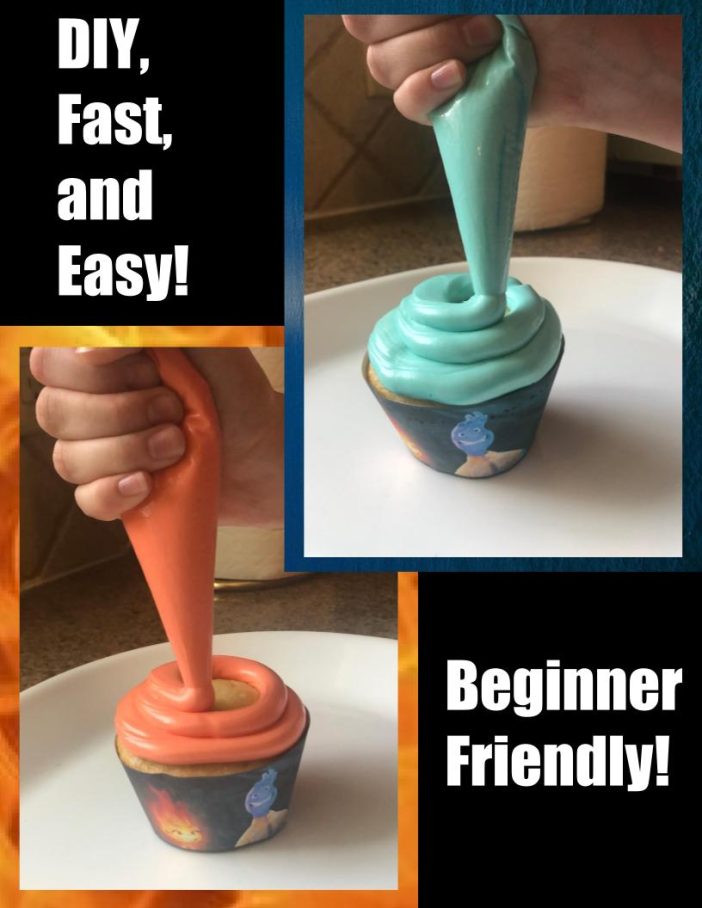 What you need for your DIY Elemental Cupcakes:
Store-bought cake mix in whatever flavor is your preference, some of our favorites for recipes like this are vanilla and confetti because our family likes vanilla, but feel free to switch it up!
Store-bought white frosting in any flavor. Vanilla and cream cheese are some of our favorites, but anything will work.
Food coloring in blue, yellow, and red. The best kind of food coloring for frosting and baking in general is the gel type. It tends to work better than liquid in frosting because it's not as messy, and you can use less.
This color set is so vivid and we use it over and over again. You will only need a few drops of color so you can use these for so many party themes!
4. Electric Mixer, Cupcake Pans, Icing bags, tips and any other baking supplies — because obviously.
5. And finally, Our Free Printable Cupcake Wrappers! (coming soon!)
If you don't have Piping Bags, you can order this set for only $9.99 and get everything you need! I have used these for years!
If you prefer to keep things simple, you can use a gallon-sized Ziploc bag and it will work just fine. To use a Ziploc, snip one of the corners of the bag and put all the frosting on one side. This makes it easier to dispense frosting evenly.
Elemental Cupcake Wrappers – Instant Download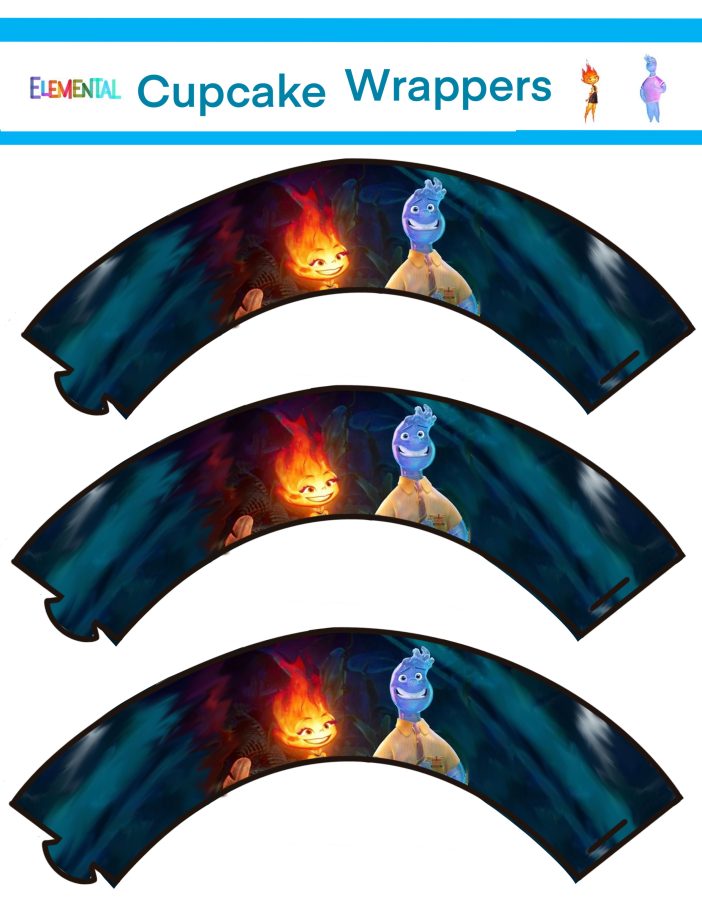 How to put together Our Free Printable Cupcake Wrappers:
Download our Free Printable Cupcake Wrappers. There are three per sheet, so print enough for your batch.
After cutting them out, either tape them into a circle, or use the guide to cut the insert tab and connect them that way.
After your cupcakes have finished baking and have cooled, simply slip them into the cupcake wrapper. And it's that easy! Now you're ready to decorate!
How to Decorate your Easy Elemental Cupcakes:
Divide your white frosting into two bowls.
In the first add a few drops of blue. You don't want the frosting to come out too dark. A light, sky blue matches the color of the water characters in the movie.
In the second bowl, add a few drops of red and a few drops of yellow. It is very difficult to make pure red frosting so we will go with a nice and easy orange color instead, which still matches the fire characters in the movie.
Fill one piping bag (or large Ziploc) with the blue frosting, and a second with the orange.
Pipe the frosting in the circular motion, starting from the outside and moving inwards as you go. This makes the iconic spiral cupcake frosting look.
Add sprinkles in the appropriate colors if desired.
Slip into printed and taped cupcake wrappers, and you're done!
How to Make Basic Store-Bought Cake Mix Fire! …or Water
Store-Bought cake mix is designed to be easy on its own, but with a couple tweaks you might have your guests asking for your recipe.
Store-bought cake mix usually requires the three additional ingredients: water, oil, and eggs. But, if you make a few substitutions, you can make "store-bought" taste like "from scratch". Substitute the oil for melted butter, and the water for milk. This will result in a much richer cake.
After you've added the ingredients, always let your cake mix beat on high for 2 minutes in your electric mixer. This step is usually on the box, but most people tend to skip it. But it actually helps incorporate air bubbles into the batter so that the cake will be nice and fluffy on the inside, so don't skip it!
Also, refrain from opening the oven while cupcakes are baking, especially during the first half of the bake time. Instead wait until you are ready to check for doneness. Opening the oven too early can decrease the temperature quickly of the air bubbles inside the cake and make it less fluffy.
I hope you enjoyed our easy Elemental cupcakes recipe. We have numerous other cupcake and party recipe posts, so make sure you check those out before you go. But in the meantime, check out our free printable Elemental Coloring Pages and Activity Sheets. They'll be a perfect, and super easy activity for your party! And try our recipe for Easy Elemental Dipped Pretzel Rods to add to your party table!
And if you haven't already seen it, see Disney Pixar's Elemental in Theatres June 16th and soon on Disney+!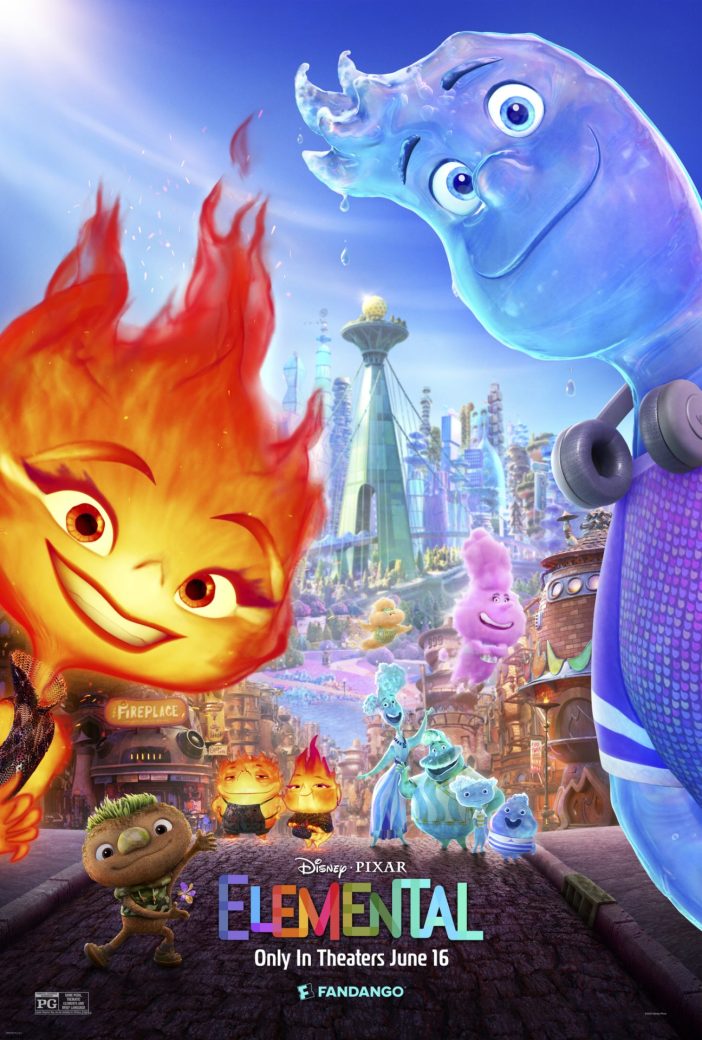 Pixar Animation Studios revealed details about its 27th feature film, "Elemental," which will release on June 16, 2023. Directed by Peter Sohn ("The Good Dinosaur," "Partly Cloudy" short) and produced by Denise Ream ("The Good Dinosaur," "Cars 2"), the film journeys alongside an unlikely pair, Ember and Wade, in a city where fire-, water-, land- and air-residents live together. The fiery young woman and the go-with-the-flow guy are about to discover something elemental: how much they actually have in common.