Easy Elemental Dessert – Chocolate Dipped Pretzel Rods
Disclosure: Highlights Along the Way is a participant in the Amazon Services LLC Associates Program, an affiliate advertising program designed to provide a means for sites to earn advertising fees by advertising and linking to amazon.com. This site uses affiliate links.
Disney Pixar's Elemental splashed into theatres June 16th, and it is the hottest movie of the year. Unsurprisingly, Elemental is the subject of many themed birthday parties. Food is one of the most important things when throwing a party. And I love themed desserts, they're just so much more fun that generic boxed brownies. If you're looking an easy Elemental dessert, you've come to the right place. These white-chocolate dipped pretzel rods are the perfect combination of salty and sweet. The colors are orange, yellow, and white for Ember, the girl from Fire Town, and white and blue for Wade, the guy from Water Town.
These pretzel rods are a perfect addition to an Elemental themed party dessert bar. Disney and Pixar cartoons are always a perfect birthday party theme. These pretzel rods are so versatile. A perfect salty and sweet treat to have for guests or to take home as a party favor. With pretzel rods, white chocolate, sprinkles, and a little food coloring, you can make a very simple but fancy treat. I've shared some tips for how to make party pretzel rods quickly and picture perfect in no time!
Easy Elemental Birthday Party Treat!
Related Elemental Cupcakes with printable Cupcake wrappers!
Related Elemental FREE Printable Activity Sheets and Coloring Pages (perfect free party activities!)
Every recipe I posted is designed to be easy-to-follow and beginner friendly. I simplify desserts, snacks, and meals into recipes that anyone can replicate. These pretzel rods take only a few steps to make, only need 3 ingredients, and only use cooking supplies that everyone already has at home. Let's take our party game to the next level and make an easy Elemental themed dessert!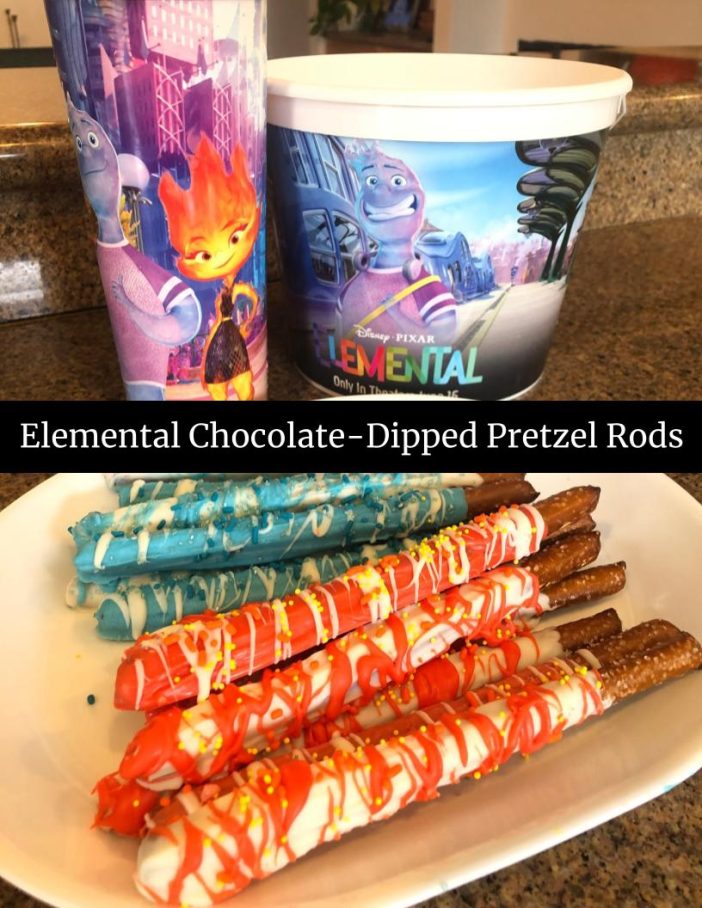 Where to Find Pretzel Rods:

Large Pretzel rods can be hard to find in regular stores. We have found them in stores in the past but found that Amazon is about the same price and they deliver it to us! Win-win. We like to include Amazon affiliate links because if you are anything like my mom, you probably just want to make a big Amazon order before you start prepping for your party. You can also use the small pretzels, but that can be a lot more time-consuming and less exciting. In the essence of time and quality, we recommend the larger ones. They are basically designed for dipping in chocolate.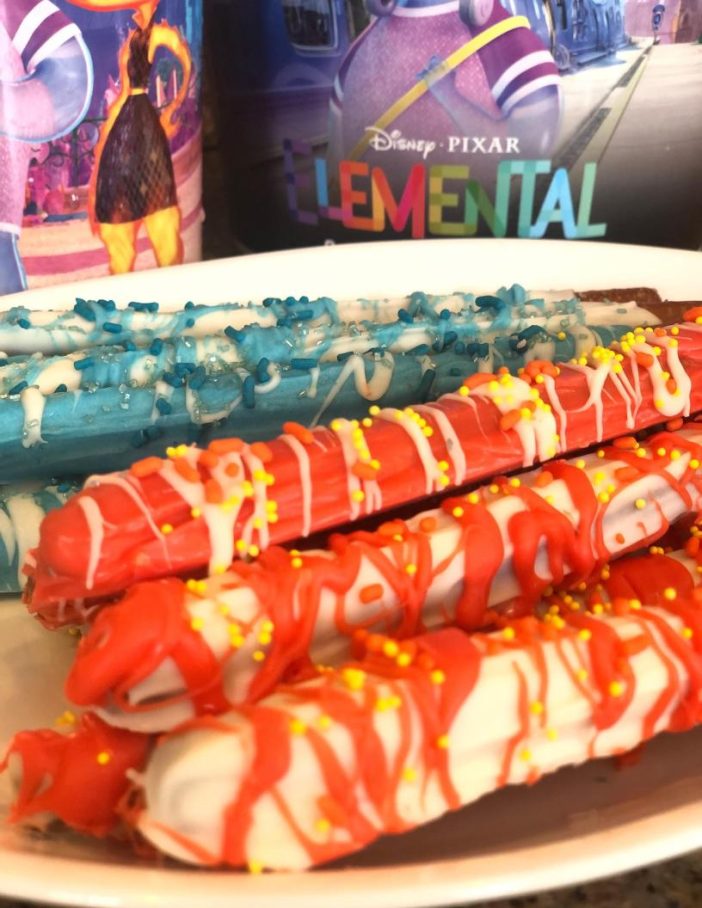 How to Melt White Chocolate the Right Way:
I guess there is not really a "right" way to melt chocolate, but the double boiler method I have found to be the easiest and most foolproof.
"Double Boiler Method" sounds really fancy but it's really not. If you have an actual double boiler, that's great! You can use that. But if you're like me and you don't, I've got a baking hack for you.
"Oh, I will just microwave it. It will be fine." My dad before ruining the chocolate. Heed his warning friends, do this on the stove.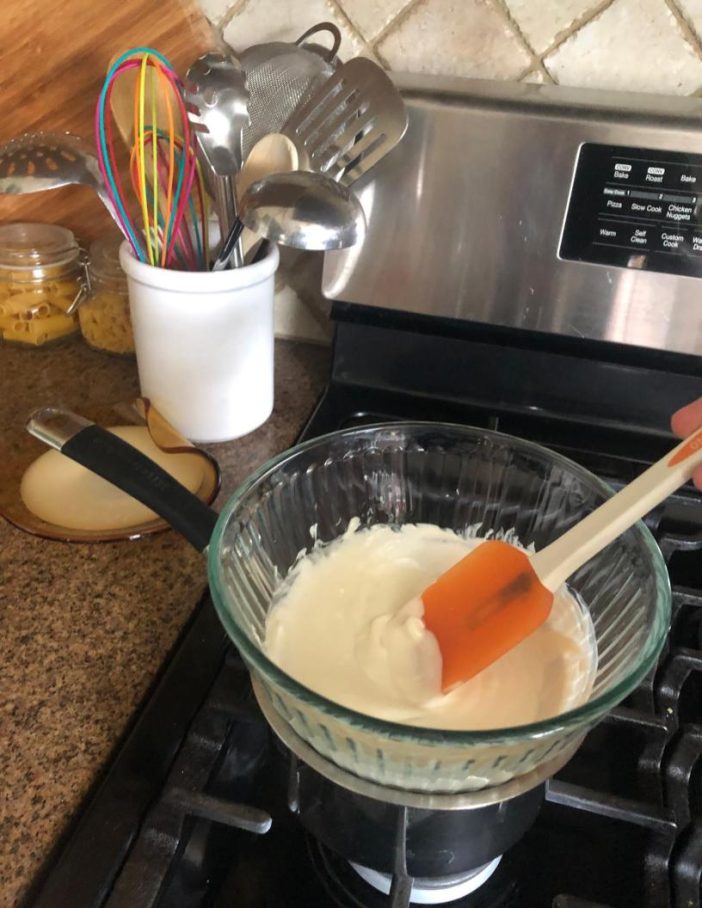 What you need:
Small pot
Heat-safe bowl (ex. glass container)
Silicone spatula (or you can also use a wooden spoon)
White chocolate chips
Coconut oil
Food coloring (if desired)
First, take the heat-safe bowl and a small pot. Put about an inch of water in the pot and bring it to a simmer, about medium heat. Then, put the heat-safe bowl on top of it.
Take about half the bag of white chocolate chips and about a tablespoon of coconut oil (it's not an exact science) and put them in the heat-safe bowl, turn the heat down to medium low.
Stir with the spatula (or wooden spoon) constantly, and make sure you scrape the bottom.
Once the chocolate is shiny and completely smooth, you can add food coloring if desired.

Some Important Tips When Melting Chocolate:
Chocolate, especially white chocolate, is prone to something called seizing. This is when the chocolate becomes dry and unusable. Seizing chocolate looks kind of like frosting, the longer it goes without being fixed, it gets thicker and thicker. Seizing can happen for a number of reasons but primarily too much moisture or too high heat. Here is how to prevent and fix these problems should they occur.
Tip 1: Always make sure that the bowl you are going to melt the chocolate in is completely dry. If you leave any water droplets in the bowl, then the chocolate will absorb it and seize up. Now this may seem counterintuitive, but if your chocolate starts seizing up, add about a tablespoon of water and stir quickly to incorporate it. If you do this fast enough, it will fix the chocolate. I know it sounds weird, but just trust me on this one.
Tip 2: Once the water in the double boiler is at a simmer, reduce to medium-low heat. You want it to be hot enough to melt the chocolate, but not dry it out. Experiment to find the sweet spot, it's just below medium on my stove.
Tip 3: White chocolate is slightly harder to melt than regular chocolate because it doesn't have all the same ingredients as regular chocolate. So always add a little coconut oil. The coconut oil will act as a buffer by making it much harder for the chocolate to dry out. Think of it as your margin for error.
How to Make Elemental Chocolate-Dipped Pretzel Rods:
Now the recipe for a very easy Elemental dessert:
Step 1: Gather and prepare ingredients and supplies.
Ingredients and Supplies:
1 bag of white chocolate chips
Red, Yellow, and Blue Gel food dye
Pretzel Rods
Coconut Oil
Sprinkles: whatever your preference, but I used orange, yellow, and blue
small pot and heat-safe bowl
Cookie Sheet
Parchment paper (or wax paper)
Regular spoon
A Few Sprinkles in the perfect 'fire' and 'water' colors are really all you need. Here are a few ideas, but Amazon has so many choices!
Step 2: Prepare a cookie sheet by putting a piece of parchment paper greased with coconut oil on it.
Step 3: Melt about half a bag of chocolate chips, following the method described above.
Step 4: Take a silicone spatula and glob the melted white chocolate onto pretzel rods about 2 inches from one end. Spread the globs in a downward motion so it spread it across the length of the pretzel and also drops the excess back into the bowl. Smooth it out as best as you can. Then, place the dipped pretzels on the parchment paper cookie sheet.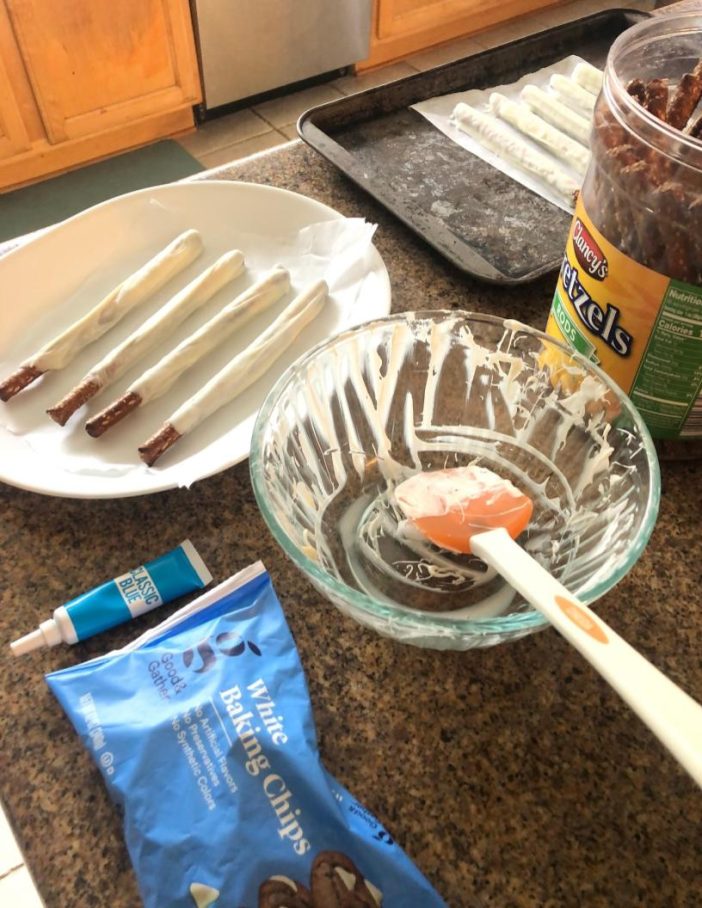 Step 5: Put the cookie sheet into the fridge or freezer. Melt about a third of the remaining chocolate following the previous instructions and add yellow and red food dye after the chocolate is melted.
Step 6: Get the pretzels out of the freezer and use the regular spoon to drizzle the colored chocolate on half the pretzels. The best way to do this is to get a big spoonful and flick it back and forth so it comes off in thin lines. If your chocolate is too thick to do this, add a little extra coconut oil to thin it out. If you have extra colored chocolate after finishing drizzling half your pretzels, put it on some un-dipped pretzels. Then you can go back later and add white-colored drizzle to have some with the colors reversed. Add sprinkles if desired and put them back in the freezer to set.
Step 7. Repeat step 6 with half of the remaining chocolate chips, only dye it blue this time.
Step 8. Melt all the leftover chocolate chips and drizzle over the all-orange and all-blue pretzels you made with the color drizzle leftovers. Add sprinkles if desired.
Step 9. Enjoy!
We hoped you like the recipe for our easy Elemental dessert – Elemental Chocolate-Dipped Pretzel Rods! If you enjoyed this recipe, be sure to check out our Easy Elemental Cupcakes!
If you haven't seen Elemental yet, it comes out June 16th in theaters. Our site will update when it is available for home viewing.
Pixar Animation Studios revealed details about its 27th feature film, "Elemental," which will release on June 16, 2023. Directed by Peter Sohn ("The Good Dinosaur," "Partly Cloudy" short) and produced by Denise Ream ("The Good Dinosaur," "Cars 2"), the film journeys alongside an unlikely pair, Ember and Wade, in a city where fire-, water-, land- and air-residents live together. The fiery young woman and the go-with-the-flow guy are about to discover something elemental: how much they actually have in common.