Easy Elf on the Shelf Idea – Olaf "Do You Wanna Build a Snowman?"
I love Elf of the Shelf, but I especially love Disney themed Elf on the Shelf. If you are looking for easy, Disney themed ideas for your Elf on the Shelf, this is a fun one! Fans of Disney's Frozen and the loveable snowman Olaf will think this is really funny! This is an easy and inexpensive Olaf themed Elf on the Shelf idea that will only take minutes. Have your elf ask the question "Do you want to build a snowman?" with this easy craft that you can make with simple paper and your home computer! With Frozen 2 hitting theaters this holiday season, kids are sure to like this easy Frozen themed Elf on a Shelf Idea!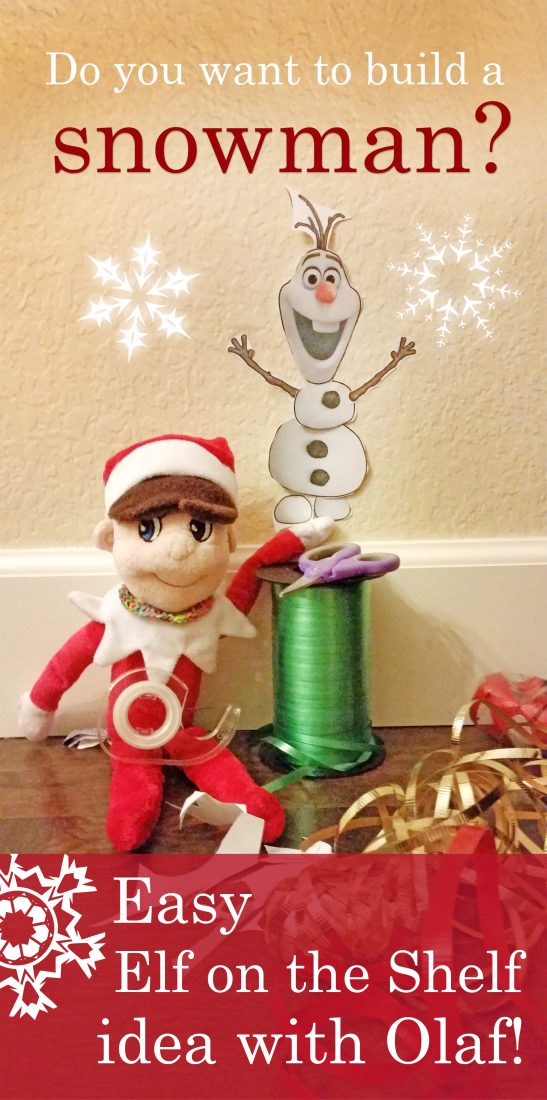 FROZEN Elf on the Shelf idea!
Frozen Two is a run away hit. Frozen fever has hit the world and even Elf on the Shelf is getting into it! Elf is a magical being that would obviously hang out with Olaf and all his friends, right? If Anna, Elsa, and the rest of the Frozen cast participated in this holiday tradition, they would surely build a snowman. What is best about this is that it is so easy. I do not like complicated Elf ideas, this can be done in a few minutes and it is just as easy to clean up.
I am all about Easy Elf on a Shelf Ideas, in fact last year we shared our "Mediocre Elf on the Shelf Ideas". Our kids love it, we know they are only little once so we try to participate in as many fun holiday traditions as possible including Elf on the Shelf. We never do anything very elaborate but I wanted to share the kid's favorite new addition that we did last year that is SO easy! Frozen seems to be the movie that just won't quit. Our kids are still singing "Do You Wanna Build a Snowman" all the live long day…… still. Our kids love Olaf so I really wanted to find a way to incorporate Olaf into the Elf of the Shelf silliness.
It was really easy. Our kids love this Olaf printable – you can print it out for free and make your very own DIY Olaf! Just cut and paste him together for a fun craft, use it for cards, it is high resolution so you can even blow it up with an oversized printer for a fun Olaf Cardboard Cut out for parties and pictures.
Our kids have so much fun with this Olaf cut and paste I thought they would get a kick out of it if the Elf on the Shelf made a little Olaf craft too – and they did!
It's easy – just print out the free Olaf Printable (linked in the second paragraph), cut it out, tape it to the wall and stage Elf with all the necessities for crafting! Make sure to leave out little scissors and tape. Tada! It takes only a couple minutes and the clean up is really easy! If you have an Olaf fan who still has Frozen Fever my guess is they will be as excited by this as our kids were.
Don't miss our FUN Winter FROZEN Snowflake printables!
Do you have a fun Elf on the Shelf Idea? Leave it in the comment section so all our readers can check it out! Bonus points for easy peasy ones! Extra bonus points for Frozen Elf on the Shelf Ideas!