Easy Homemade Hummus without Tahini
Making Life Richer is here with an awesome easy homemade hummus without tahini recipe that you can make. Tahini is typically a staple with hummus recipes, but we don't often have it on hand. This recipe is simple and flavorful, you won't even miss the tahini. We make this dip for parties and even to pack in healthy lunches. Thank you to guest recipe blogger, Lisa for this easy and healthy recipe! You will never buy store bought hummus again. Simple recipes helps us save money and eat healthier. Read on to see how to make your hummus without Tahini.
Homemade Hummus Without Tahini
Click here to jump down to the Homemade Hummus without Tahini recipe ↓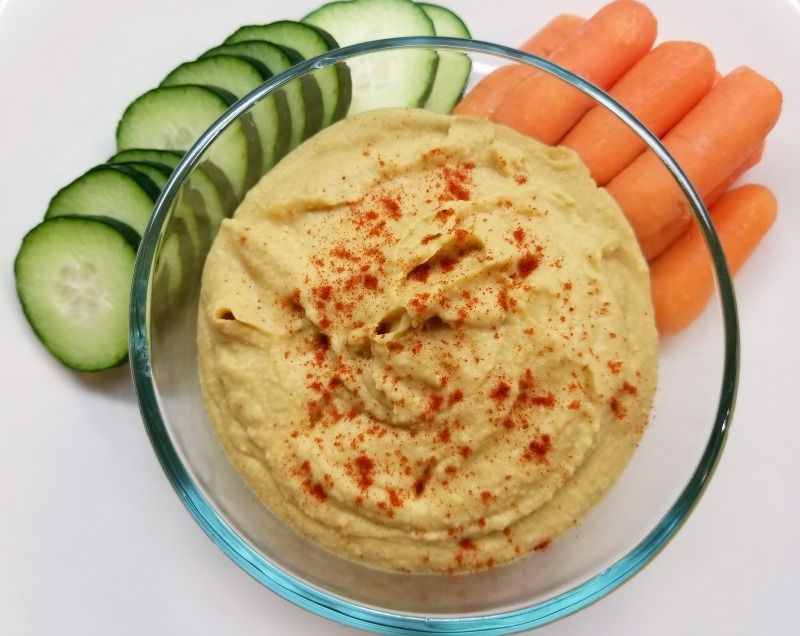 Imagine showing up at your friend's house for Book Club. You walk in and see this amazing spread of all the wonderful foods that everyone has contributed for the evening. And you think, "Will they turn their noses up at my hastily put together offering?" No need to worry. I've got you covered! Lisa, from Making Life Richer is here today to share an easy homemade hummus recipe that you can make at home without tahini!
If you are like me, between kids, after-school activities, work, house, and pets, I always forget to set aside the time to prepare a complicated dish. Or even a non-complicated dish that requires a lot of prep or cooking time. Hummus is one of those things that people tend to be impressed with if it is homemade, but the secret is that it is so easy to make!
If you don't want to whip up something from scratch you can just stop by the store on the way, but let's not mention the fact that I am usually running too late to stop at the store. And, to be honest, I'd rather save the money spent on that last minute grocery store stop for a date night with my husband. But that doesn't mean I want to show up at an event empty handed or with something really sloppy. I just like to be cost efficient at the same time.
You might be wondering how to solve this dilemma. The answer is Homemade HUMMUS!
Whether you are bringing an appetizer for Book Club or just want to eat healthy, hummus is a great choice! Hummus can be made very allergy friendly. And when you make it yourself, you can make it free of the top 8 allergens including dairy-free, soy-free, and, of course, gluten-free.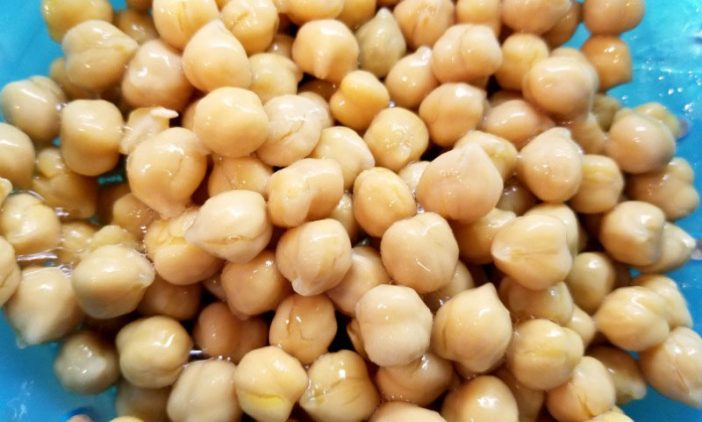 Hummus is made out of garbanzo beans (otherwise known as chickpeas), which are a great source of protein and fiber, as well as a folate and manganese. They also have a bunch of other good for you stuff in them. (Source: Food Facts presented by Mercola) So, in addition to being healthy, making garbanzo beans into hummus makes them extra yummy!
I know you can buy hummus at the store on one of those last minute trips. But it is just so much easier to make it yourself! Seriously, like 5 minutes of "work." Especially considering that waiting in the checkout line right after work totally stinks and can take half an hour! And it is super tasty and WAY cheaper to make your own at home. Plus, this way you can tailor it to your family's dietary needs or flavor preferences. Which, I think, is pretty important.
And to make it even better, this simple homemade hummus recipe is great because it doesn't even require unusual ingredients that might require an extra trip to the store or a hunt around town to find special ingredients. If you are curious, this recipe leaves out tahini (sesame seed paste).

To be honest, I haven't had hummus with tahini for a couple years due to an intolerance of sesame seeds, and I haven't even missed it! Added bonus: this recipe doesn't require me to buy a jar of the stuff and let it go bad in between hummus batches.
I keep a can or two of garbanzo beans around just in case I have the desire or need to make a batch of hummus. It is seriously that easy! Though the most common type of chickpea appears round and beige, other varieties can be black, green, and red. You can purchase cans of chickpeas at nearly any store, or online. We also often buy dry garbanzo beans and make them in large batches in our Instant Pot. Either way, garbanzo beans are a perfect staple to have in your cupboard for a variety of dishes and dips.
For a delicious homemade hummus recipe to enjoy at home or bring to Book Club, this can't be beat!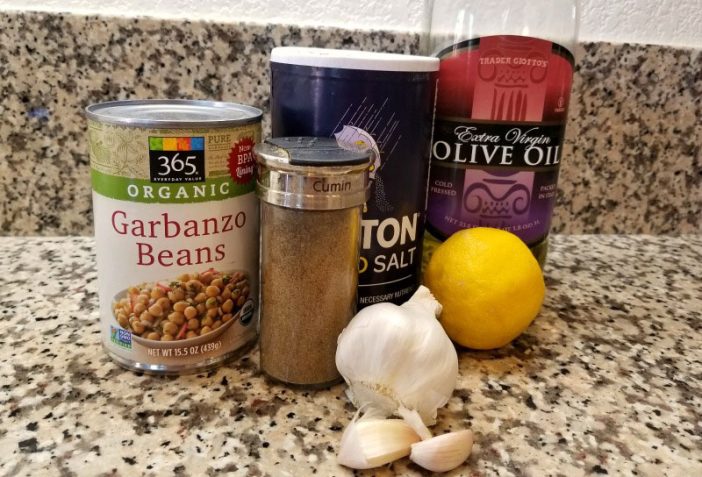 I hope you enjoy the healthy, deliciousness of this simple homemade hummus recipe!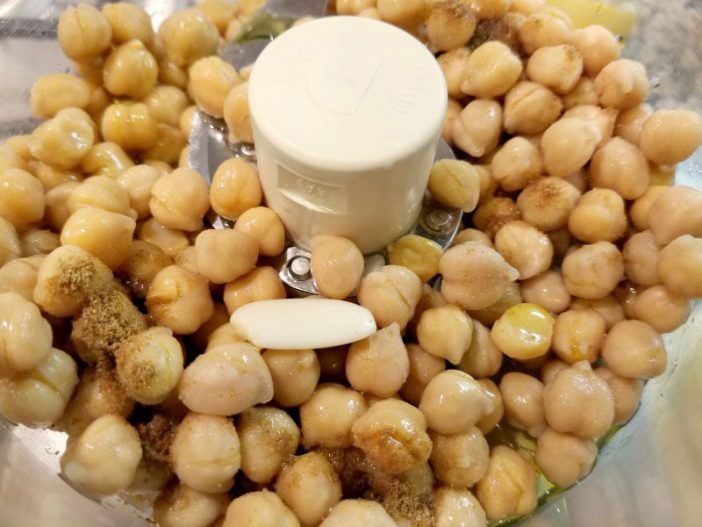 Easy Homemade Hummus
Prep Time: 5 minutes
"Cook" Time: 5 minutes
Ingredients
1 15.5 oz. can of garbanzo beans/chickpeas, drained and liquid reserved
2 Tbsp olive oil
1 ½ Tbsp lemon juice
3-4 Tbsp reserved liquid
1 medium to largish garlic clove
¼ tsp salt
½ tsp cumin
Paprika for garnish (optional)
Instructions
Drain garbanzo beans and reserve liquid for use.
Add all ingredients to food processor and process until smooth. Usually 2-4 minutes. (Scrape down sides of food processor as necessary to ensure everything gets processed.)
Transfer hummus into a serving dish, cover and refrigerate for 4 hours (or overnight is best) for flavors to fully develop.
Sprinkle with paprika and serve with sliced, raw veggies or pita chips.
(Note: During a taste tests, most everyone, including my 5-year old and 10-year old preferred the hummus with cumin, but my 7-year-old liked it better without. You can leave it out if you prefer.)
Need a few more reasons to want to add Chickpeas to your diet? Chickpeas, or garbanzo beans are delicious. These tasty beans are also a perfect source of vegan protein. Garbanzo beans are extremely inexpensive and can really help you stretch your budget while trying to be healthy. Additionally, chickpeas contain vitamin K, folate, phosphorus, zinc, copper, manganese, choline, and selenium. Besides being an excellent vegan and gluten-free source of protein and fiber, chickpeas also contain exceptional levels ofiron, vitamin B-6, and magnesium.
60 EASY VEGAN RECIPES HERE!
Many people make hummus because it is a vegan source of protein. Please make sure to check out our Vegan Treats at Disneyland post! You will be surprised by how easy it is to find vegan options even at the Happiest Place on Earth!
Don't miss our Step by step sourdough bread recipe!
Lisa is the blogger/writer at www.MakingLifeRicher.com. She is a busy wife and mother of 3 children. When she isn't taking care of her family (which includes a dog, a bird, and ~100 fish) or working on the blog, Lisa loves to read, garden and dream about being on Dancing with the Stars.
One more fun fact about Chickpeas in case you have not had your fill; the chickpea or chick pea is an annual legume of the family Fabaceae, subfamily Faboideae. Its different types are variously known as gram or Bengal gram, garbanzo or garbanzo bean, and Egyptian pea. Chickpea seeds are high in protein. Thank you to Wikipedia for that little nugget of information.