Easy Indiana Jones Costume No Sew DIY
Disclosure: Highlights Along the Way is a participant in the Amazon Services LLC Associates Program, an affiliate advertising program designed to provide a means for sites to earn advertising fees by advertising and linking to amazon.com.
Indiana Jones is a perfect costume for kids of all ages; but especially teens and tweens. Our son threw together this last minute costume to hang out with friends and trick or treat in the neighborhood. Our son did not want a costume that looked over the top or 'weird'. Indiana Jones is a great costume for boys who don't really love to dress up or stand out too much.
Thrifted Costume Pieces – Indiana Jones
One thing we love to do for most costumes is to find pieces at thrift stores. Using second hand items is a great way to reduce waste and also save some money. The pieces we needed for Indiana Jones are very simple to find at a thrift store. You will need a pair of khaki pants, an off white or khaki long sleeved shirt, a messenger bag, and a brown hat. If you are lucky; you might also find a brown leather jacket. We unfortunately did not find the jacket or hat; but purchased the hat on Amazon.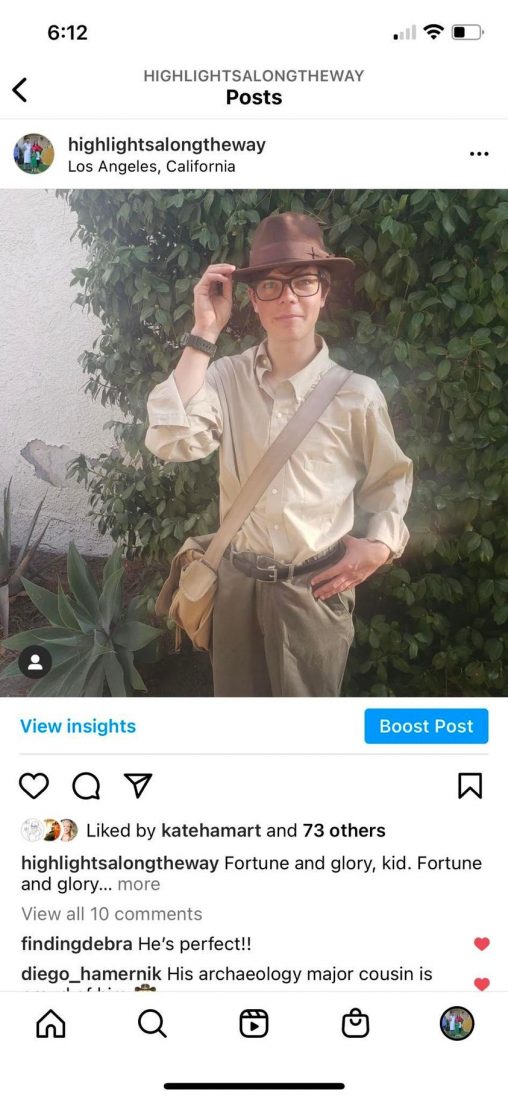 We love to thrift as many real pieces of clothing as possible when creating a Halloween costume. We can sometimes incorporate these pieces into our regular wardrobe in the future. If the items used are not items our kids would otherwise wear; we promptly wash and return to the thrift store so they can be used by someone else. Real clothing items almost always look better than the cheap 'fast fashion' costume pieces we could buy as an actual costume. We feel this is one small way we can cut down on unnecessary waste in our purchases.
While there are several options, this Indiana Jones Hat worked perfectly and was only about $20 shipped. I am sure we could have found a brown jacket for Indiana Jones if we had more time to look; perhaps we will update next year. This hat will be used several times for costumes in the future and can even hang on the wall as decor during the year.