Easy Peanut Butter Cheesecake & Graham Cracker Houses
Disclosure: This shop has been compensated by Collective Bias, Inc. and its advertiser. All opinions are mine alone.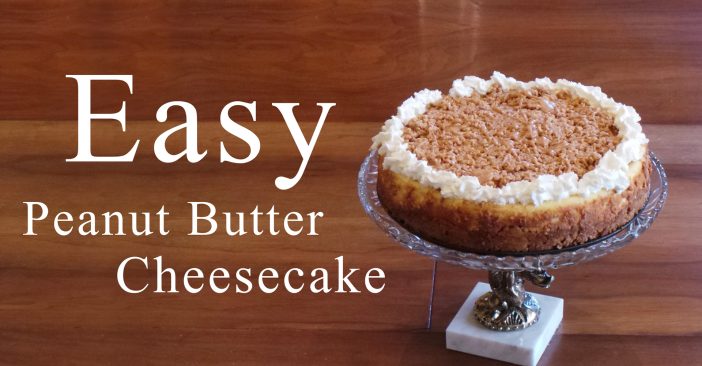 Fun fact – In college my husband used to bake and sell cheesecake during the holidays for extra money.  My husband is not a trained chef or baker, but he has some really awesome and super simple recipes up his sleeve.  If you are looking for some easy baking ideas, this is a great one!  His peanut butter cheesecake was always the most popular with friends and customers, and it is what is most requested at our family gatherings.  I am so excited that he is willing to share his Easy Peanut Butter Cheesecake recipe with our readers.  You can thank us later for being such a hit at your holiday party!
#PBandG #CollectiveBias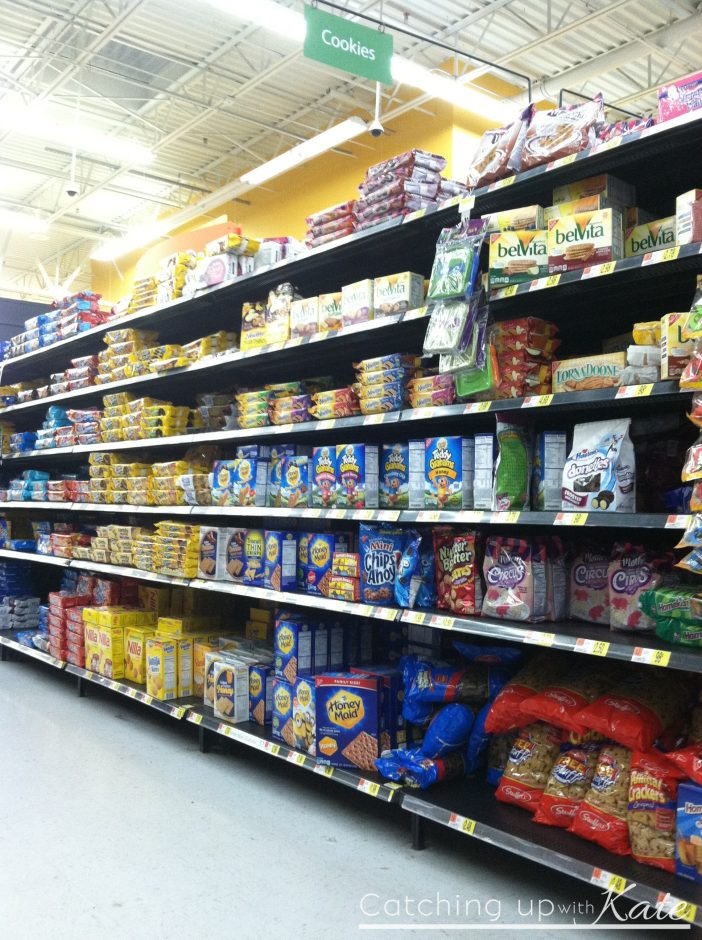 We used Honey Maid Graham Crackers and Skippy Peanut Butter for his recipe. Hot tip – Walmart currently has a coupon for Honey Maid Graham Crackers – just click and print!  We tend to shop at Walmart because it is close and convenient and they have all the other things we need too.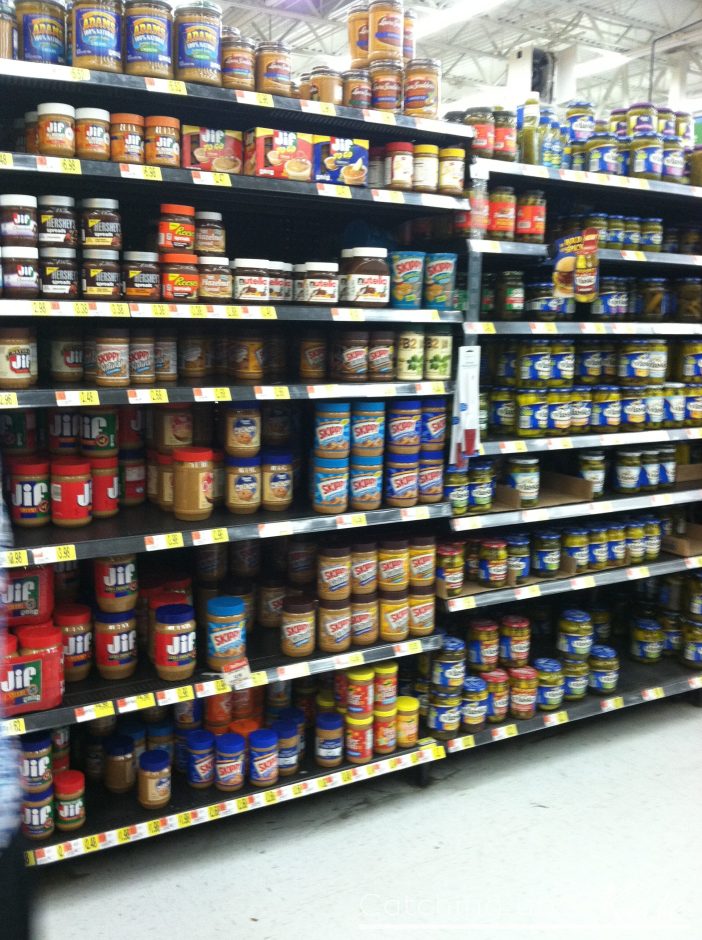 While Daddy was working on his masterpiece cheesecake the big kids and I got creative with some Graham Crackers and made some EASY graham cracker houses.  If your kids want to build their own graham cracker house it is really fun!  First Harry is going to share his awesome recipe, but keep reading and we will show you how to make an easy peasy DIY graham cracker house too!
Easy Peanut Butter Cheesecake
Ingredients:
1 box of Honey Maid Graham Crackers (3 packets of 10 graham crackers)
1 jar of Skippy Smooth Peanut Butter
8 tablespoons of butter
4 eight ounce packs of Cream Cheese (low and non-fat do not work with this recipe)
1 cup of sugar
1 tablespoon of vanilla
4 eggs
Optional: Canned whipped cream
Preheat oven to 325 degrees
The Crust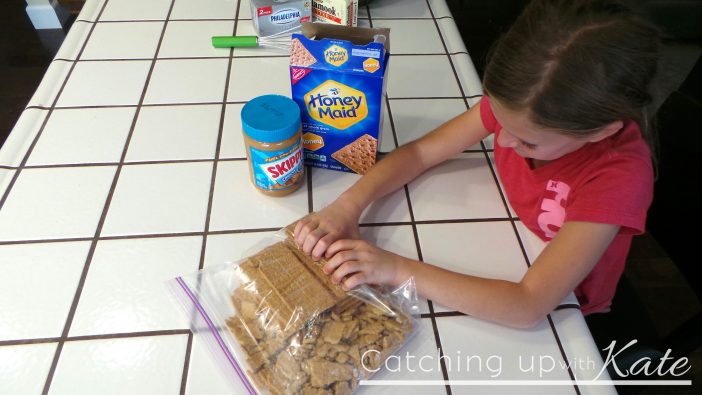 Crush 2 packs of graham crackers into crumbs. We put them in a zip lock bag and smash it with a rolling pin.
Melt 6 tablespoons of butter.
Mix butter and Honey Maid graham crackers in a bowl
Smash into the bottom of a 9 inch springform pan. Spray or lightly grease the pan first. It should be a thin layer, but you should not see the bottom of the pan.
Bake for 8-10 minutes. Remove from oven and let cool for a few minutes.
Warm 1 cup of Skippy Peanut butter in a microwave safe bowl for 30 seconds or until soft.
Spread over the crust in a thin layer. Do this as best you can. The crackers will stick to the peanut butter.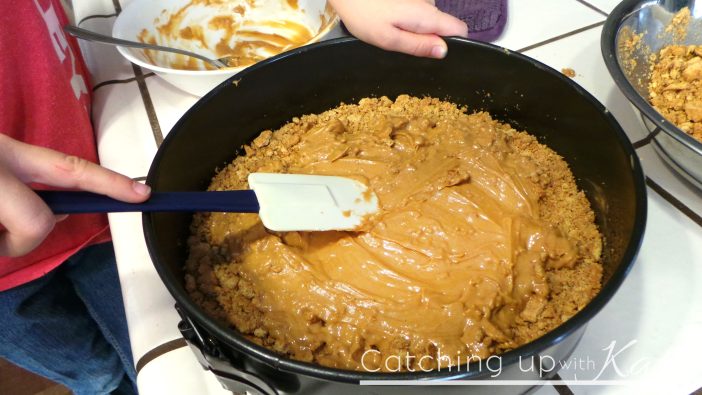 The Cheesecake
Set the cream cheese on the counter to soften before mixing.
Mix the cream cheese, sugar and vanilla in a mixing bowl. Use the lowest speed if using a mixer.
Beat in eggs at a low speed until mixture is blended. Do not over blend or mix at high speeds.
Pour over crust .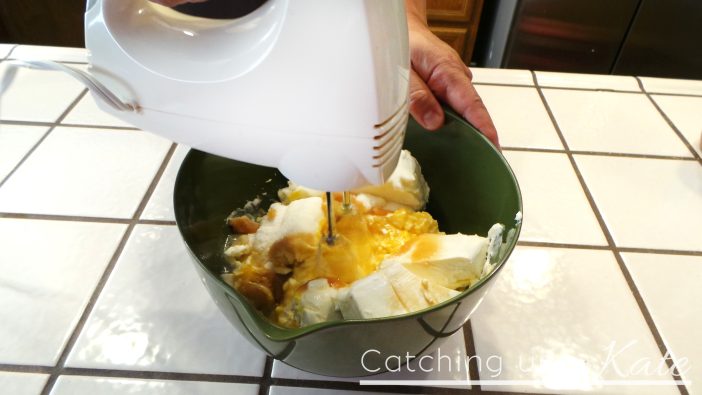 Bake
Bake for 50-60 minutes. Do not open the oven to check on it. The cheese cake is done when center is set. To test, keep the oven door shut and oven light on, lightly tab on the oven so the cheese cake jiggles. If it jiggles evenly from the edge to the center, it is ready.
When done, remove from the oven and let it sit on a cooling rack in the pan for 15 minutes.
After 15 minutes, use a knife to separate the cheesecake from the edge of the pan.
Let the cheese cake cool completely, then refrigerate for at least 4 hours.
The Toppings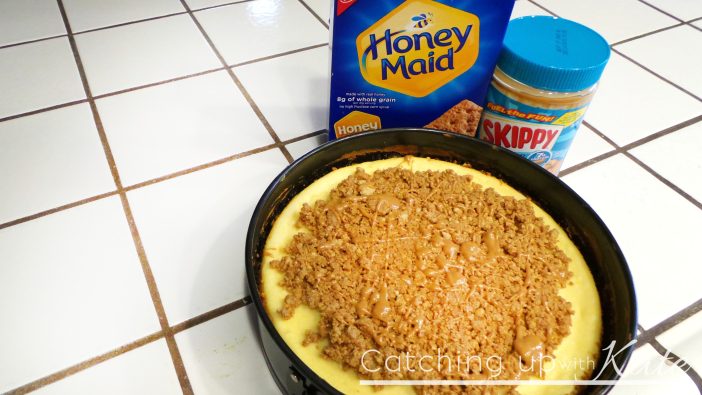 Crush the last package of Honey Maid graham crackers in a bowl.
Melt 2 tablespoons of butter in a bowl with 1/4 cup of peanut butter. I do this on medium power in the microwave for 40 seconds.
Mix the butter and peanut butter, then pour over the graham cracker crumbs. Mix together and spread over the cheese cake.
Optional Drizzle. Melt some more butter and peanut butter and drizzle in a checker pattern over the top of the Graham cracker topping.
Line the edge of the cheesecake with whip cream and serve!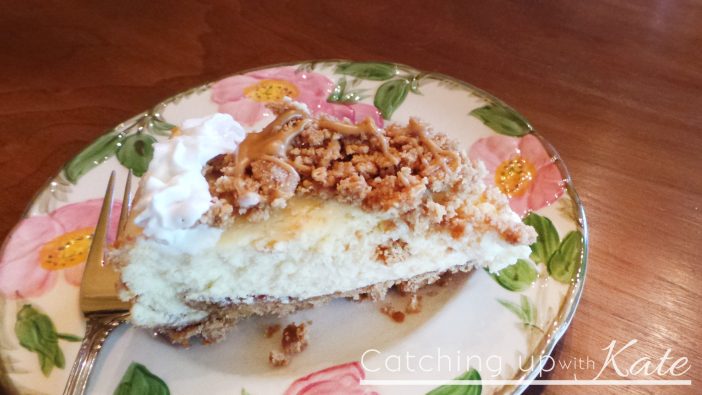 *So So Good!*
Easy and fun kid's activity – Graham Cracker Houses!
As I said before, while Harry was baking away the kids and I worked on Graham Cracker houses.  These Graham Cracker houses are not going to win any prizes but I think they are totally age appropriate and lots of fun.  Two years ago we tried to make some fancy gingerbread houses and we were way over our heads.  Last year we started making Peanut Butter and Graham Cracker simple houses and guess what?!  Simple is a lot more fun for my kids.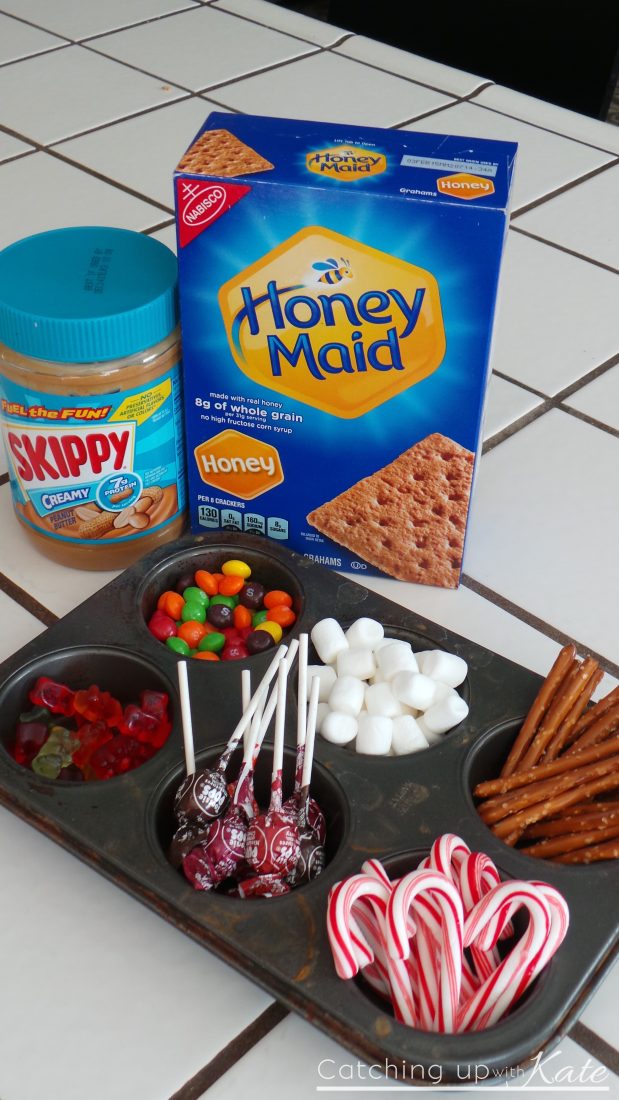 If you are looking to make a simple Graham Cracker House these are our simple steps.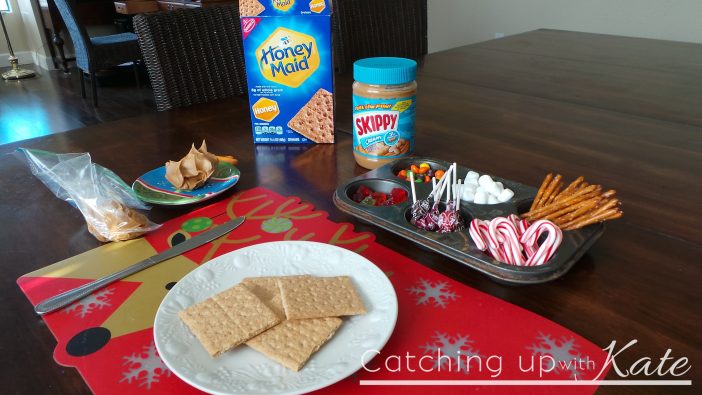 Building Supplies
Box of Honey Maid Graham Crackers
Jar of Skippy Peanut Butter (we used smooth)
mini marshmallows
left over Halloween candy (whatever you've got – we used skittles, tootsie pops, & gummy bears)
pretzel sticks
mini candy canes
chocolate candy bar that breaks into small rectangles
Process
break three graham crackers in half – making 6 squares
spread a layer of  peanut butter on the bottom of your plate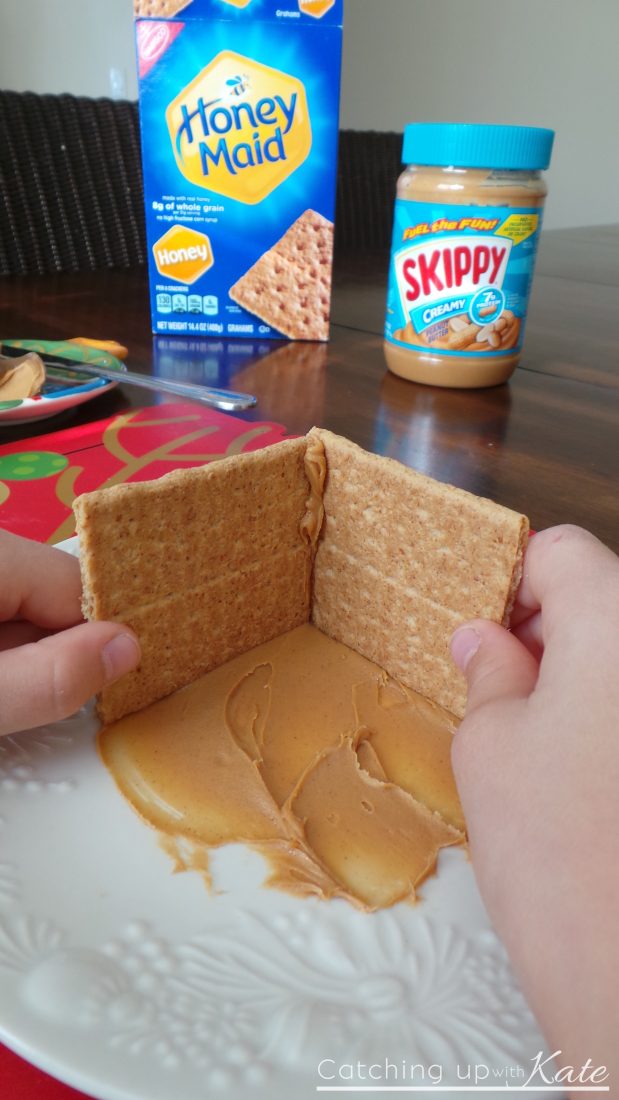 on the edges of your first graham cracker spread peanut butter – this will be your 'glue'
stand your graham cracker up and add a 'wall' to each side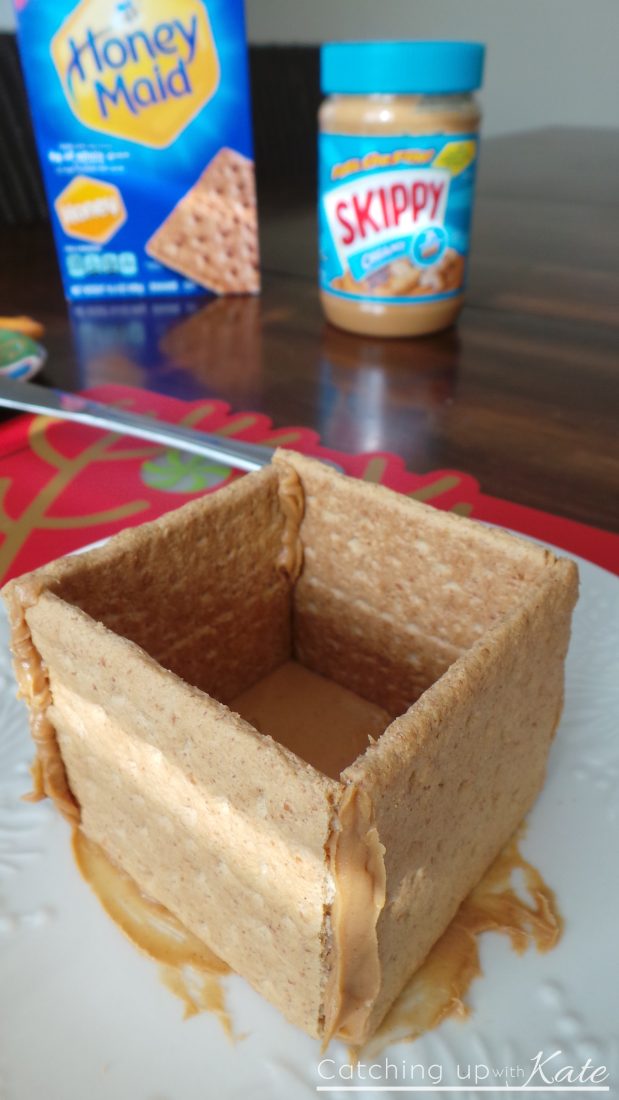 once you have four walls, add a peaked roof with the last two pieces of graham cracker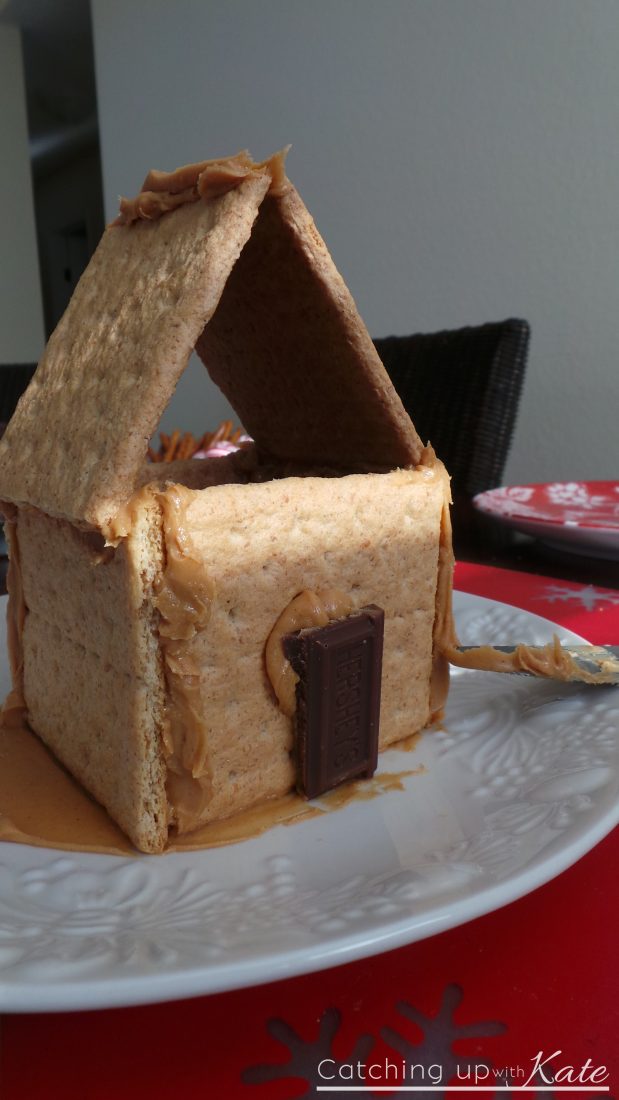 once your house is built it is time to decorate – we use more Skippy as 'glue' and decorate however the kids want!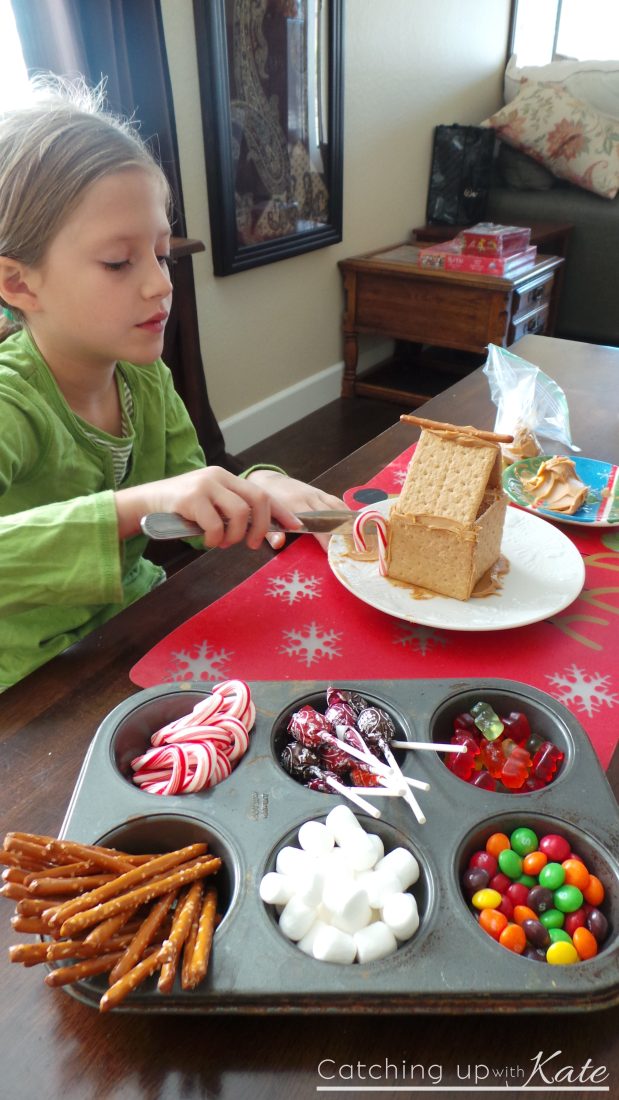 once it is done, take a quick picture and then let them devour it! 😉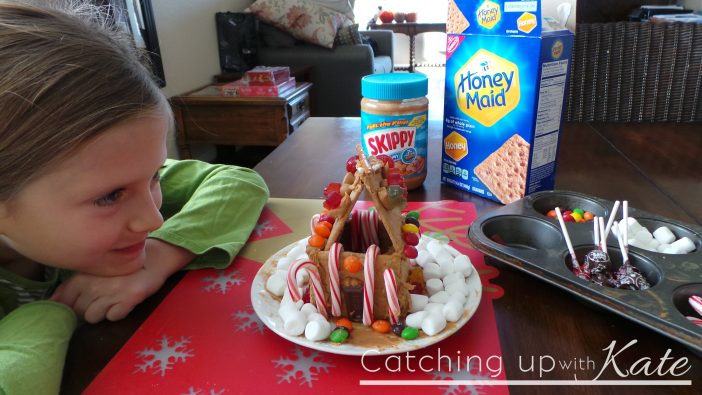 Again, this is not at all fancy but it is a fun, no stress craft that our 8 year olds really enjoyed.  This was a little hard for the baby (3 years old) who just decided about 4 minutes in to just smash and eat it; which was fine too!  Hot tip – be generous with your peanut butter – it is excellent glue!  If the temperature warms up though your house will collapse!
Graham Cracker houses are a really fun activity while kids are on break from school or something to keep them entertained while you are prepping for the holiday feast!  Happy Holidays friends!