Easy Recipe : Kale and Pasta
Disclosure : Whole Foods Market La Jolla provided us with our ingredients.
Who is looking for an inexpensive and delicious recipe? Today I am sharing one of our family's favorite recipes again. Kale and cherry tomatoes are some of our favorite simple ingredients. Whether you use frozen veggies or fresh, it works! My favorite addition is pumpkin seeds, but this is versatile and you can add in whatever you want!  This Easy Recipe Kale and Pasta, is adapted from Budget Bytes (I seriously LOVE Budget Bytes and you should totally follow her!)
This Kale Pasta recipe is one of the first posts I ever shared on Highlights Along the Way (back when it was called "Catching Up With Kate".  This recipe has continued to be extremely popular and I thought it might be fun to reshare. If you are looking for a simple Meatless Monday option or a meat free option for Lent, this is perfect.  With a few tweaks to this recipe, you can take it from vegetarian to vegan.  I love using this recipe as a base and tossing in new veggies or proteins.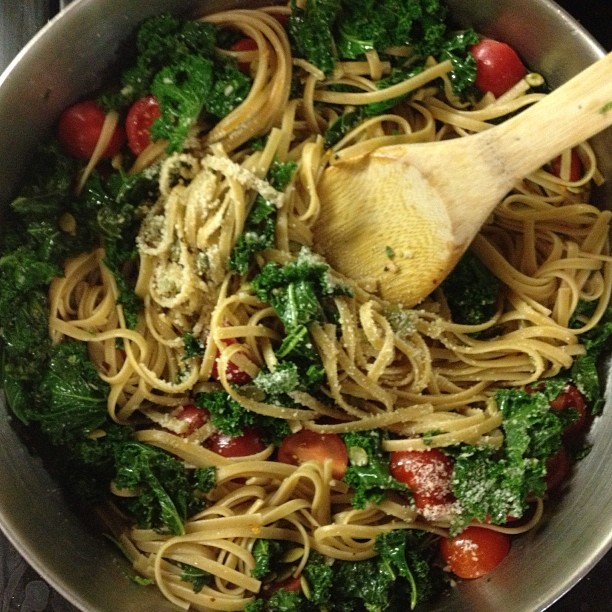 So are you ready for a super easy, healthy, and inexpensive recipe? Well this is it. This takes little more effort than a jar of spaghetti sauce and a box of pasta but it is so much better.  This recipe can easily be modified to be vegan friendly by swapping out butter and Parmesan cheese for a dairy free option.  If you are looking for more protein you can easily add in cooked chicken or a can of garbanzo beans.
First, let me present to you a few benefits to eating kale.  Kale is one of the most nutrient dense veggies you can find at the grocery store.  It is generally very inexpensive.  While kale may be considered an acquired taste, we have found we love it cooked! Kale is full of vitamins! Make sure to add curly kale for some vitamin A, C, K, B6, calcium, potassium, and more! Kale also have 3 grams of protein per serving.  Many people do not realize that veggies are actually a great source of protein. Kale is packed full of cancer fighting nutrients. Kale is also high in beta-carotene.  Shall I go on? I mean, I could…. but I know you probably just want me to get to the recipe, right?
This recipe is a perfect option for Meatless Monday, during Lent, or just as a quick meal any night of the week.
Kale Whole Wheat Pasta – Easy Recipe Kale and Pasta

Ingredients
A few leaves of kale – cut leaves off the stalk (throw out the stalk) – cut leaves into bite size pieces
Cherry Tomatoes
One package of pasta – we used whole wheat Linguine (I think whole wheat pasta tastes AMAZING with kale!)
Fresh garlic (two or three cloves)
Butter
Olive Oil
Parmesan Cheese
Pumpkin Seeds
Salt & Pepper
OK – so this is SO easy and my husband was all "This is super good, like it tastes like something I would order at a restaurant."  For real.  So check out how simple this is…..
Cook pasta according to instructions.
Crush fresh garlic into a pan and saute in butter for a couple minutes
Add in kale and cook with butter and garlic for about 5 – 10 minutes – until it gets all wilty and delicious
Mix drained pasta in with cooked kale (heat is turned off)
mix in halved cherry tomatoes
drizzle in olive oil (your preference)
dash in salt & pepper (your preference)
toss in pumpkin seeds
Serve!
Start to finish this recipe took about 20 minutes.  Make a big batch. This delicious and hearty pasta dish reheats beautifully. My husband took it to work for lunch. Bringing left overs saves time in a drive through, and it is way less expensive. Seriously, pin this and add it to your regular rotation! It is so delicious and so easy peasy! Are you following Highlights Along the Way on Pinterest yet? We have so many other fun recipes there too.