Easy Super Grain Salmon Burger Recipe
Disclosure: This guest post has been brought to you by Smart & Final
Vegetarians and Pescatarians will love this mouth watering summer recipe! Salmon burgers are the perfect twist on a classic summer cook out. I am thankful for our friends at Smart & Final for bringing us the following recipe. These Salmon and super grain burgers are easy to make. Prepare and freeze for the future. This healthy but indulgent twist on a summer staple is sure to be a family favorite!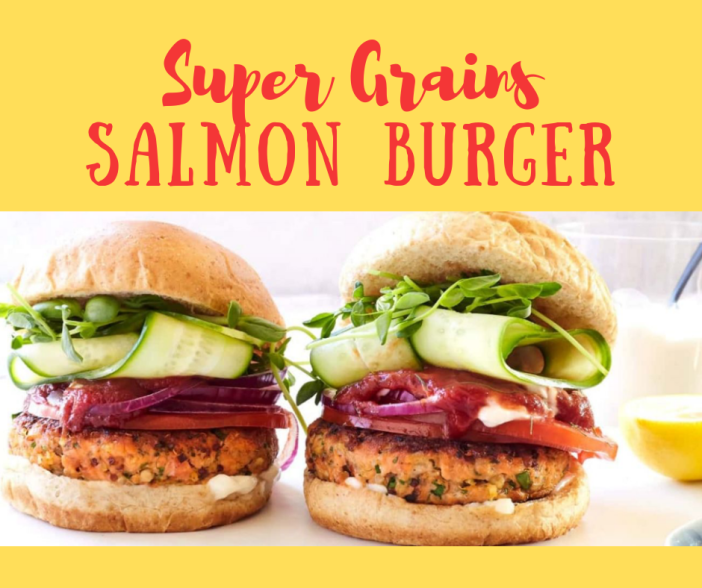 Last night, I saw a big sign at a restaurant that featured a reminder to eat seafood two times per week. Oops, I thought. While I personally love seafood – I think I could eat shrimp every single day and never tire of it – my kids are not fans. Since I try to avoid the life of a short order cook whenever possible by preparing meals the whole family likes, I do not eat it as often as I should or would like. For the most part my seafood consumption is a treat just for me when we eat out.
So first, why should you eat seafood two times every week? Well the list of reasons is long. Seafood is a lean protein, full of vitamins and minerals and is generally low in cholesterol. And many fish such as salmon and tuna are loaded with Omega-3 fatty acids, which are good for your heart, for your eyes, for your brain, and even good for your mood. Seriously, seafood is a powerhouse of nutrition in a lean protein package.
This reminder to eat more of it had me on a quest to find seafood recipes that I can make at home that the whole family will actually like. Those health benefits are real and are something the whole family truly needs. Everyone likes burgers, so let's start there – the familiarity of the bun and condiments seem like a good disguise to sneak in a burger patty of a different kind.
I found a recipe for a Super Grain Salmon Burger that sounded delicious, and it includes an organic super grain blend of quinoa, millet, and buckwheat that offers even more health benefits. The whole grains found in the Sun Harvest Organic Super Grains make it high in both fiber and protein. Plus, quinoa is a complete protein, so it's packed with all of the essential amino acids. And did I mention the grains are organic? I mean if we're going to do this, let's do it right! You can even make the burger with canned salmon to save money.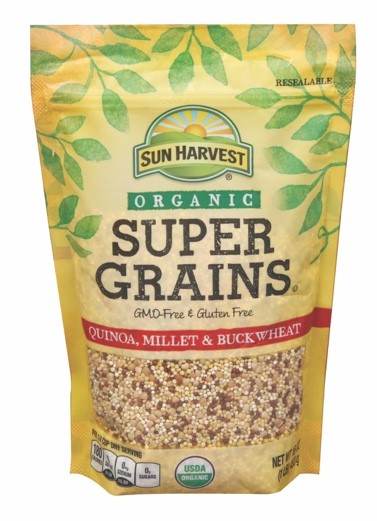 The recipe was developed by Registered Dietician, Patricia Bannan, so I knew I could trust the recipe to be healthy. And she created it for Smart & Final, so I knew the ingredients would be high quality and economical, too. This was very easy to prepare and so delicious! I'm thrilled to have found a new, healthy recipe to add to our rotation and am happy to be sharing it with you today!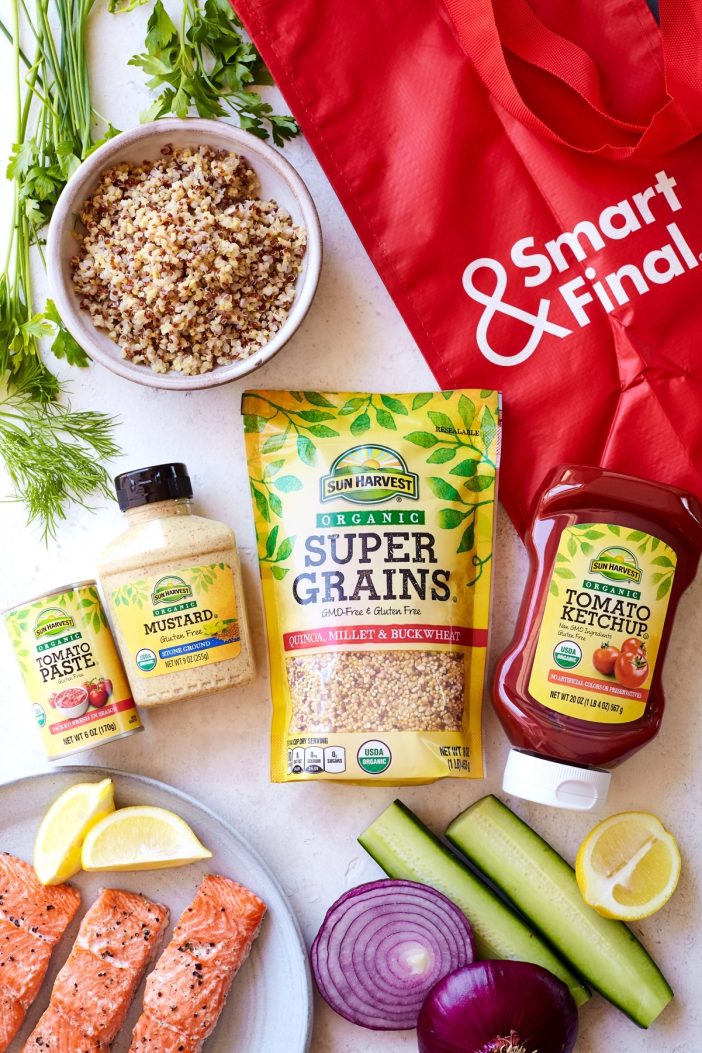 Super Grains Salmon Burger
CREATED FOR: SMART & FINAL BY PATRICIA BANNAN / MS RDN
Serves: 5
INGREDIENTS
SALMON PATTIES:
1 pound First Street* frozen salmon (or 14.75 oz. canned salmon)
1 cup cooked Sun Harvest Organic Super Grains* (mix of quinoa, millet, and buckwheat)
2 tablespoons Sun Harvest Organic Tomato Paste*
1 tablespoon lemon zest plus juice of ½ lemon
½ teaspoon garlic powder
¼ teaspoon sea salt
¼ teaspoon ground black pepper
2 large eggs
½ cup fresh chopped herbs (or 1 tablespoon dried herbs), such as chives and dill
1 tablespoon olive oil (for pan frying)
TO ASSEMBLE:
5 whole wheat hamburger buns
1 medium tomato, thinly sliced
½ red onion, thinly sliced
1 medium cucumber, thinly sliced lengthwise into ribbons
1 cup fresh greens
Your favorite condiments, such as Sun Harvest Organic Ketchup*, Sun Harvest Organic Mustard*, and/or mayonnaise
*Available at Smart & Final grocery stores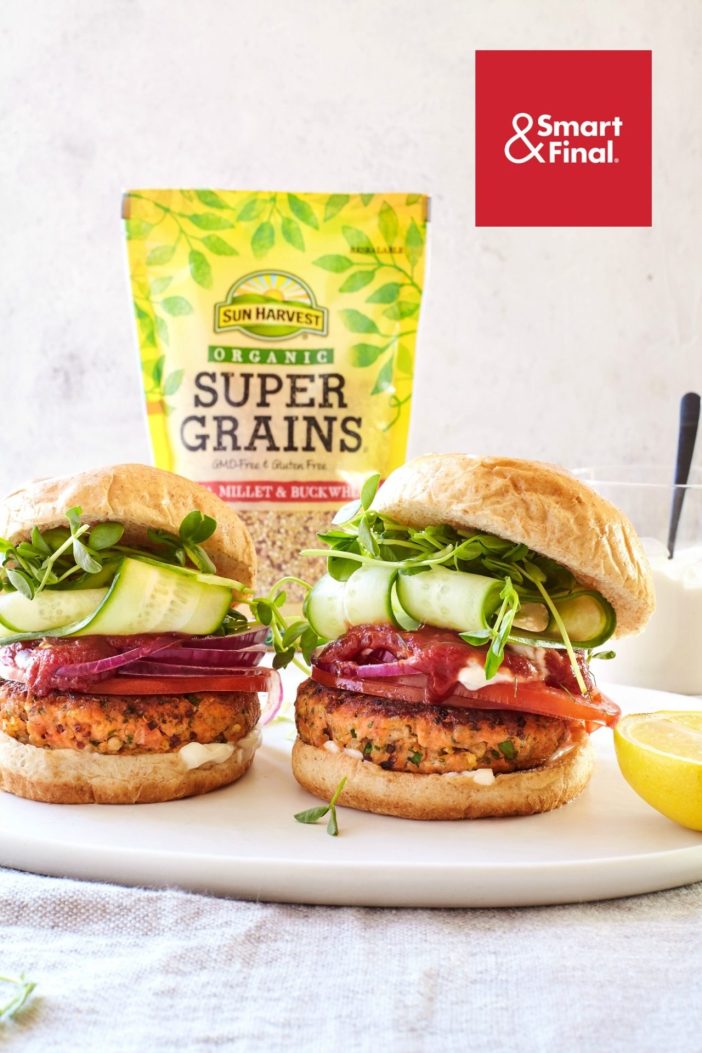 DIRECTIONS
If using frozen salmon, preheat the oven to 350ºF and line a baking sheet with parchment paper. (If using canned salmon, disregard this step). Season the salmon with salt and pepper and set on the parchment lined baking pan skin side down. Bake for 15 to 20 minutes until cooked through. Let salmon cool 10 minutes.
Place the baked or canned salmon into a large mixing bowl. Add the cooked super grains, tomato paste, lemon zest, lemon juice, garlic powder, and season with salt and freshly ground black pepper. Mix until well combined. Add the eggs and fold in the herbs until well distributed.
Form the salmon mixture into 5 patties about 1-inch thick. Heat a large skillet over medium-high heat. Add the oil to the skillet and cook for 3 to 4 minutes per side, until golden brown on the edges.
To serve, toast the burger buns and spread the bottom bun with mayonnaise or preferred condiments, place salmon patties on the bottom buns, and pile high with tomato, red onion, cucumber, and greens. Top with other desired condiments such as ketchup and mustard. Close with top bun and serve.
Notes
Patties can be formed in advance and will keep well for up to 2 days in the refrigerator or up to 1 month in the freezer.
NUTRITIONAL INFORMATION
Serves: 5
Per Serving: (without condiments) Calories 390; Total Fat 14 g; Sat Fat 2.5 g; Protein 30 g; Carb 37 g; Fiber 5 g; Cholesterol 125 mg; Sodium 490 mg