Fiesta Stuffed Peppers : Easy & Healthy Recipe!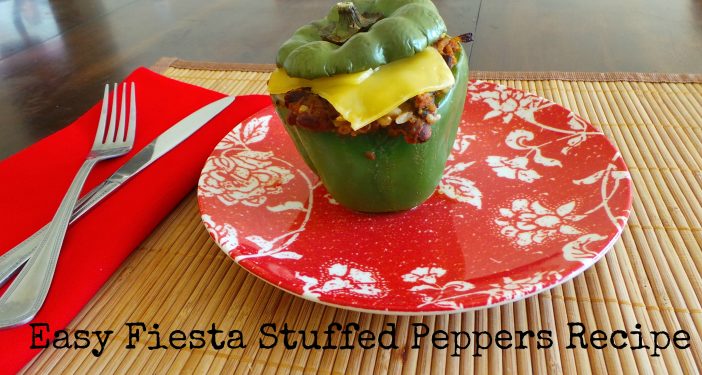 Our kids fell in love with Zucchini Boats last summer and now we are trying the same out with Stuffed Peppers and Stuffed Tomatoes.  Last year we had Zucchini Boats stuffed with Pizza, Fiesta, and Hamburger themes – we are planning on trying all of these out with Peppers and Tomatoes too!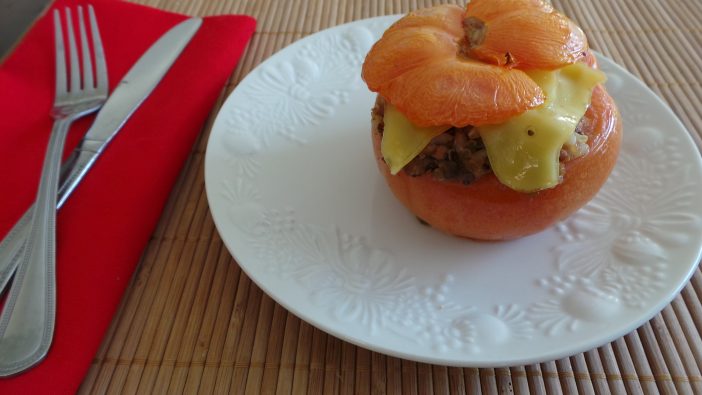 Today we are sharing a fiesta stuffed peppers that is SO good and can easy be used on tomatoes!  I am personally not a huge fan of Bell Peppers so I made the whole family Bell Peppers but I had a stuffed tomato – it is SO easy to swap this recipe out!
Stuffed Peppers and Tomatoes are great for those on a low carb, low fat, or even gluten free diet.  They are very filling and taste like you are eating something really decadent – but it can be super healthy!  They are also SO easy!  I cook my filling in the crock pot believe it or not!  Here is my easy recipe….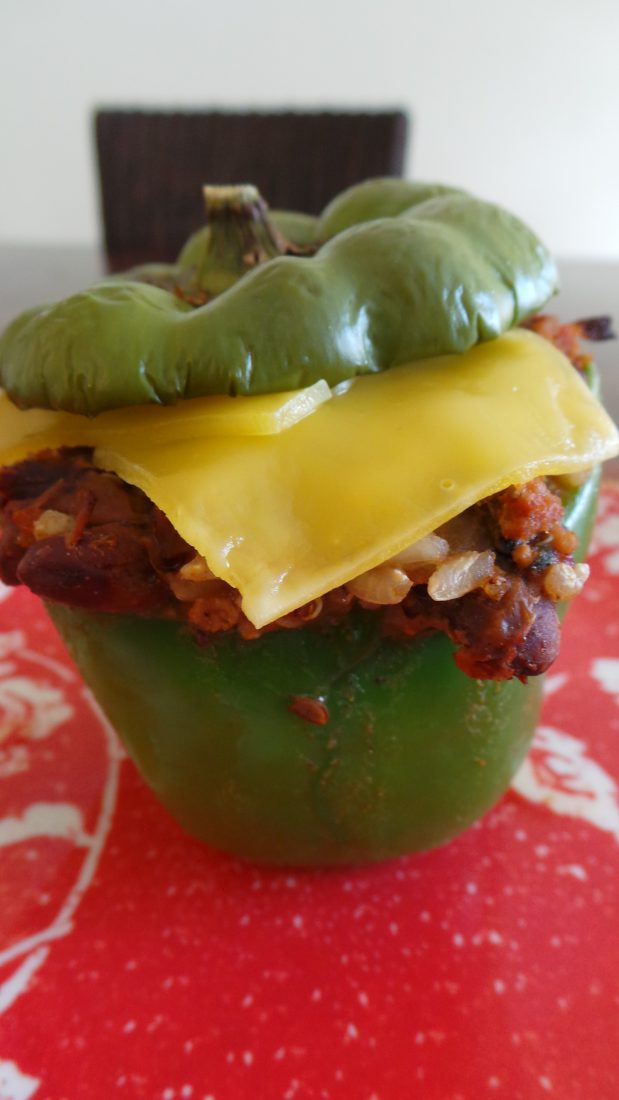 Crock Pot Fiesta Stuffed Peppers or Tomatoes
Ingredients
One package ground turkey
Four Large bell peppers or Tomatoes
Taco Seasoning
one onion diced
garlic minced (however much you enjoy)
Salsa
pre cooked pinto or black beans
pre cooked brown rice or quinoa (in my case I used a blend of the two)
Cheese – your choice
Process
Put Ground turkey in the crock pot (I put mine in frozen!)
Add in diced onion, jar of salsa, and minced garlic
Put Crock pot on high for four hours or low for six
Once cooked – stir in beans and rice/quinoa.  Note I am not putting an amount – just whatever amount you like, I like to stretch out our meat consumption so we have about half turkey to half everything else ratio.
Once stirred leave on 'warm'.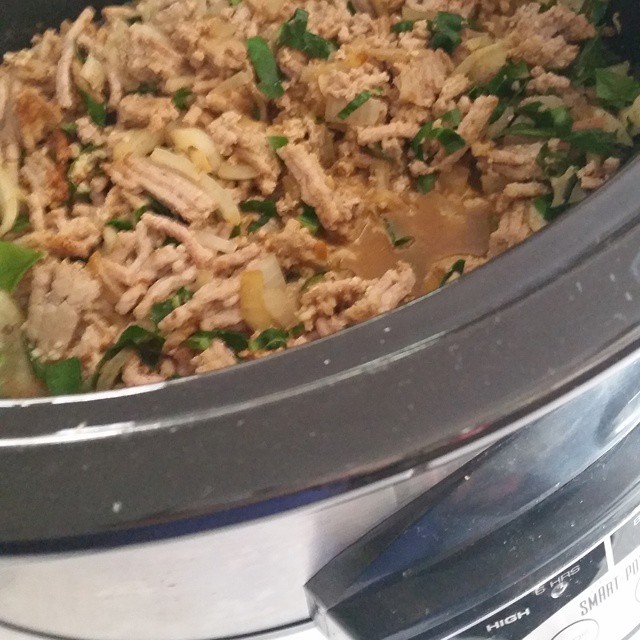 Preheat oven to 350 degrees
Wash & dry Peppers (or Tomatoes)
Cut the top off the Pepper and scoop out the insides.  Discard pepper insides but if you are using tomatoes put the insides in the crock pot with the rest of your stuffing!
Oil a glass pan large enough for your peppers/tomatoes
Scoop filling into your Peppers/Tomatoes
Sprinkle with Cheese of your choosing (hot tip – we used some vegan cheese slices that I discovered at the Natural Products Expo – it is DELICIOUS cold/room temp but we all agreed that it was not good warm – sprinkling the conventional stuff next time!)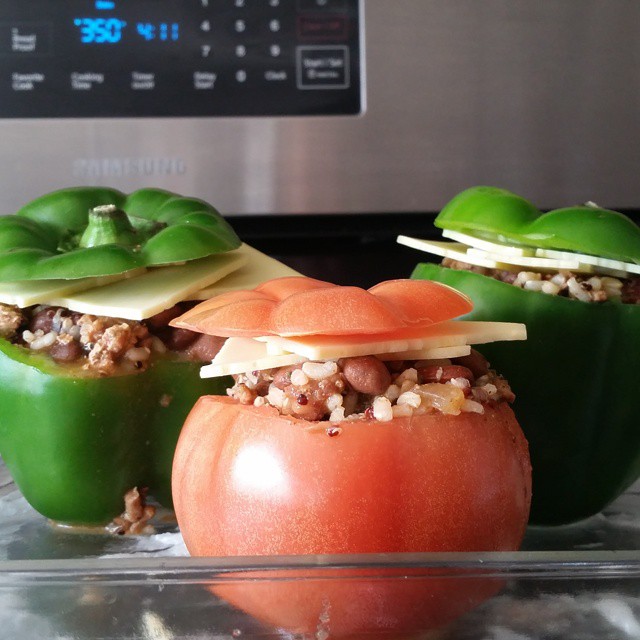 Then place your 'lid' (the top of the pepper/tomato) on top – this will help your little bowl of deliciousness from getting burnt on the top or drying out.  Some suggest covering with foil but I think the environment prefers the top hat version. (bonus – the top hat is adorable)
Cook for 20 – 25 minutes
Serve immediately!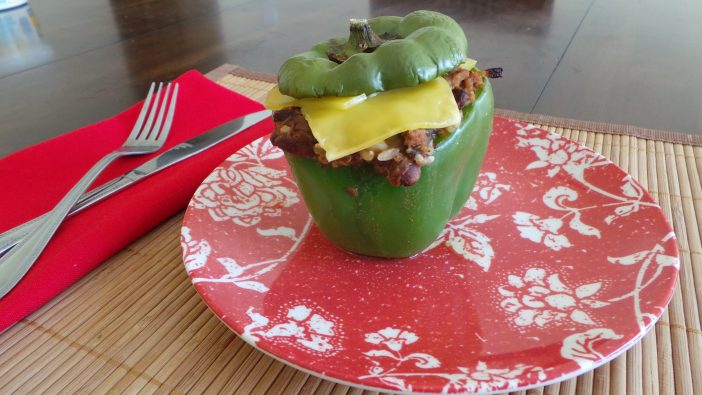 We have pepper and tomato plants in our back yard garden and we can't wait to grow and use our own instead of store bought!  Do you have a yummy stuffed pepper or tomato recipe you would like to share?  Link it in the comment section!