Easy Tomato Soup Crock Pot Recipe
I love cooking in my crock pot – especially soups!  This Easy Tomato Soup Crock Pot Recipe is seriously the best! Fall is a great time for crock pot recipes.  We are so busy with school, extra curricular activities, and homework that sometimes I just don't have it together enough to stop and cook a meal – and more often than not – crock pot saves the day!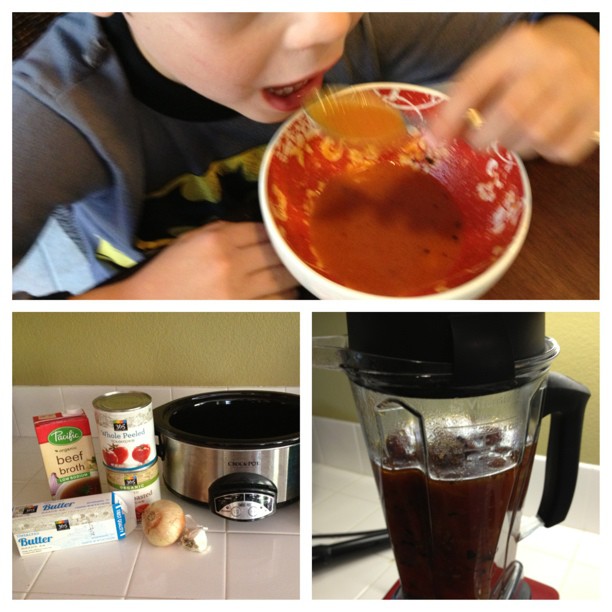 Last year my favorite soup to make was Creamy Tomato Parmesan Soup – It is REALLY good – but I wanted to do something even more basic – and our first experiment turned out delicious!
My kids LOVE Cream of Tomato soup – we usually buy a box of an organic variety at Whole Foods or another natural supermarket – I grew up on the conventional canned variety.  We didn't know any better then and I think if my mom knew how easy it was to make it in the crock pot she probably just would have done this!
You can pretty much have all of these inexpensive ingredients on hand at anytime.  Make sure to stock up on these pantry items so you will be ready for the next busy and chilly day.
Easy Cream of Tomato Soup
Ingredients
Large can of Tomatoes
Large can of fire roasted tomatoes (we used 365 brand from Whole Foods – if you cannot find fire roasted, just use a second can of regular tomatoes)
one onion diced
cloves of garlic crushed (whatever your fancy – we used 4)
half a stick of butter (more if you like soup extra creamy)
Boxed broth of your choice – I wanted a stout flavor so I went with beef broth – I would totally have substituted my homemade chicken broth or veggie broth if we didn't have beef – but I did REALLY like this flavor!
Four cups of milk (I used non fat – I bet whole milk would make for much creamy soup – mmmm!)
Spices to taste – I used salt, pepper, oregano, and basil
Directions
Combine both cans of tomatoes, diced onion, crushed garlic, butter, broth, and spices in the slow cooker and put on high for 5 hours.
Go do something fun!
Come back to the slow cooker at about 5 hours and pour ingredients into the blender of your choice (I went with our trusty Vitamix) – blend until smooth and put back into the slow cooker.
Add in WARMED milk (we just put it in the microwave for about 2 minutes – you of course can warm on the stove too – but do not put cold milk into a crock pot…. bad things can happen)
Continue to cook on high for another 20 minutes.
Serve with delicious grilled cheese or a big chunk of sourdough bread!