Edna Mode Costume – The BEST No Sew Edna Mode Costume!
Disclosure: Highlights Along the Way is a participant in the Amazon Services LLC Associates Program, an affiliate advertising program designed to provide a means for sites to earn advertising fees by advertising and linking to amazon.com. This site also uses other affiliate links.
Our kids love The Incredibles. We love both movies and we knew this year that we had to let our littlest dress up at Edna Mode for Halloween. Edna Mode is such a funny character with a distinct sense of style and attitude. Edna's signature round rim glasses and fashion taste actually make for a very easy costume to replicate. Using some simple no-sew techniques and basic pieces we can use again, we were able to make an adorable Edna Mode dress that is worthy of any Trick or Treat runway!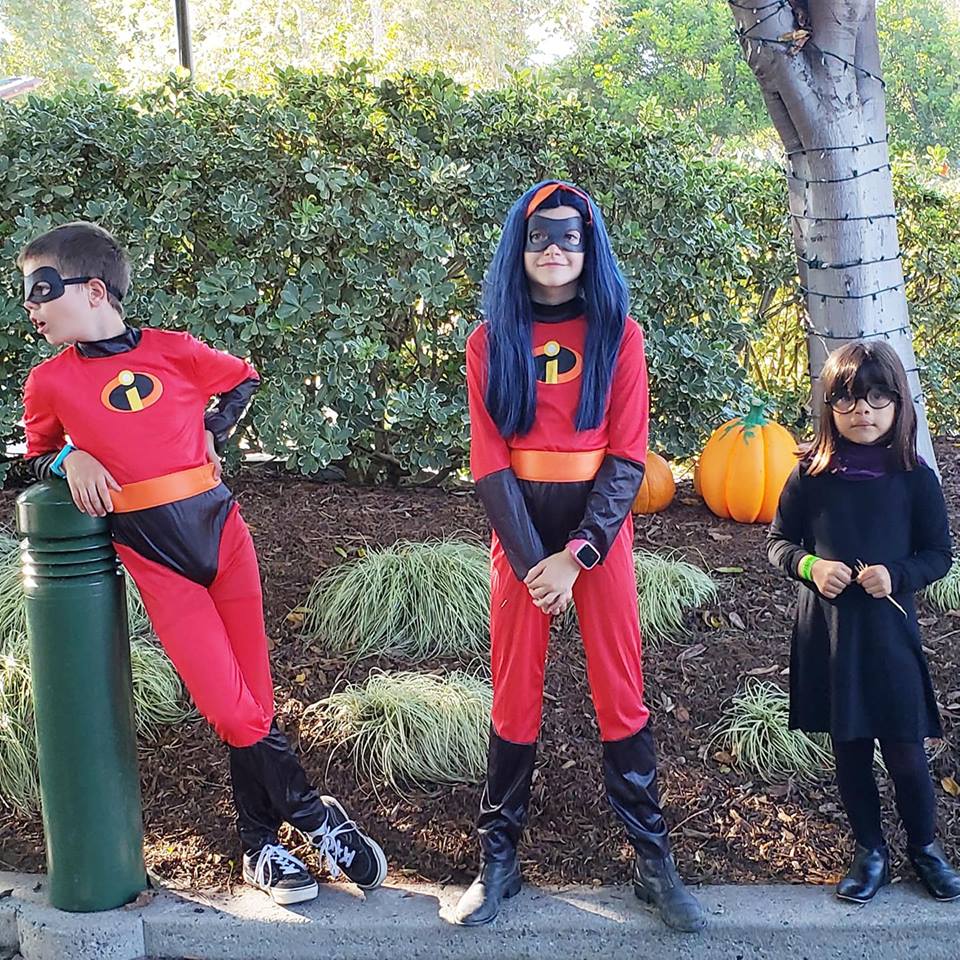 Who is Edna Mode? Edna mode is a tiny little powerhouse in the animated film, The Incredibles. While Edna Mode is tiny, her personality is huge and has emerged as a fan favorite in the movie as well as it's sequel. Edna is the beloved fashion designer who keeps the crime fighting family in the best super suits that anyone could imagine. Edna Mode is a tiny woman. While most characters in The Incredibles tower over Edna, she still runs the show with her confidence and sass. She has bone straight, jet black hair. Edna has a tiny pushed up nose and big eyes behind large round glasses. She dresses in simple but impeccable outfits. Edna Mode is an instantly recognizable character and kids are sure to want to dress up as her for Halloween!
The comparison to Edna Mode has been made with our daughter since she was a little bitty toddler. Our daughter has the hair, the attitude, and some very distinct facial features that just make this an obvious fit. That being said, we believe any child can play Edna for trick or treat and the costume is so simple to put together.
We always turn to Amazon when putting costumes together. As our kids get bigger, they really only wear their costume once or twice. For this reason, we really like to buy pieces that our kids will likely wear again. Our daughter has worn the foundation black dress as part of two other costumes as well as just as an every day dress. The Mary Janes became the perfect 'dress up shoe' for her wardrobe. The Purple scarf really tied the whole look together and both of our girls use it as an accessory to this day. Sometimes buying a costume is easier, but we like to look for opportunities to buy things that can be used over and over again. Reusing real clothing as costumes is kinder to our budget and the environment. Here are our picks for an Edna Mode DIY costume.
Start with this simple and comfortable black dress
add some black tights
add some black Mary Jane shoes
add a purple scarf
– do NOT forget the round rim glasses – these are a must!
The pieces I have shared above are all available currently on Amazon Prime and have great ratings. The beauty of Amazon is that there tend to be many other options available too, so if you do not see what you like keep clicking similar options until you find your perfect fit. My daughter liked all of these pieces because they are very comfortable and she tends to get very upset with anything too fussy or scratchy. My favorite part about these pieces is that they are perfect foundations for the rest of Fall and Winter. I love that the dress, shoes, and tights are all something she can continue to wear as part of her every day wardrobe. The round rim glasses were also part of a Harry Potter costume, Molly (the American Girl Doll), as well as Sadness (from Inside Out). We have gotten a lot of use out of those glasses! The scarf we used was also used for a Disgust (Inside Out) costume! I love the idea of pieces that can be used again and again!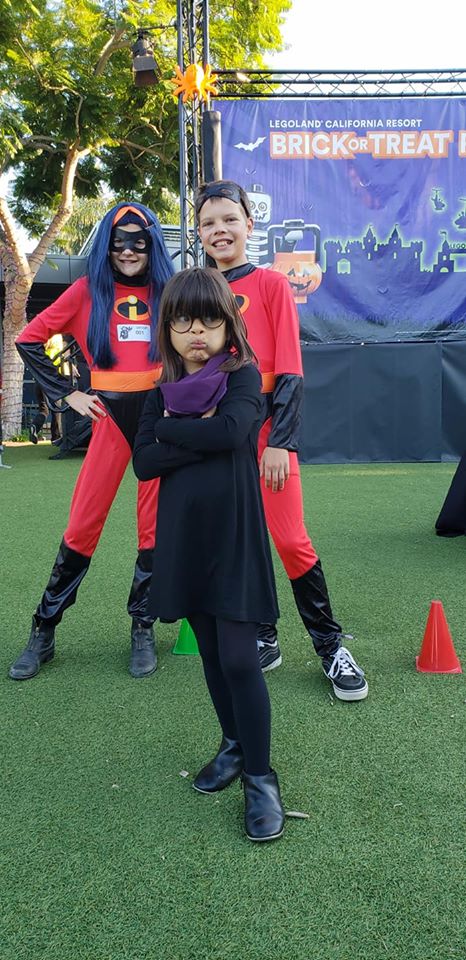 While you can easily price out the above costume to be less expensive than a prepackaged costume, and the pieces are reusable, sometimes people just want an 'easy button' and I totally get that! Unfortunately, there is not a children's Edna Mode costume available for purchase, but there is a really cute adult option available on Shop Disney. Here is an adorable Edna Mode Deluxe Costume if you just do not have the time for our idea above.
If you are an Incredibles fan – make sure to check out these fun Incredibles FREE Printable Activity Sheets. These are fun to print out for school, rainy days, Incredibles themed parties, and of course before you go out trick or treating!
Shout out to our big kids for being kind enough to dress up like Violet and Dash. There are literally dozens of Incredibles family costumes available on Amazon, Target, and ShopDisney. These make perfect family costumes and are just so much fun.
Whatever costume you choose, we hope you have an Incredible time! (see what I did there?)