El Cordova Hotel : Coronado Island
Disclosure: Travel Tuesday was sponsored by El Cordova Hotel. Our stay and meals were provided at no cost in order to facilitate this article. Opinions are 100% our own.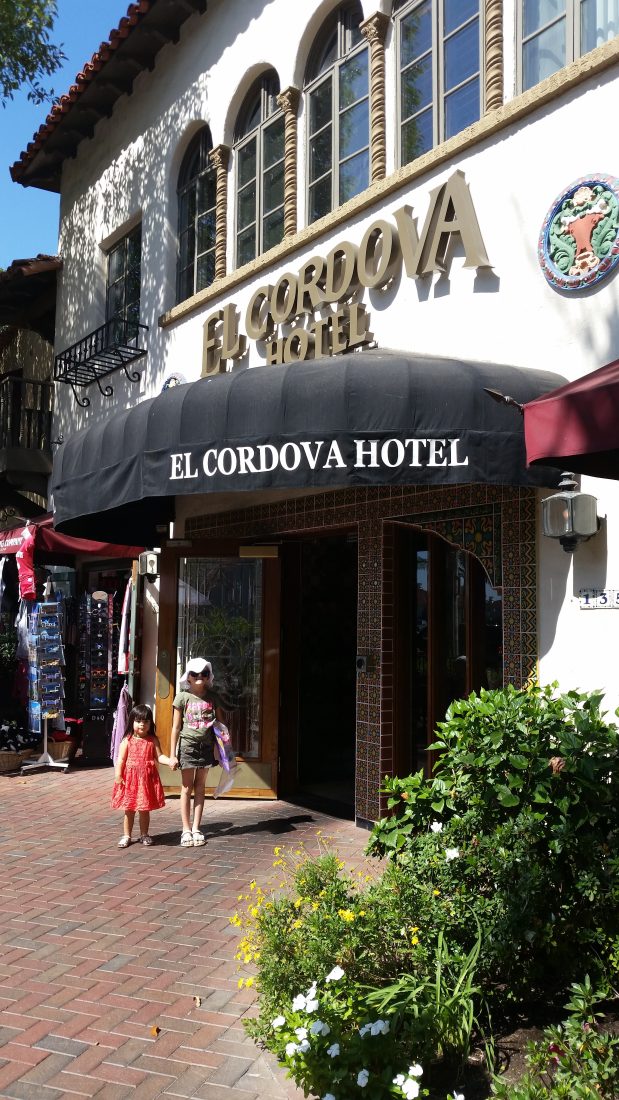 We love to discover and travel to new areas in our hometown of San Diego.  This past week we traveled to Coronado for the first time as a family to check out a little piece of Southern California History.  We stayed at the historic El Cordova Hotel, a beautiful Spanish style historic hotel in a perfect setting for a laid back family vacation.  If you are planning a trip to Coronado – El Cordova Hotel is a BEAUTIFUL hidden gem that you must consider!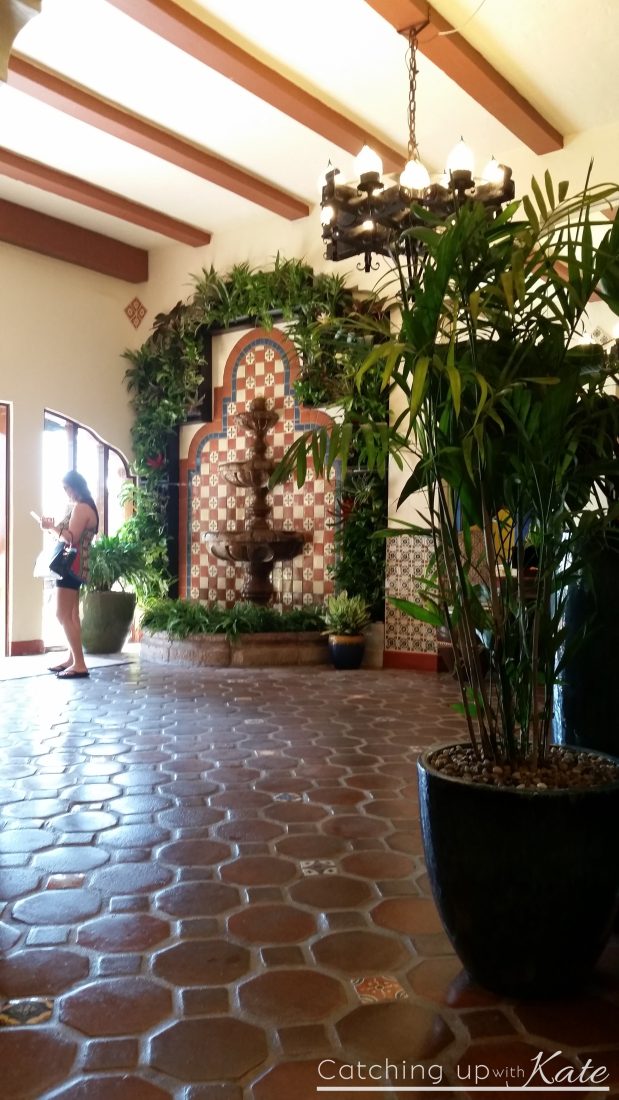 From the El Cordova Website."Rich in history, natural beauty and possessing a charming hacienda atmosphere, El Cordova Hotel was originally built as a retirement mansion house for wealthy industrialist Elisha Babcock in 1902. In 1930 it was converted to a Spanish Village hotel and has been updated and expanded several times since then to provide additional rooms and amenities."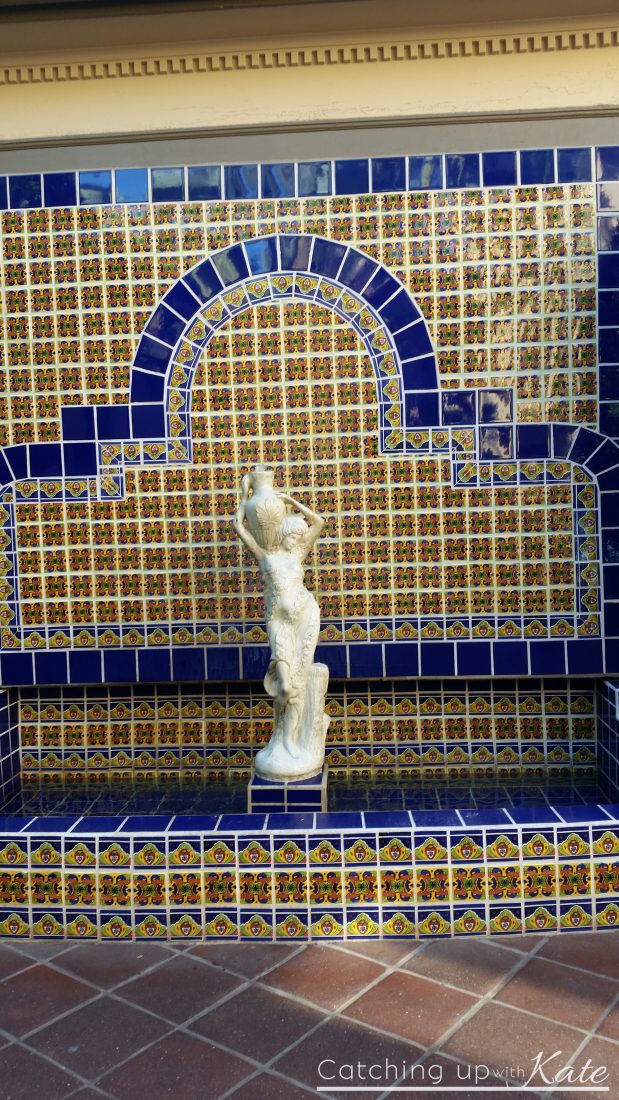 I took a quick tour around the property with the manager and learned that El Cordova was originally built by one of the architects of the famous Hotel Del Coronado.  Hotel Del is located right across the street. Check out this photo from the lobby.  Above one of the couches is a mural of what the original mansion looked like.  I wish I could have seen it in person then, so pretty!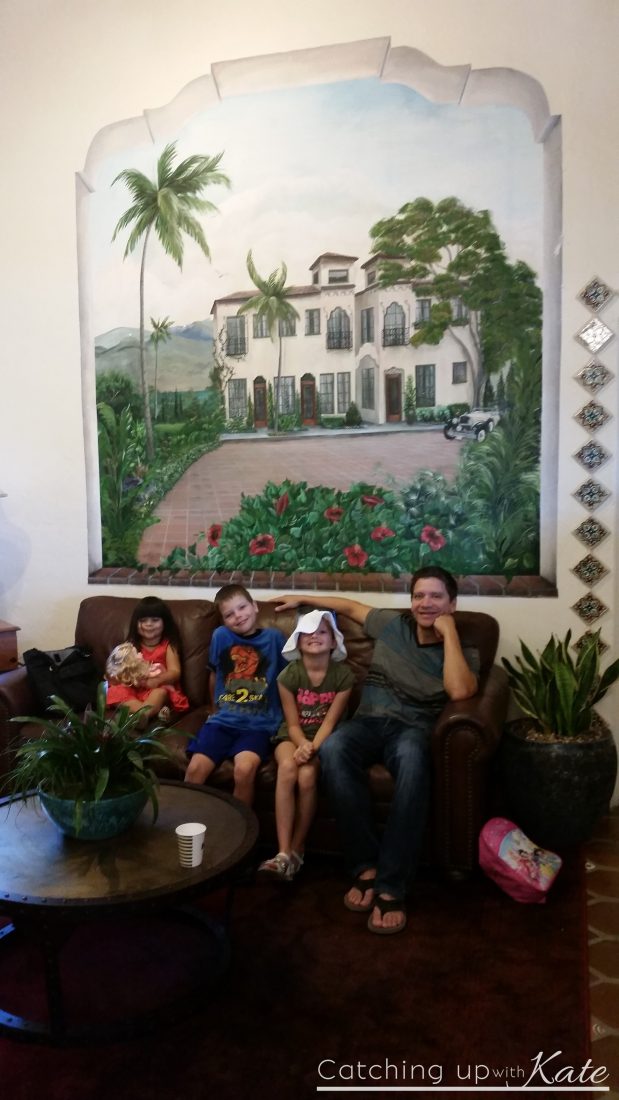 While the mansion has been expanded to include apartment homes (now one and two bedroom hotel suites) as well as shops and restaurants it maintains the historical integrity.  It is just beautiful.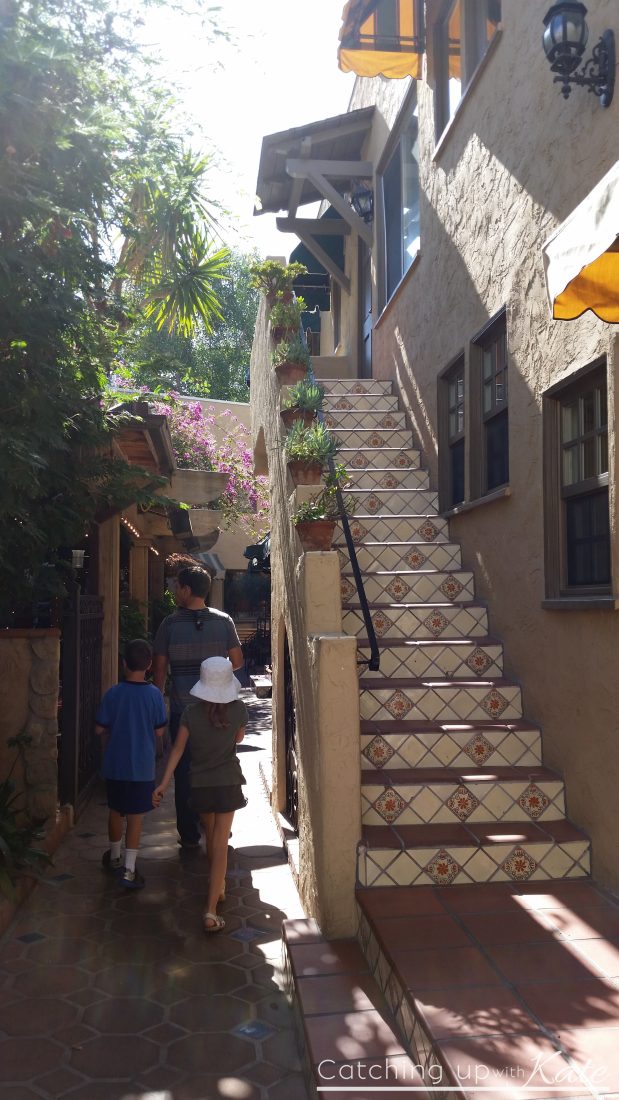 Our one bedroom suite offered a full bedroom and bathroom as well as a spacious front room and kitchenette.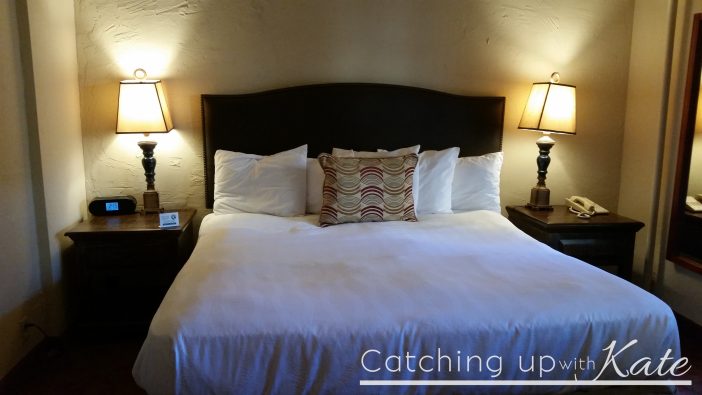 El Cordova offers rooms on two floors and a few accessible suites.  Please note this is a historic hotel and the upstairs rooms do have stairs but not an elevator.  It is only one flight of stairs, but if you have any issue with stairs I thought it would be good to point out.
We loved having a little kitchen too!  It was not big, but the photo does not do it's charm justice!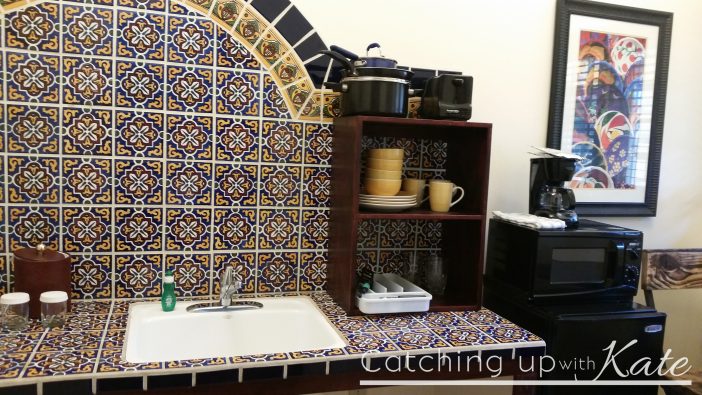 One of my favorite features of this hotel is the Spanish garden courtyard.  We loved walking through it during our stay and we really enjoyed the continental breakfast that was served each morning.  Breakfast is complimentary, but it is small. We enjoyed coffee, tea, pastries, fresh whole fruit, and cereal.  Our kids were stoked to have their 'Hotel Froot Loops' – the only time they get to enjoy Froot Loops is at hotels; special treat!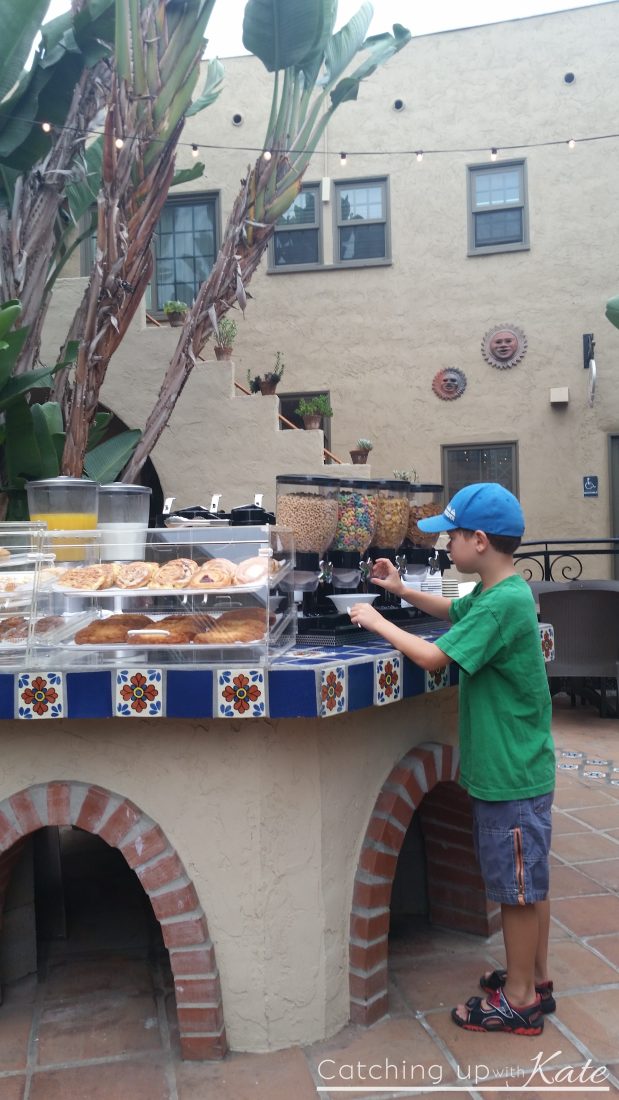 Our family loves to have something small in the morning so it was perfect for us, if you are looking for something more substantial there are several restaurants located within walking distance including Miguel's which is on site.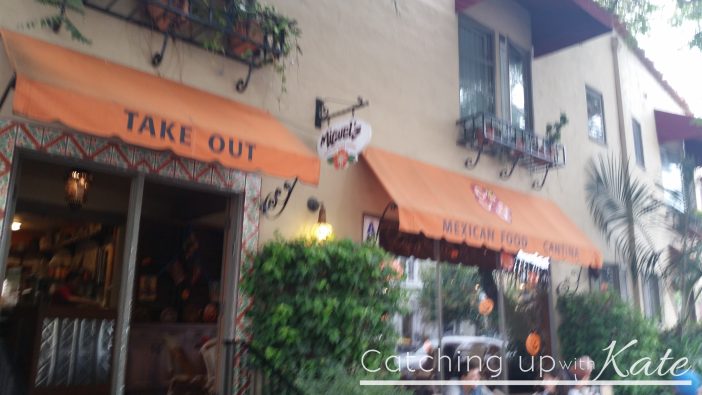 Speaking of Miguel's – we enjoyed dinner dinner one night so much that we joined them for lunch the next day too!  Miguel's is located within El Cordova but anyone can dine there even if you are not a hotel guest.  We loved the casual setting and the delicious food; we felt it was the perfect compliment to El Cordova.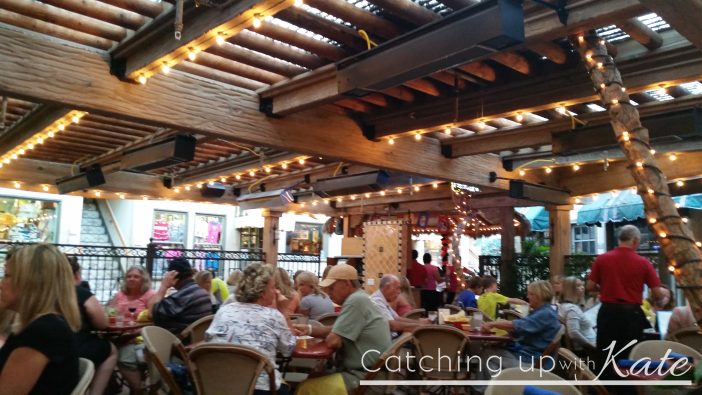 Miguel's is a fun restaurant we have become familiar with on other occasions in San Diego.  They offer a fantastic happy hour menu (both drinks and food) and they are very family friendly.  If you are a hotel guest you will be happy to note Miguel's gifts each hotel guest with a complimentary appetizer card (with food purchase) at check in.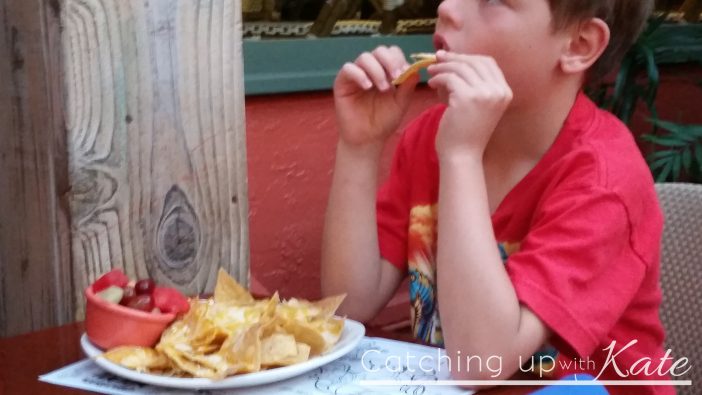 The kids all enjoyed cheesy nachos and burritos (there are several other choices as well) and a side of fruit.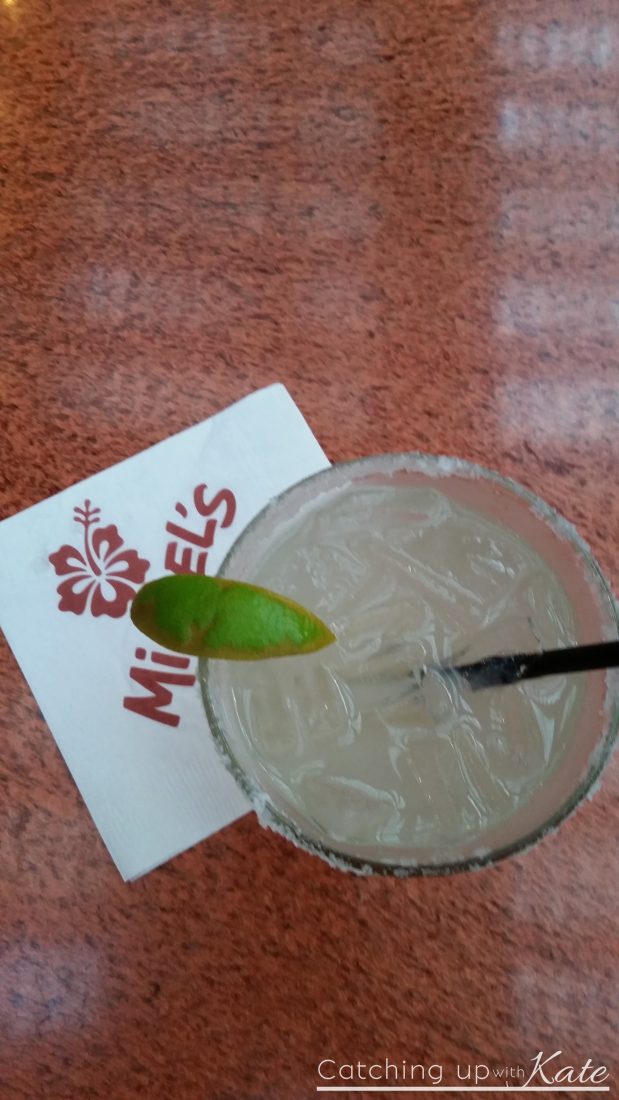 As stated, they have an amazing Happy Hour.  This is their skinny margarita which is made with agave nectar and lime juice rather than syrup and other synthetic stuff.  I tend to avoid mixed drinks because they just have too much sugar and fake ingredients, but this was delicious and I felt it was a little more diet friendly. *it's still a drink you guys*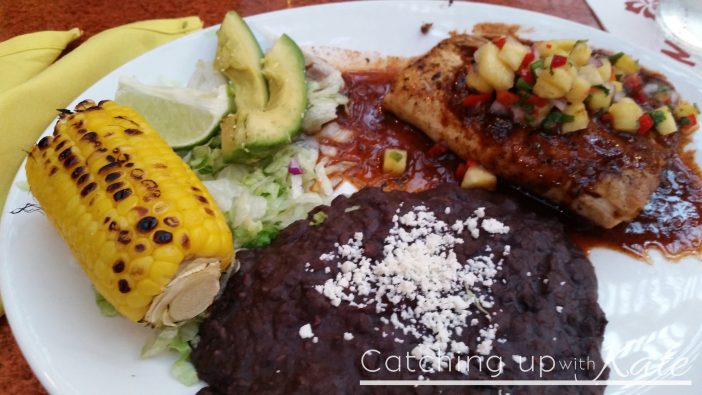 This is the Grilled Honey Chipotle Mahi Mahi.  It typically comes with rice as well but rice and I are kinda on a break.  My son claimed my grilled corn within moments of it being placed in front of me.  I did get one bite and it was awesome.  Little Miss C and Bubs also ate most of my beans.  Come on you guys, you have your own!  The Mahi Mahi was fantastic and a pretty healthy option.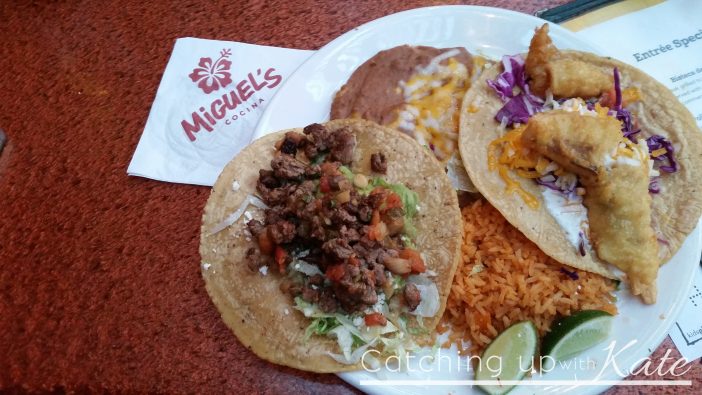 Harry had the two taco plate and he also gives it two thumbs up.  If you have never been to Miguel's it is good to know their portions are fairly large. We honestly could have shared just about any entree.  Both of us shared portions of our plates with the kids (who had very generous kid's plates but they always end up gleaning off of our plates too).
The kids had their little minds blown by this 'fancy' kid's dessert option……….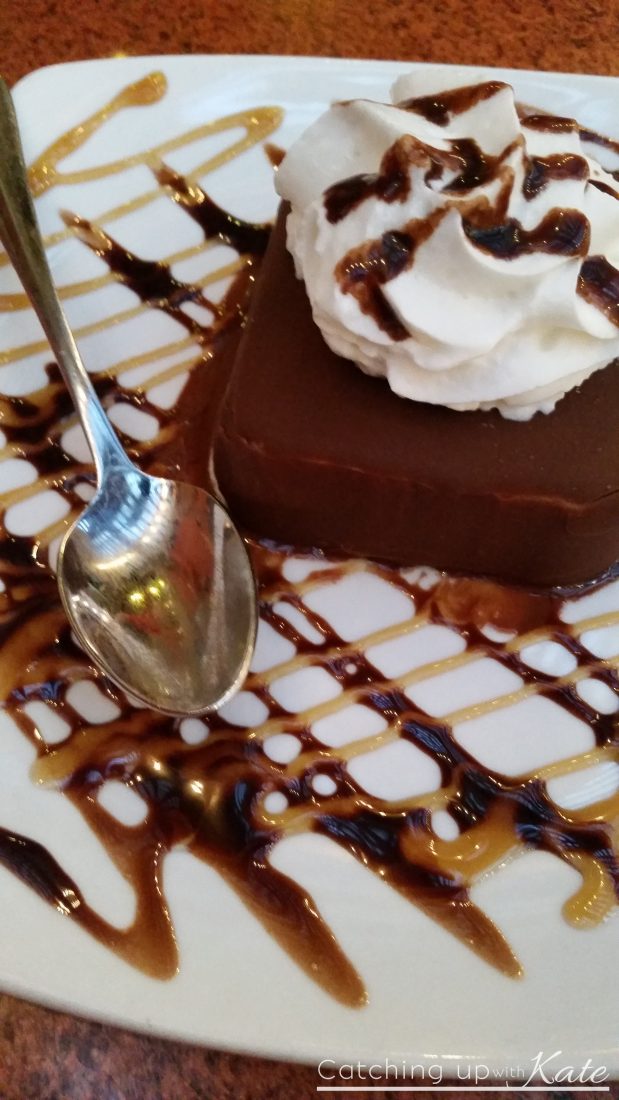 I can neither confirm nor deny that this is just a Klondike Bar dressed up all fancy….. but that's what it looked like to us.  But I mean, Klondike Bars are awesome so it was a win.
This is what blew my mind you guys…………..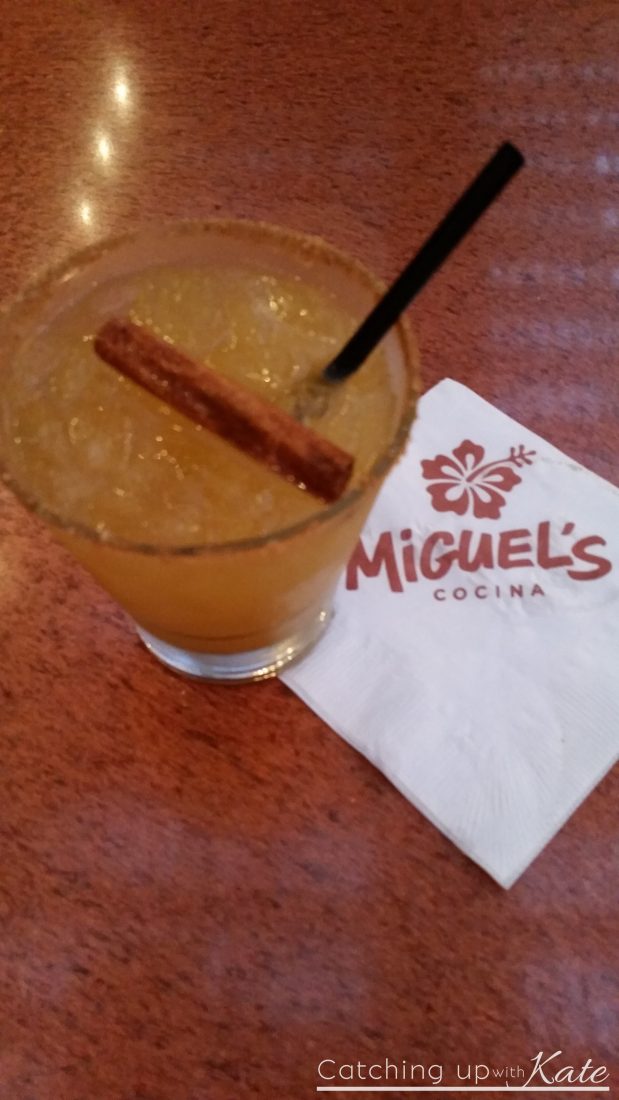 The dessert menu for adults was fantastic, but Harry and I both opted for an after dinner drink instead of traditional dessert.  This is something we never do, but as I said before the restaurant was literally steps from our room so two drinks with a long dinner and no car ride seemed totally OK even with kids in tow.
Anyway, back to this drink.  You guys, it is a Pumpkin Margarita.  WHAT?!  I know.  It's so fun and festive.  So fun and festive I really feel a copy cat recipe coming on. #Pumpkinismyfavorite #Staytuned
The pool was fantastic and also the location of a pretty epic event for our family.  It is no secret that our kids have spent every Summer in swimming lessons but none of them are great swimmers.  Our oldest only really got it this Summer.  Our son was petrified of the deep end.  He is technically able to swim; he will swim across the shallow end no problem.  In the shallow end he won't put his feet down, but emotionally he always needed it to be shallow water.  Our fear was that he would fall into deep water and it wouldn't be his ability, but his fear that would get him into trouble.  It didn't matter how many times we told him he was capable, he just had a little mental block.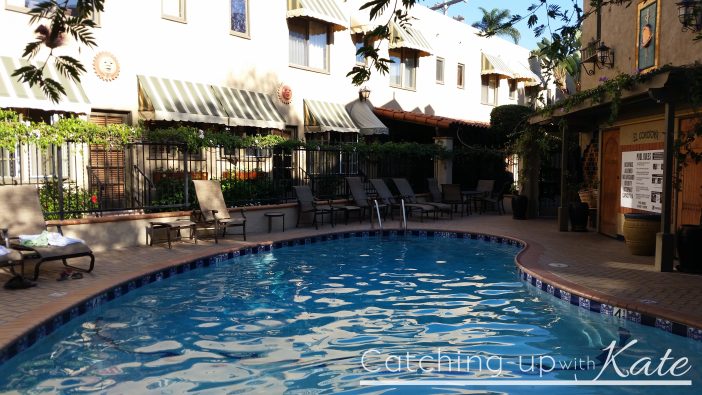 Well, if you have been around here long enough you know I am not above bribing my kids.  So we pulled out the big guns and bribed him to swim the length of the pool.  The deal was swim the length of the pool from deep end to shallow and then back again down the middle and you get to pick out the LEGO set of your choice up to $30.  There was a toy store down the street, we would go get it that night.  Daddy was in the pool at the deep end, I was at the shallow end.  We were there to rescue him if necessary, but he needed to swim successfully to get the prize.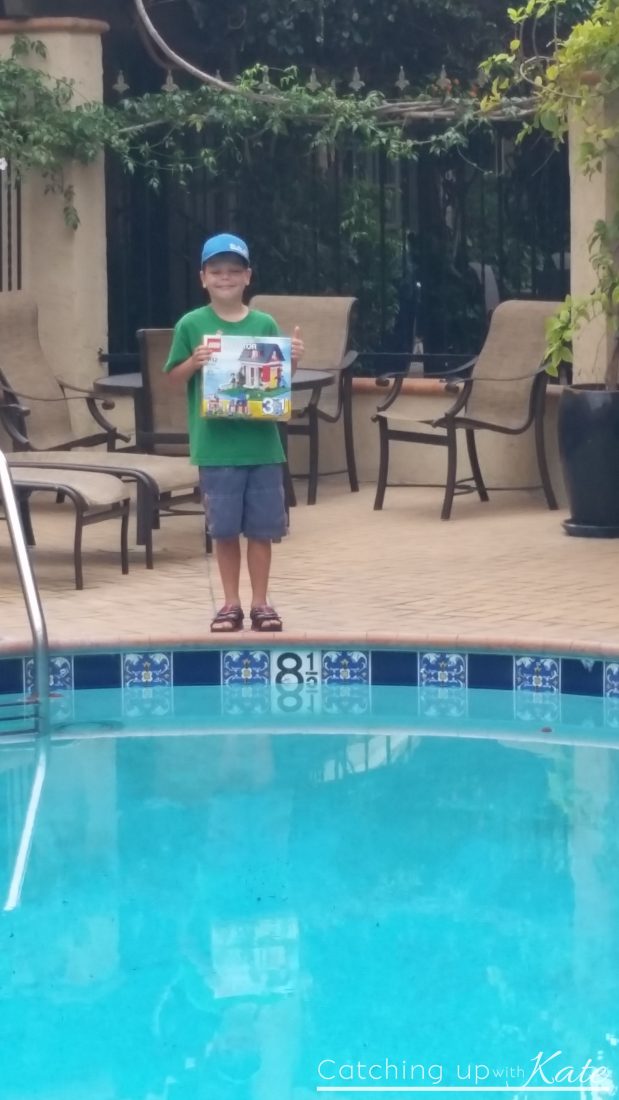 Guess who swam across that pool two times like a boss?
We were seriously proud and it was apparently all it took.  He swam in the deep end the rest of the trip!  The true test I guess will be the next time we are in the pool, but this was by far the least stressful time he has ever had in a pool so we all were very excited!
This cuteness also happened……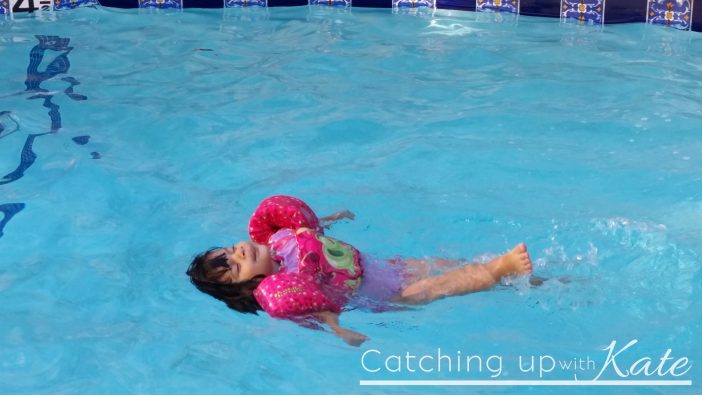 While we were at El Cordova we never used our car.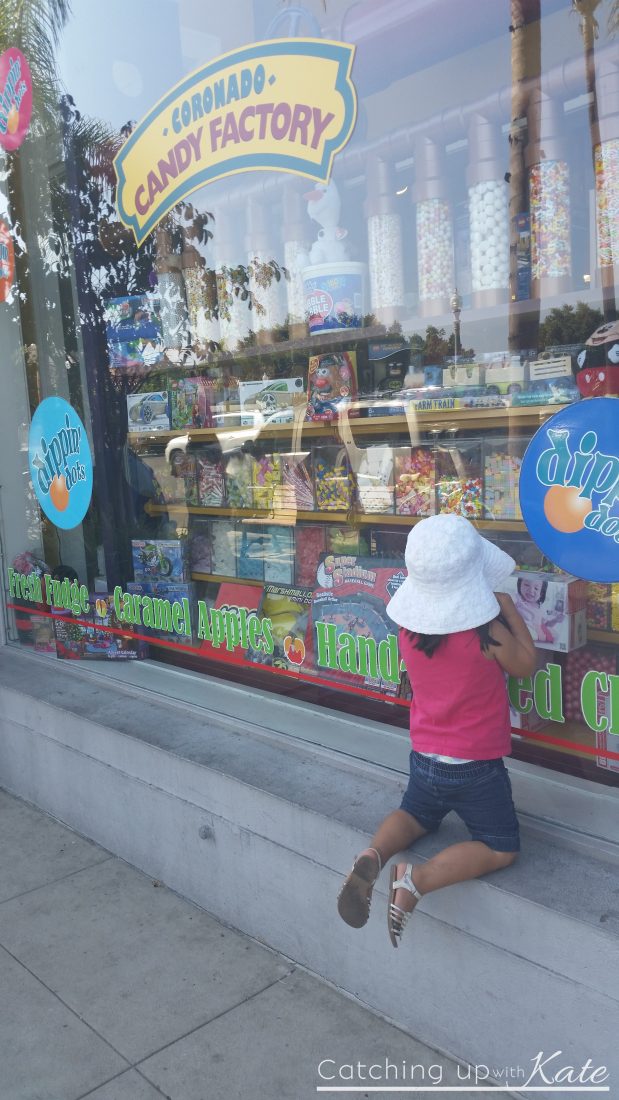 We took a quick walk to the candy and toy shop and also to the beautiful Coronado beach.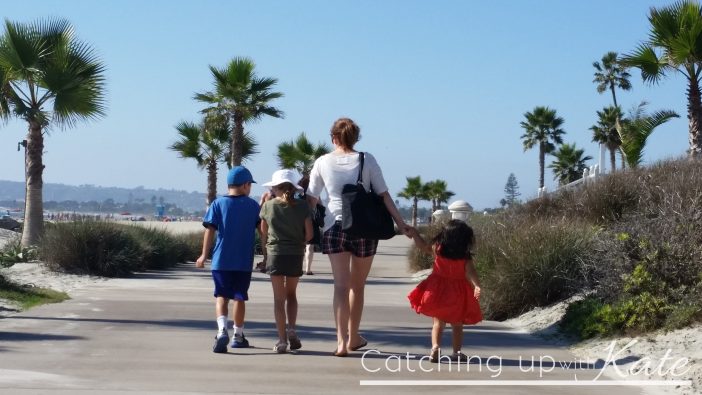 It is so funny that we live in San Diego but we really felt like we had gone away for the weekend. Just a short trip across the Coronado bridge and there we were!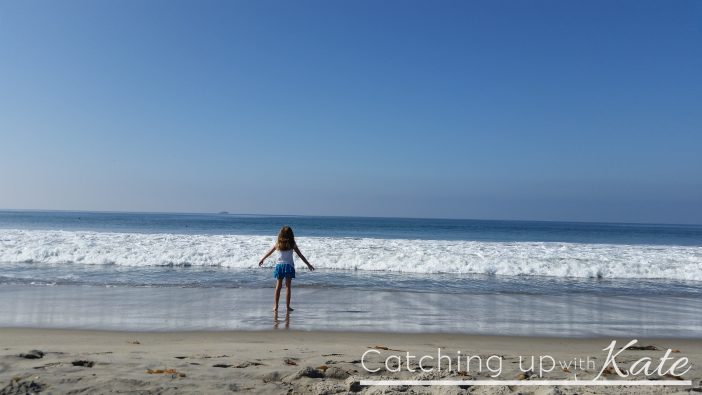 If you are traveling to San Diego or even if you are a San Diego resident you really should go spend a day relaxing in Coronado.  It is a little slice of heaven.
Things to keep in mind if considering booking a vacation at El Cordova……
No smoking – again, this is my favorite and it really should just be a given about any hotel we stay at.  Yay for smoke free hotels!
There is no hotel parking.  This is Coronado so parking is at a premium.  We found street parking all over (for a small fee) and if you don't mind walking a few blocks there is plenty of free residental street parking not too far from the hotel.
The pool is not heated, but we visited in October and felt it was plenty warm enough for us.
You will want to move in.  This place is so home-like and inviting you may never want to leave.
Thank you again so much to El Cordova for inviting us to visit with you.  We will never forget your beautiful rooms, lovely views, and hospitality!