Everything You Need to Throw an Elemental-Themed Birthday Party!
Are you planning an Elemental-themed birthday party and don't know where to start? No worries, I've got you covered. Birthday party details are elemental to having it go smoothly. Fire and water themed activities, desserts, and decorations are available for the most epic party for your child. This post will tell you everything you need to know, what to buy, and how to set up an awesome Elemental birthday party. Not only can I help you throw an awesome party, but I've figured out easy ways to prep, set up, and tear down with cute and easy DIY Elemental themed desserts and decorations that make everything simple and keep everyone happy.
Disney Pixar's Elemental is a hit around the global so it's no surprise that Wade, Ember, and all the other fire, water, earth, and air residents of Element City are all kids are talking about now. As all Pixar films are, Elemental is an outstanding film created by some of the best writers, animators, artists, and directors in the entire world. Due to its popularity, here you are, planning your party. Let's make it awesome!
Elemental Birthday Party Ideas!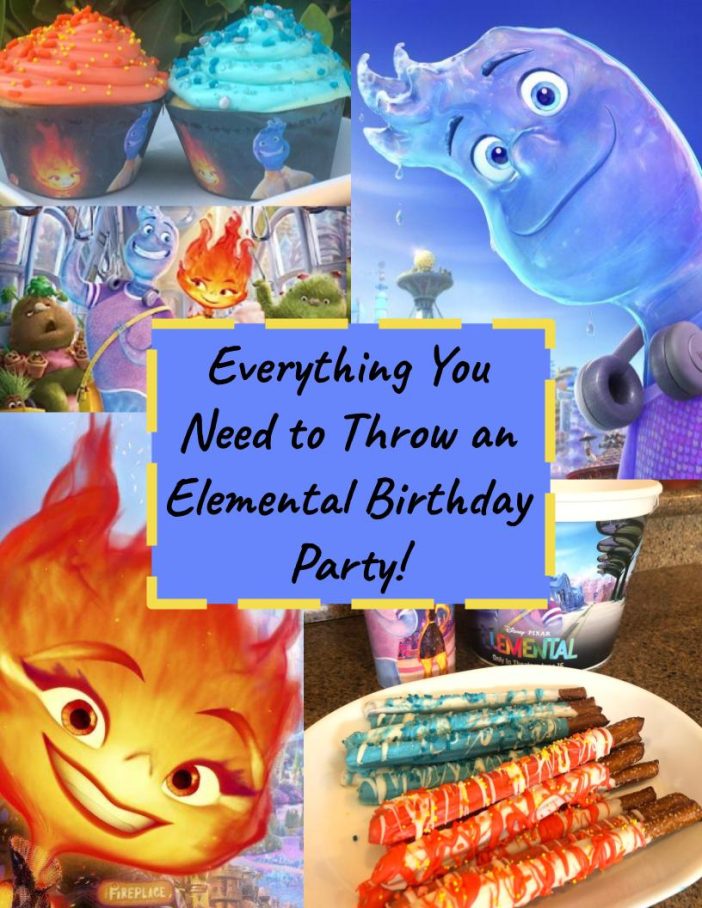 Elemental Birthday Party Decor and Activities:
In terms of decor, there's always the option to keep things simple. You could theoretically skip decor entirely. Or on the other end of the spectrum spend hours hand-making things. I think a happy medium makes everyone happy. The simplest way to make things fun is to order some premade decor. There is already a lot of really great, budget-friendly Elemental decorations available to ship right to your house. Here are some of my favorites. We suggest purchasing a few Elemental themed items, and mostly just using the color scheme of blue and orange.
Amazon.com : Elemental Party Supplies, 5x3Ft Elemental Backdrop Happy Birthday Banner Cartoon Theme Party Photography Background Decorations for Boys Girls Birthday Party : Electronics
This is an awesome "Happy Birthday," backdrop that could be used just as decor, or an interactive activity. Try setting up a little photo spot so kids can take pictures with their friends. Try out our free downloadable Ember and Wade masks. You can put these on popsicle sticks or attach them to some elastic so kids can wear them.
You can have some for photos and print out extras that kids can decorate. That way you can have two easy and inexpensive party activities that kids will love.
Amazon.com: Disney Elemental Birthday Party Decorations Pixar Movie Theme Party Supplies Ember Lumen and Wade Ripple Party Favors Including Tablecloth Cake Topper and Cupcake Banner Balloons : Toys & Games
I found this party set online that includes a lot of different things. You can set up the party banner above the front door to help parents find the house. And I'd recommend tying a balloon to the mailbox if you didn't plan on doing that already. This set also comes with these really cute cupcake toppers which you can add to the Easy Elemental Cupcakes that you can check out our super recipe for.
Amazon.com: NINIMBLE 41pcs Elemental Party Supplies 20 Plates + 20 Napkin + 1Tablecloth Elemental Birthday Party Decorations, for Girl and Boy : Toys & Games
Since most parties serve food, I'd imagine you'll be needing some paper plates. But instead of getting some basic ones, spice things up with these plates, napkins, and tablecloth set. Everyone knows that paper plates are going to save on cleanup time, but using a disposable tablecloth means no cleaning tables. Not to mention kids love bright colors and pretty designs, I know I did!
As of the writing of this article, Elemental is showing in Theaters. But once it hits Disney+, the easiest of all party activities would be to stream the movie for all the kids. You should gauge whether this would work for you based on the age and rowdiness of the kids. And of course, if your family has a Disney+ subscription and if it is available to stream at that point.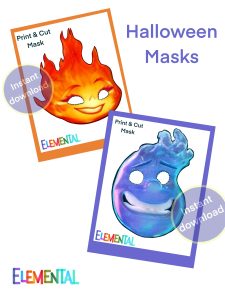 Rather than standard party hats, how about masks? Guests can decide to be Ember or Wade. The best part is you can print these from your home or office. Printing your own Ember and Wade masks is a fun activity but also a party favor. Click the link above to grab the full-sized masks of your favorite water person and fire person!
Elemental Desserts!
I've saved the best for last, because dessert is always fire, in any setting. The best thing to do is to set up a little dessert table with blue and orange treats.
These pretzel rods are really easy to make and seriously one of the most delicious things on the planet. The combination of the flaky salt and smooth white chocolate is perfection. The best part, is that you can make these in less than an hour! Basically, you melt the chocolate, (and I've provided a guide in case you haven't done it before), dip the pretzels, add some drizzle and sprinkles and that's it! No mixing, no cooking, no baking, nada.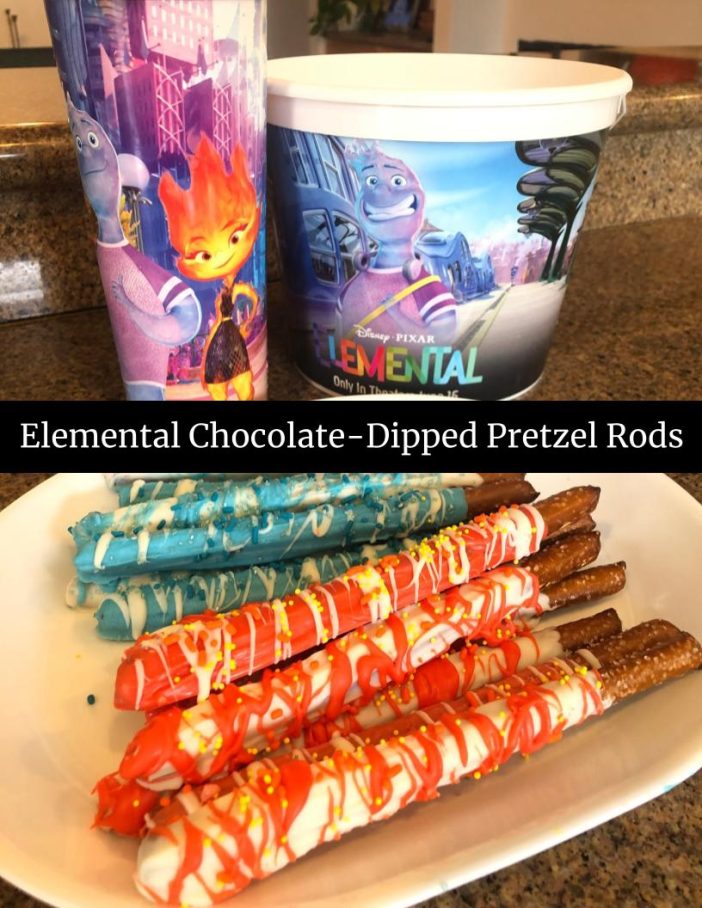 Making themed cupcakes can be intimidating, I know. Even though they taste about the same, I've figured out the balance of the homemade feel and picture-readiness. These cupcakes can be made without professional baking equipment. I guarantee you can have professional looking cupcakes with things you already have at home! The only things you'll need to purchase are a box of your favorite cake mix, a container of frosting, food coloring, and sprinkles. We have free downloadable cupcake wrappers that can use for decoration once the cupcakes have finished baking. It's as simple as that.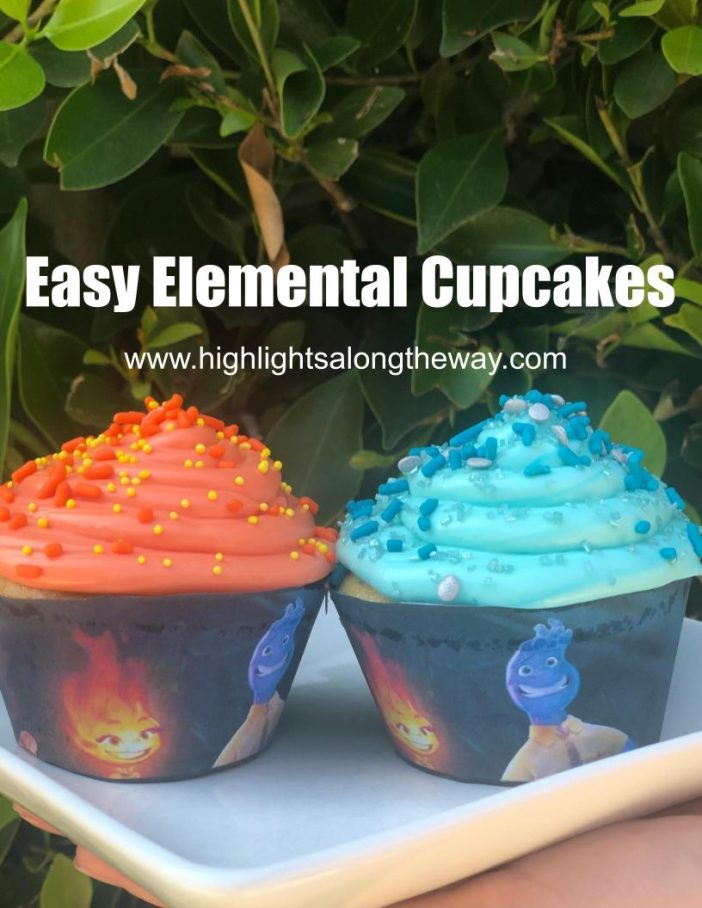 Add Ons:
If two trays of desserts aren't enough for the number of guests you're expecting, I've got a few suggestions of things you could add to your dessert table. For example, you can pick up some orange or blue frosted sugar cookies at almost any grocery store. And of course, everyone loves a good, boxed brownie. You could mix colored sprinkles into the brownies if you really want to commit to the theming. If we're being honest though, everyone enjoys dessert, so you can really add anything you like!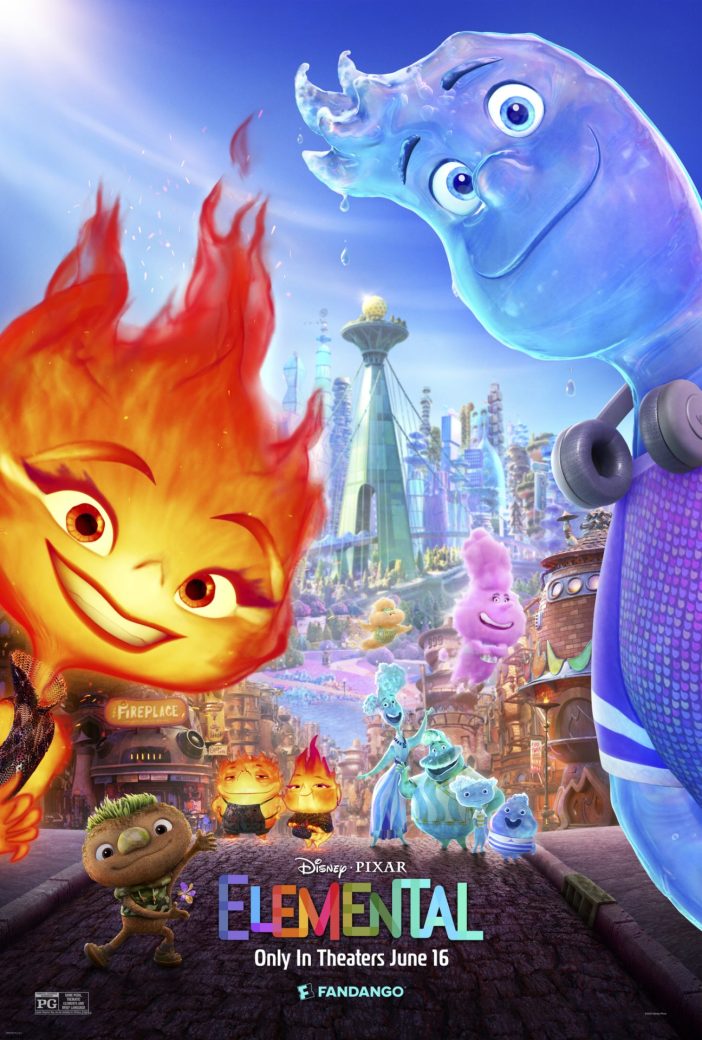 Pixar Animation Studios revealed details about its 27th feature film, "Elemental," which will release on June 16, 2023. Directed by Peter Sohn ("The Good Dinosaur," "Partly Cloudy" short) and produced by Denise Ream ("The Good Dinosaur," "Cars 2"), the film journeys alongside an unlikely pair, Ember and Wade, in a city where fire-, water-, land- and air-residents live together. The fiery young woman and the go-with-the-flow guy are about to discover something elemental: how much they actually have in common.
Links to our other Elemental Posts:
Easy Elemental Dipped Pretzel Rods