Elemental Printable Masks – Wade and Ember
Disclosure: Highlights Along the Way is a participant in the Amazon Services LLC Associates Program, an affiliate advertising program designed to provide a means for sites to earn advertising fees by advertising and linking to amazon.com. This site uses affiliate links.
Wade and Ember are the perfect Pixar couple. An excellent Halloween couple costume would be the fire and water characters. With costume parties, Oogie Boogie Bash, and Mickey's Not-so-Spooky Halloween party here; you might need a last-minute costume! An Instant Download printable mask featuring Wade and Ember is the perfect solution! Create an adorable no-sew costume using basic pieces you can wear again and these printable Elemental Masks.
Kids and Disney adults everywhere are sure to be Disney bounding as Ember and Wade even before the Halloween season. Ember and Wade will be popular choices for Halloween parties, Disney dress up day, school carnivals, and trick or treating. These Elemental Printable masks cannot make it easier to become your favorite character. If your child is having an Elemental Themed Birthday Party, printing these masks are a fun alternative to a party hat. Download once and print as many times as you would like.
Printable masks are also a perfect no prep Halloween time craft for teachers. Elemental offers an opportunity to teach about the Elements in a fun new way. These Elemental printable masks are also a perfect last minute costume option for teachers to make available to students who may not otherwise have a costume. Not into "Elemental"? Want to give your students a couple options? We also have more Disney and Pixar Printable Masks for instant costumes!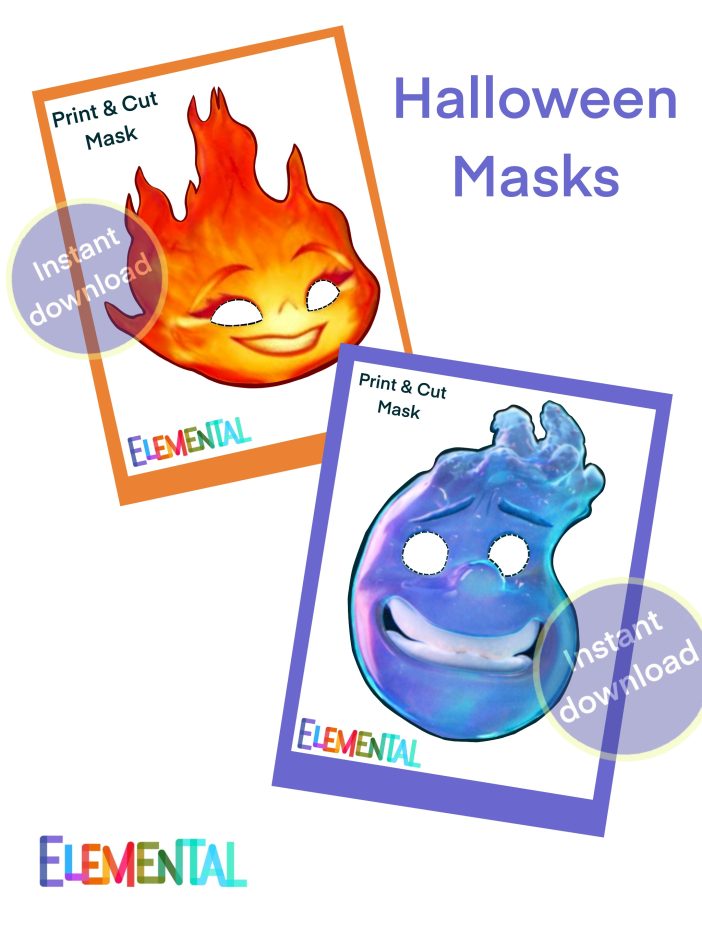 Elemental Mask Printing Instructions
Elemental Masks are an instant download. You will receive two different masks.
We suggest printing on card stock. If you do not have card stock, you can print your character masks on standard computer paper, but we highly suggest then securing the paper to a thin cardboard of some kind.
Attach your cut out mask to a flat wooden stick (a craft tongue depressor is best). We just use a few pieces of strong tape.
Tada! Costume is ready! Thank you for considering our Etsy shop! We love to share printable coloring pages, artwork, and more! Our Etsy shop is very tiny and we appreciate ever sale. Etsy profits benefit our kid's college funds and helped us through the pandemic. Thank you for considering our little shop that could!
Elemental Costumes – shipped to your house!

These costumes are inspired by these love birds! Wade and Ember are the sweetest couple that ever there was.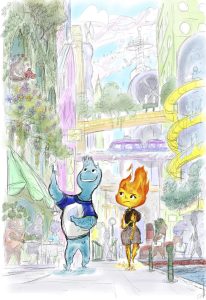 Ember Costumes
Ember's Dress This perfect cosplay dress is available on Amazon. Another option is to purchase a black sleeveless dress that can be worn again and a gold belt. A perfect costume is the obvious choice, but we often purchase clothing items that are close enough that we can continue to wear after the costume party.
This Ember dress above adult size dress for Ember, but there are baby, toddler, and child size dresses if your little spit fire would like to dress up as Ember for Halloween too!
Child Size Ember Dress for Halloween
This Ember costume is perfect for girls! The purple diamond hoodie jacket is just like the one Ember wears in Elemental City. This sparkly dress could easily be worn again to a special event. The Ember jacket is lightweight and perfect for a chilly October night and to wear all through the Fall season.
Wade Costume – Last minute purchase – Ships to your home!
Wade "Windbreakers" tshirt – so simple! You can also wear it again and again!
Wade's Inspector uniform costume
Honestly, I do not love this Wade costume, but I think it might be the most popular for kids. A light yellow short sleeved button down with a lavender tie might be a better choice. I know that simply purchasing a costume works best for many, so that option is here!
Related – Elemental Activity Pages (free instant downloads)
Related Elemental Birthday Party (downloadable cupcake wrappers)
Elemental hit theaters on June 16th and was an instant hit! Check out a trailer, movie posters, and so many fun activities below!
Elemental Movie Poster (click and print for home use!)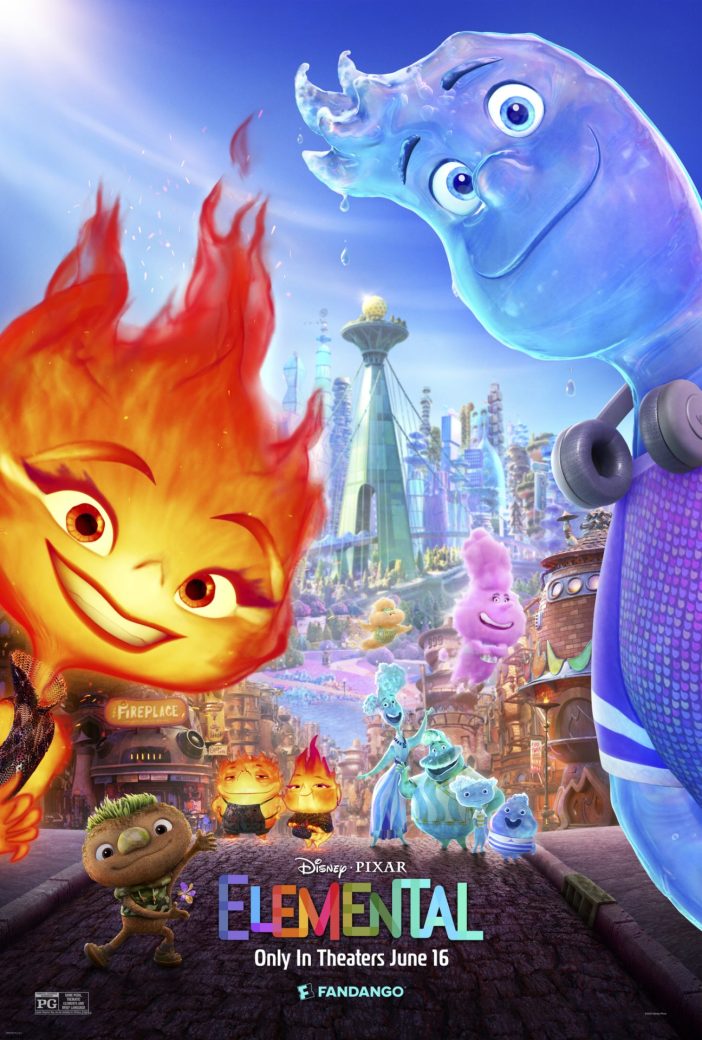 Pixar Animation Studios revealed details about its 27th feature film, "Elemental," which will release on June 16, 2023. Directed by Peter Sohn ("The Good Dinosaur," "Partly Cloudy" short) and produced by Denise Ream ("The Good Dinosaur," "Cars 2"), the film journeys alongside an unlikely pair, Ember and Wade, in a city where fire-, water-, land- and air-residents live together. The fiery young woman and the go-with-the-flow guy are about to discover something elemental: how much they actually have in common.