The Best Eliza Hamilton Dress
Disclosure: Highlights Along the Way is a participant in the Amazon Services LLC Associates Program, an affiliate advertising program designed to provide a means for sites to earn advertising fees by advertising and linking to amazon.com.
We looked for days to find the perfect Eliza Hamilton dress. We considered making our own Elizabeth Schuyler dress, but I found this amazing dress that worked perfectly first! A beautiful, blue, colonial style dress in child and adult sizes at a very reasonable price. This is the perfect costume for any Hamilton the Musical fan! The Schuyler sisters continue to be a fun group Halloween costume for theatre nerds everywhere. This pale blue dress is available in sizes for women and children. Schuyler sisters will be singing the praises of all the inexpensive no sew Hamilton halloween costume ideas here! Hamilton fans will be impressed by how accurate this budget friendly costume is.
This dress is a little more expensive, but looks almost identical to the dress worn by Eliza in Hamilton the Musical. If we were to dress up as Eliza again, this is the dress we would purchase. The lovely blue is perfect and the button detail really makes it look like the Broadway musical costume.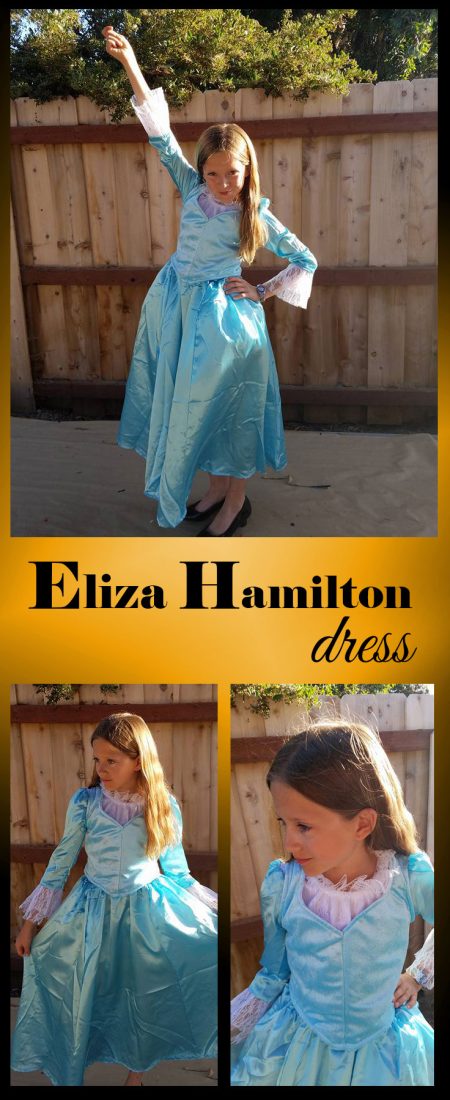 THE BEST Eliza Hamilton Dress
Our family has fallen hard for Hamilton : An American Musical. I introduced the kids late last year and Hamilton is still playing all the time in our house. We looked into Hamilton costumes for Halloween last year and the only thing we could find were beautiful, custom dresses on Etsy.
Imagine my happiness when I stumbled upon this beautiful light blue colonial style dress that looks quite a lot like the Eliza Hamilton dress in the play! Typically I like to make a DIY dress for our girls and share on our site. We simply could not make an Eliza Hamilton dress or modify a dress that was this nice, and certainly not for this price. I bet your little Hamilton fan will love it too! The best part of this dress is that you can buy it right now. Dresses shared are prime eligible, so you still have time to purchase even just days before Halloween night.
Inexpensive Eliza Hamilton Dress
Make sure to check out our post about our Hamilton Themed Birthday party where you can click to download Hamilton Broadway Playbill cupcake toppers, we also have free FREE SCHUYLER SISTERS COLORING SHEET HERE!
Our daughter wants to be Eliza Hamilton for Halloween. I know it is early, but I thought it might be a good idea to scoop it up. I am sure they will restock, but right now there are only a handful left. The dress was inexpensive and I never know when I am buying something online. Sometimes the photos show a different picture. We were THRILLED with this dress when it came in. It was much nicer than we expected based on the price and it's the perfect Eliza Hamilton dress.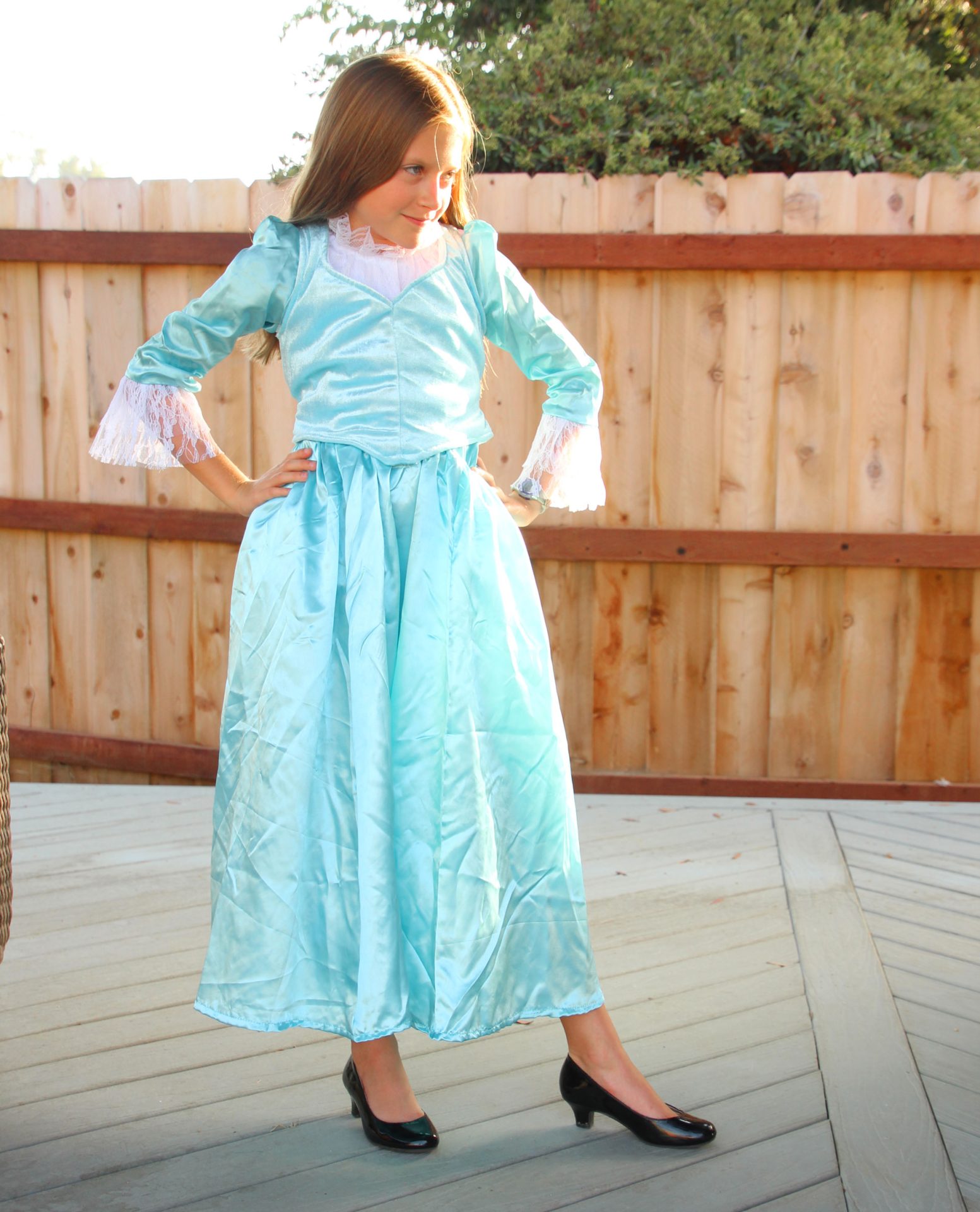 Check and see if they have your size here. Eliza Hamilton Dress on Amazon.
The dress is two pieces. A light blue all over piece with a little bodice piece that fits over nicely. This dress fits true to size. My daughter is a small size 10 and she fits very comfortably in the medium. There is sweet lace trim on the neck and sleeves. We like the added bonus of a little crinoline in the skirt for some added authentic poof.
This is not a perfect (or licensed) replica of Eliza Hamilton's dress, but it really works well. We might get around to adding little buttons along the left hand side of the bodice, but I think it is a great pass for Eliza Hamilton's Dress even without it. Everyone knew exactly who she was at a colonial themed party. Even though it was not licensed, it is a clear match for Hamilton fans.
With an eleven and six year old girl in the house, I am really appreciative of modest Halloween costumes. I don't care how grown ups dress, but I don't like all the suggestive costumes that are available to little girls. I am thrilled my eleven year old is so excited about portraying a daughter of the revolution! Strong female roll models for the win!
This fancy blue colonial dress works on so many levels. It clearly works as an Eliza Schuyler dress. It is also great for Revolutionary days dress up at school or carnivals. I could see it even working for Marie Antoinette. We might dress it down with an apron and bonnet for something out of Little House on the Prairie. It's fantastic, and not just for Hamilton fans!
We will purchase this dress in the next size up when we go as a family to see Hamilton in a year or two. We saw theatre patrons dressed up as Alexander, George Washington, the Schuyler sisters, and even King George. I believe getting in costume really makes the whole theatre going experience more fun.
The best part about this dress? The price point is fantastic. Custom dresses were over $100 and that is a little too high for us. While I respect the craftsmanship that goes into a custom dress, it was not something we could consider. I don't think I could make a DIY dress for $30, so this is winning on all counts! This is a perfect dress for dress up and Halloween for just under $30. Not only that, it is Prime eligible!
Description from Amazon : Full length Colonial Lady costume dress in light blue. Lace trim on sleeves and at neck.
While we have included several new Hamilton inspired dresses, this link below is the exact dress we purchased for our daughter. This still is one of the most popular Halloween and dress up costumes we share about on our site!
Petticoat for Eliza Hamilton Costume
While it does have a very small attached petticoat, we decided to add one. This petticoat below has adjustable hoops that make it perfect for a period piece dress.
But wait! They have it in adult sizes too! I have half a mind to buy this costume and just wear it around the house singing…. is that weird? OK, maybe I won't. I might change my mind if they make a pink or yellow one! I would kind of love to dress up my oldest as Eliza, myself as Angelica, and my littlest as Peggy. How cute would Schuyler Sisters Halloween costumes be for a family? My son is wearing an Alexander Hamilton costume and maybe we will dress up the husband as King George! We are obviously the coolest family on the street.
Update! They have a pink dress and it is reasonably priced too! If you are looking for a pretty pink dress to make an Angelica Schuyler costume, this is an excellent fit. I did notice that the blue dress has a cut closer to Angelica's costume. The pink dress' cut has some detailing that reminds me more of Eliza. Even still, these would be excellent Schuyler Sister Costumes and they are super budget friendly!
Angelica Schuyler Costume
Adult Eliza Schuyler Costume
Peggy Schuyler Costume
Peggy may not live long in Hamilton the Musical, but she is such an important character. This yellow and white dress is an almost perfect match!
Because this has been such a popular post, we have decided to add in some other costumes for your Hamilton loving family!
We love this kid's colonial costume that is great for Alexander Hamilton!
While we could not find a dress that looked as much like Peggy as the other Schuyler sisters, we did find this. I suppose it would work in a pinch. It is marked down and prime eligible.
And for less than $16 you can add King George to the mix! Da, da, da, da, dah!
Can you dress up when you see Hamilton?
Many people dress up when they see Hamilton live on Broadway. We saw Hamilton when it came to San Diego Broadway for the first time and several children and adults dressed up in period costumes. If you are an adult or bringing a child to Hamilton and would like to dress up you will not be the only one.
We can't wait to see Hamilton when it comes to San Diego in 2018! The new year cannot get here fast enough! Don't miss our post on the best Hamilton Birthday Party ever! Our 6 year old is obsessed with Hamilton and had the cutest party ever. It was actually super quick and simple and we have lots of fun ideas. Her sister wore her Eliza Hamilton dress for pictures! It was really adorable! Seriously though, this is perfect for school plays, community theater, singing groups. The dress is a very close match to our favorite Schuyler sister, at a very budget friendly price.

We bought this dress with our own money and were not contracted in any way to post about it. We are Amazon affiliates. Thank you Amazon for having such a sweet dress in our price range "Look around, look around, at how lucky we are to be alive right now!" Too much?
Save