Encanto Printable Valentine – Luisa Madrigal – Instant Download!
Disclosure: Inspired by Disney, drawn by me!
Disney's Encanto is a magical movie that has captured and healed hearts all over the globe. Luisa is a fan favorite for so many reasons. Today we are sharing Encanto inspired printable Valentine's Day Cards featuring Luisa! No need to run out to the store or wait for these to ship. This is an instant download! Print out four Luisa Valentine's Day cards per page. Once you download the file you are able to print as many as you like.
Luisa Madrigal printable Valentine's Day Cards. Only Luisa. She is our favorite, so she gets her own page. If there is a request for other Encanto characters I may make them; but I think Luisa is a fan favorite and can stand on her own. I stand by this decision. Each Valentine has a different message and a spot to write 'to and from'. These are perfect to print out and share with your friends at a school Valentine's Day exchange.
If you would like to share Luisa Valentine's Day Cards with your friends – hop over to my Etsy shop! Luisa Valentine's Day Cards are available for a limited time! I hope you will check it out and consider purchasing from me rather than a box from the store.
I have several artistic goals in 2022; one of which is to grow my Etsy shop! Would you be willing to help me establish and grow my shop? It is easy and doesn't have to cost a thing. Liking my shop and favoriting items helps boost the views of my shop. If you have purchased something in the past and liked it; I would love for you to share a kind review. You can also pin an item you see in my shop on Pinterest to share with friends who follow you on Pinterest.
Luisa Valentine's Day Cards – Encanto
(click the link above to instantly download!)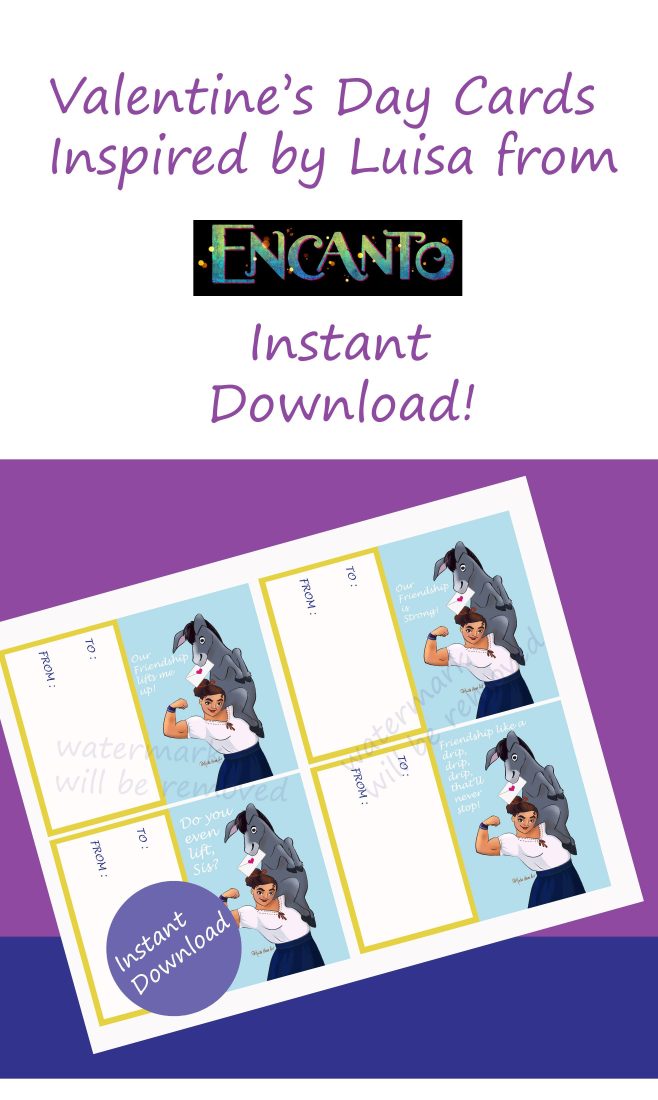 We also have FREE Printable coloring sheets inspired by Encanto!
Encanto Printable Coloring Sheets – click and print!
Who is Luisa Madrigal?
Luisa is the older sister of Mirabel Madrigal in Disney's animated film "Encanto". Luisa is the 'rock' of the family. Luisa's gift is that she is extremely strong. Her song "Surface Pressure" is better than "We don't talk about Bruno.". I said what I said.
Disney's Encanto Synopsis
Walt Disney Animation Studios' "Encanto" tells the tale of an extraordinary family, the Madrigals, who live hidden in the mountains of Colombia, in a magical house, in a vibrant town, in a wondrous, charmed place called an Encanto. The magic of the Encanto has blessed every child in the family with a unique gift from super strength to the power to heal – every child except one, Mirabel. But when she discovers that the magic surrounding the Encanto is in danger, Mirabel decides that she, the only ordinary Madrigal, might just be her exceptional family's last hope.
Fun facts –
Encanto is directed by the legendary Byron Howard and Jared Bush
Main character Maribel is played by Stephanie Beatriz who is best known for her work playing Deputy Rosa Diaz on Brooklyn Nine Nine.
Music is composed by Lin-Manuel Miranda