Female Astronaut FREE Printable Coloring pages
Disclosure: Highlights Along the Way is a participant in the Amazon Services LLC Associates Program, an affiliate advertising program designed to provide a means for sites to earn advertising fees by advertising and linking to amazon.com. Mattel sent us a Luciana Vega doll for this review and is also providing one doll for a giveaway!
Astronauts Christina Koch and Jessica Meir made history this fall by participating in the first ever all female Space Walk. While women have walked in space before, the fact that this space walk was only women is exactly the story little girls (and boys) needed right now. To celebrate the first female only Space Walk we have made printable coloring sheets of the astronauts. These two brilliant woman have made history and have inspired girls and boys all over the world. Please feel free to use these high resolution printables in school or at home to encourage conversations about everything from space travel to gender equality. These astronaut coloring sheets will hopefully inspire kids everywhere to reach for the stars. American Girl has also partnered with us on this project. In celebration of women in space, we are giving away a Luciana American Girl Doll just in time for the holidays!
Thank you to Jessica Meir and Christina Koch for breaking barriers and inspiring kids everywhere! My hope is that moms and dads all over will print out this coloring page and a spark will start in a little girl's heart. I hope a smart and curious little girl asks questions about these women. We've shared a bit of information about Jessica Meir and Christian Koch below, and we have also linked their NASA bios. We hope these are more than coloring pages to keep kids busy. We hope these astronaut coloring sheets will be helpful in encouraging little girls everywhere to ask questions and know they have a place anywhere they want to go in life; even space! Grab your crayons and your space ice cream and print away!
These printable coloring sheets are completely free. You do not need to subscribe to our site or leave an email. These printables are 100% free to anyone and everyone, even if you are not a regular reader. We have dozens of other completely free printables as well. I should admit upfront that while we have many free coloring and activity sheets from year's past, none are as inspiring as the astronauts featured here. There is no charge for any of our Free Printable Activity Sheets . I really hope you will check out the others listed as well! Simply visiting our site and sharing with others helps our little site grow. We appreciate our readers and our sponsors. Thank you for being here and for using our printable resources for school and fun.
Printable Solar System Coloring Sheets (Click Here)
Jessica Meir Coloring Sheet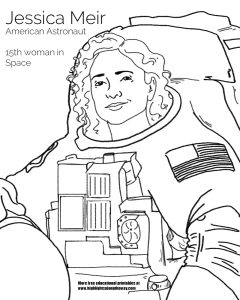 Who is Jessica Meir?
"Jessica U. Meir was selected by NASA in 2013. She holds a Bachelor of Arts in Biology from Brown University, a Master of Science in Space Studies from the International Space University, and a Doctorate in Marine Biology from Scripps Institution of Oceanography (UCSD). From 2000 to 2003, Dr. Meir worked for Lockheed Martin's Human Research Facility, supporting human physiology research. During this time, she also participated in research flights on NASA's reduced gravity aircraft and served as an aquanaut in an underwater habitat for NASA Extreme Environment Mission Operations (NEEMO). She is currently working onboard the International Space Station on her first spaceflight as part of Expedition 61 and 62." NASA (more is available linked above)

Christina Koch Printable Coloring Sheet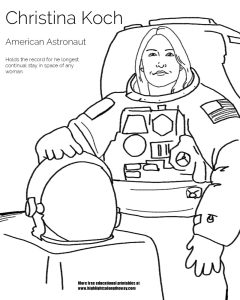 Who is Christina Koch?
"Christina Hammock Koch was selected as an astronaut by NASA in 2013. She completed astronaut candidate training in July 2015. Koch graduated from North Carolina State University with a Bachelor of Science in Electrical Engineering and Physics and a Master of Science in Electrical Engineering. She is currently working onboard the International Space Station on her first spaceflight as part of Expedition 59, 60 and upcoming Expedition 61 scheduled for October. Koch is slated to set a record for the longest single spaceflight by a woman with an expected total of 328 days in space." NASA (more available linked above)

Giveaway has ended.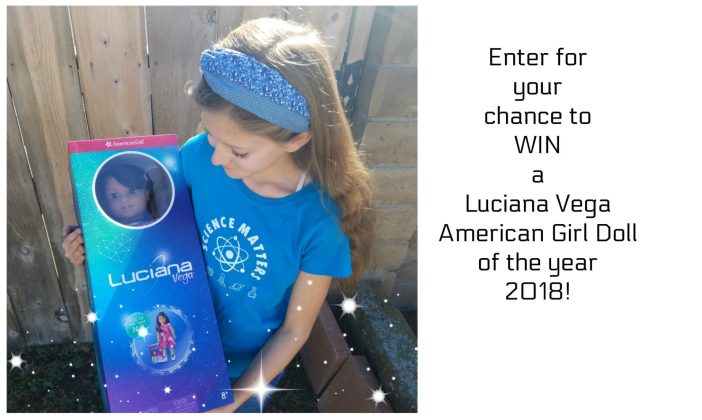 Luciana is an 11 year old girl who dreams of being an astronaut. Luciana is brave, smart, and inspiring. Luciana is going to inspire so many girls to consider science and technology; we love it! No doubt, Christina Koch and Jessica Meir would have loved this doll when they were growing up! I don't personally remember seeing many STEM dolls as a child, but I love to see that changing for future generations.
From the American Girl Doll website : "Looking beyond her cool line of space-inspired products (like a Mars habitat and flight suit!), American Girl's purpose behind this character is what's most important. Luciana shows what it can mean to be a girl of strong character today, where creative thinking, collaboration, and STEM literacy provide opportunities for meaningful growth and development. Technology continues to revolutionize what we do and what we know, and Luciana is a character that can bring visibility and valuable lessons to girls at a time in their lives when they're learning about their infinite potential to change the world."
Unboxing video of Luciana, the American Girl doll of the year in 2018. Luciana has dreams of becoming an astronaut someday!
Who wouldn't love to win a Luciana Vega American Girl Doll for your hopeful astronaut? In celebration of the first all female space walk, Mattel has been kind enough to offer a doll for us to give away. One lucky Highlights Along the Way subscriber will have Luciana mailed straight to their home! As with most of our giveaways, you must be a verified subscriber to Highlights Along the Way. Simply subscribe and leave us a comment letting us know who you would gift Luciana to (it is OK to say yourself!). That's it! We also have several ways that you can earn more entries by engaging with us on social, but being a subscriber is the only requirement. Void where prohibited. This giveaway is valid only within the United States. The winner's American Girl Doll will be mailed directly from American Girl Doll and cannot be mailed to PO Boxes, only a physical address within the continental United States.
Winner Announcement! Thank you to all who entered! "Michelle S." – you are the winner! Please check your email – you have 48 hours to respond!
BONUS entries for giveaway –
Follow Highlight Along the Way on Instagram
Like and comment on at least 3 Highlights Along the Way Instagram pictures
Follow Kate Ham Art on Instagram
Like and comment on at least 3 Kate Ham Art Instagram pictures
You MUST leave a comment for each of these bonus entries letting us know the account you followed from and commented from. The comments in the comment section below is the only place we will draw names from. Make sure to let us know. Thanks, and best of luck.
Giveaway starts NOW and will end on 12/05/2019. Winner will be chosen with a computerized random number generator and notified by or before 1/29/201. Winner will be contacted via email. The post will also be updated with the winner's first name and last initial. Only the winner will be contacted. Winner MUST respond within 48 hours of winner announcement and provide a mailing address. If the winner does not respond within that time frame, the prize is forfeited and a new winner must be chosen. While we have never had a problem with a giveaway before, Highlights Along The Way cannot be held responsible for lost or damaged prizes.