Finca Rosa Blanca : Costa Rica : Travel
Disclosure: Our stay at Finca Rosa Blanca as well as our coffee plantation tour & tasting was part of our Gift of Happiness package and was complimentary. I was not in any way obligated to blog about our hotel stays, but I thought you might want to know. All opinions are 100% my own.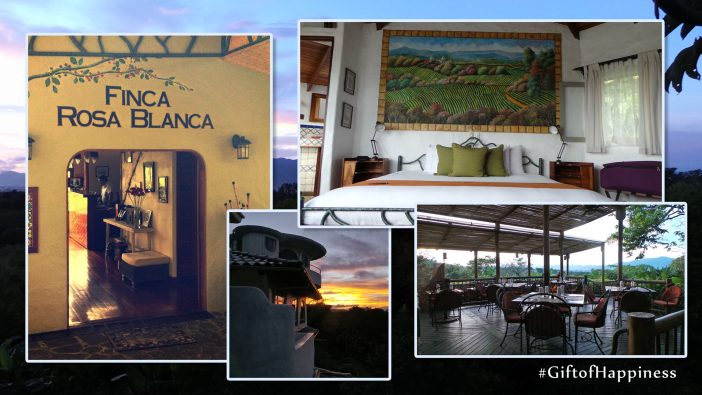 The last hotel we stayed at in Costa Rica for our Gift of Happiness trip was as unique and eclectic as they come.  I honestly cannot think of a better place to spend our last day before heading back!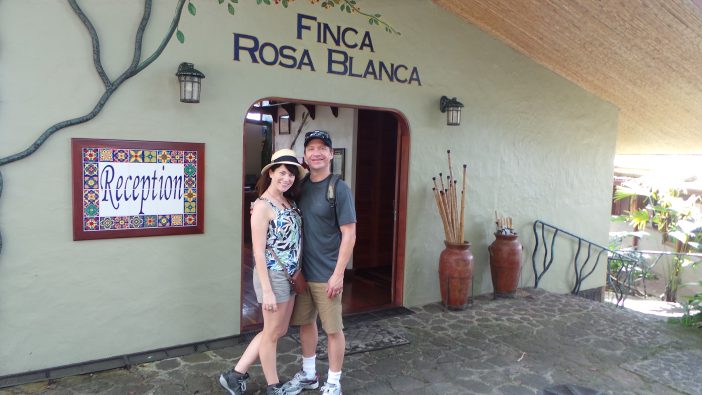 Located only about 20 minutes from the San Jose airport is the beautiful Finca Rosa Blanca.  Finca Rosa Blanca is not only a luxurious boutique hotel, but also a working organic coffee plantation.  A 30 acre organic, shade grown coffee plantation surrounds the beautiful hotel and restaurant.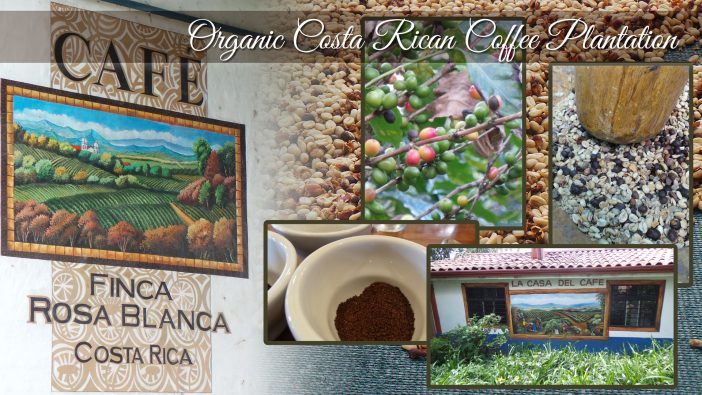 The Finca Rosa Blanca Country Inn is situated on 10 acres with gorgeous gardens and spectacular views.  This boutique hotel offers a world class restaurant that is open to the public, a lovely spa (that I will have to catch next time!), and a small gift shop.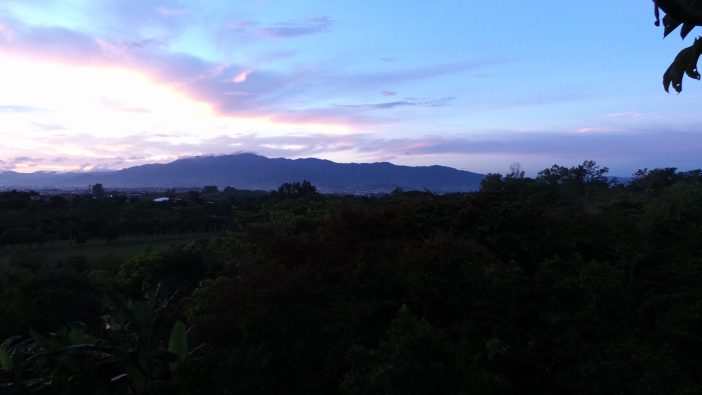 This sustainable hotel offers two master suites, and eleven elegant yet whimsical junior suites, four of which can be united to form two spacious villas.  All rooms offer an in room Jacuzzi bath, king sized bed, and either a private veranda or a secluded patio.  That is right – it is quite small as far as hotels go, meaning you will get lots of personal attention.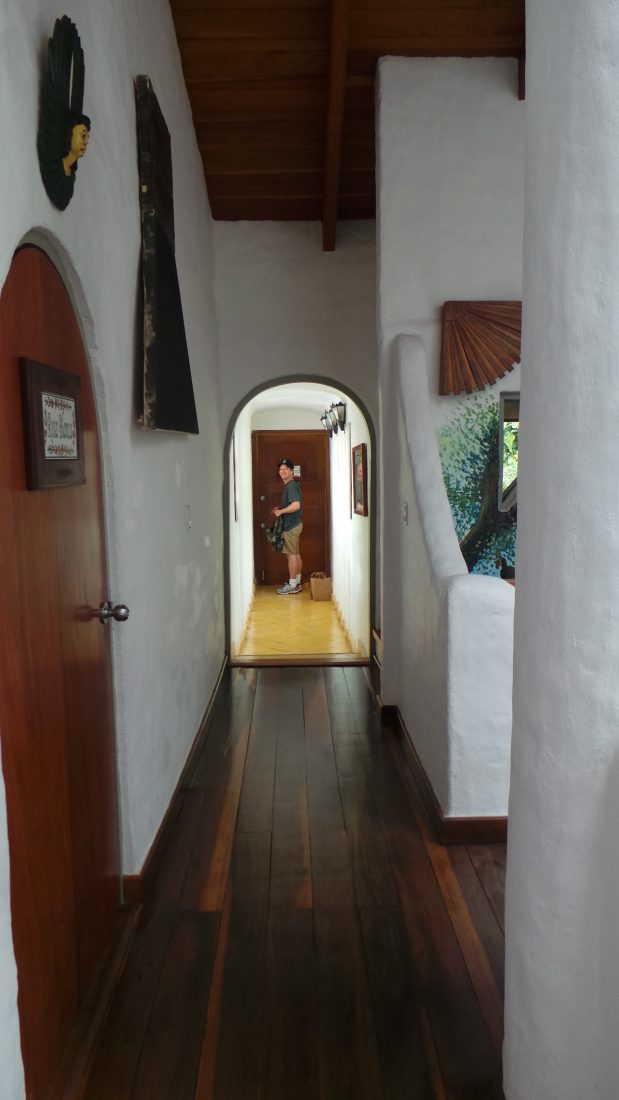 One thing I noticed during our quick stay is the collection of authentic Costa Rican folk art.  I wish I had more time to check it all out. This antique ox cart was just outside our room.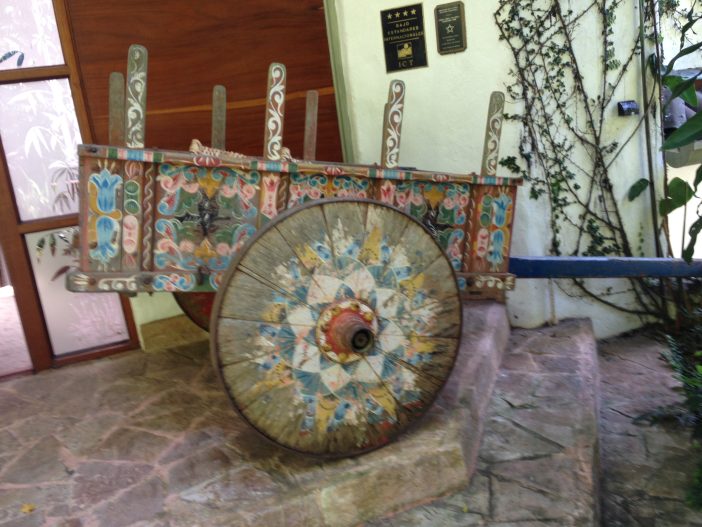 Our last excursion as part of our Gift of Happiness tour was a hiking tour through the coffee plantation.  We learned how the central valley of Costa Rica offers prime growing conditions, in part making it some of the most delicious coffee in the world!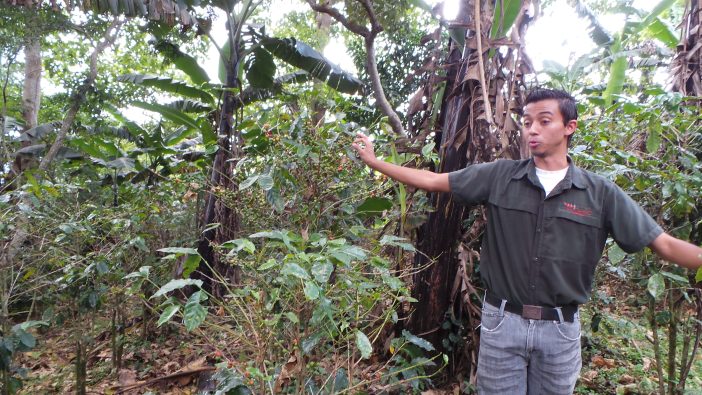 * Our guide was very knowledgeable and our tour was conducted in English.*
We learned about Finca Rosa Blanca's sustainable growing practices that include growing only coffee only in the shade of complimentary trees and never using pesticides.  All the coffee is hand picked by fair trade workers.  In the last two years we have made it a point to only purchase fair trade organic coffee and I am so glad we do!  After our tour we participated in a coffee tasting where we compared the coffee grown in the optimal conditions at Finca Rosa Blanca and an un-named (but apparently 'very well known') brand of coffee – it was truly an unfair comparison.  Hands down the best coffee I have ever had was in Costa Rica.  We learned that all the coffee at all the sustainable hotels we stayed at purchase their coffee from Finca Rosa Blanca!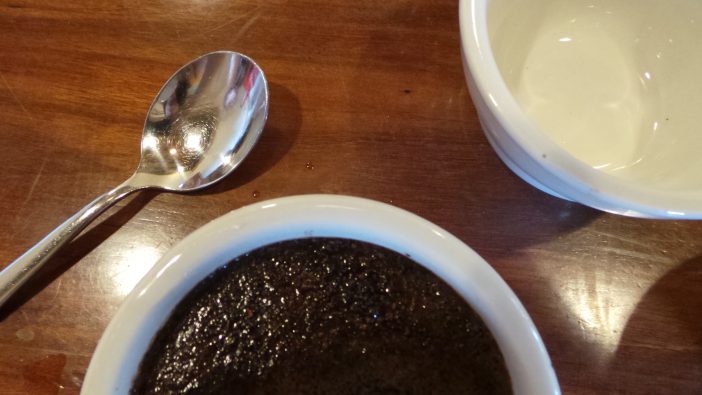 We were so impressed we brought back one delicious bag of coffee home for ourselves as well as one for everyone who helped take care of the kiddies while we were gone!
El Tigre Vestido Restaurant and Bar Buho was such a treat!  When we arrived for dinner on our last night we were told there was a special meal planned for us!  Remember this restaurant is open to the public, so if you are in Costa Rica and staying close by I HIGHLY suggest treating yourself to dinner and drinks at El Tigre Vestido!  As everyone knows, I am not a food critic, but I will tell you as a friend El Tigre Vestido is the restauraint that sticks out in my mind as the most uniquely delicious.  I would highly recommend this restaurant to a friend and if we are ever lucky enough to be back in Costa Rica again we will be stopping by Finca Rosa Blanca and their wonderful restaurant!
I am SO glad we had the chef prepare a meal for us because everything was delicious, but not something I had ever tried before.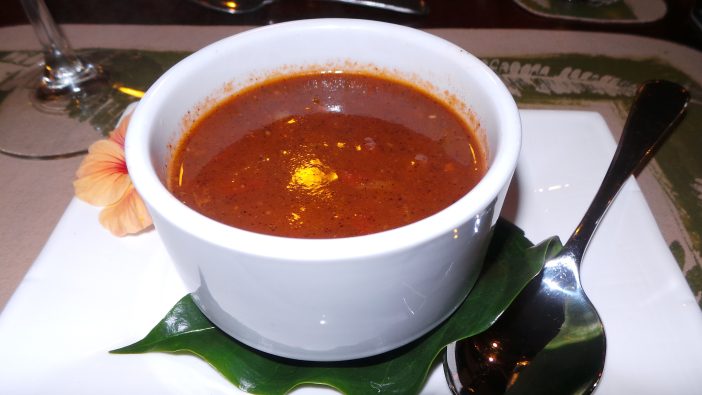 I am craving this soup right now looking at the picture – it was a delicious tomato bisque with a twist – as you can see, it was infused with coffee.  It was so so good!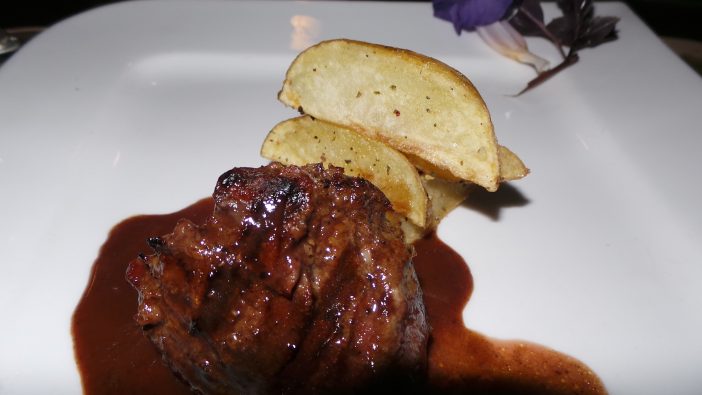 My husband asked me if I could learn to make this amazing coffee sauce that was on our steaks.  There is no way I can replicated it completely…. I think instead we will just need to go back!
The menu is prepared using locally sourced fruits and vegetables – many grown right on the grounds of the hotel!
And in less than 24 hours, with warm coffee in hand, we bid adieu to Finca Rosa Blanca and Costa Rica.  It was not nearly enough time, we hope to see you soon!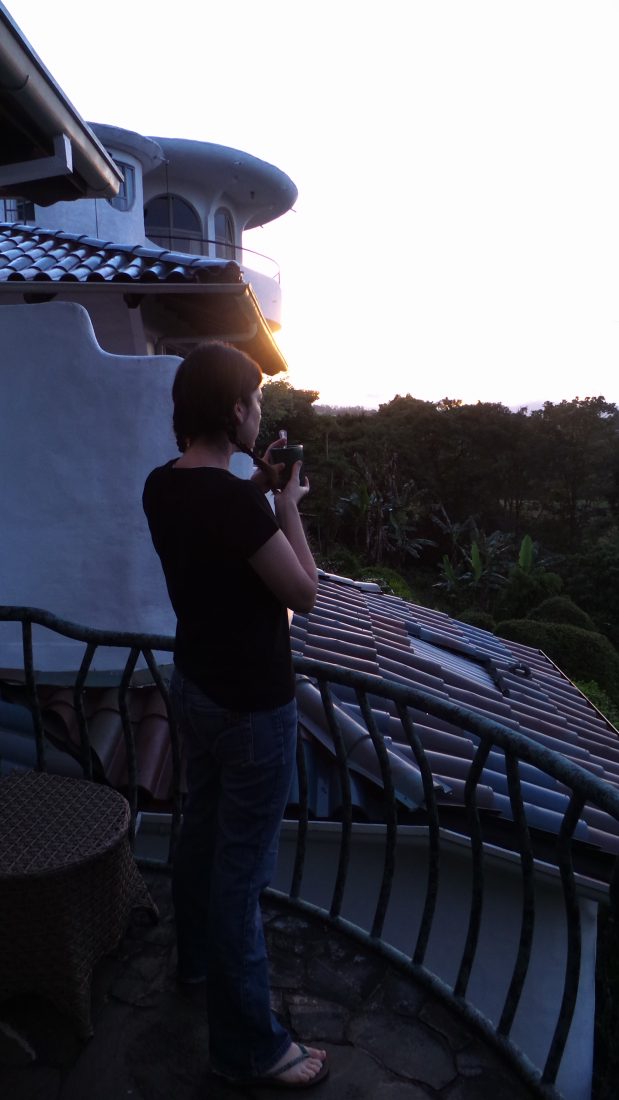 You can follow Finca Rosa Blanca on Facebook!  Finca Rosa Blanca has been  certified for Sustainable Tourism.
A HUGE thank you to our gracious hosts at Finca Rosa Blanca, our only regret is that we couldn't spend more time with you!