Finding Dory coloring sheets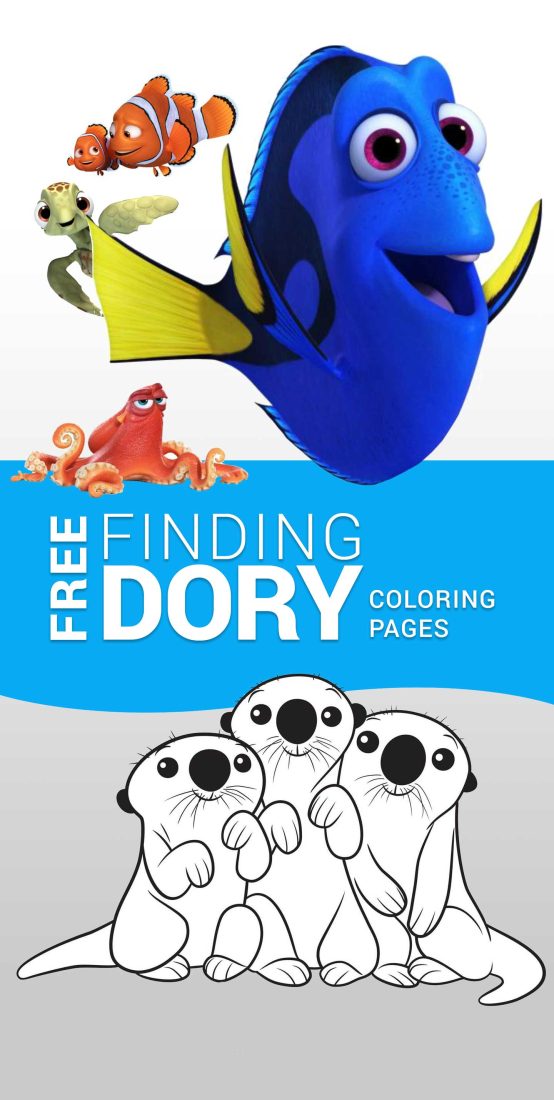 Finding Nemo is one of our family's favorite movies and we are beyond excited about the long awaited sequel; Finding Dory!  Dory is one of our favorites and we can barely wait until June.  I am thrilled that Disney sent over these adorable Finding Dory coloring sheets and Finding Dory activity pages for the kids to enjoy!  Dory, Marlin, Nemo, as well as a whole new cast of characters are available to color, connect the dots, and more.
Finding Nemo fans will be thrilled to see that Nemo, Marlin, Dory, and several other of our beloved ocean friends from the first movie are in these free printables.  Fans of the newest movie will love to see that there are several new characters featured as well!  Otters are so cute and I am so happy there are otters in the new Finding Dory movie!  While the otters do not have a ton of screen time, they are sure to capture the hearts of many!  Below you will find a connect the dots and a coloring page featuring several of the fuzzy little otters! Hank is one of my favorite characters and I am so glad to see printables featuring Hank the octopus as well.  Hank is rough around the edges but is also a hero in the movie!  Bailey the pilot whale is featured in a few printables below as well.  Last but not least, Destiny the whale shark is available too! Print as many of these fun printables as you would like.  Coloring sheets, mazes, and more are completely free to print!
If you have not heard – Finding Dory hits theaters everywhere on June 17th and I am sure this is not the last you will be hearing from me on the matter.  You can watch the first official trailer below…..
We use these fun activity sheets for rainy day fun, to keep us entertained on long car rides and airplanes, and even as free activities for birthday parties.  If you are hosting a Finding Dory Birthday Party you can print as many as you would like for your guests.
Below you will find a variety of printables, you can print one or print them all!  You do not need to sign up for anything. This is just a fun freebie!
Finding Dory Coloring Sheets and printables
Thanks again to our friends at Disney for always providing our readers with fun printables for their movies! For those of you that love social media – follow Finding Dory everywhere!
Like FINDING DORY on Facebook: https://www.facebook.com/PixarFindingDory
Follow FINDING DORY on Twitter: https://twitter.com/FindingDory
Follow Disney/Pixar on Instagram: https://www.instagram.com/PixarFindingDory/
Follow Disney Studios on Pinterest: https://www.pinterest.com/disneystudios/finding-dory/
Visit Disney/Pixar on Tumblr: https://disneypixar.tumblr.com
Visit the official FINDING DORY website here: https://disney.com/findingdory
I'd love for you to share the love!  If you think your friends would love these Finding Dory coloring sheets and printables I hope you will share on facebook, twitter, and pinterest using the buttons below – if they have a little one who loves Dory they will thank you!  And I thank you too!  You can pin it here! https://www.pinterest.com/pin/237846424048994192/